Schools almost out, mummy, We've got a fab line up of holiday camps and workshops to keep the kiddos entertained. From sports to creative to scientific camps, we've got you covered!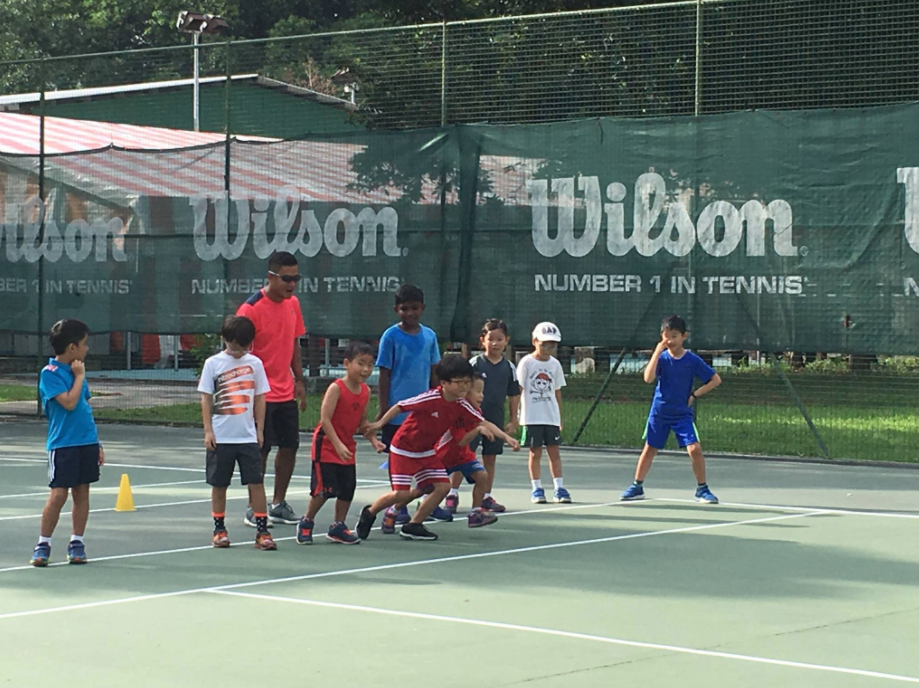 Ignite Tennis Holiday Camp
Holiday camps run over three days for children aged four and up! It's a great way to give your child a start at tennis or polish up their game. There will be fun team games and a mini-tournament at the end of the camp.
Where: Ignite Tennis Academy @ The Salvation Army or Ignite Tennis Academy @ Changi Beach Club
When: 21 – 23 Nov |  28 – 30 Nov |  05 – 07 Dec |  12 – 14 Dec
From: 8.30am – 10.30am or 8am – 11am
Price: $220
Click here for more information.
Sport4kids November Multi Activity Camp
This multi-sports program and is curated to develop sports and social skills while going through outdoor and life skills experiences. Children will also learn the benefits of having an active and healthy lifestyle through sports.
Where: Turf City
When: 20 – 24 Nov | 27 Nov – 1 Dec
From:9am – 2pm
Cost:  $450 per week OR $100 per day
Click here for more information.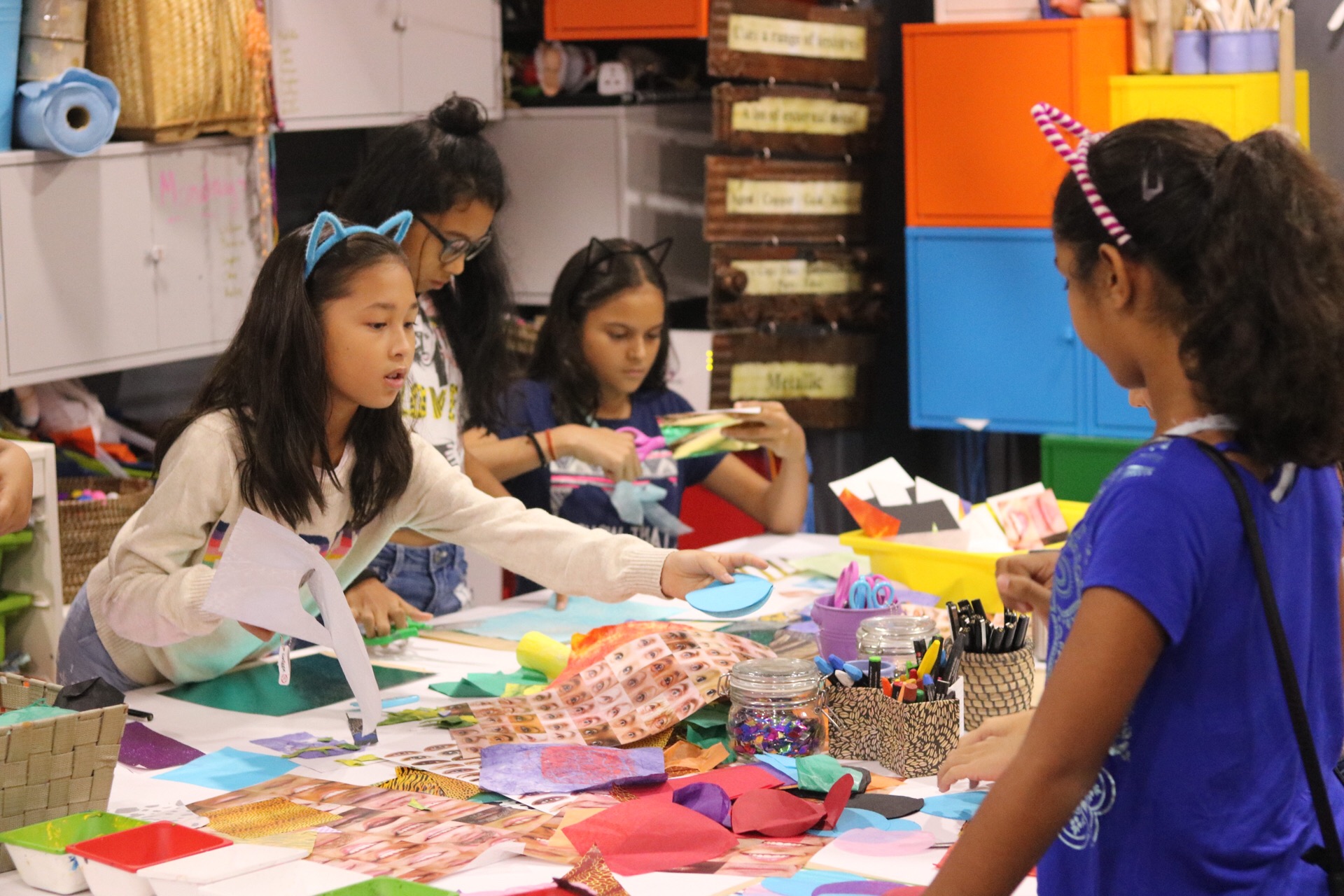 Inspire Art Sg (five to nine-year-olds)
Creature Bug and Butterflies 20 – 23 Nov
Sculpt, print, collage, and jewellery making. Juniors will explore the insect kingdom through a range of medium and techniques. They will also explore sculpture, printmaking, collage and experiments in relief and painting.
 A Universe Far Far Away 25 – 30 Nov
Sculpt, paint, collage, up-cycle and create. Juniors will take inspiration from 'The Little Prince' and create a miniature planet, with a creature inhabiting it. They will explore mixed media sculpture, air dry ceramics, painting, collage and paper-mache. The elements of art will include colour, shape, texture, value and form.
Where: Kallang Leisure Park
From: 9am – noon
Cost: Four-Day Camp $300 | Three-Day Camp $255 | One-Day Camp $95
Click
here
for more information.


Supercamp
Supercamp is a worldwide academic and life skill holiday camp for students. Your kids will develop character building and learning skills in a nurturing environment.
Where: Anglo-Chinese School (Independent)
When: 29 Nov to 5 Dec
From: 9am
Cost: POA
Click here for more information.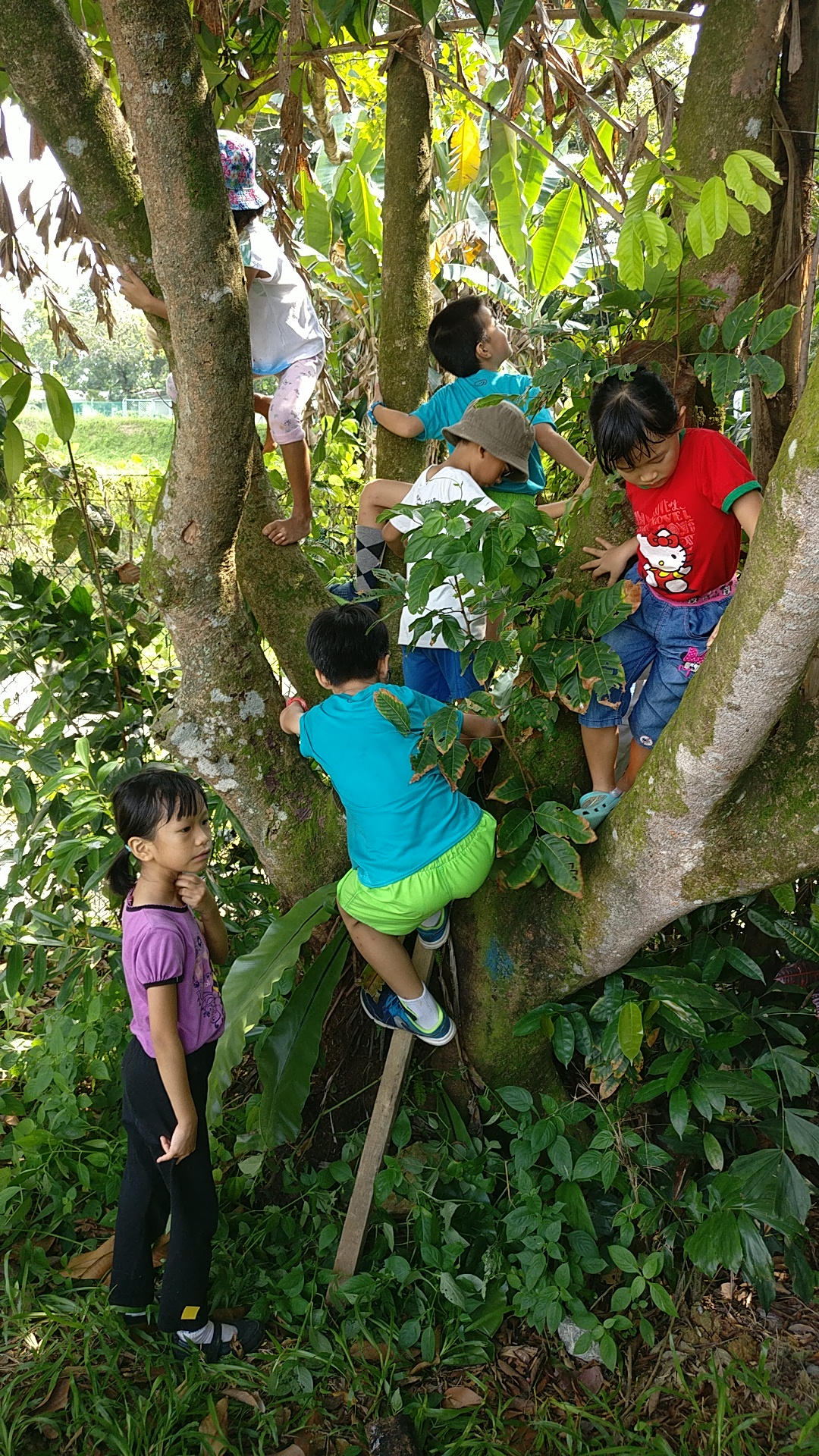 Winter Camp Unplugged
Technology is everywhere and kids spend long hours glued to the screen of their devices. Winter Camp Unplugged is a digital detox camp. The aim of this camp is to encourage children to unplug, connect and experience nature.
Where: Kampung Kampus
When: 20 Nov – 24 Nov
From: 9.30am to 3.30pm
Cost: $550/five days (includes plant-based lunch and materials)
Click here for more information.
Magical Holiday Camp (five to six-year-olds)
This three-day camp aims to provide a learning environment for participants to engage in thematic exploration by using drama activities and various art forms while enlivening children's interest in Chinese language and culture.
Where: Goodman Arts Centre
When: 30 Nov – 2 Dec | 4 – 6 Dec
From: 9am to noon
Cost: $125/ three days
Click here for more information.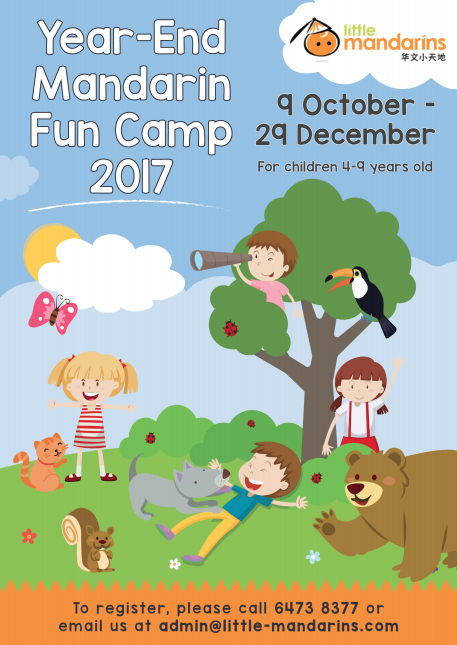 Year-End Mandarin Fun Camp (five to nine-year-olds)
This camp is designed to help children further their knowledge of Mandarin in the most fun and exciting way. Allow your child to experience Mandarin and discover the language through activities based on weekly themes. Its unique approach will help campers build their confidence in Mandarin.
Where: Little Mandarins @ Loewen
When: 9 Oct – 29 Dec
From: Various timings
Click here for more information.

ACT 3 Drama Academy Holiday Workshops 
Will Ali Baba save his greedy brother? This beautiful classic turned on its head completely with songs and tons of comedic moments, will delight your child and get you laughing non-stop.
Three to four-years-old
An interactive week-long workshop will provide your child with many moments to explore and express himself. Under the guidance of the Drama Teacher in role, he will enjoy singing as well as learning simple but important drama tools required to tell the story through movement and voice. And to end it all, cooperating with other children, he will shine through with confidence in a finale performance for family and friends.
Five to seven-years-old
In this five-day workshop, your child will be given the freedom to imagine, explore and discover the many ways of singing, telling a story, and entertaining a live audience on the last day. Learning to work together with other children, they will share ideas as they gain newfound skills in performing. Through role-playing, mime, movement and improvisational activities, your child will also learn about stage presence and what it takes to make a show.
Where: ACT 3 Drama Academy
When: Check here for available dates and times.
Cost: $300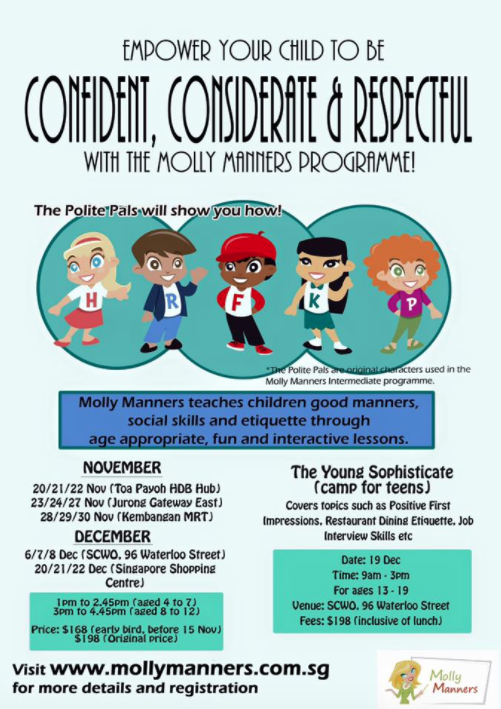 Molly Manners
Molly Manners are three-day camps. Kids will get to take part in interactive hands-on activities based on the topic of manners.
Where:
Kembangan Plaza 28 – 30 Nov
Toa Payoh HDB Hub 20 – 22 Nov
Jurong Gateway East 23, 24 & 27 Nov
Singapore Council of Women's Organisations  6 – 8 Dec
Time: 1pm to 2.45am (4 to 7-year-olds) |  3pm to 4.45pm (8 to 12-year-olds)
Cost: $198 | $168 (early bird before 15 Nov)
Click here for more information.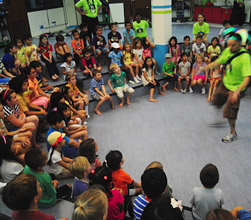 Camp Magic Solstice
Camp Magic Solstice is back again after two years and they are bringing the natural world to children through story, arts, circus and performances. The children will be educated on fun facts about mountains, history and endangered animals.
Where: Nexus International School
When: Check here for available dates and timings.

Stage Camp
Young performers are encouraged to play, create and present their own stories during their time in Camp, delving into the magic of theatre to bring stories to life. Theatre takes audiences on adventures, where reality meets the mythical, comedy collides with romance and characters are created in front of our eyes. Stage Camp by SRT harnesses this theatre magic in an action-packed and fun-filled holiday programme, where campers learn and enhance their performance skills in a safe and nurturing environment.
Where: Singapore Repertory Theatre
When: 20 – 24 Nov or 4 – 8 Dec
Time: Monday to Friday (2.5 hours a day)
Fee: $350
Click here for information.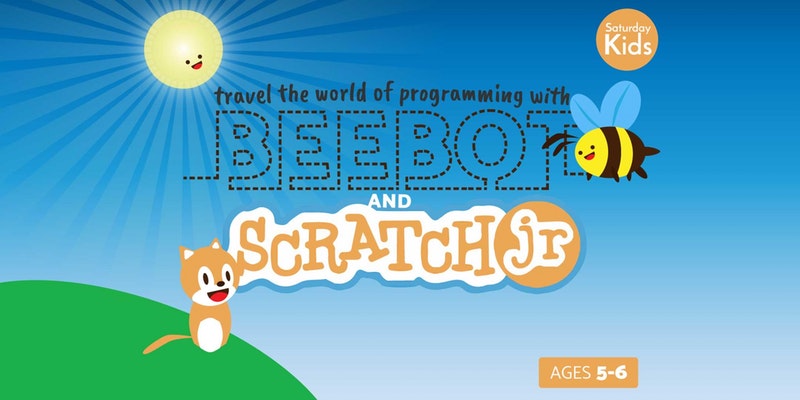 Creative Coding Holiday Camp
Never thought your little ones could code? Kids as young as five get to programme a robot to boogie, invent electronic gadgets, and code a game or animation on an iPad! Unleash your child's full creative potential by soaking in the wonders of tech. Inventing the future starts right here. 
Where: Saturday Kids @ East Coast
When: Click here for dates and timings.
Cost: $280 – $660
Winter Holiday camp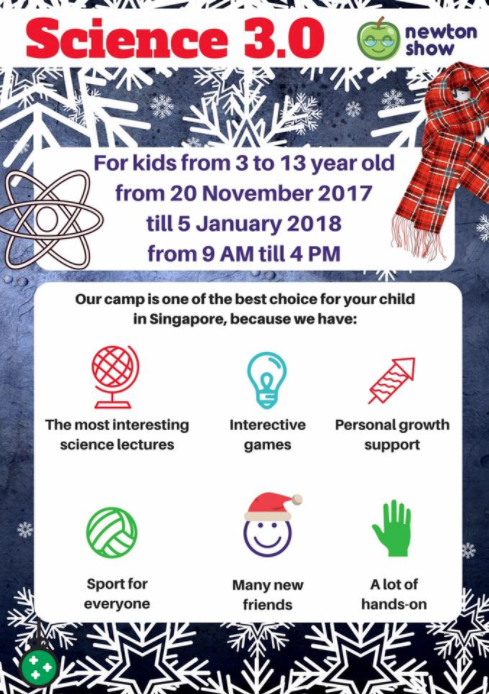 Kids will get first-hand experience at science experiments and learn new and interesting facts. They will also get to socialise with other budding scientists.
Where: Nexus International School
When: 20 – 24 Nov | 4 – 8 Dec | 18 – 22 Dec | 1 – 5 Jan
From: 9am to 4pm
Cost: Not available at time of publication.
Click here for more information.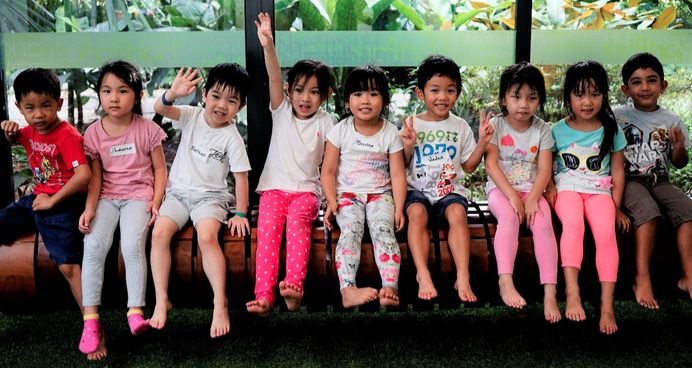 Discover Me Multi-Activity Holiday Camp
Kids will get to try out coding, race car engineering, basketball, Hip Hop dance, graphic character creation, entrepreneurship and money matters, painting, cooking and baking; encouraging them to be more independent, more exposed, more engaged and more expressive.
Where: Singapore Management University
When: 4 Dec – 8 Dec
From: 9am to 4pm
Cost: $635 for five full days (includes lunch, snacks, camp t-shirt)
Click here for more information.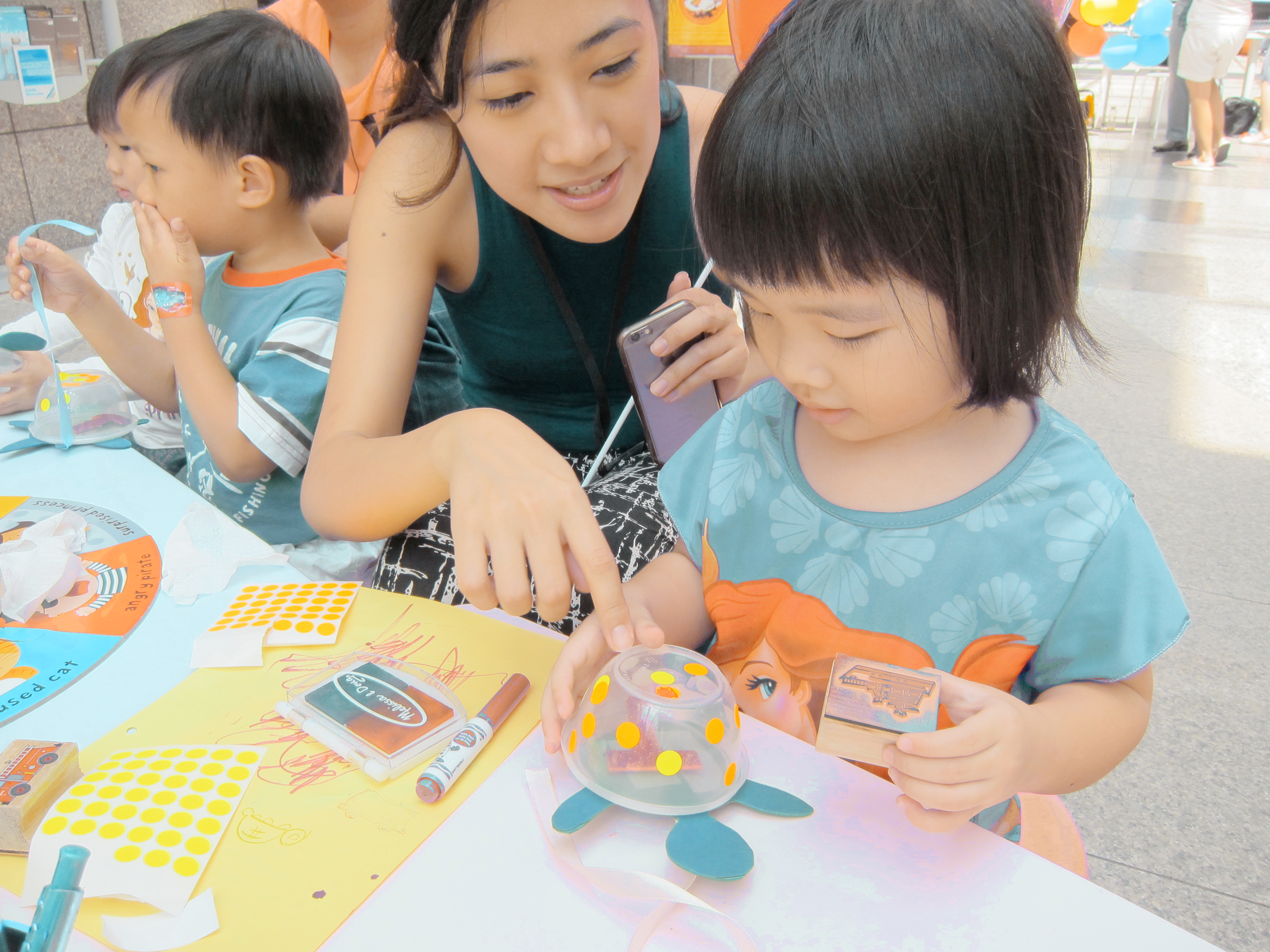 Amazing World Of Science
Encourage your child to explore the world around them with this camp. The Learning Lab introduces highly engaging sessions with hands-on projects for fun and games that the kiddos will love.
Where: Singapore Management University
When: 4 Dec – 8 Dec
From: 9am to 4pm
Cost: $269
Click here for more information.
Playeum One-day Holiday Camp: Cardboard City (5 – 12-years-old)
Get inspired by a walk in nature and electronics and explore architecture and the built environment through the use of recycled materials to build your own own dream city!
Where: Playeum Children's Centre for Creativity
When: 24 Nov and 15 Dec
From: 10am to 4pm
Cost: $80
Click here for more information.
Enroll your kids for some holiday fun now.
Oriella Onni, Mummyfique's peppy editorial assistant is navigating her way through life one glorious destination at a time. She loves exploring, music, crafts and cooking.