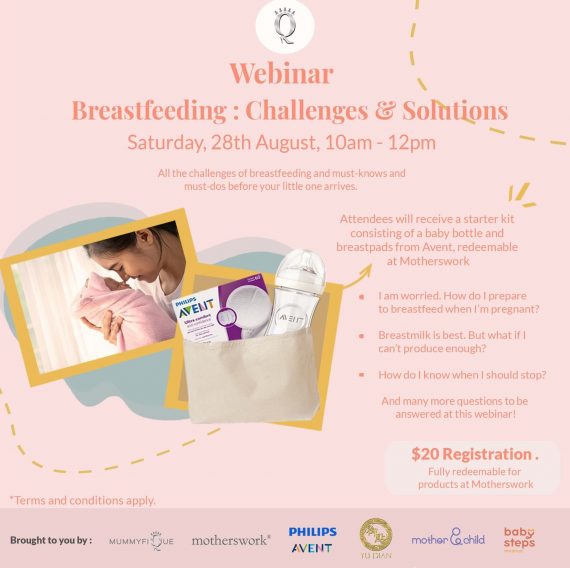 Breastfeeding is strongly recommended by healthcare experts and we hear about the many benefits of breast milk including it being a great source of nutrition for babies, providing fat, protein, vitamins, and antibodies, as well as boosting the baby's immune system. Mothers are recommended to breastfeed for at least six months but even though it is natural, the breastfeeding journey is often fraught with challenges. These obstacles can become a major source of anxiety or guilt for new mothers. If you find yourself in this situation, remember you are not alone and help is available.
We invite all parents-to-be, and mums who are currently breastfeeding or have plans to breastfeed their babies to join in this webinar. We hope to provide an honest perspective of breastfeeding and educate new parents on the highs and lows of this magical journey.
There will be in-depth discussions from medical experts, lactation consultants and breastfeeding advocates who will offer first-hand information to tackle the common challenges of breastfeeding and the solutions behind these concerns. We also share various support groups where parents can go to for assistance and sharing of personal experiences so you will never feel alone.
Join us in this informative webinar and register now! All participants will also receive specially curated door gifts by our exclusive sponsors. See you then!
Event Details
Date:  Saturday, 28th August 2021
Time: 10am – 12pm
Where: Zoom
Fee: $20 (Fully redeemable for credits at Motherswork)
Hurry and book your tickets today!
Mummyfique readers subscribed to our mailing list should find the ticket link in your inbox and with more information about the event.
*Terms and conditions apply. For enquiries, DM us at @mummyfique on Instagram or email us at [email protected].
**Register by 26th August 2021, 2359 hours or once all slots are filled.