Health and wellness are all the rage especially in recent years since the start of this global pandemic. Whether it's the foods you eat, literature you read, or products you use, curating a wellness space particularly at home is essential to maintaining your health and preventing future medical issues. Ultimately you are in control of your own well-being and also for your kids' if you have them in tow. There is a plethora of ways to boost your immunity and improve your overall health far beyond your diet or fitness regime. As with other things, wellness begins at home. Here are six health and wellness products that are an absolute must for your abode.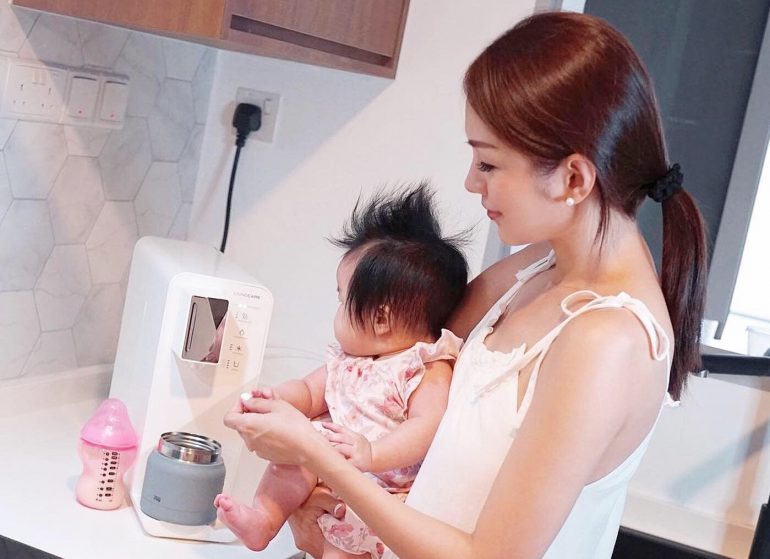 Livingcare's Jewel series is the first motorless hot and cold water dispenser in Singapore that suits diverse household needs. The Jewel series' ultra-light and slim design fits effortlessly in tight corners especially if space is a concern in your home. Why should you have a water dispenser at home? To start off, it has instant hot and cold temperatures ranging from 7 to 90°C and also an infinite quantity selection, which would bring you a world of convenience. Crying baby? Skip the boiling! Also, alkaline water promotes body pH balance by neutralising excess build-up of acidic waste. This enhances hydration, making you feel more energised and revitalised daily.
Secondly, it filters your water, removing harmful contaminants like bacteria, rust, residual chlorine, and organic chemicals that contribute to taste and odour. Did you know, these cannot be boiled away? Brimming with antioxidants, the dispensed water is guaranteed fresh (never reused!) due to Jewel's tankless technology, where there is absolutely no stagnant water even in the tubings.
From having hot water to make milk for your little one to dispensing cold water to drink on demand, Livingcare's water dispenser makes healthy, purified water readily available at your fingertips. What's more, its child-lock safety feature provides added protection against any unforeseen hot water accidents. Livingcare's water dispenser consumes zero energy on standby mode because of its motorless feature, making it friendly to the environment. Fitted with a filter change indicator, you'll also know when it's time to change the filter and you can do so easily with their self-changeable filters.
Jewel Dispensers are available in Powder Blue, Flamingo Pink, Seafoam Mint, Chiffon White & Midnight Black. A non-alkaline option is also available.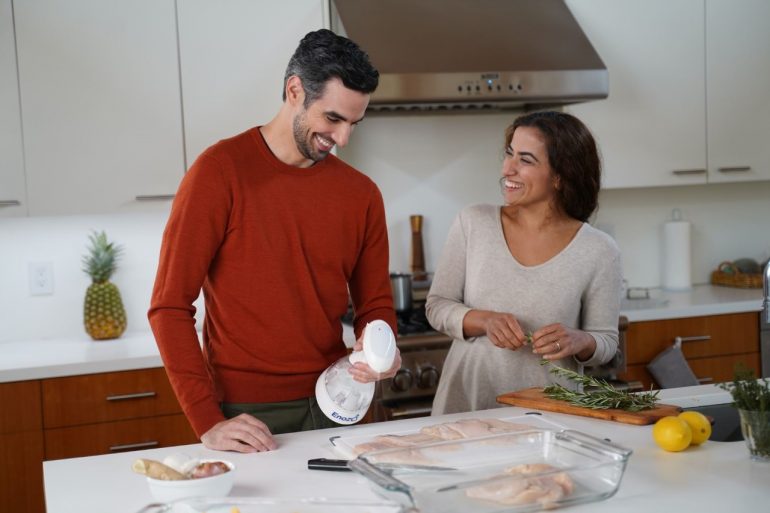 Introducing EnozoHOME, a spray bottle that creates aqueous ozone on demand. Aqueous ozone has been used for almost 100 years, but mainly for industrial purposes as ozone machines are bulky and expensive. Now, Enozo has created a lightweight, compact, and portable bottle with its patented design, that's easy to use around the house by simply pulling the trigger and with no loss in sanitising power during use. The aqueous ozone produced by Enozo cleans, deodorises and sanitises effectively like alcohol, killing 99.9% of viruses, germs and bacteria within 30 seconds. What's more, EnozoHOME has also achieved 99.9% virus reduction within 30 seconds against the commercial testing surrogate for the Covid-19 virus. Unlike food grade sanitizers which cost about S$6 to S$10 per litre, Enozo is S$2.40 per litre so you can save more!
You can easily attack unwanted odours with Enozo's aqueous ozone without the need for added fragrances or dyes. This is especially helpful to those with allergies. Rest assured that EnozoHOME contains no toxic chemicals and is approved by FDA for direct spraying on food, no rinse required. You can also spray on kids' toys, utensils, and furniture. There's also no harmful chemical residue; the only residue being water and oxygen as you only refill using normal tap water. This makes it a perfect cleaner for those with allergies, asthma or skin issues. Additionally, this saves money too! With no harmful fragrance, dye, paraben which may cause irritations in throat, eyes, and skin, EnozoHOME is safe for use even around young children, making it a must-have at home to keep those pesky germs and bacteria away.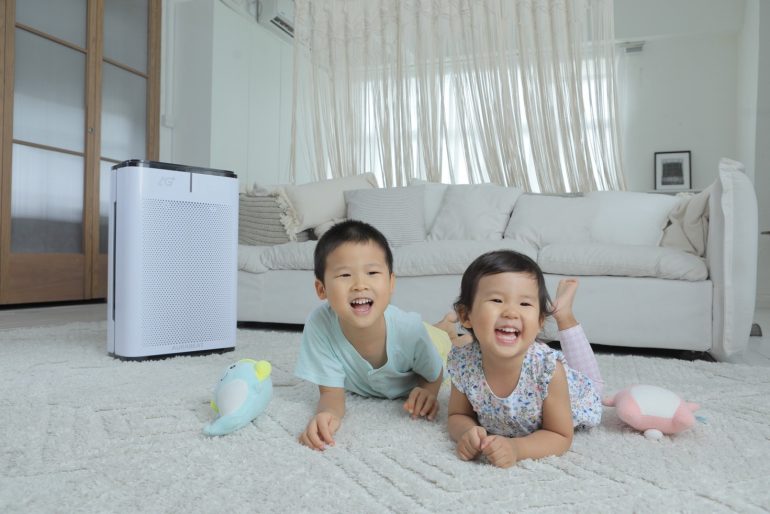 Aurabeat AG+ Pro Medical Grade Silver Ion Antiviral Air Purifier is the world's first medical grade air purifier that's certified to trap and kill 99.9% COVID-19 (SARS-CoV-2) within 15 minutes and is FDA approved. Their patented technology consists of 5 filtration mechanisms. The pre-filter that captures hair, fibre, particles, even dander, can be vacuumed and thus easily reused. The AG+ high efficiency silver ion antiviral air filter can effectively eliminate COVID-19, influenza virus, general viruses, bacteria and mould.  Its nano-crystalline filter features natural non-metallic minerals that remove harmful gases, formaldehyde, benzene, VOC and odour from the air. Additionally, the UV disinfection lamp sterilizes the air and eliminates virus and finally the positive and negative ions generated by the plasma generator neutralises the air, producing a huge energy to destroy micro-organisms.
The Aurabeat AG+ Pro Air Purifier removes 99.7% of airborne particles as small as 0.1 microns, kills bacteria and viruses, and completely filters the air in a 538 square feet space three times per hour. What else sets this air purifier apart from most conventional ones? This revolutionary air purifier is the world's first air purifier that traps and eliminates Covid-19 on contact, along with other bacteria and viruses found in the air, effectively reducing the risk of secondary infection and airborne transmission.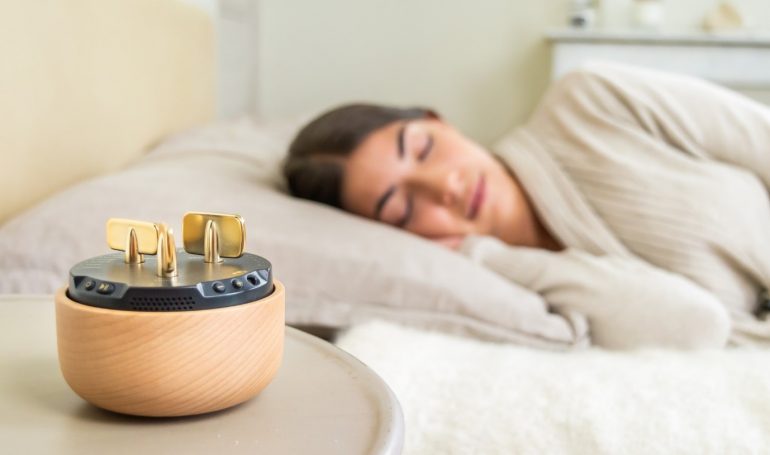 Enjoy a restful sleep and be 100 percent disconnected from all distractions with the Morphée, which contains more than 200 combinations of guided meditation sessions performed by sleep professionals. How to use this non-digital meditation and sleep aid? Just turn the first key to choose your them. It consists of eight relaxation and sleep techniques to choose from: body scan, breathing, movement, visualisation, cardiac coherence, napping, relaxing music, and nature sounds. With the turn of the second key, you can select your sessions. For each theme, there are eight sessions to choose from. Sessions are listed and detailed in 'The Blue Book of Sleep' that comes with Morphée. Turn the third key and you can choose the duration of your session. Each session has an 8 and a 20 minutes version.
Whether you listen to your selected session through the built-in speaker, headphones or earphones, you will be guided to leave all distractions behind and shift your focus from your thoughts to your body and breaths. The Morphée was created to remove stress, anxiety, and generate a sense of calm as you wind down the day and experience a deep, restful sleep like no other.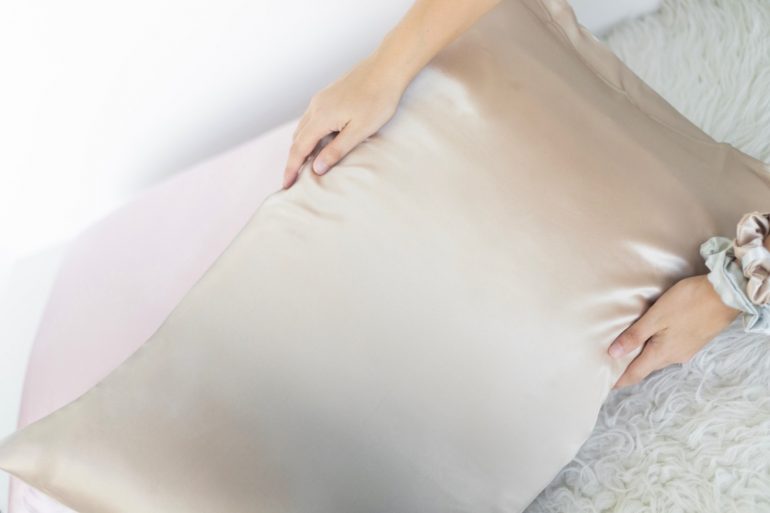 Much has been said about the array of benefits of silk bedding that includes helping your skin retain moisture, prevent wrinkles, reduce bed head, and split ends, is naturally hypoallergenic, and regulates temperature. But did you know that sleeping on silk pillowcases also eases chronic skin inflammation and produces a calming effect for any skin condition?
SOVA pillowcases are made with luxurious 100% pure high-grade 6A mulberry silk with a thickness of 22 momme to provide the ultimate combination of shine, thickness, softness, and durability. Mulberry silk is naturally hypoallergenic and perfect for sensitive sin or anyone suffering from allergies. Additionally, mulberry silk also contains natural proteins and essential amino acids that help to speed up metabolism of skin cells, thus reducing the signs of aging! The silk fibres are coated with sericin, a protein that repels dust mites, which are a major source of allergic irritation. Sericin also makes silk resistant to mould, fungus, and bacteria. Sleep your way to better health by simply indulging in the luxuriousness of silk.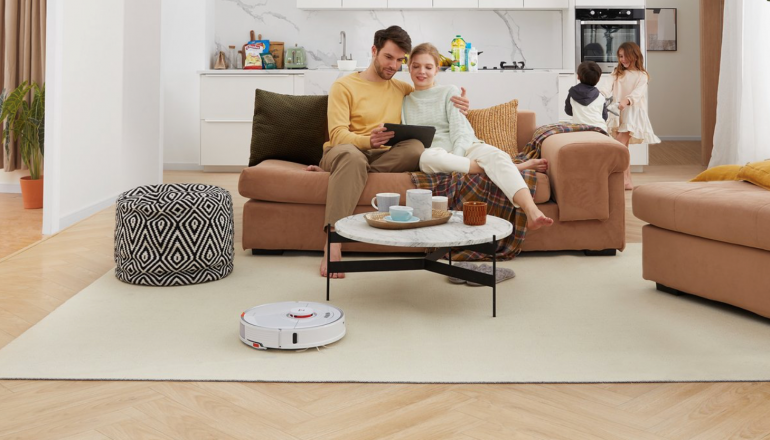 Daily deep cleaning has never been easier with the all-new Roborock S7 with sonic technology that scrubs floors up to 3,000[1] times per minute! Fed by a 300 ml electronic water tank, it cleans floors deeply and effectively. What's more, this The intelligent mop rises when carpet is detected, so you can mop hard floors and vacuum carpets in a single swoop. The S7 is also fitted with highly accurate Ultrasonic Carpet Recognition so you needn't worry about rolling up the carpet during cleaning. The upgraded floating brush also allows multiple planes of movement and tracks the ground tightly, even on uneven surfaces in order to deliver a more effective clean.
The S7's pinpoint accurate LiDAR navigation also means that it can readily create detailed maps of your home and identify your rooms across up to four levels. Equipped with Roborock's HyperForce™ suction system, equipped with a 470 ml dustbin as well as a 300 ml water tank, you can be assured that the S7 will be your trusted home assistant that's perfect for handling overall day-to-day cleaning for a healthier home.
[1] Based on internal testing carried out by the manufacturer. The term relates to the integrated mop module being able to be driven to produce high-speed reciprocating vibration of up to 3000 times/min, i.e. up to a frequency of 50Hz which is within a "sonic" range (20 to 20,000Hz).