National Day is back in full swing after a two year hiatus with a myriad of events and festivities popping up all over the island! Amidst all the frenzy, let's take a step back and slow things down. Gather friends and family at this time to reflect on what we've been through as a nation these pandemic years. Here are six meaningful activities that you can accomplish together as we celebrate our nation's 57th birthday. Let's show what it means to be truly Singaporean!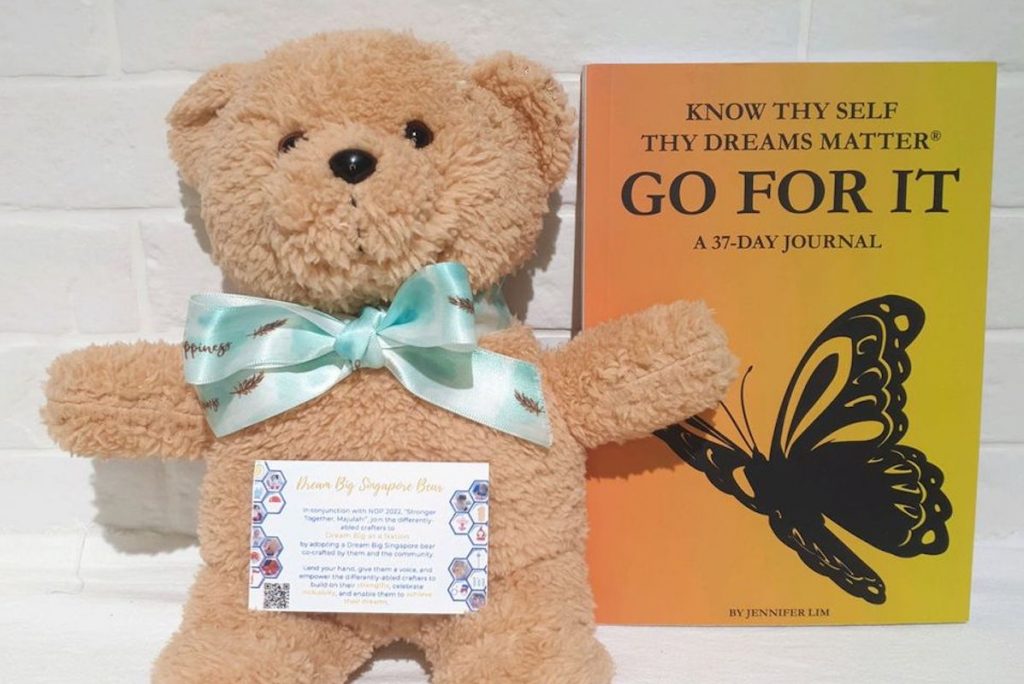 Many Singaporeans are experiencing social disconnectedness due to their physical, mental condition(s) or caregiving duties. This deters them from participating in the community. There are approximately 32,000 people with disabilities in Singapore, and about 16% of our population are elderly. Many young adults with Autism are not eligible for shelter workshops and are left stranded at home. Let us lend our voices to help them fulfil their dreams.
In conjunction with NDP 2022, "Stronger Together, Majulah!", join Social Gifting's differently-abled crafters to Dream Big as a Nation by adopting a Dream Big Singapore bear co-crafted by them and the community. Lend your hand, give them a voice, and empower their differently-abled crafters to build on their strengths, celebrate inclusivity, and enable them to achieve their dreams.
Every set comes with the "GO FOR IT" 37-day motivational journal. The journal aims to bring you on a journey to understand yourself better and enable you to achieve your dreams alongside the crafters.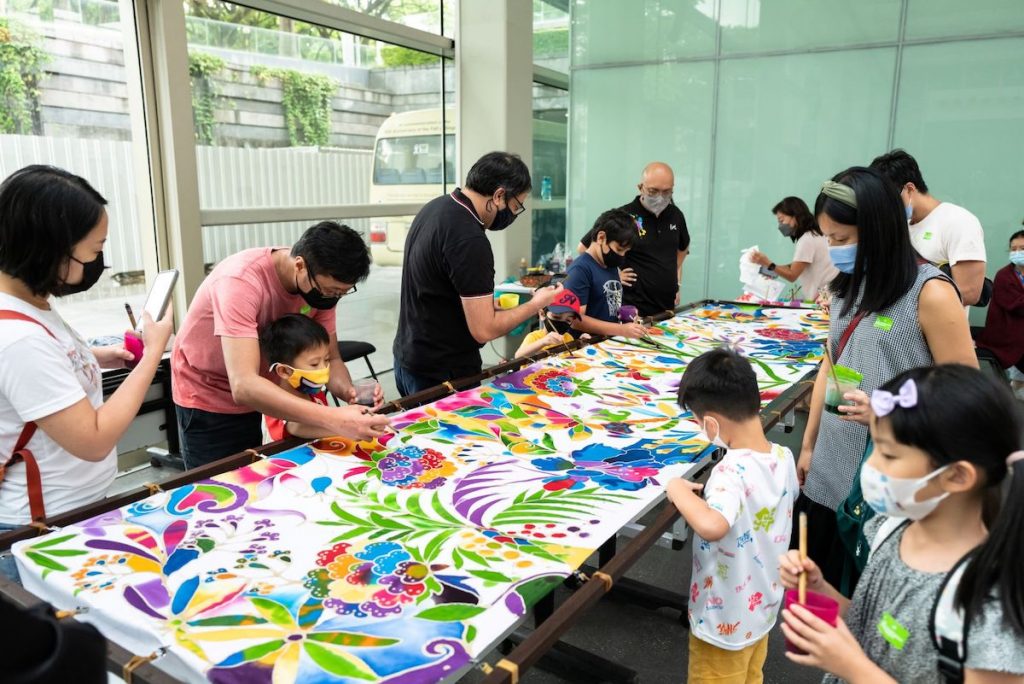 Head down to the National Museum of Singapore and experience gotong royong (community spirit)! This is where everyone comes together to paint a specially-designed batik piece that features Singapore's symbols and national icons! Look out for a unique batik piece on display which was painted by about 200 museum visitors during the museum's Hari Raya edition of Let's Gotong Royong in May! Admire its beauty and see if you can spot a national icon hidden within this colourful artwork.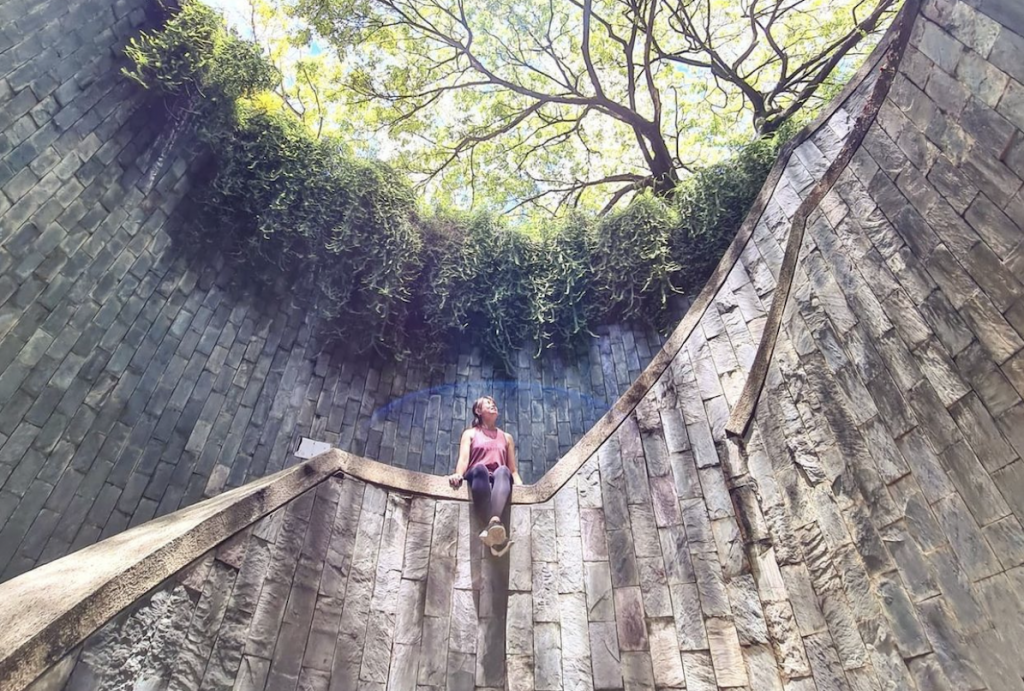 Experience the untold stories behind the neighbourhoods and stories of Singapore with National Heritage Board's Heritage Trails. There's nothing better to make you proudly Singaporean as you embark on these trails. They are designed to introduce you to our history, architecture and culture. Find out more about the cultural and architectural richness of the Peranakan, Kampong Glam and Museum trails. How about exploring the lush greenery at the Bukit Timah Trail? Besides that, you can step back in time with the kids at Fort Canning or soak up our cultural heritage as you explore the Chinatown and Little India Trails. Exploring these trails is a perfect time to reflect on histories past and how we've emerged stronger as a nation.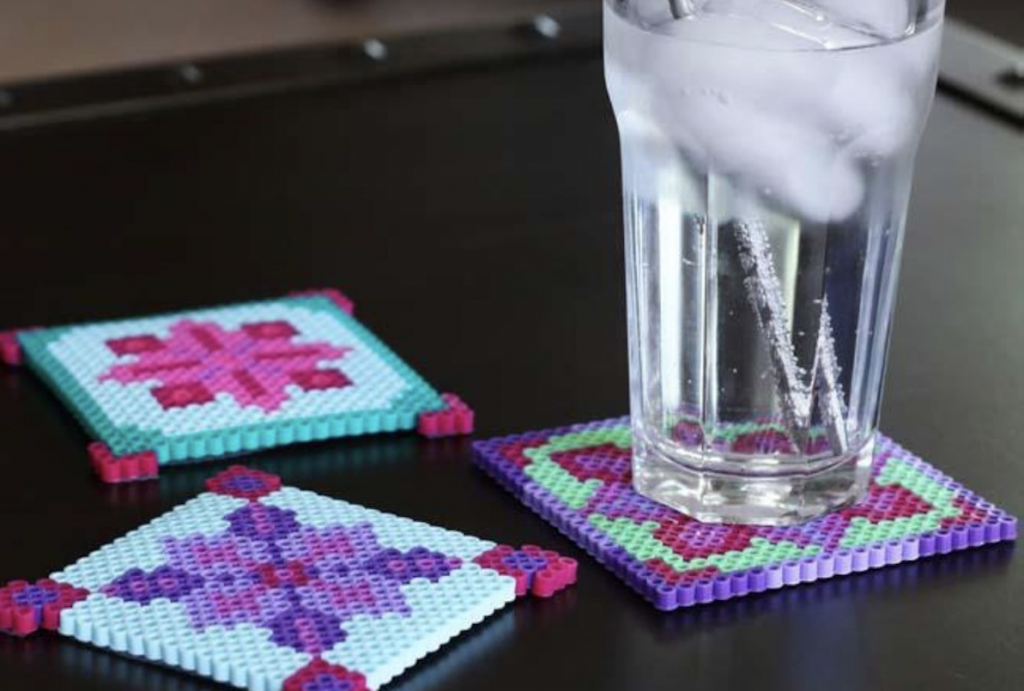 Coaster making is a wonderful bonding activity for you and the kids. You and your little ones can unleash your creativity with coloured beads to create coasters featuring our national symbols. Not only will this brighten up your coffee tables, but also spark off conversations with the younger ones! They can learn about how these icons came about and are uniquely Singaporean!
#TOGOSG57 – Cycle And Walk Together With Your Family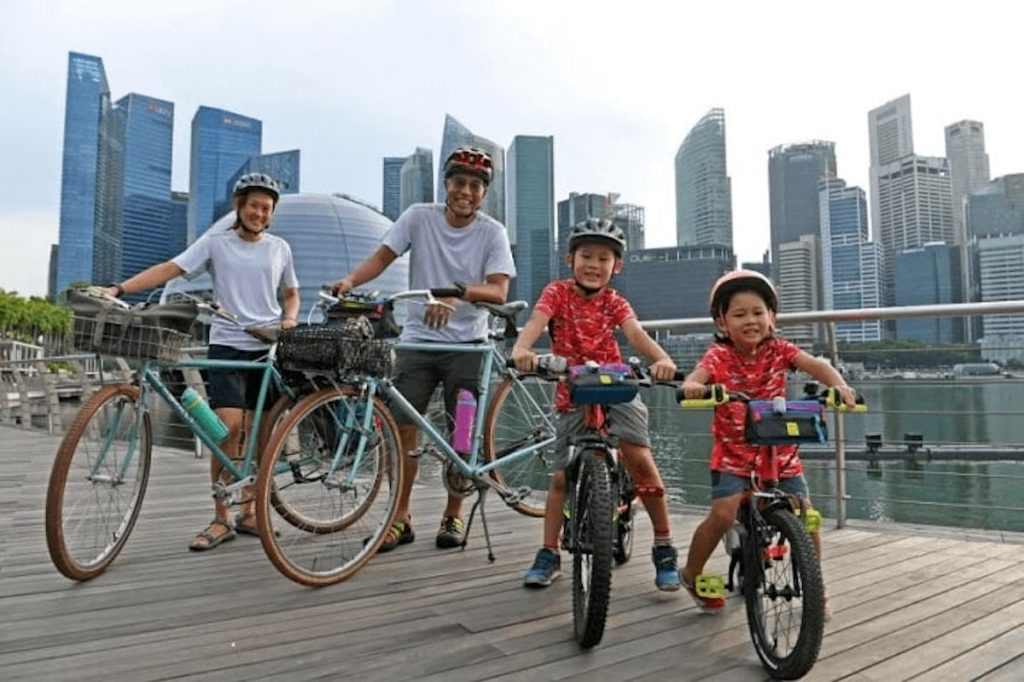 Togo's annual National Day Celebration calls everyone to come together in spirit and strength to reinvigorate the theme of togetherness. In collaboration with the People's Association, #TOGOSG57 began in tandem with Racial Harmony Day on the 21 July. It serves as a reminder that unity amidst diversity is what makes us stronger together!
As well, you can bring your kids along for the ride and embrace the essence of togetherness. Spend a joyous day out in the sun filled with infectious giggles. Furthermore, this event is a great way to encourage your kids to develop a healthy relationship with exercise early on! Strive up the leaderboard together as a unit and strengthen the family bond through this fun family activity. Subsequently, you can track their progress on the leaderboard and motivate them to clock in at least 5.7 km to get an exclusive Junior Finisher medal!
Register now before registration ends on 10 August 2022!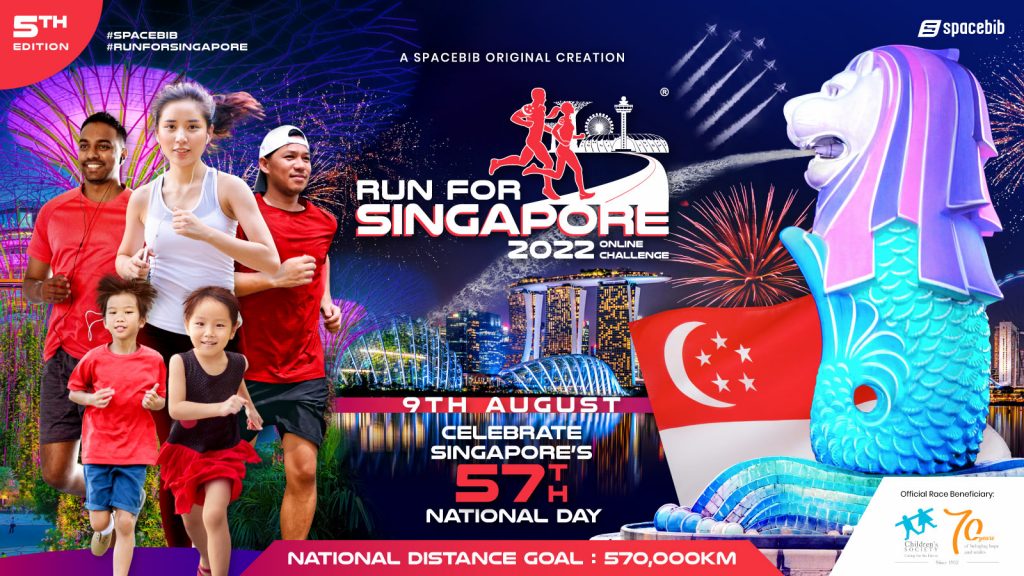 Run For Singapore® is a virtual race held from August to celebrate our nation's birthday. The race distance categories are created in relation to the corresponding year of Singapore's Independence. Bring the whole family on board and contribute as much mileage as possible towards the national distance goal. You can run, cycle, walk, swimming or do any other sporting activities. Yes, kids can participate too! This year's theme is "Towards a Fascinating Future". It rallies all Singaporeans to stay united towards a better and hopeful future. Through the race, we can show the world our nation's strength and resilience that have enabled us to overcome any challenges!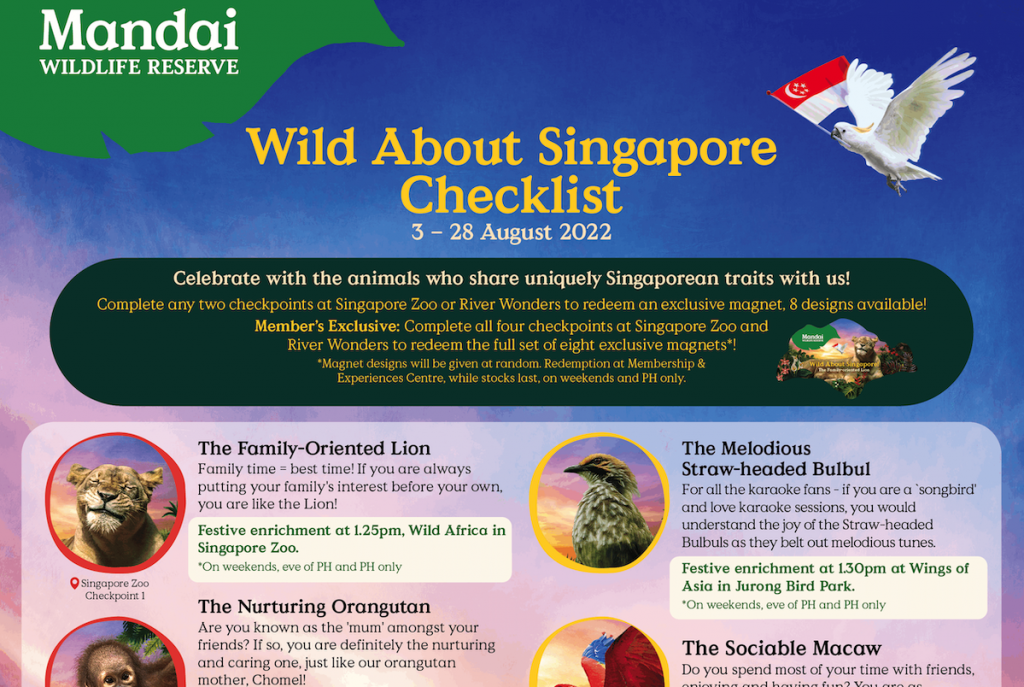 Bring along your family and friends to join in the festivities at the wildlife parks and celebrate what makes us uniquely Singaporean this August. Did you know that some animals share surprisingly similar traits with Singaporeans? Follow the Wild About Singapore Checklist and discover which animals share our unique traits! Don't miss festive animal enrichment programmes and special animal presentations in celebration of Singapore's 57th birthday! Complete any two checkpoints at Singapore Zoo or River Wonders to redeem an exclusive magnet or be among the first 100 members to redeem a full set of eight exclusive magnets* when you complete all four checkpoints across Singapore Zoo and River Wonders!