Nine years after the release of Harry Potter and the Deathly Hollows, the seventh and what we all thought was the final volume of JK Rowling's spellbinding series about the wizard boy who lived, the writer has brought the magical world of Harry Potter back to us with the release of Harry Potter and the Cursed Child on Sunday (31 July). Unlike its predecessors,  Harry Potter And The Cursed Child Parts I and II is actually a script based on the London play (currently running — but pretty much sold out — on London's West End) rather than a narrative novel.
Inspired by the book's launch, we've put together five ways to help you inject a little bit of that Harry Potter magic into the lives of your little ones.
1. Magical Nursery

Create a mini world of wizards and wonders for your precious little bub with a Harry Potter-themed nursery. You can take a leaf out of  Kaycee and Casey Daniel's page (images above are courtesy of Kaycee Daniel) who designed an incredible Harry Potter nursery for their seven-month old son. With a hand-painted mural, some cool wallpaper and strategically placed frames of whimsical artwork, you too can create the ultimate Harry Potter-themed nursery. Just think of how amazing story time would be in a room like this!
2. Harry Potter-Themed Newborn Baby Photo Shoot
What better way could there be to celebrate a new addition to the family than with an elaborate photo shoot particularly when mini wizards and fantastical creatures are involved. All you need are some books, appropriate props, a bit of imagination and (probably) a lot of patience, et voila, you've got some pretty special pictures.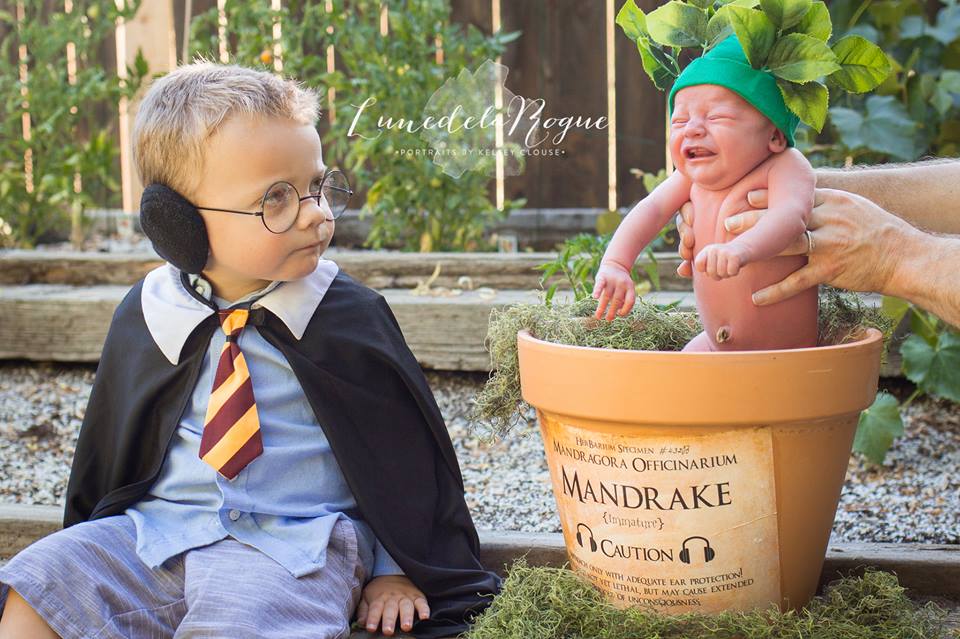 When in doubt and if the little ones are acting up, you can always incorporate those fussy, crying moments into the photoshoot just like how Katherine Oldfield and her husband, Jesse did with this photo (above) of their children. With all the leaves and the flower pot in place, little Theodore's displeasure made for a perfect Mandrake (a root that looks like a human in the Harry Potter world) as he was photographed being pulled out of the pot while his older brother Sebastian looked on.
3. A Fantastical Birthday Party 
Everyone loves a good party and a dash of magic and some sparkles never goes amiss. The world of Harry Potter is a great theme as there are many elements that can easily be brought to life to jazz up a party. Some ideas include designing the invitations to look like letters of acceptance to Hogwarts, creating your very own Platform 9 ¾ by the entrance, have some potion jars as centrepiece decorations and one of our favourites: some glittery Golden Snitch cake pops to pass around!
4. Name Your Minifique After A Character
My daughter Hermione is ready for Harry Potter day. That is her real name. 🙂 @jk_rowlingpic.twitter.com/uoBH51MNNA

— Mirnie Ellerbe (@MirnieEllerbe) July 26, 2016
@jk_rowling @Chickpeas3ways meet Harry you can see his mark better here pic.twitter.com/xVjzdeC2Yg

— Jes Lauren (@Jesschica22) February 23, 2016
If you're a true blue Harry Potter fan, there's no better way to show your love for the story than by naming your children after the characters in the books. It also saves you the trouble of planning a different Halloween outfit for the kiddos each year. After all,  they can just go as their namesake's character!
5. Some Homemade Butterbeer
Butterbeer is so ubiquitously Harry Potter and yet so easy to whip up that no self-respecting Harry Potter fan should be caught dead without at least some kept in their fridge. There are many variations floating around the Internet but generally speaking the rules are that butterbeer must be served cold, have a frothy head like beer and of course, taste like butter. The base of most recipes include a mix of cream soda and butter or butterscotch syrup and sometimes rum extract. You can top it off with vanilla ice cream, whipped cream or marshmallow fluff. For the adult version, simply kick it up a notch with a dash of dark rum, or two.