It's that time of the year again with lanterns and mooncakes! Huddle together with friends and family (in groups of five only of course!) and celebrate Mid-Autumn together with these delectable treats! Be adventurous and try new flavours or opt for the tried and tested, all-time favourite flavours. Presenting the 12 must-try mooncakes for 2021!
SHANGRI-LA SINGAPORE: Milo Dinosaur Mooncakes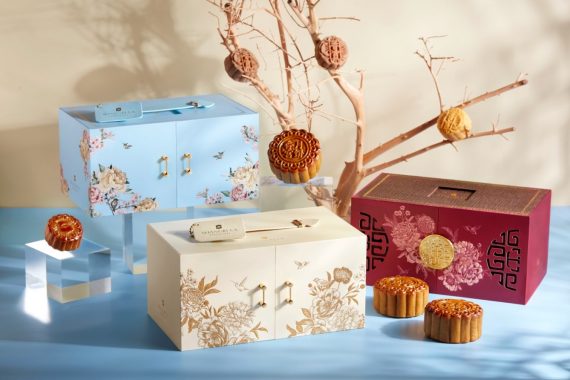 This Mid-Autumn, Shangri-La Singapore rolls out an exclusive kid's gift set with Mini Dino Milo Mooncakes that are the perfect introduction to this traditional treat for the little ones. Mums and dads will also be able to enjoy a tasteful selection of Shangri-La's mooncakes themselves. Indulge in the limited-edition 50th Anniversary special, 50-Year Aged Mandarin Peel with Rose and Red Bean Mooncake, the Bird's Nest Mooncake with NestBloom that conveys well wishes and good health, and returning traditional baked favourites such as Black Sesame with Taro and Melon Seeds, and Reduced Sugar White Lotus Seed Paste Mooncakes in four different variations; both in a box of four and as single pieces. Shangri-La Singapore's mooncakes are available for purchase online at bit.ly/SLSMooncake, and from the Mooncake Specialty Counter at the hotel's Tower Wing Lobby from now until 21 September 2021.
GREEN COMMON SINGAPORE: Vegan-Friendly Mooncakes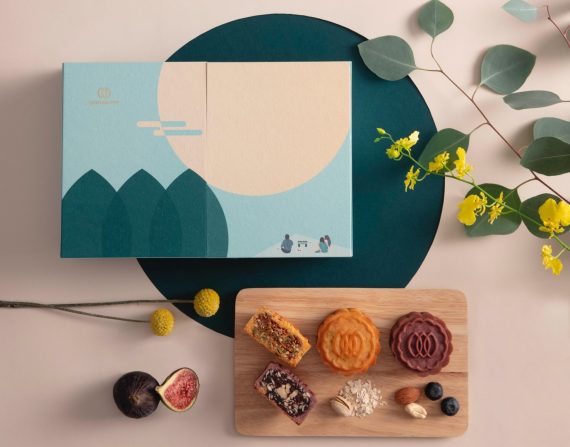 This Mid-Autumn Festival, celebrate sustainably with a range of delicious, vegan-friendly mooncakes from Green Common Singapore. Now available for pre-order, the plant-based eatery and grocery concept store is introducing two new vegan mooncake gift sets: a Vegan Custard Mooncake set (S$54), starring a plant-based rendition of the classic mooncake, and a Vegan Mixed Nuts Mooncake set (S$56), featuring a Figs with Pistachios & Oats Mooncake and a Mixed Nuts with Blueberries & Purple Sweet Potato Mooncake. The perfect gift for the health-conscious, the mooncakes contain no cholesterol or trans-fat, and are free from added preservatives and artificial colourings. Designed for gatherings of family and friends, each set also comes complete with the popular board game "One Night Carniwolves" and the gift box unfolds into a miniature table. Available exclusively at Green Common, VivoCity, each set comes with six mooncakes and will be ready for collection from 6 September to 21 September. Enjoy an early-bird discount of 20% when you pre-order from now until 12 September 2021 via https://gcmooncake-preorder.paperform.co/.
LADY M: Custard & Cocoa Flavours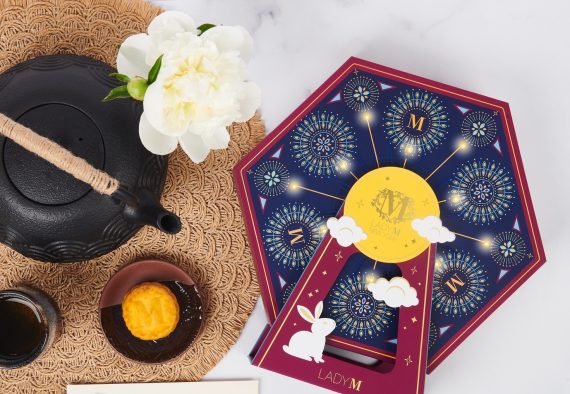 This Mid-Autumn Festival month, Lady M, the world-famous confectioners of New York, is proud to unveil its Celebration of Lights Gift Set as this year's limited-edition mooncake set. Packaged in a custom-designed Ferris wheel box for a treat that is at once whimsical, entertaining and delicious, the box comes with six signature mooncakes in a rotation of reinterpreted familiar flavours – a golden rich Custard Mooncake and a dense, cocoa-infused Chocolate Mooncake for classic bites of sweetness. Available now, you can delight loved ones by purchasing boxes across all Lady M boutiques in Singapore, pre-order or have them delivered to their homes via the Lady M Singapore website. 
RESORTS WORLD SENTOSA: Mooncakes with Health-Boosting Ingredients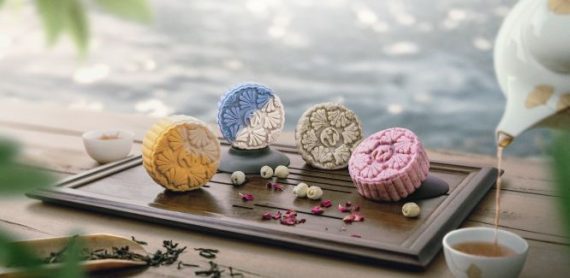 This Mid-Autumn Festival, enjoy a delicious and nourishing season with Resorts World Sentosa (RWS)'s signature snow skin mooncakes. Award-winning RWS Executive Pastry Chef Kenny Kong (江定佳) and Head Chef Li Kwok Kwong (李国光总厨) of Feng Shui Inn (风水廷) have teamed up to craft four luxurious mooncake flavours that are low in sugar and feature premium health-boosting ingredients, such as American Ginseng, grapeseed oil, yuzu and butterfly pea flower. Moon gaze and appreciate the art of pairing these morsels of delight with four exquisite teas handpicked from Tea Chapter, Singapore's largest and oldest teahouse. To mark the celebration of the moon festival, RWS has also collaborated with internationally renowned creator of hand-painted bone china, Asianera, for tea pairings brewed with their Mandarin series teapot set, a perfect accompaniment for the season. Fans of baked mooncakes can look forward to an exclusive mooncake set by Michelin-starred restaurant, table65, and nouvelle Japanese restaurant, Syun, featuring two sumptuous flavours with decadent ingredients such as Australian black winter truffle and Hibiki Harmony Whisky, offering a contemporary twist to perennial classics. A specially curated set of four traditional baked mooncakes that pay homage to more customary flavours is also available. Orders for all mooncakes sets can be placed via email at [email protected], via phone 6577 6688, on https://www.rwsentosa.com/en/promotions/restaurants/mooncakes-2021 , or at the lounge in Hotel Michael's Lobby, Resorts World Sentosa.
MARMALADE PANTRY: Mooncakes In Limited Edition Woven Bags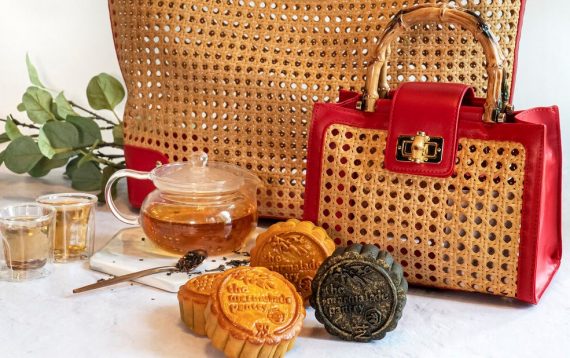 Marmalade Pantry never fails to impress and this year, their mooncakes come in chic gift sets packed in a woven handbag! These bags boast PVC leather with woven rattan and are available in two sizes,. They also offer low sugar varieties like pandan with melon seeds and Earl Grey-infused lotus paste.  We always love the baked charcoal with black sesame and macadamia nuts, and double yolk with white lotus paste flavours. Delicious! Click here to order.
CHEERS & FAIRPRICE XPRESS: Sanrio-Themed Sets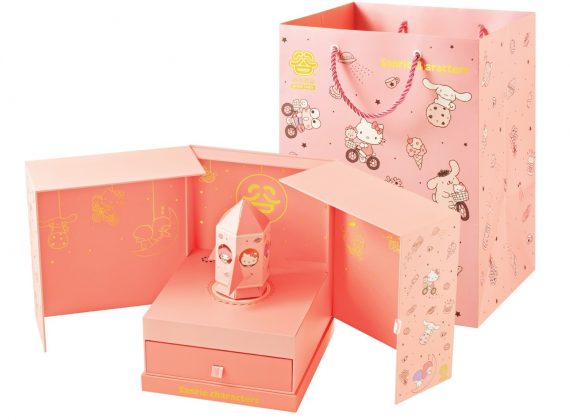 Have yourself a Sanrio-themed Mid-Autumn Festival this year! Cheers and FairPrice Xpress are poised to launch three limited-edition baked mooncake sets featuring the beloved Hello Kitty and My Melody characters! Each set will come with keepsake boxes as well as collectibles, making them a perfect gift for the biggest Sanrio fan you know. There are also mooncakes by Golden Moments, Tung Lok and Old Hong Kong, which will appeal to the palates of purists and adventurous gourmands alike. Prices range from S$68.80 to S$139.90. 
MARINA BAY SANDS: Mooncakes Paired with Tea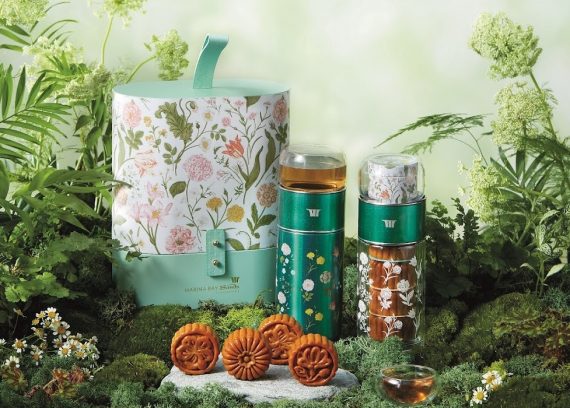 Celebrate Mid-Autumn Festival with Marina Bay Sands' classic pairing of artisanal mooncakes and fine tea, uniquely presented within two eco-friendly tea-infuser tumblers inspired by nature. Led by executive pastry chef Antonio Benites, the integrated resort's pastry team honours the timeless artistry of traditional mooncakes with three nostalgic flavours, thoughtfully crafted using all-natural, premium ingredients: low sugar lotus paste with melon seeds, premium pandan with melon seeds, and yam and lotus paste with salted egg yolk. Each gift set (S$88 nett) consists of two elegant tea-infuser tumblers filled with eight mini baked mooncakes and two tins of Imperial Pu-Erh tea leaves. Purchase the mooncakes in-store at Origin + Bloom, located at Marina Bay Sands Hotel Tower 3 Lobby, from now to 21 September 2021.
THE CAPITOL KEMPINSKI HOTEL SINGAPORE: Lovely Mini Mooncakes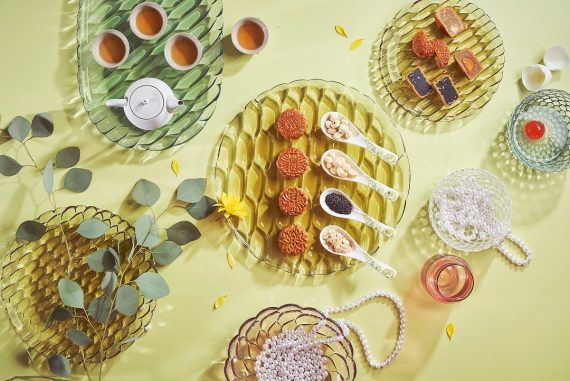 The Capitol Kempinski Hotel Singapore pays homage to its heritage and upholding the traditionally tried and tested this Mid-Autumn, bringing back the most classic of mooncakes when it comes to flavour. These heavenly morsels also come in handy mini sizes – all the better to share with loved ones – presented in a beautiful and elegant box that borrows inspiration from two landmarks of Singapore's Civic District: Capitol Singapore and CHIJMES. Available for purchase at https://shop-capitolkempinski.com/collections/mid-autumn-mooncake-festival. Apply 20% discount on mooncake orders at checkout with promo code MOONCAKE20.
RAFFLES HOTEL SINGAPORE: Champagne Truffle Snowskin and Two New Flavours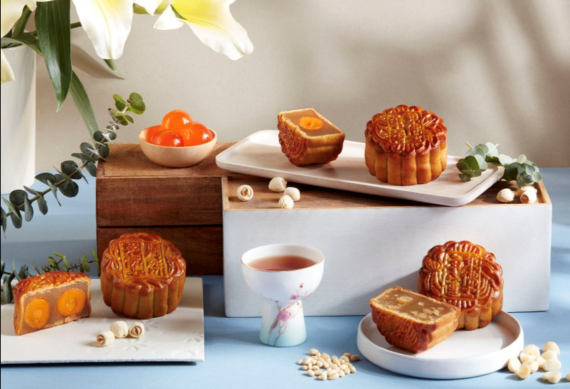 Celebrate the traditions and delights of the Mid-Autumn festival with the legendary Raffles Mooncakes. Intricately handcrafted favourites and heart-warming traditional mooncakes meticulously handcrafted by the hotel's master chefs to bring prosperity, peace and harmony to you and your loved ones. Check out two of their latest creations, Yunnan Dark Brown Sugar and Rum Truffle Snow-Skin Mooncake as well as the Da Li Rose and Strawberry Chocolate Snow-Skin Mooncake. Also not to be missed is their perennial favourite, the Champagne Truffle Snowskin Mooncake, delectably swathed in a velvety white lotus paste and luxuriously fragrant as it has always been. Visit https://www.rafflescelebrations.com.sg/category/mooncake-selection for credit card promotions and to place your orders.
YÀN: Mooncakes in Bamboo Tote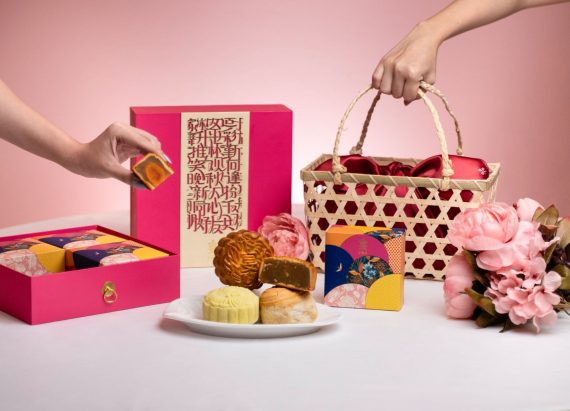 Yàn ushers in Mid-Autumn with five traditional mooncakes and a snowskin creation presented in three new vibrant packagings dressed in modern Chinese elements. The elegant Get-Together Box is a stunning fuchsia drawer box with a striking gold-coloured stencil of auspicious phrases. The Bamboo Tote presents a classic handwoven basket made from natural bamboo, cradling four boxes of mooncakes stylishly bundled in a fuchsia cloth. The reusable tote is perfectly sized to hold daily essentials, or as a gift bag for sharing treats with family and friends – a nod to sustainable gifting. There's also the Double Moon that offers sets of two mooncakes that are fitted into a box with a satin ribbon handle and adorned with prints of Chinese-influenced fabric embroidery – inspired by a striking feature wall at Yàn. This year, Yàn collaborates with three locally grown brands – Fossa Chocolate, Kindred Tea, and Smoke & Mirrors – for four curated gift sets. Available for order https://yan-restaurant.myshopify.com/.
HAI TIEN LO @ PAN PACIFIC SINGAPORE: Pu'er Lotus Seed Paste Mooncake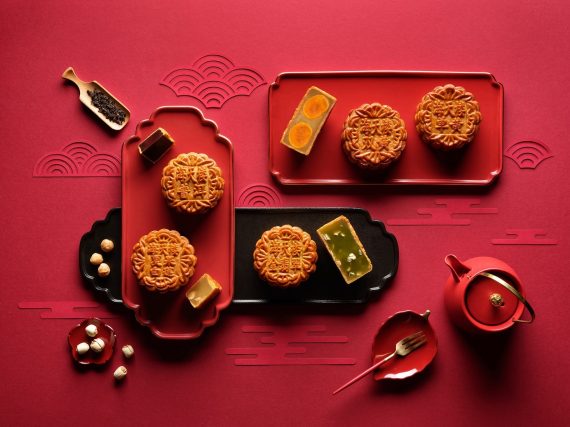 Celebrate Mid-Autumn Festival with an exquisite medley of ten handcrafted baked and snowskin mooncakes that will please all palates. Hai Tien Lo introduces a healthier selection of five traditional baked classics with reduced sugar. Check out all-time favs like White Lotus Seed Paste Mooncake with Single Yolk and Double Yolk, White Lotus Seed Paste Mooncake with Macadamia Nuts and Jade (Pandan) Paste Mooncake with Melon Seeds. Making its debut in the restaurant is the low-sugar Pu'er Lotus Seed Paste Mooncake which pays tribute to the tea-appreciating festival. Also available are the best-selling Mao Shan Wang Durian Snowskin Mooncake, Matcha Black Sesame Snowskin Mooncake and Gianduja Yuzu Snowskin Mooncake. Mooncakes are presented in a ruby leather-esque box imprinted with ornate motifs of birds and flowers and adorned with a gold clasp, the luxurious ensemble of baked and snowskin mooncakes is perfect for gifting. Visit https://shop-panpacificsingapore.panpacific.com/en_SG/ to order.
PARKROYAL COLLECTION Marina Bay: New Pu 'er with Mochi Mooncake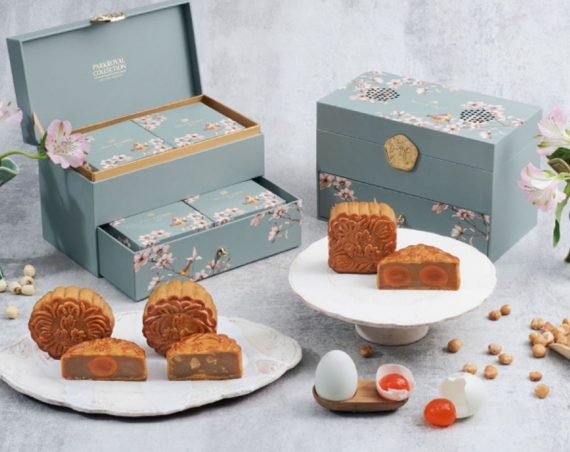 PARKROYAL COLLECTION Marina Bay, Singapore and Peach Blossoms commemorates the Mid-Autumn Festival with a divine ensemble of traditional baked mooncakes. Savour the all-new Pu 'er with Mochi, a sublime marriage of fragrant and earthy notes, exclusively crafted for Peach Blossoms, or the mellow Lychee with Wolfberries which exudes a gently refreshing floral and fruity twist. Not to be missed is the exquisite Charcoal Black Sesame Paste with Melon Seeds and Gold Dust, a crowd favourite and signature creation that perfectly blends a oh-just-right sweetness and a nutty roasted aftertaste. Rounding off is the all-time favourite Double Yolk, made with velvety "less-sweet" lotus paste complemented with luscious salted yolks. Their mooncakes are presented in an elegant two-drawered box with built-in Bluetooth speakers, and beautifully adorned in elements of peach blossoms floral design on pastel green and complete with a gold emblem clasp. For online orders, visit their e-shop.  Orders made via the e-shop are for self-collection only. To arrange for delivery, contact them directly. For enquiries and orders, call +65 6845 1118 or email [email protected].