"Our children need to see themselves in books that represent us culturally – how we look, speak and the way we live." – Emily Lim-Leh
Way back when, local children's books were few and far beyond. Now, they are found in bookstores islandwide as well as online and cater to various age ranges. Furthermore, Singaporean Mums have taken the lead to pen down stories that reflect the very heart of what it is to be Singaporean. According to author, Emily Lim-Leh, these books not only open doors to our past but also help our children make meaningful connections. We've shortlisted 10 of these esteemed literary works that explore childhood through to adulthood. Not only that, they also provide a platform for you to jumpstart purposeful conversations with your kids.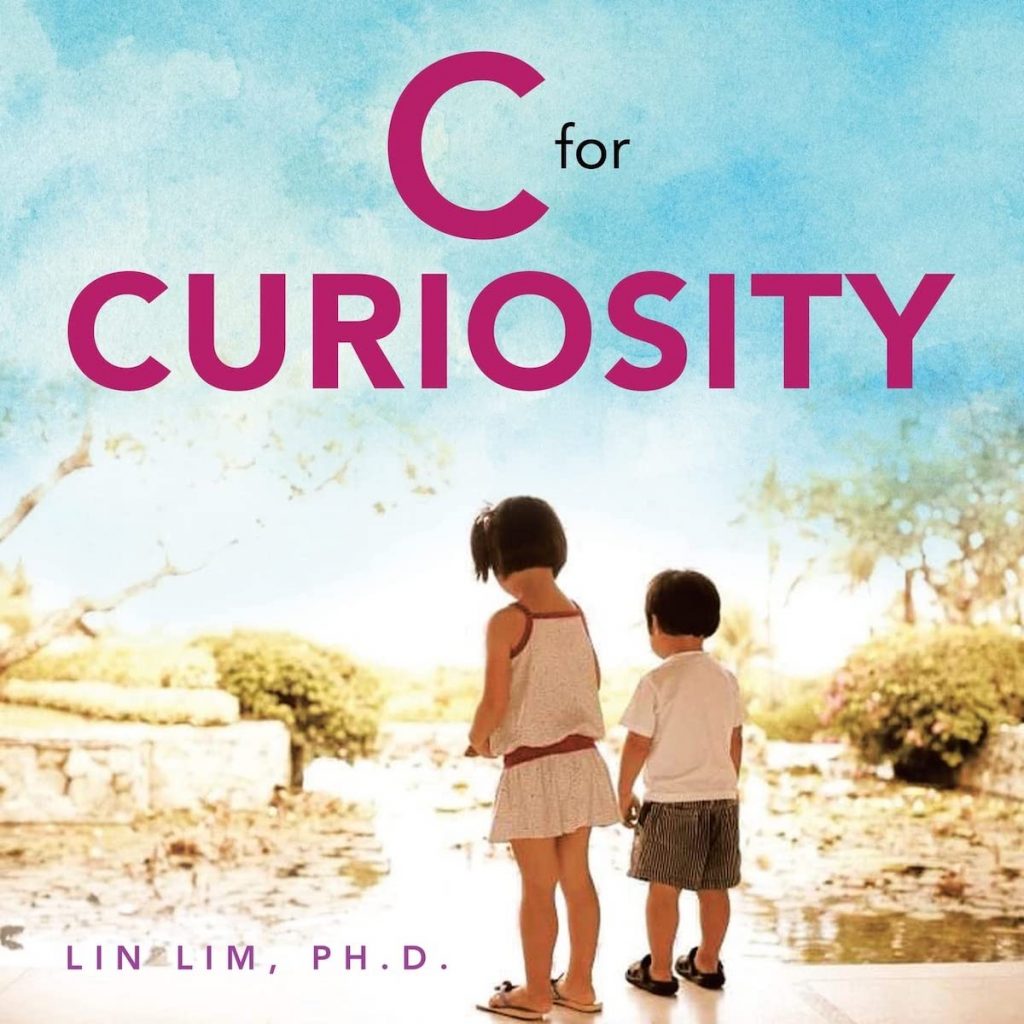 Suitable for: All ages
Synopsis:
Dr. Lin Lim is mum to a radically accelerated profoundly gifted daughter, and profoundly gifted twice-exceptional Autistic son. Her parenting journey drives her to increase her knowledge in these areas. She is currently the Dean of Students and Communications at Bridges Graduate School of Cognitive Diversity in Education. (Read our Mums We Love column featuring Dr. Lin here!)
In C for Curiosity, Dr. Lin demonstrates that curiosity is an important key component to understanding and celebrating the beauty and wonder of different minds, perspectives, and subjective lived experiences. This photo book shares a family's journey through the perspective of a cognitively diverse, gifted multi-cultural child. It offers insight into the mind of a gifted, Autistic, Asian-American boy, serving as a bridge for families, parents, educators, and individuals to discuss diversity and what constitutes being human.
Why We Recommend It:
This book is great to spark conversations with your children and ignite varied interpretations of the featured artworks. It is always perfect to introduce your kids to what autism, gifted and twice-exceptional means.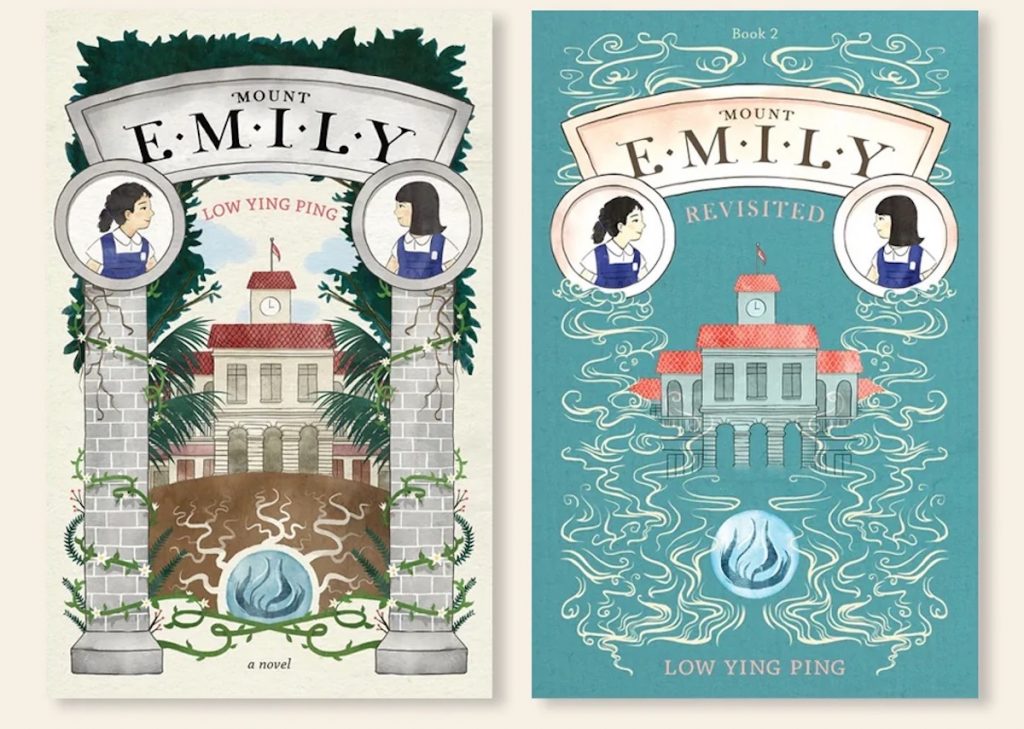 Suitable for: Ages 9-18
Synopsis:
While digging around their school's backyard in search of an urban legend, Patsy Goh and her best friend Elena are whisked back in time to 1987. Trapped in their mums' 13-year-old bodies, the duo race against the clock to hunt down the magical time crystal that got them in this mess, before the evil Midnight Warriors find it and cause a time crisis that could destroy all of existence. The other books extends this storyline.
Why We Recommend It:
The storyline is intriguing and it depicts time travel set in Singapore brilliantly. As well, this book is perfect to discuss with your tweens or teens as the teenage leads are very relatable with their flaws and insecurities.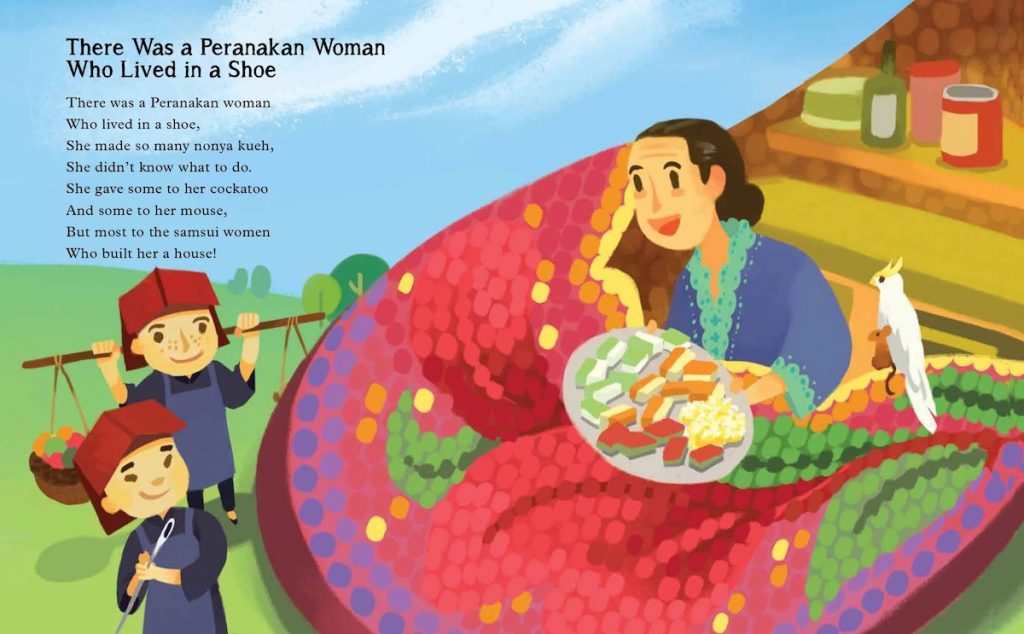 Suitable for: Ages 3 and above
Synopsis:
"There was a Peranakan woman who lived in a shoe. She made so many nyonya kueh, she didn't know what to do." This book features modernised nursery rhymes with original rhymes that are injected with local Singaporean flavour and humour. It showcases local food, traditional culture, places and also festivals.
Why We Recommend It:
Children will be able to identify with these popular nursery rhymes and pique their interest into finding out more about Singaporean culture. It's the perfect book to start off your little one on rhyming patterns while at the same time having fun with it.
Suitable for: Ages 4 and above
Synopsis:
The Timmy & Tammy 'Let Me Read' series feature stories that are all set in Singapore and revolve around Timmy & Tammy's adventures to popular local attractions such as the Botanic Gardens, Changi Airport, and the Fire Station.
Why We Recommend It:
The books are written based on different reading levels, Level 1 being the simplest and suitable for preschoolers. These easy-to-read books are great for helping kids to match spoken words with print and for building up confidence in reading. The Timmy & Tammy books are also available in Chinese and Malay languages.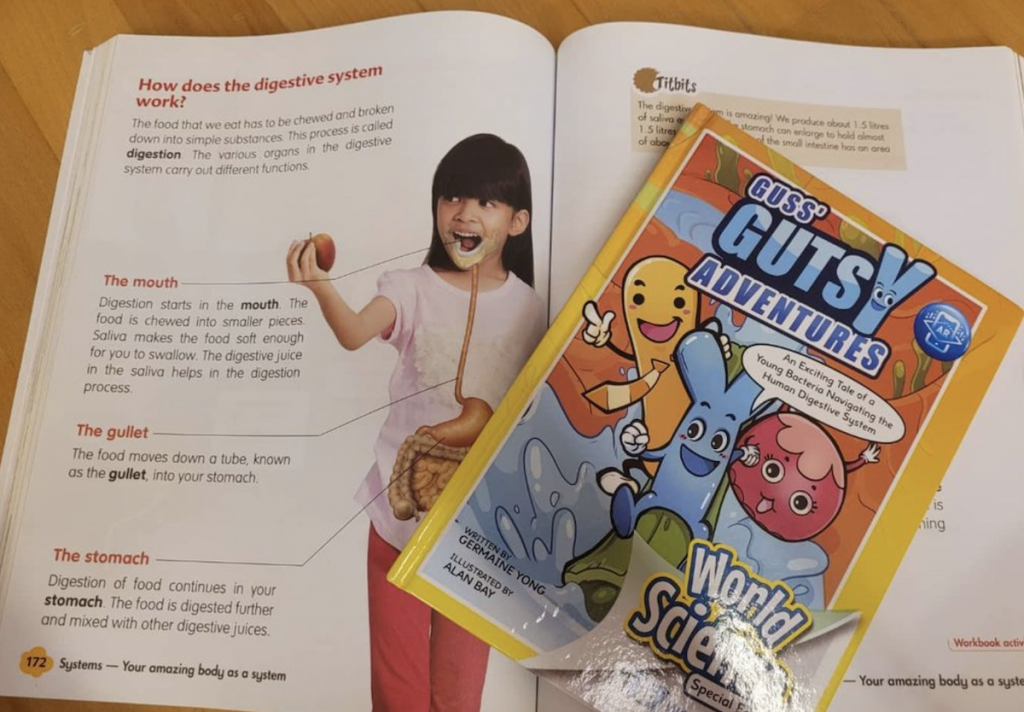 Suitable for: Ages 6 and above
Synopsis:
In this Special Edition comic book in the bestselling World of Science series, A* STAR scientist Germaine Yong imagines the human digestive system as an exciting journey for a young bacteria named Guss. Learn about the ins and outs of our digestive system and how to stay healthy, while having fun with Guss.
Why We Recommend It:
Kids can learn Science through fun-filled adventures, plus the augmented reality features of the comic bring Science learning to life, literally!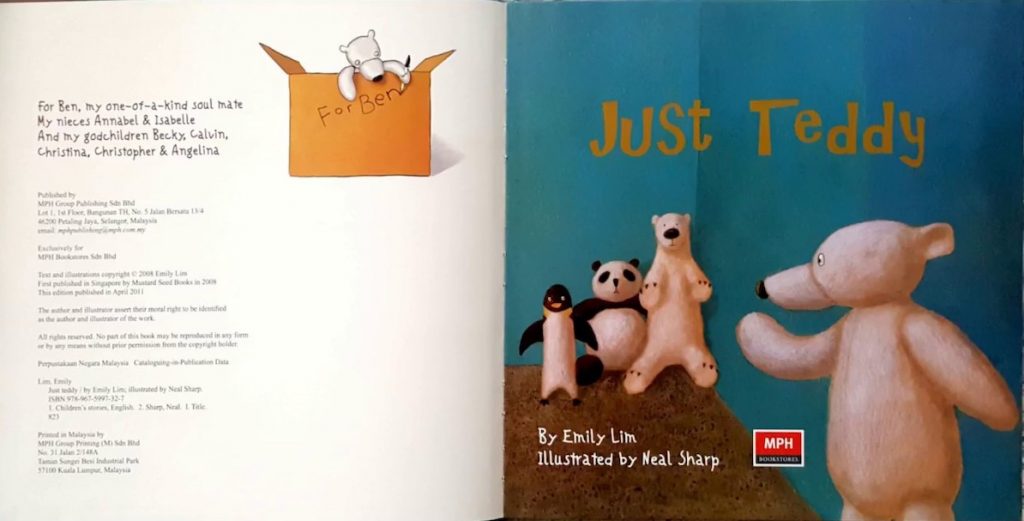 Suitable for: Ages 5 and above
Synopsis:
Just Teddy tells as tale of a lonely teddy bear who tries hard to fit in with the toys in a toy factory. His quest takes him on a little adventure where he makes a surprising discovery about himself. This endearing picture book is a modern tale about love, acceptance, self-discovery, and friendship. This book is part of the Toys series which also includes Bunny Finds the Right Stuff, Prince Bear & Pauper Bear, and The Tale of Rusty Horse.
Why We Recommend It:
This story is perfect for young children as it is filled with beautiful and soothing illustrations. The vocabulary used is suitable for younger kids and the lesson about belonging is an important one to be shared at a young age. Preschoolers will attempt to fit in with others around them and change themselves to feel as if they belong.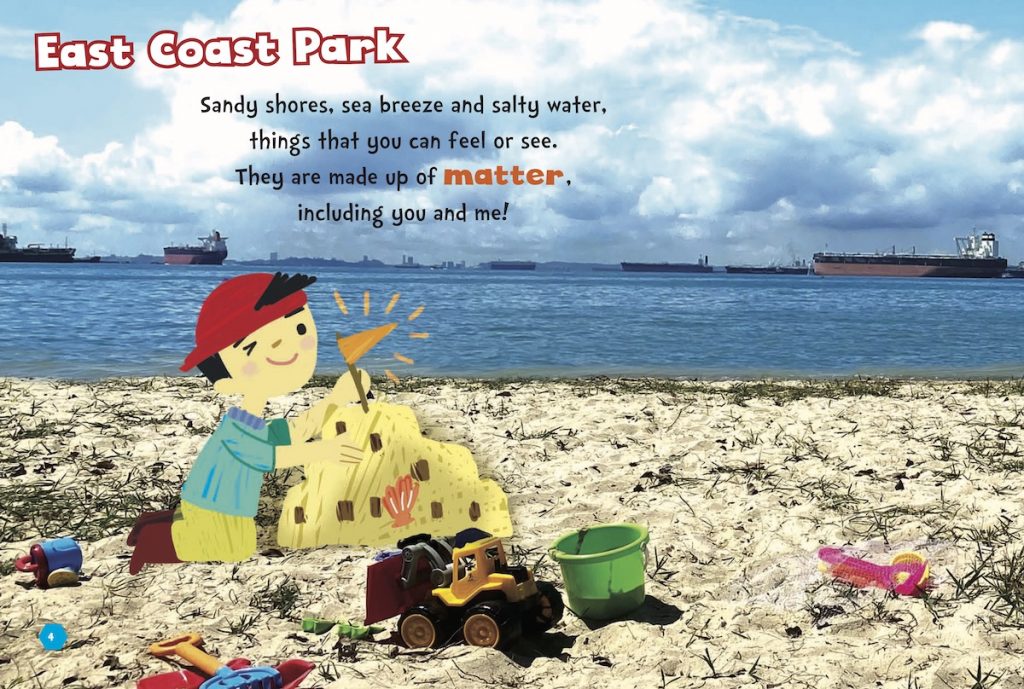 Suitable for: Ages 5 and above
Synopsis:
Science is everywhere around us! We can encounter and discover the wonders of Science unexpectedly as we walk around Singapore. A* Scientist Dr Amalina Binta Ebrahim Attia reveals the Science behind your favourite Singapore attractions and destinations for play and fun. The book reflects an exciting combination of photography and colourful illustration.
Why We Recommend It:
The Augmented reality experience featured in this book brings Science to life especially for little readers and helps them to visualise the world around them. In addition, this book's familiar landmarks and attractions will excite children to finding out more about Singapore and their surroundings.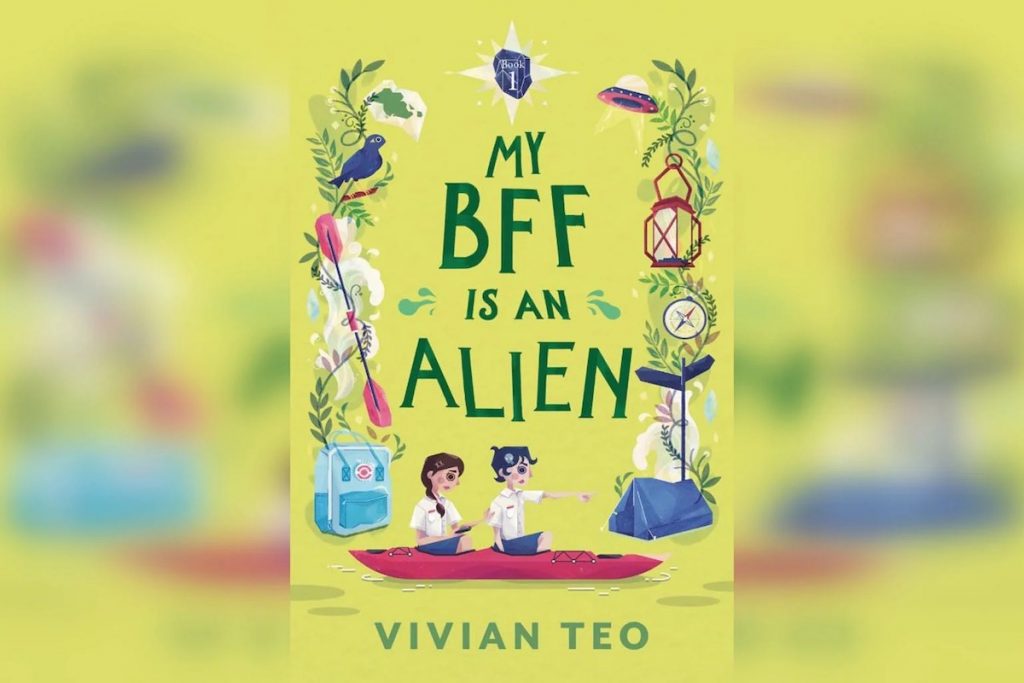 Suitable for: Ages 9 and up
Synopsis:
Meet Abriana Yeo, 13, awkward and friendless. Meet Octavia Wu, a graceful teenage alien with superpowers. Forced to flee her home planet Viridis after an invasion by "The Others", another alien species, Octavia and her parents crash-land in the Singapore heartland. Behind the adventure, mystery and sci-fi, this middle-grade series explores the pertinent issues that teenagers typically deal with in a local school setting. These include friendship, loyalty, CCAs, homework and bullies. There is also no shortage of excitement and intrigue in this sci-fi and adventure.
Why We Recommend It:
This five-book series deals with typical issues that teenagers face in a school setting. As such, it helps them to identify and handle such issues should they be faced with them.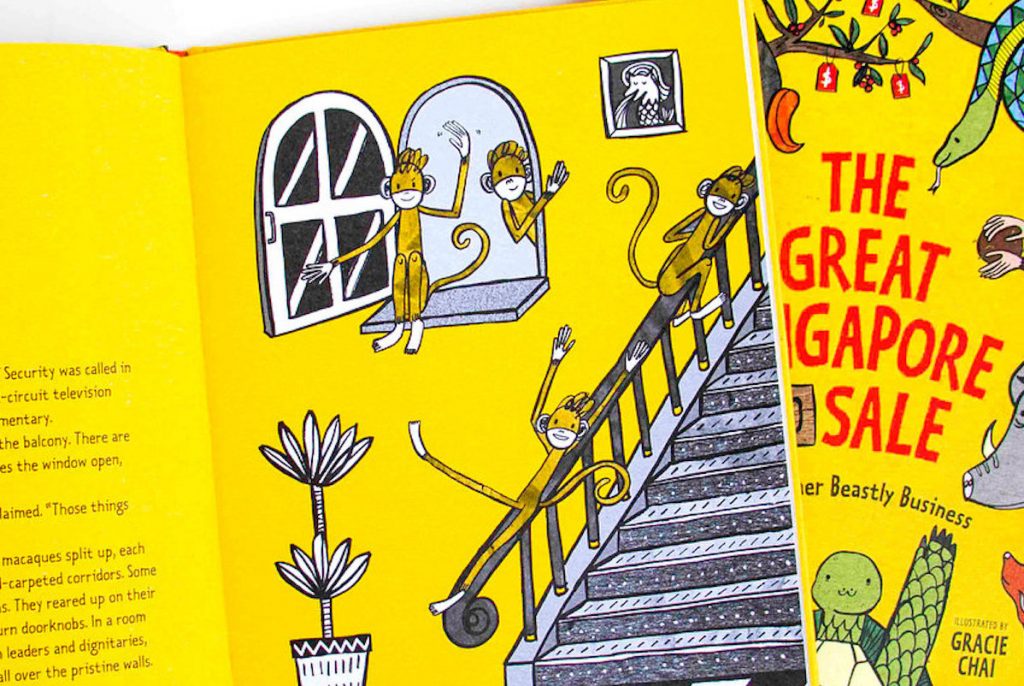 Suitable for: Ages 9 and up
Synopsis:
The animals of Singapore are under threat! Humans are invading their homes. So they're fighting back. Alpha Macaque and his troop embark on a daring adventure to rewrite the Constitution. When that fails, Dung Beetle establishes a smelly enterprise, and Pink Dolphin has ideas of his own. Species large and small take centre stage in this charming picture book that advocates conservation and childlike wonder.
This humourous book introduces Singapore's wildlife and the importance of conservation in a fun way. Ideal for avid readers aged 9 and up, for adults to read with little ones, and for animal lovers and the young at heart everywhere. Every copy purchased on the author's website is signed!
Why We Recommend It:
This fascinating and endearing story has beautifully woven messages embedded into it. It is a great book that can foster children's compassion for animals and nature as well as to be more appreciative of them. Perfect for kids and adults alike!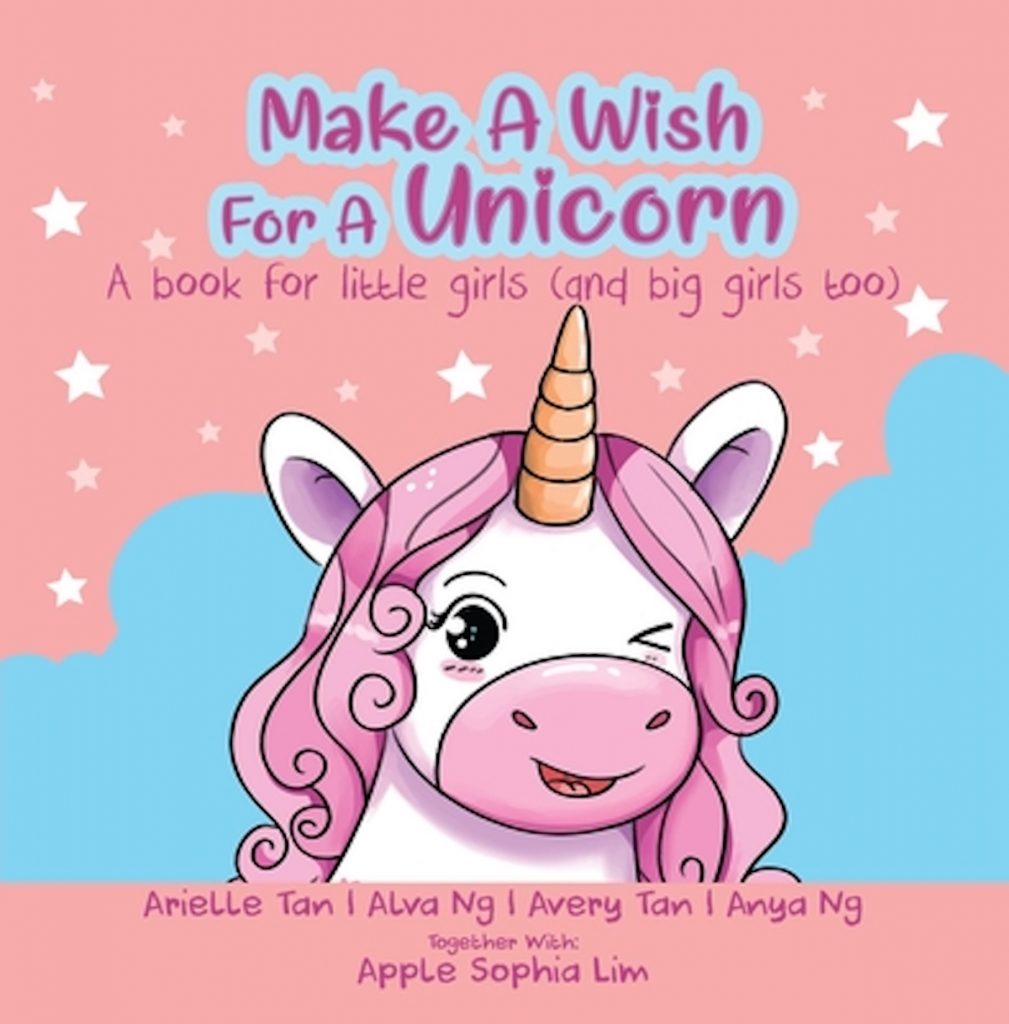 Suitable for: Ages 3 to 7
Synopsis:
Based on their own ideas and creativity, Apple and her two daughters co-authored and published their first 'Make a Wish for a Unicorn' book in 2020. They've since launched the 'Make a Wish for a Book' series of interactive stories. The story starts with a farting unicorn appearing after the readers make a wish. While the readers wonder what to do with the unicorn, the unicorn begins to eat a pizza. The unicorn dozes off, prompting the readers to shake the book to wake the sleeping unicorn. After the readers suggest wearing a face mask, the unicorn pulls out a pair of underwear instead. Then, the unicorn brings the readers to meet its sister, but the unicorn's sister is on the phone. The book teaches sisterly love and invites you to join the unicorn sisters in a game of tickling. Finally, the unicorns prepare for bedtime and say goodnight to the readers.
Why We Recommend It:
A fun and hands-on way to teach little ones about the importance of sibling love as play is brought right into their reading!