It's great to have a Christmas tree at home to give your living space a good dose of festive cheer. However when you live in an apartment, it can be a challenge to fit a full-sized tree into the house without it getting in the way. That shouldn't stop you from having a tree though, try one of these creative alternatives to put some Christmas magic in your home.
Washi Tape Tree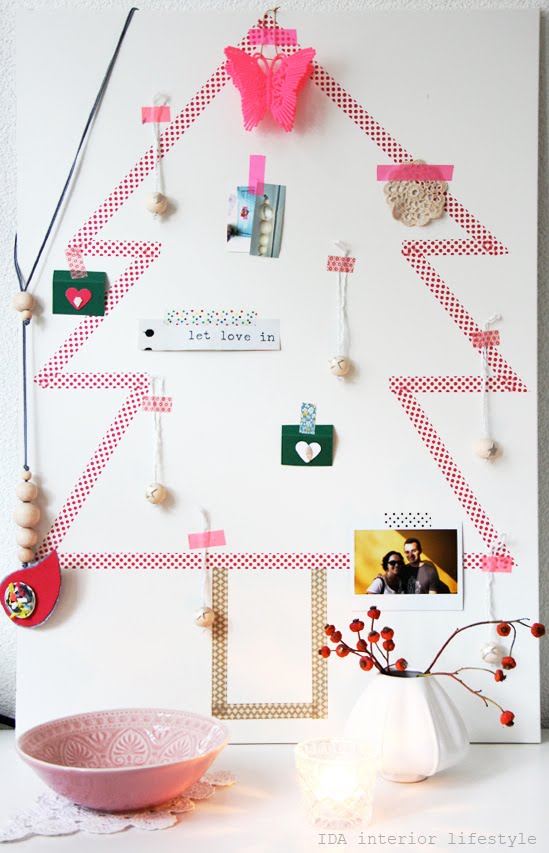 Use these wall-friendly tapes that come in a myriad of colours to create your Christmas tree shape. And when it's time to tear down your Christmas tree, it'll be quick and simple, with no residue left behind by the tape.
Fairy Lights Tree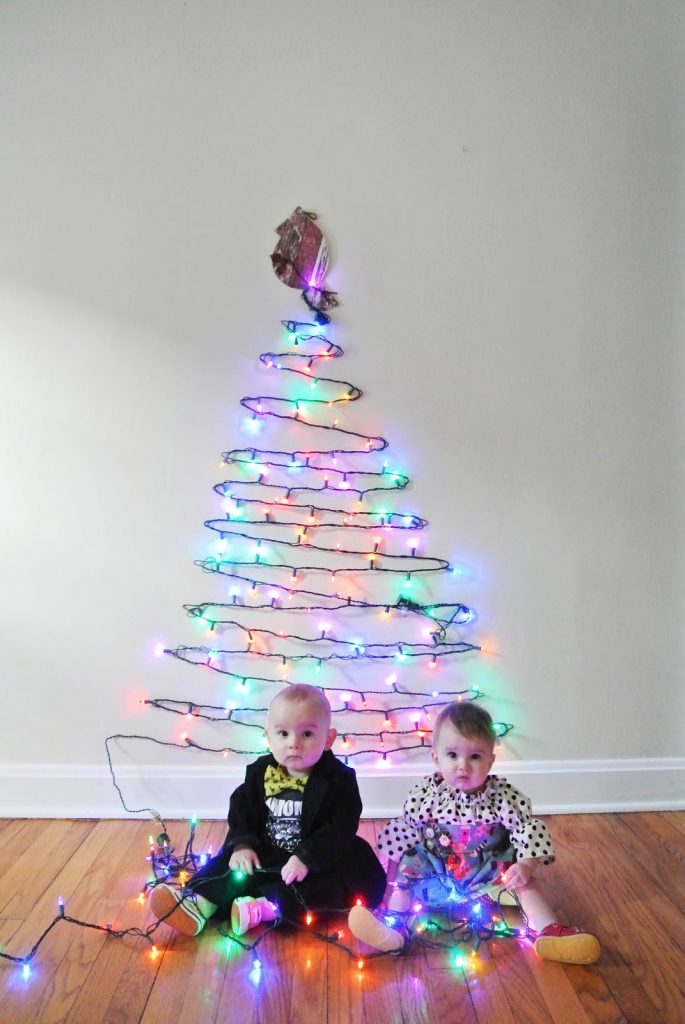 One of the best parts of having a Christmas tree at home is the warmth emitted by the twinkling fairy lights often draped around it. Replicate the same feeling by hanging your fairy lights on the wall in the shape of a tree. Other ornaments are optional.
Crepe paper Tree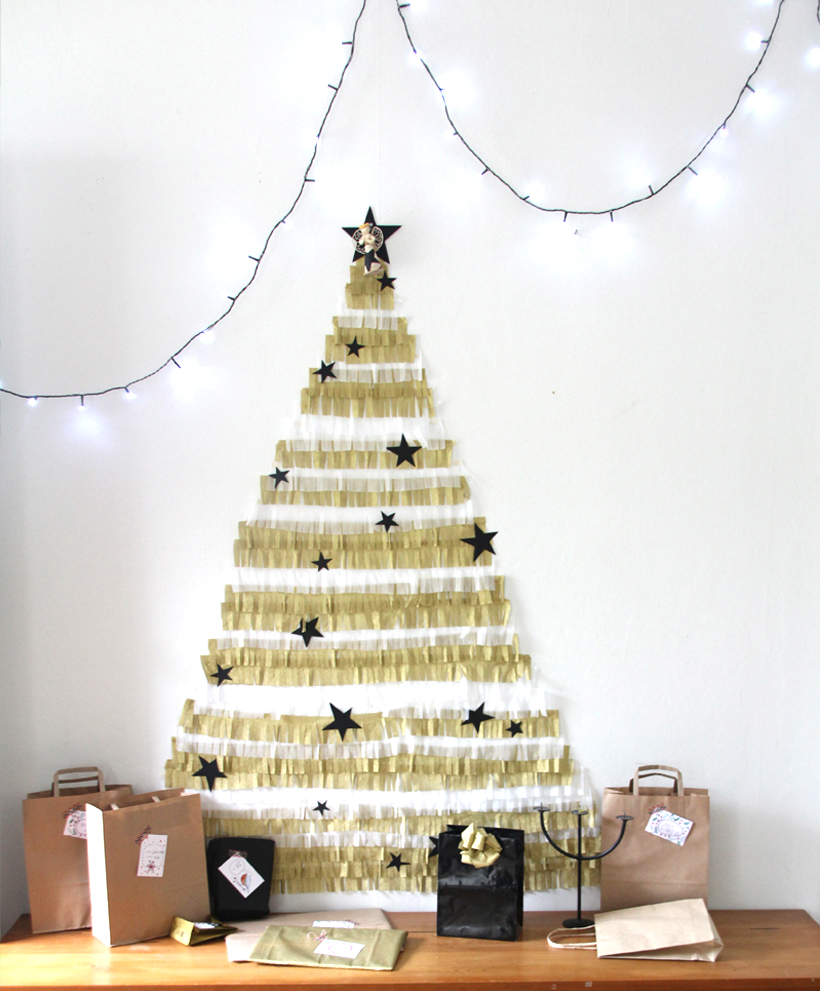 This alternative has an extra layer of realism, thanks to its textured layers. Fold your crepe paper into half and cut strips towards the fold, leaving at least 2cm towards the fold uncut to create a fringe. Layer strips of fringe over one another in a triangular shape to form your tree. The best part, you can make it any colour you like it to be.
Christmas Card Tree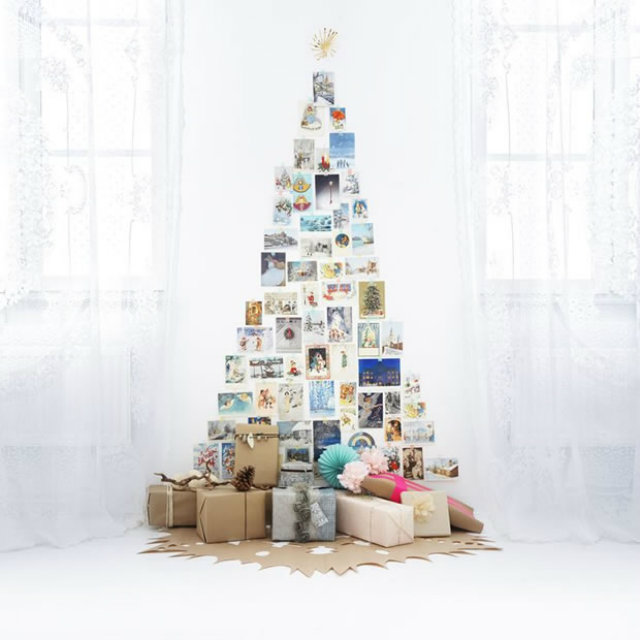 Grab all your Christmas cards and stick them on the wall in a tree shape to create this unique Christmas tree. Another alternative is to use your favourite family photos to make a beautiful and meaningful tree that doubles up as a way to display photos for guests to see.
Pallet Board Tree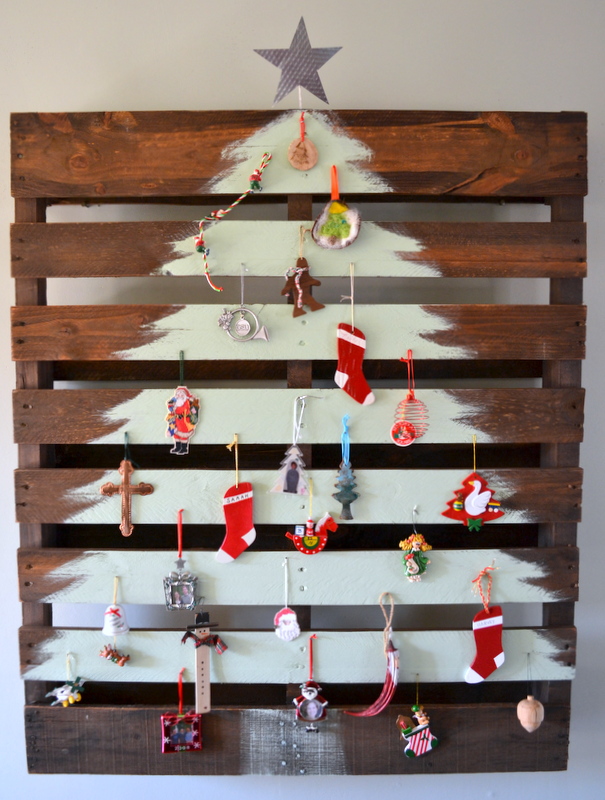 Get a pallet board and spray paint a Christmas tree silhouette on it to create your one of a kind tree. It's simple and fuss tree, and taking it down will be a breeze too.
Ladder Tree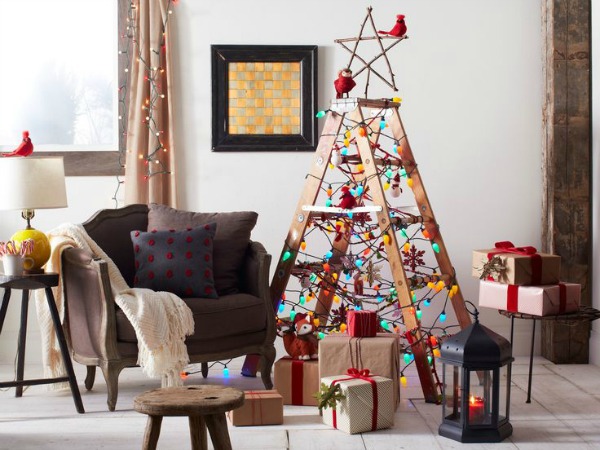 Put the ladder you have at home to good use. The triangle it forms when opened is similar to a tree; all you need to do it hang some lights and ornaments (don't forget the star on top) to complete the look.
Stacked Book Tree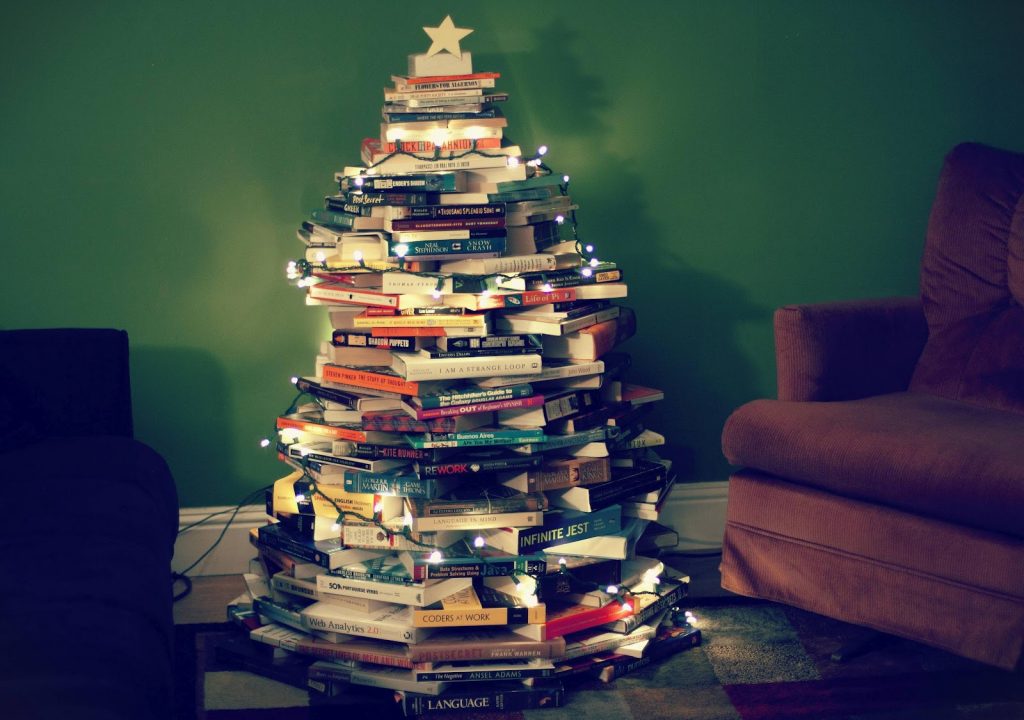 Dig out your collection of books and stack it up high, starting with a large base that tapers into a narrow point. It's artistic and uses resources that you already have on hand.
Crate Tree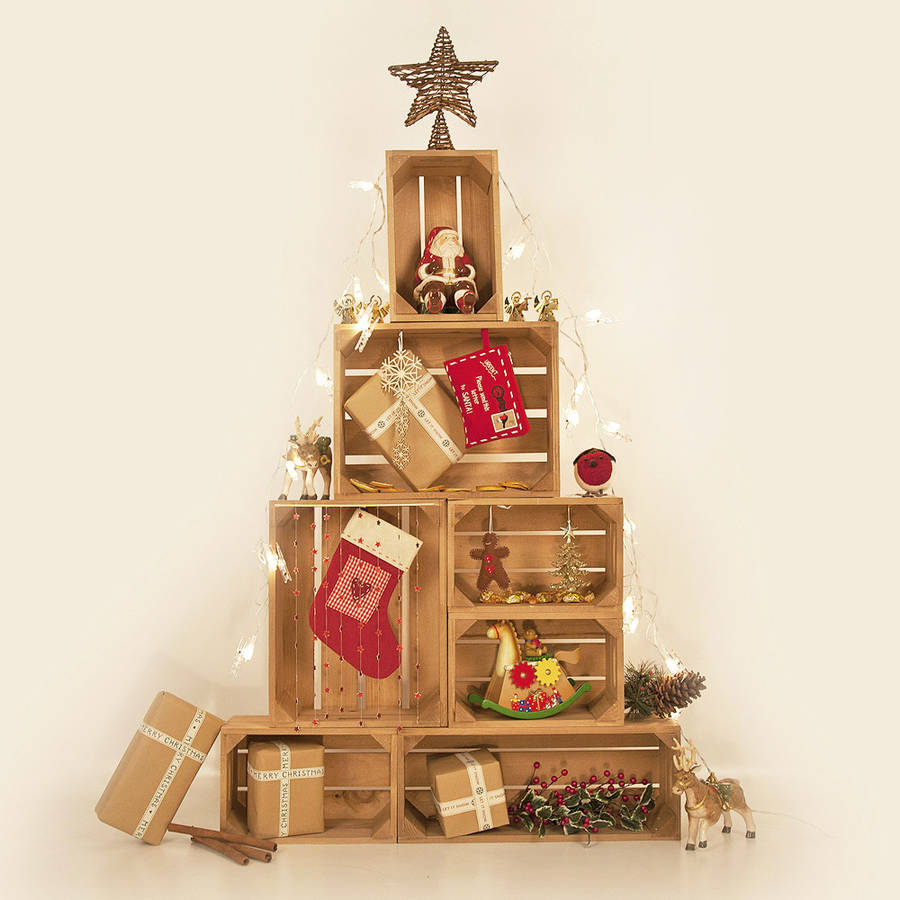 Take wooden boxes and stack them up in a shape of a tree. Added bonus: you won't take up extra floor space for your presents; you can put them  in the tree.
Shelving Tree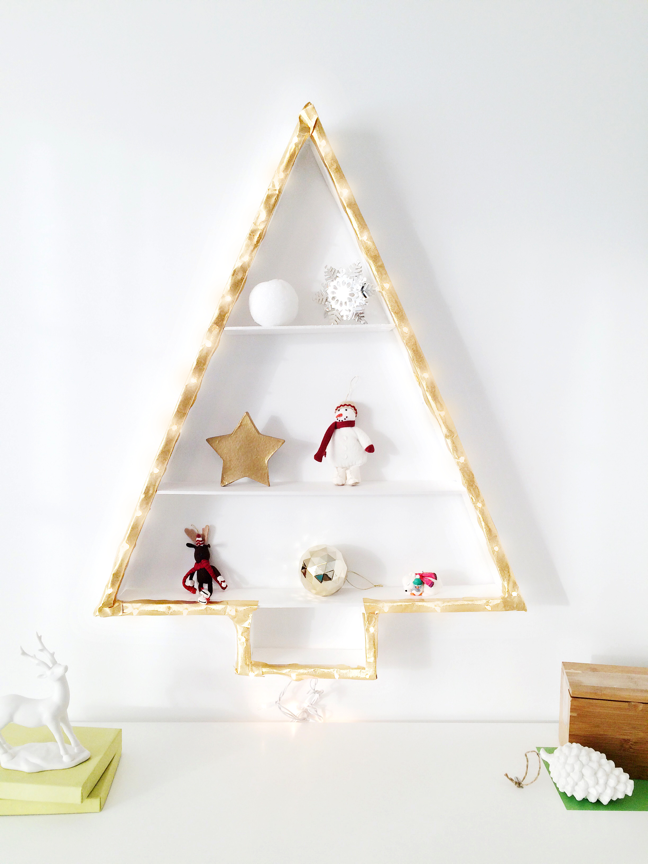 Instead of hanging your ornaments on the tree, why not display them instead with the shelving tree? It can be easily created by buying shelves of different lengths or you can try out this simple DIY here.
Felt Tree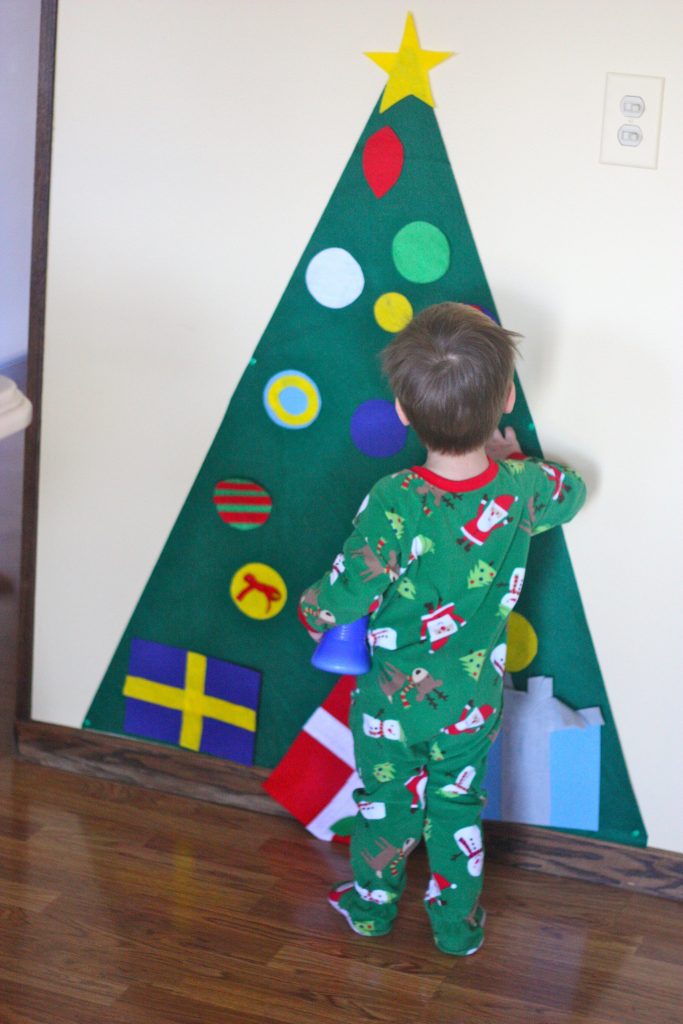 This easy to make tree is perfect with for little ones who want to change the position of the ornaments on the tree. All you need is different colours of felt to make the ornaments of your choice, and the decorations on the tree can moved around easily by little hands. Click here for instructions on how to make your own felt Christmas tree.