Nutrition updates for kids were shared at the recent World Food Future conference – the findings and insights will help mothers raise a nation of healthy eaters.
Our kids are getting fatter. In 2011, a Ministry of Health report showed that 11 per cent of children in mainstream schools were overweight. It rose to 13 per cent in 2017. It may seem a marginal increase but Singapore has one of the highest prevalence of Type 2 diabetes – the kind that is triggered by excessive weight gain. Fat children are likelier to become overweight adults, and seven in 10 children who are overweight at age seven, stay so into their adult years. It is projected that Singapore's obesity rates will be 15 per cent by 2024. That's the tipping point where obesity increased rapidly in the United States, and became an epidemic problem. Are we ready for a fat nation? How can we raise our kids to be competent and discerning eaters?

That's one of the important issues that the inaugural World Food Future (WFF) for Women conference raises. Held on 26 March 2019 at One Farrer Hotel, the conference theme Rethink Your Food, set up the dialogue for consumers, policy makers, scientists, nutritionists, business leaders, change makers and tastemakers. On a micro level, there's the family unit's food nutrition decisions; on the macro level, themes like connectedness, food innovations, sustainability and the overall impact on individuals, families and communities need exploration.
Trina Liang-Lin, CEO and chairperson of the World Food Future conference says women have a critical role to play in the food space.
Trina Liang-Lin, CEO & chairperson of the World Food Future, says: "At World Food Future, we hope to change the narrative – where businesses hear the inputs and voices from women who have kids and families, and how they desire their food to be healthier. The consumer has to be the central piece."

By consumer, she means women in particular, since they are the key decision makers in their family's food and nutrition choices. According to girlpower marketing, a US-based communications, influencer and brand experiences agency, women collectively control US$20 trillion of the world's economy; 93 per cent of all food consumer purchases, and 85 per cent of all consumer purchases. They are also the primary caregivers of the children and elderly.
As such, women "have a critical role to play in the food space. They have a voice and they can also vote with their forks," says Liang-Lin.
Mothers can help make better food choices for the family. They can make nutrition fun and interesting – all important if we want our children to be healthy and well. 
Liang-Lin stresses the urgency of acting now, before more primary school kids become overweight – "we don't want to come to a level where it reaches 20 per cent. If that happens, our society will become too entrenched in unhealthy ways and it will require a lot more effort to reverse it."
Feeding your child right
Understanding nutrition, is key. And we need to look at it from the time a woman is expecting, not when a baby starts on solid foods. For diet during pregnancy is pivotal in your child's future growth and health.   
According to Mary Chong, assistant professor of Saw Swee Hock School of Public Health, NUS, there should be a conscious effort on the mother's part to eat well, in the 26th to 28th gestational weeks.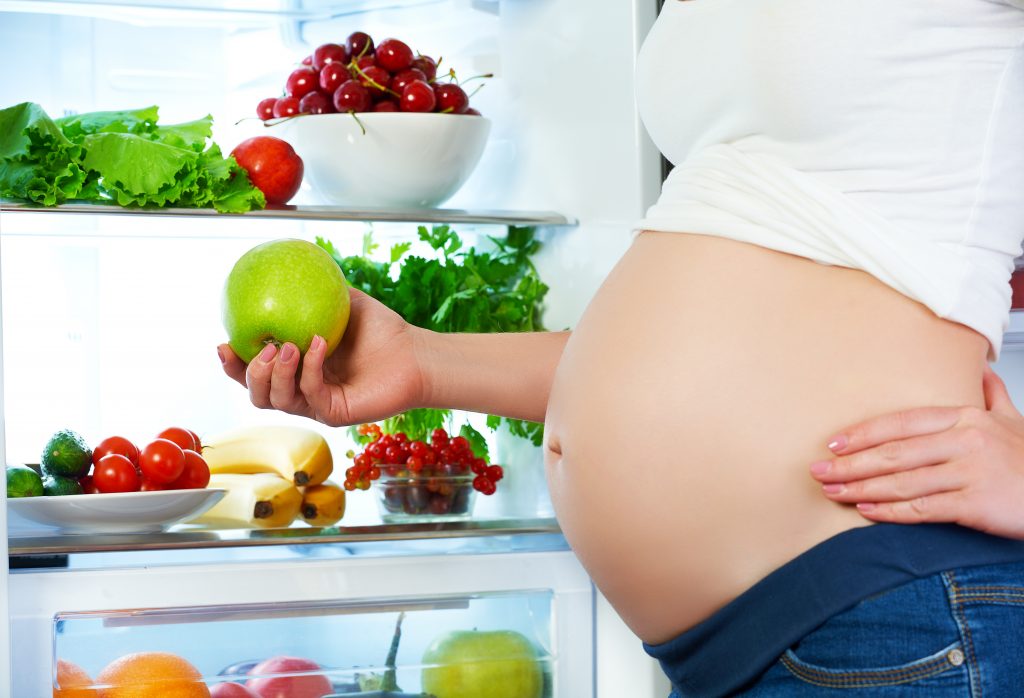 Chong presented the findings from a GUSTO (Growing Up in Singapore Towards Healthy Outcomes) study, at the Kid's Nutrition Update session during the WFF conference. The GUSTO study is Singapore's largest and most comprehensive birth cohort study, involving 1,200 Singaporean mums across three major ethnic groups. It looks into how diets and lifestyles during pregnancy, affect the growth of babies after birth. The nation-wide medical research is important, since it gives better insight and understanding in the prevention and management of diseases like obesity and diabetes.
The comprehensive research covers factors like social economic standing, diet, nutrient biomarkers, alcohol consumption, physical activities, and smoking, that can affect the health of the baby. The mother's genes, existing health conditions, retinal health, family medical history, mental wellness, are also considered.  
More Than Infant Nutrition
Chong shares that in the past, too much emphasis was placed on infant nutrition, post- delivery. The study has instead identified maternal nutrition and a mother's medical background, as being pertinent for a baby's health.  
More data on maternal micronutrient status during the 26th to 28th gestation period, shows how folate is critical in the gestational age in the prevention of preterm birth risks. Folate is naturally present in a wide variety of foods, including vegetables (especially dark green leafy vegetables), fruits and fruit juices, nuts, beans, seafood and eggs.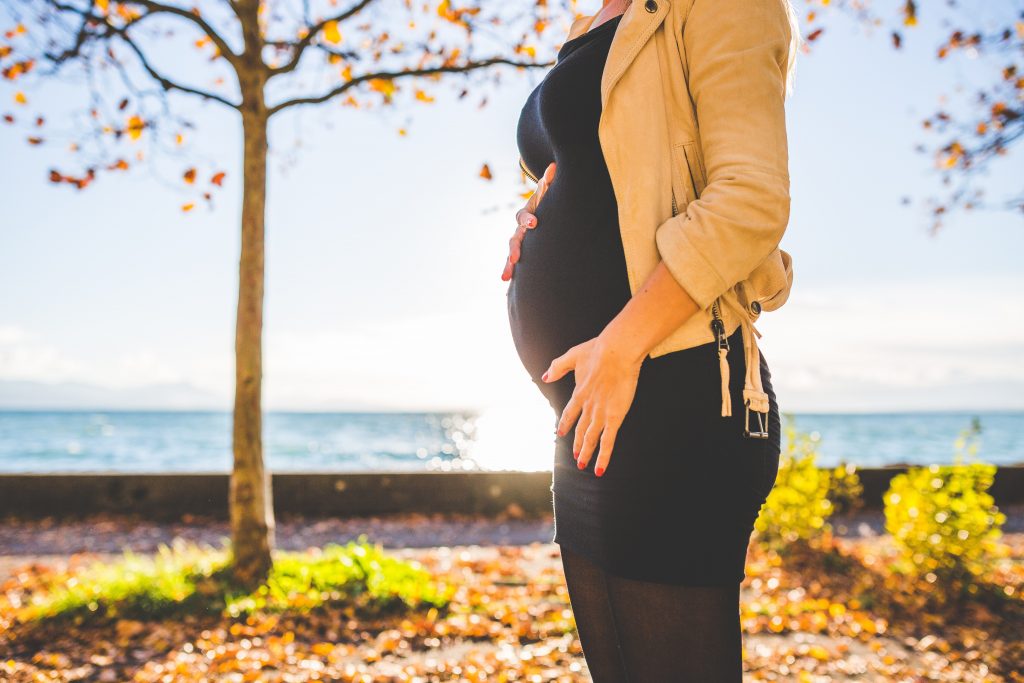 Vitamin B12 and B6, iron, zinc, copper and magnesium are also needed, but that was insufficient in some mothers. Ditto the lack of vitamin D, during a mother's mid-gestation period. The deficiency of this "sunshine vitamin" however, can predispose babies to grow into obese children and adults.
Neo-natal nutrition aside, other influences can affect a child's food intake. They range from how parents are role models in their child's eating habits, post-partum diets, caregiver feeding practices and even genetics. The GUSTO study also sheds light on infant feeding practices in a multi-ethnic Asian cohort – 32.7 per cent of parents said yes to blended foods for babies at 12-months; 56.3 per cent of adults used seasonings in infant food preparations; and 33.7 per cent of parents added food items in milk feeds.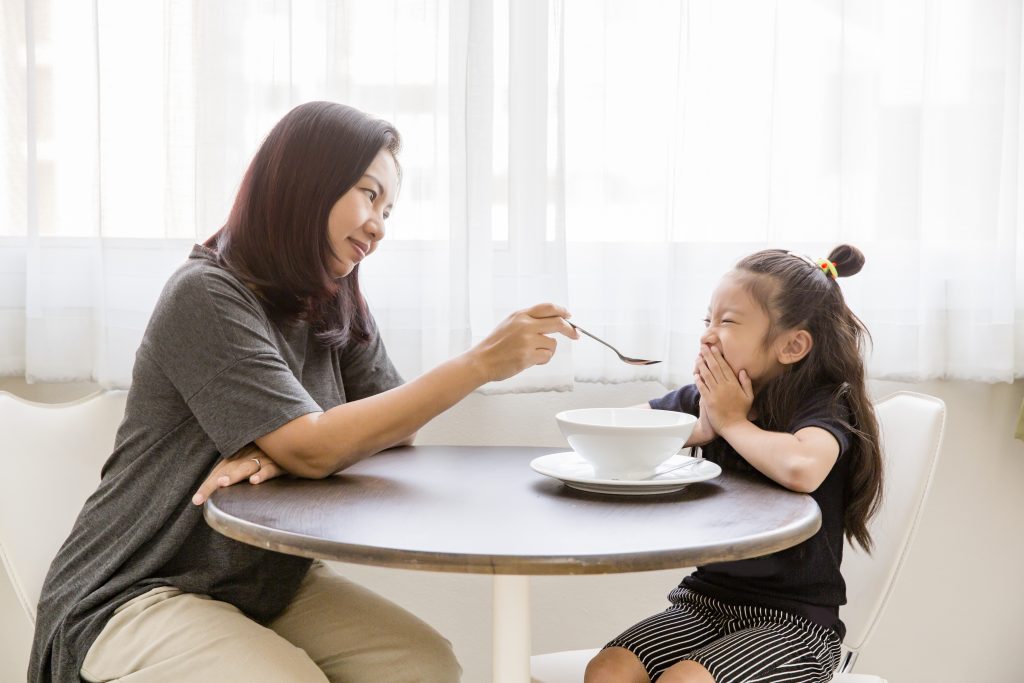 Don't use food to comfort or pressure
A caregiver's feeding style can also be impactful. The caregiver's emotional tone during feeding is important, as it can encourage children to like healthy whole foods. Conversely pressuring preschool-aged children to eat "healthy" foods, can cause dislike of those foods. Children should not be overfed, nor should they be given only their preferred food. Caregivers should also not use food as a bribe or as a first-response comfort, to an infant in distress. 
Parents as role models
The experts say that children will consume more whole foods, grains and vegetables if their parents adopt healthy eating as well. And when parental control lapses, that is also when kids choose what they want to eat, often opting for sugary foods and high-calorie snacks.
Role models contribute greatly to a child's mental influence. Kids (eight to 12 years old) who say their teachers, parents or guardians egg them on to eat healthy, often make healthier choices.
Communities and schools can also play their part by offering more fruits and vegetables in canteens or local shops. Schools can educate the young on eating right or making smart, healthy choices. Canteen operators should have healthier menus to cater to their whims. But there needs to be balance too, for primary school children who were imposed with the strictest rules and regulations, resorted to hiding sweets in the bedroom or skipping recess to go buy snacks at a convenience store. 
Liang-Lin also believes in reverse education, where kids too can influence parents in making healthier food choices. She says: "If they are taught correctly about nutrition facts in school, in turn, they can teach and inform their parents."
She adds that parents too can also help by volunteering in schools, and learning what their kids are taught about nutrition.  Once they have this knowledge, they can teach other parents in their sphere.