From handmade pastas to brunch and buffet options, from lavish Chinese banquets to sweet tooth fixes, we've rounded them up. There are restaurants with special activities for Mums, a Mother's Day fair and even a Ladies' Night party to shake it all up. Arm yourself with our Mother's Day guide to start planning your celebrations now.  By CRYSTAL CHAN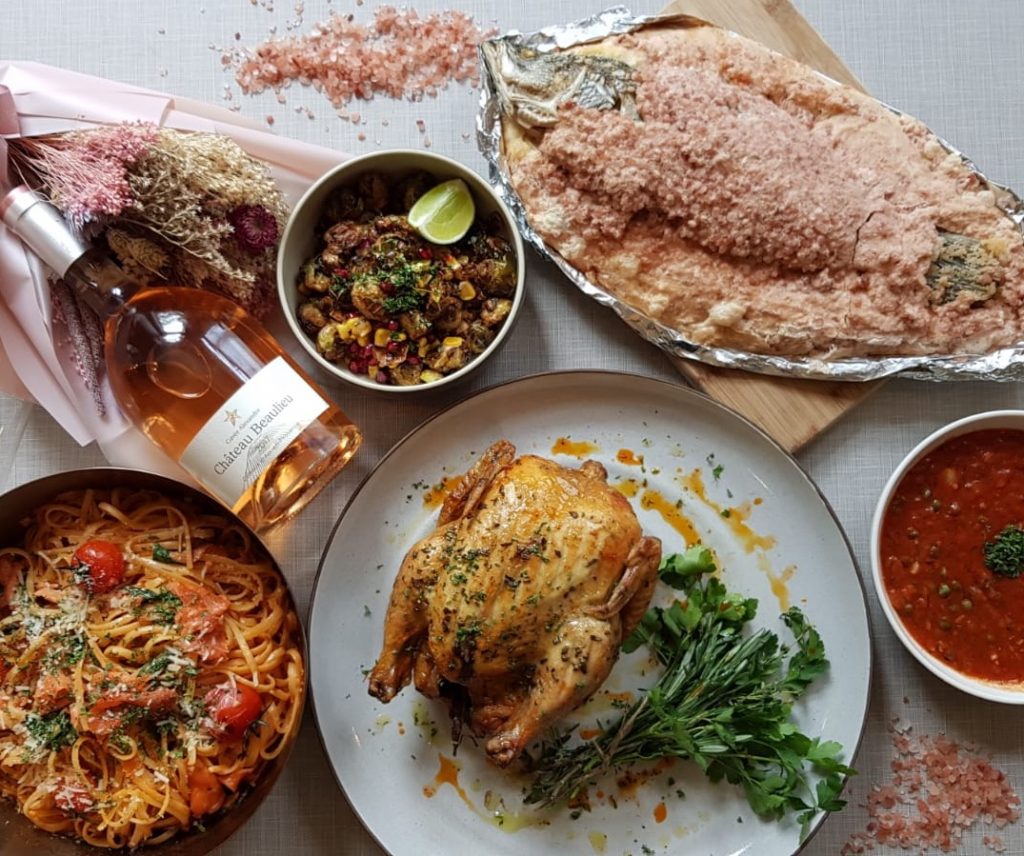 Brunch pick
A delicious family-style brunch awaits you at SPRMRKT, and you can also have a go at decorating your own chiffon cake to gift Mum.  
The brunch offering includes the eatery's signature Brussels sprouts with sriracha mayonnaise and pomegranate and grilled corn. Himalayan pink salt-crusted sea bass with anchovy and capers tomato sauce is the main. Pair it off with a bottle of Chateau Beaulieu, Coteaux d'Aix-en-Provence Rose, with notes of spice and a crisp finish. 
A decorate-it-yourself chiffon cake activity serves as a fun activity for brunch. However, if you don't trust your handiwork, ask for the chef's special creation of Pear and Elderflower Chiffon Cake. (book this three days in advance, $130++). 
There are also Care for your Supermum gift sets to pick up. The Choc Coffee Set ($66) and Bulletproof Coffee Set ($77) are best-suited for mums who are crazy about chocolate and caffeine, respectively, while The SPRMRKT Selection Set ($88), puts together One4One Coconut Oil, Stone Hill 72% chocolate bar, SenseAsia Tea and coconut flavoured soap. 
SPRMRKT's Mother's Day Family-Style Brunch, is $300 for three to five persons. The family-style brunch is available at both STPI and Cluny Court outlets, on 12 May, 10am to 4pm.
For reservations, contactus@sprmrkt.com.sg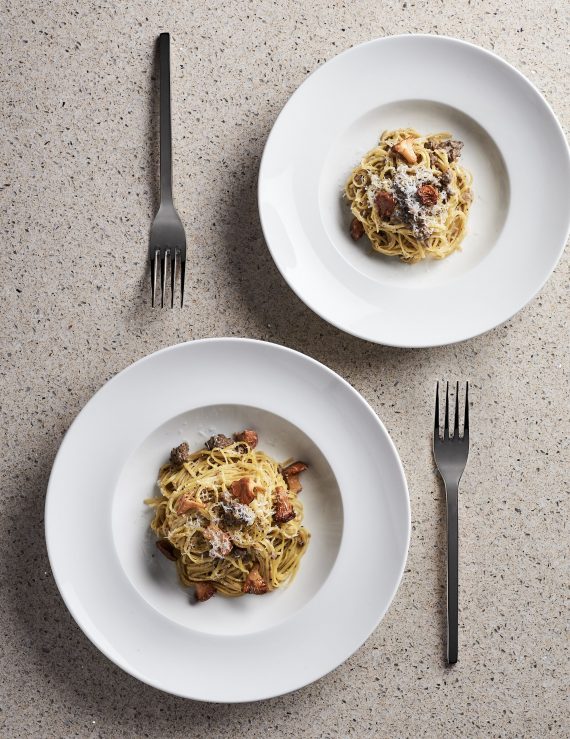 Handmade pastas
Floral wines and handmade pastas are what we recommend from Bar Cicheti's Spring menu. Surrender your bellies to Bar Cicheti's Feed Me offer, (from $68). It includes one antipasti (appetiser), four pastas and one dessert.
There are also wine pairings and vegetarian menus ($58 and $68 respectively). Don't forget to redeem a complimentary chocolate tart or a bottle of wine at 20% discount for your mum on 12 May, with each booking.
Bar Cicheti operates from 11am to 3pm on 12 May. For reservations, call 6789-9801 or email eat@barcicheti.com.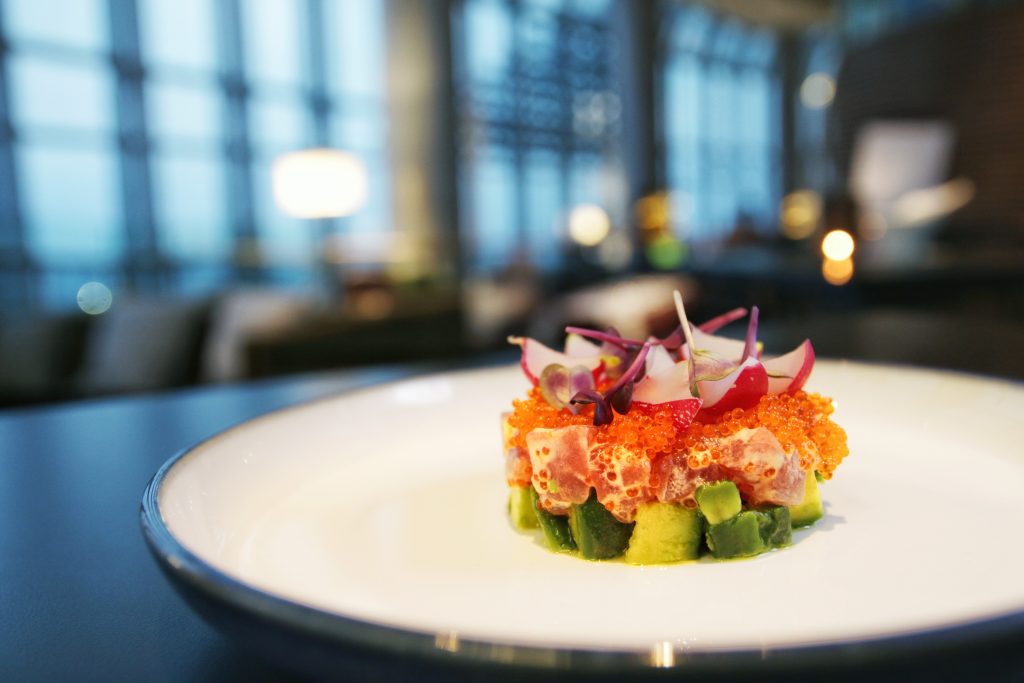 Room with a view
For finicky Mums who can never decide what they want to have, let her pick her own food – a mix-and-match menu is served at Salt Grill & Sky Bar. 
The (dining) room with an amazing view of Singapore's cityscape, Salt grill & Sky Bar is perched on the 55th storey of ION Orchard and promises a gastronomic and panoramic experience. 
Mum gets to decide what she wants for her three-course lunch. You get yummy options such as the Jerusalem Artichoke and Truffle Soup and Yellowfin Tuna Tartare with avocado and miso for starters, either the Cone Bay Barramundi with New Zealand clams, confit tomato and kombu emulsion or Cape Grim Tenderloin with king oyster mushroom, truffle and mushroom parfait for mains. And to conclude, a sweet treat of coconut, mango, kaffir lime and pandan sago is served as the course concludes.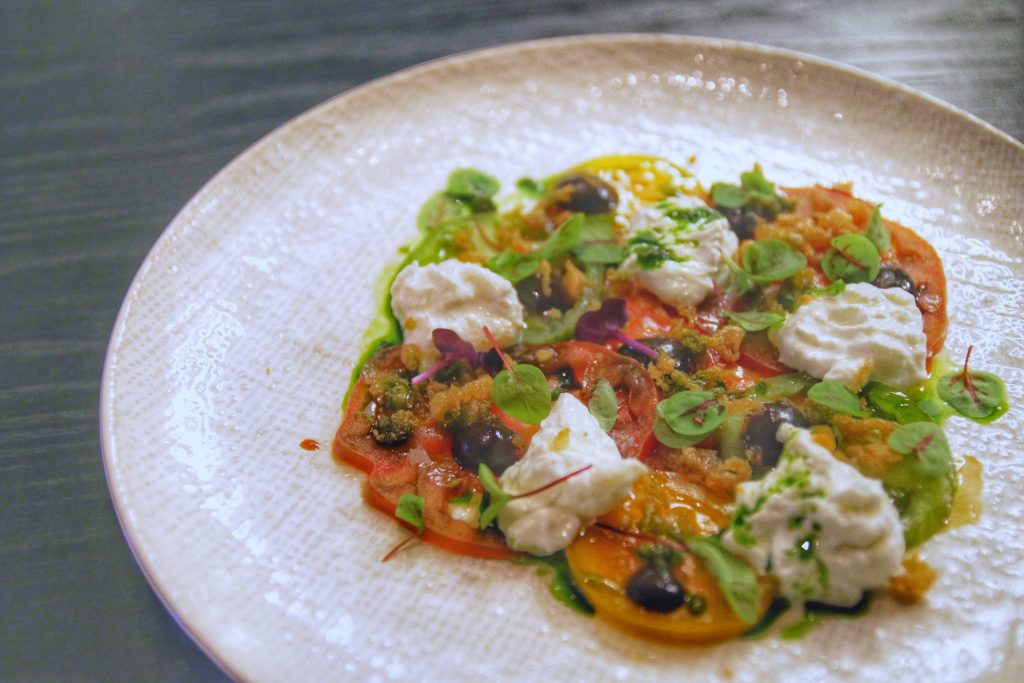 The four-course dinner offers similar choices but with an additional course of Bangalow Pork Ravioli or the Heirloom Tomato Carpaccio with stracciatella, black garlic, stout crisps and sherry vinegar.
Complement the meal with an Italian Sartori Prosecco. Free-flow prosecco is available during lunch ($40++), while they serve you a bottle (for $68++) during dinner. 
The Mother's Day menu is offered on 12 May. The three course lunch starts at $68 per person, and the four-course dinner is at $108 per person.
For reservations, call 6592-5118 or info@saltgrill.com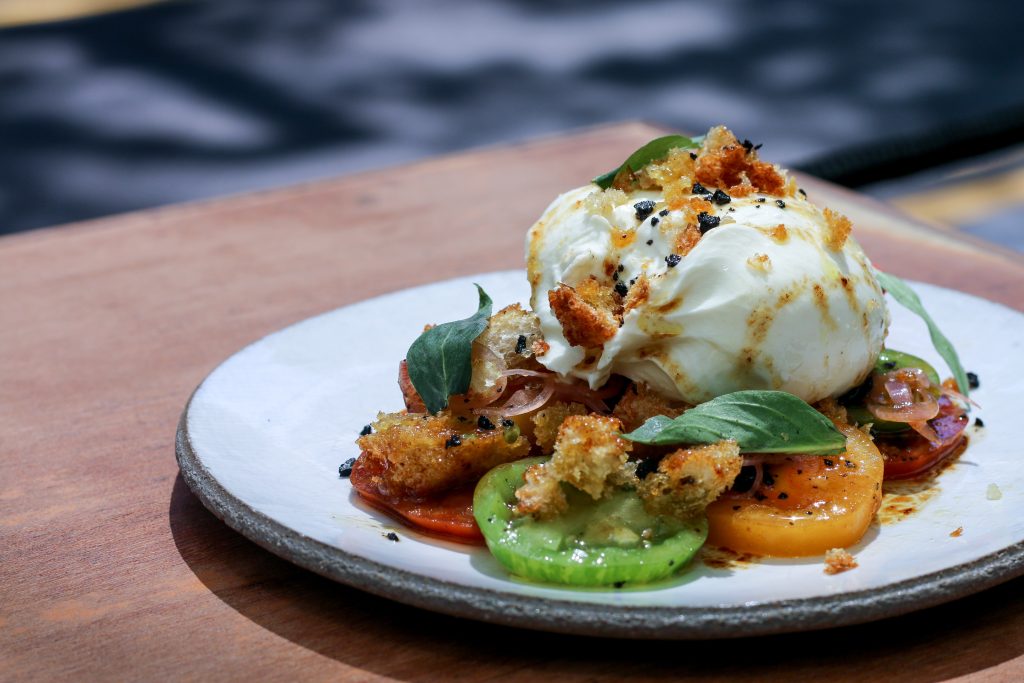 Mums eat for free
Mothers get to dine for free this Mother's Day at the nature-inspired The Botanic, with every three paying guests on 12 May.
Similar to Salt Grill & Sky Bar, it's a mix-and-match menu here.  It starts with an entree of either Crab Agnolotti or Burrata with panzanella, Thai basil and smoked olive oil. The main course is split between the Grilled West Australian Flat Iron Steak with charred broccolini, parmesan, pickled king brown mushroom and chimichurri; or the Pan-roasted Barramundi with brown curry butter, tiger prawns, coriander and kaffir lime leaf. For dessert options, a decadent Pavlova with mango, banana, coconut cream and passionfruit; or the house ice cream and sorbet selections.Vegan and gluten-free options can be requested.
Prices start at $49 per person. For reservations, call 6837-0995 or info@thebotanic.com.sg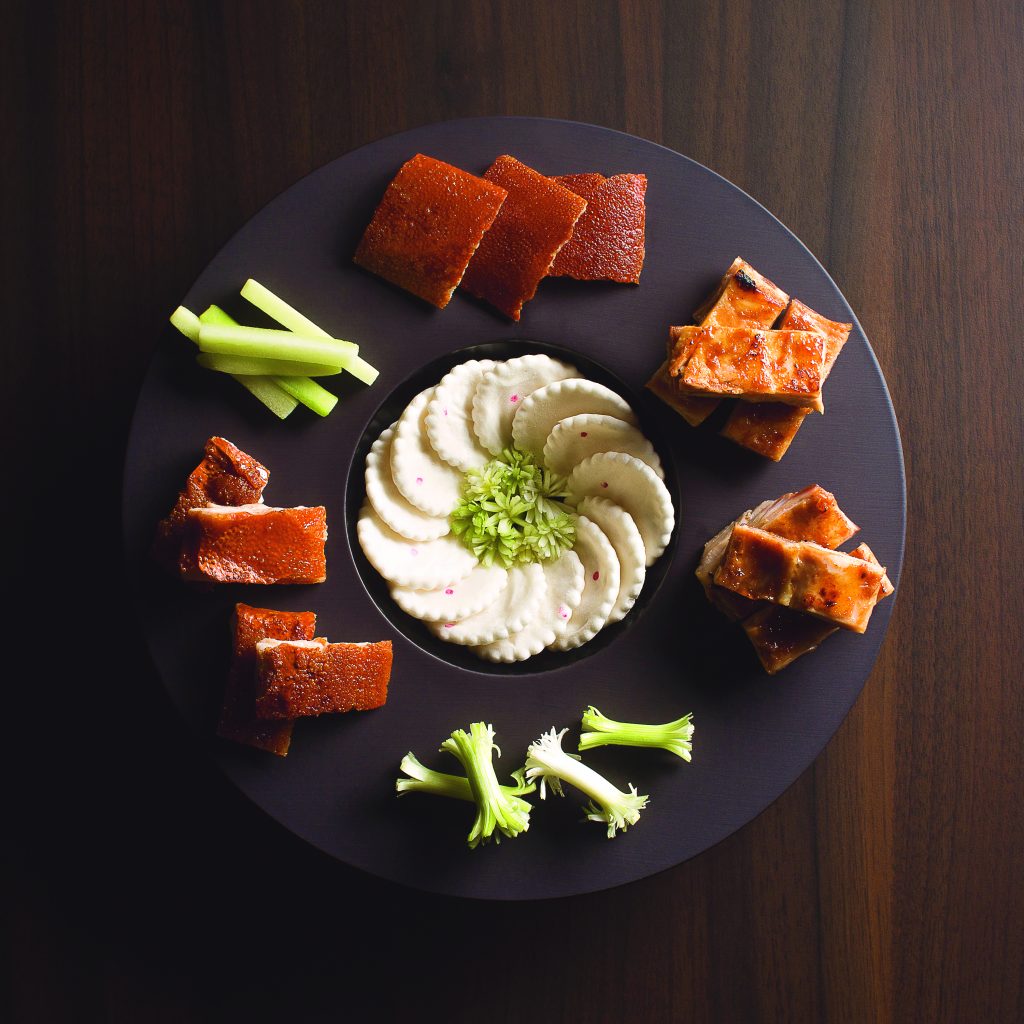 Luxe Chinese
Traditionalists will dig Cantonese restaurant, Yan's seven-or-nine-course menu for lunch or dinner, that is served now till 12 May. 
Yan's set menus are crafted with nourishment in mind. The seven-course set (priced at $88++ per pax, minimum booking of four) has its signature Yan Peking duck as the first course. Other items include Golden Pumpkin Broth with Crab Meat; Black Ningxia Wolfberries, and Steamed Sea Perch with Cordyceps, Mandarin Peel and Garlic. Black Ningxia Wolfberries is said to be rich in anti-oxidants such as anthocyanin, so be sure to slurp all of it up. 
If you have a bigger family of six, try the generous nine-course. At $128++ per pax, it has a mouth-watering array of dishes like the Superior Chicken Broth with Mee Sua and Golden Quail Egg. Double-boiled Peru Maca Soup with Dried Seafood and Steamed 'Soon Hock' Fish with Cordyceps, Mandarin Peel and Garlic are also items to look out for, especially when cordyceps is believed to improve one's immune system and relieve fatigue. As a refreshing finale, Chilled Peach Resin with Osmanthus and Pearl Powder for dessert. 
Yan is at #05-02 National Gallery Singapore. For reservations, click here.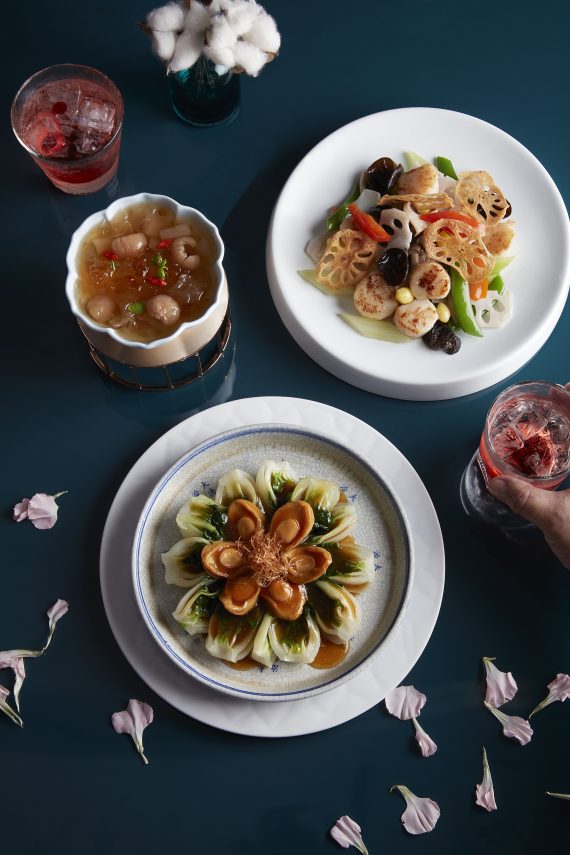 Don't forget Dad
Behind every strong woman, is also a co-partner, so restaurant giant, Crystal Jade is focusing on Parents' Day to celebrate Dad too. There are  promotions at all its restaurants from now till 30 June.
For a classy ambience, opt for the group's fine-dining brands like Crystal Jade Palace, one-Michelin star Crystal Jade Golden Palace, and Crystal Jade Dining IN. The group's executive chef Martin Foo, has whipped up three exciting new dishes solely for these three restaurants. The dishes include Chargrilled Iberico Pork Ribs, marinated with garlic and served with piquant mala dip, Crème Brûlée ginger egg tart topped with bird's nest, and Lychee Begonia flower-shaped pastry. This delicate and innovative pastry dish from Chef Foo blooms into a lovely begonia flower when fried. 
Jadeite members dining at Crystal Jade Palace, Crystal Jade Golden Palace and Crystal Jade will receive a complimentary Lychee Sakura jelly for their parents, with any order of the Parents' Day set menu during the promotion period. For a la carte dishes, the promotion goes on from now till 30 June. Set menus are offered from now to 12 May, and 7 to 16 June.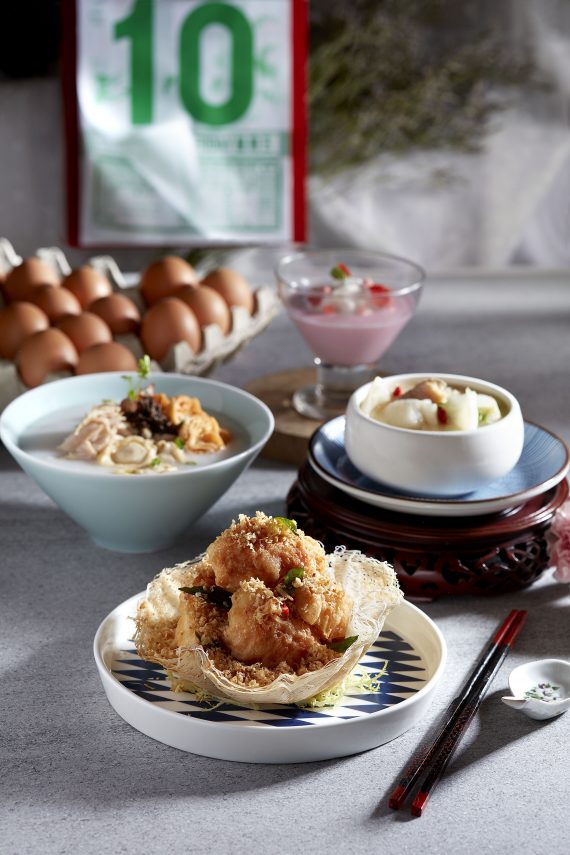 Crystal Jade Jiangnan, the group's latest dining concept, also has offers from now to 30 June on its set menus and a la carte dishes. The Jiangsu classic, Deep-fried Yellow Croaker with sweet vinegar sauce and pine-nuts is the star on the restaurant's menu, with its savoury sauce of vinegar, hawthorn and red wine lees. During its promotion period, Jadeite members can redeem a complimentary Lychee mocktails with any order of Parents Day set menu. 
Crystal Jade Kitchen too will whip up 10 promotional items such as the Deep-fried grouper fillet stuffed with prawn paste tossed with crispy garlic; fried seafood brown rice topped with seafood with crispy rice and flying fish roe; and homemade berry mousse. A complimentary pretty-in-pink crystal rose & dragon fruit jelly is redeemable for any customers who requested the Parents Day set menu.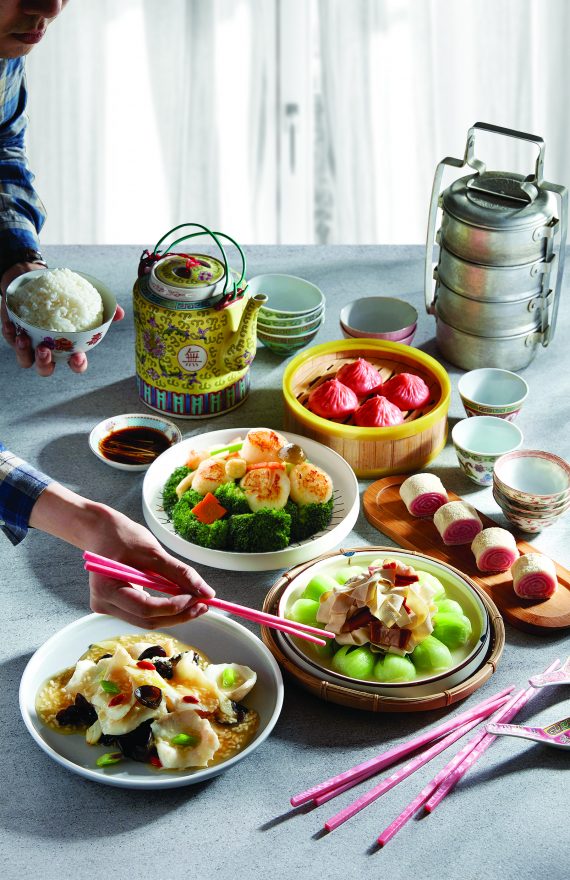 Crystal Jade La Mian Xiao Long Bao offers its Sautéed fish fillet with premium rice wine sauce, nourishing thick soup with crab meat, conpoy, spinach and egg white; steamed chicken with cordyceps flower, red dates and black fungus. Both brands have two different set menus that showcase a filling selection of seven dishes priced at $68++ for two and $498++ for 10. On top of the Crystal rose & dragon fruit jelly, Jadeite members who pay an additional $13.80, will enjoy a carafe of lychee drink with any order of a Parents' Day set menu.
For reservations, click here.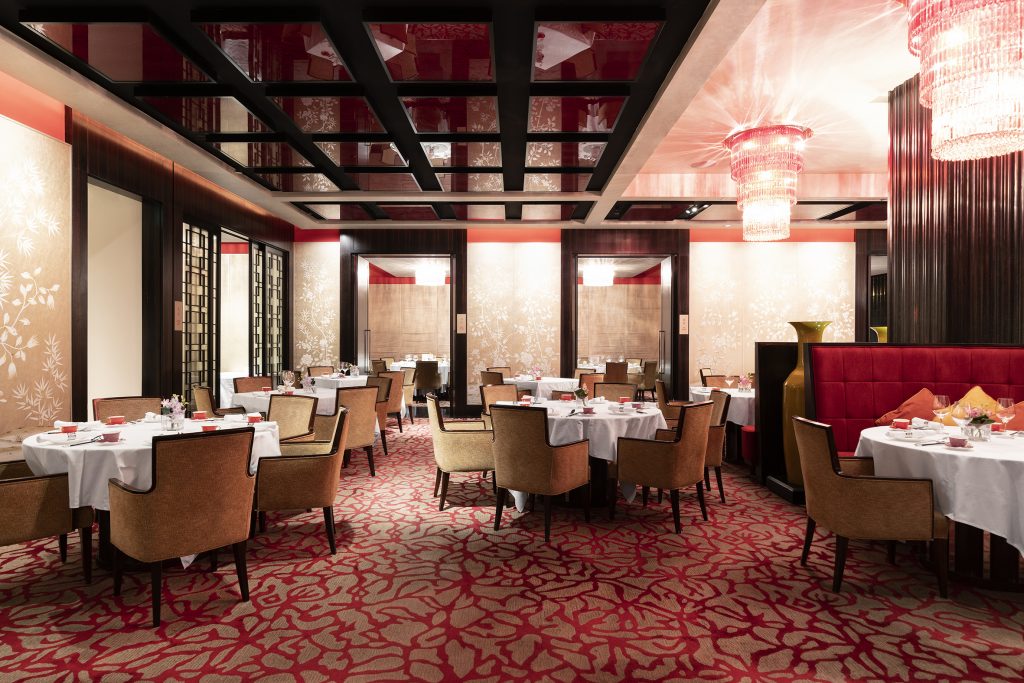 Also doing a double whammy celebration is Shangri-La Hotel's Shang Palace. The Parents' Day menu is offered 11 and 12 May, and 15 to 16 June. 
The Cantonese fine-dining restaurant, Shang Palace has a six-course lunch and dinner menu, with dishes like Barbecued Suckling Pig with preserved beancurd sauce, Braised 6-head Whole South Africa Abalone, and Double-boiled Sweetened Peach Resin with Dendrobium Orchid and American Ginseng with longevity bun. 
Shang Palace's Parents' Day lunch set menu starts from $128 per person; and it's $168 per person for the dinner menu. 
For reservations, click here. Or call 6213-4398 or email shangpalace.sls@shangri-la.com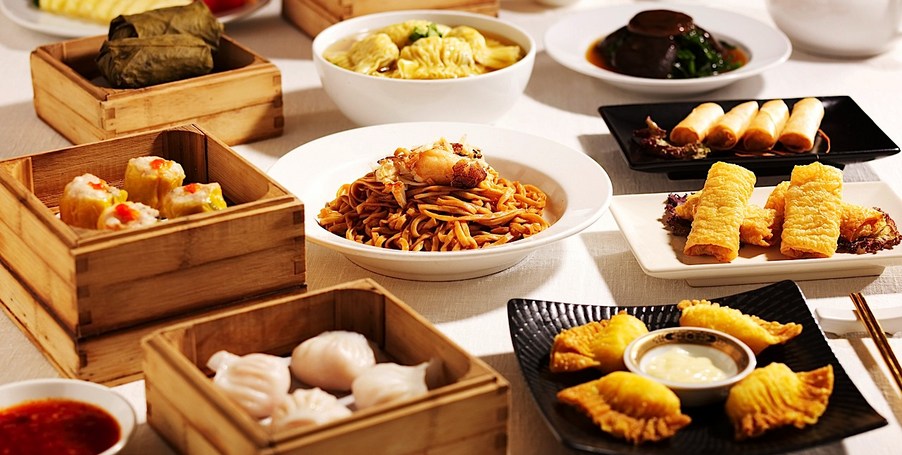 Sichuan delight
When it comes to Sichuan food, Min Jiang is our go-to. A generous eight-course set lunch that feeds up to six and 10 people, starts from $398 and $628 respectively. 
On the menu are some favourites like Mongolian Chicken with Almond Flakes, Deep-fried Sea Perch with Spicy Lime Sauce, Braised Australian 10 Head Abalone and Stuffed Fish Maw with Seasonal Greens in Oyster Sauce and Sichuan Red Bean Pancakes. A similar dinner course set is available too from $528 and $848 for six and 10 diners respectively. The promotion runs from 11 to 12 May. 
For reservations, click here. Or call 6730-1704 or min_jiang@goodwoodparkhotel.com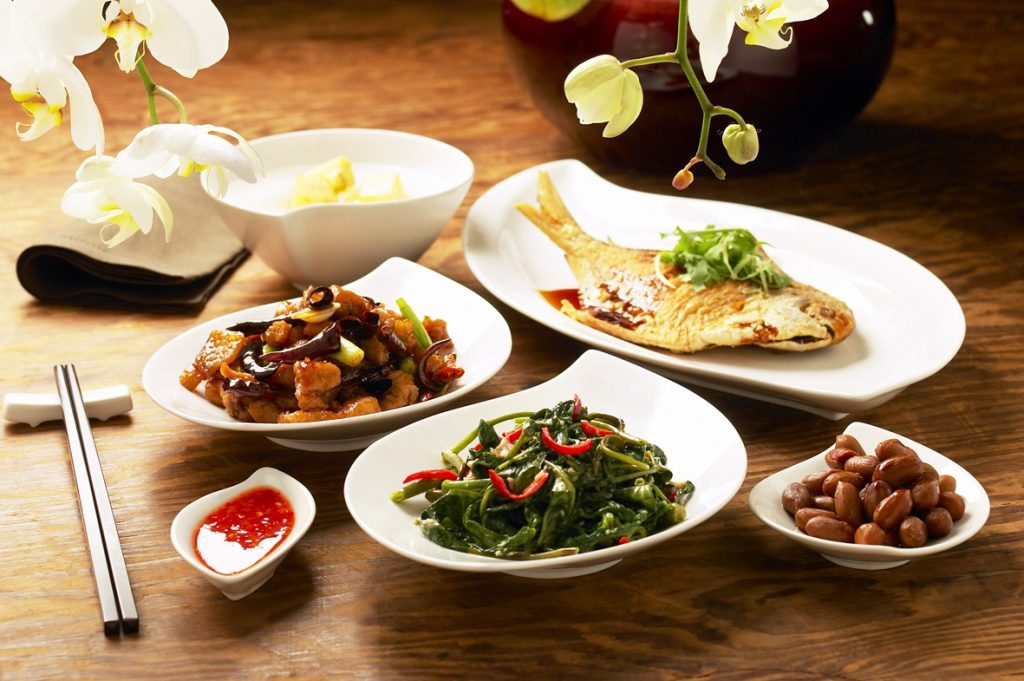 Porridge and durian feast
For porridge and durian lovers, Goodwood Park Hotel Coffee Lounge's Taiwan Porridge spread will definitely satisfy. 
The a la carte buffet selection presents the flavourful Braised Pork Belly with Dark Soy Sauce accompanied by unlimited portions of rice porridge or sweet potato porridge. The durian dessert buffet showcases a collection of D24 Pandan Lapis Coconut Cake, D24 Chendol Pudding, D24 Mousse Cake and D24 puff. Additionally, a live pancake station will be displayed on the spot so you can check out the chef making durian crepes. 
The Taiwan Porridge buffet (inclusive of dessert buffet) is available during lunch and dinner, and priced at $62.80++ per adult, and $37.80++ per child (six to 11 years old). The promotion runs from 11 to 12 May.
For reservations, click here. Or call 6730-1746 or email coffee_lounge@goodwoodparkhotel.com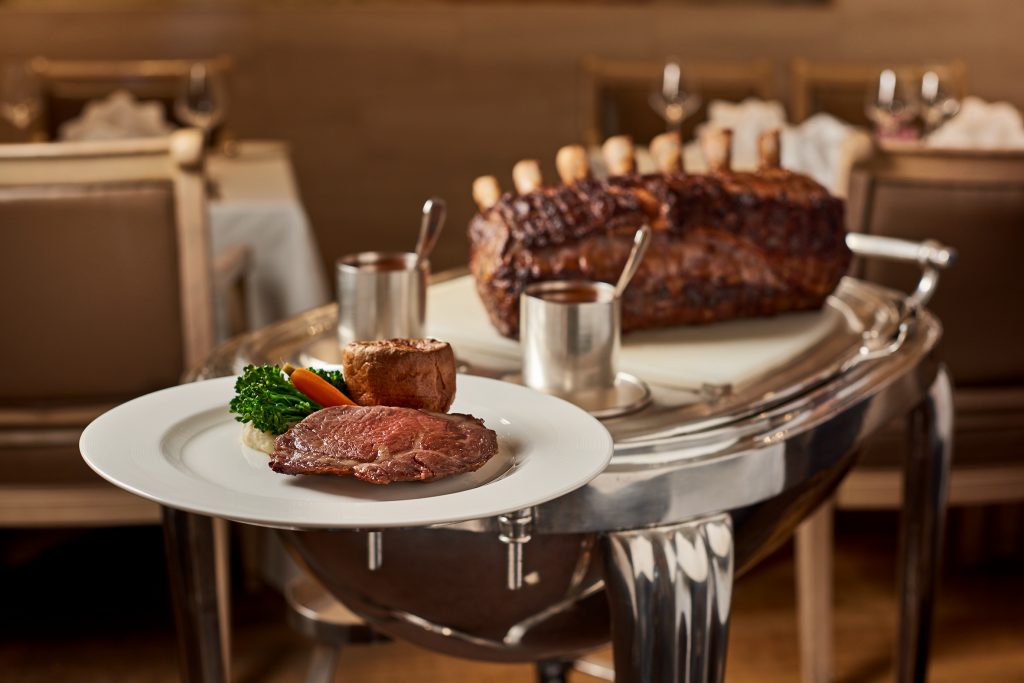 Continental fare
Fine steaks and Continental cuisine await you at Gordon Grill at Goodwood Park Hotel. The four-course weekend roast set lunch and dinner menus will satisfy a carnivorous Mum. 
The lunch menu starts off with a variety of appetisers such as Provencal snails, Green pea & Melted Curry butter, the mouth-watering Lobster bisque, and Wild mushroom veloute. Mains including the Fresh Catch Fillet with Seaweed Rice; Baby Spinach & Lemon White Wine Sauce, and Slow Roasted US Prime Beef Rib Eye on Wagon (220g per serving).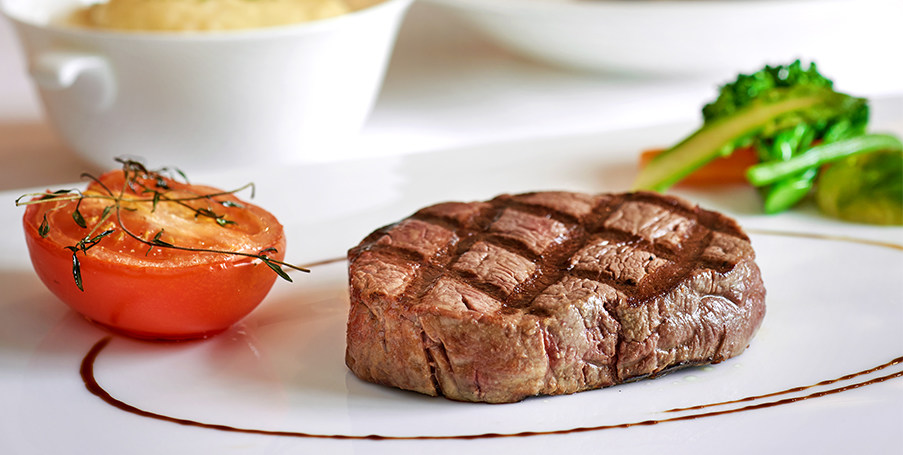 During dinner, the restaurant offers appetisers like tasty Heirloom tomatoes, Bocconcini, King Scallop, Parma Ham and more. Mains include the luscious Wagyu Beef Striploin served with Black Truffle Jus or Pan-Seared Scottish Salmon. Both are served with complementary sides of German white asparagus and broccolini. And for dessert, the Mont Blanc Choux Pastries with Chantilly Cream and Chocolate. 
Gordon Grill's weekend roast lunch set starts from $75 per person and its set dinner is from $118 per person. The promotion runs from 11 to 12 May.
For reservations, click here. Or call 6730-1744 or gordon_grill@goodwoodparkhotel.com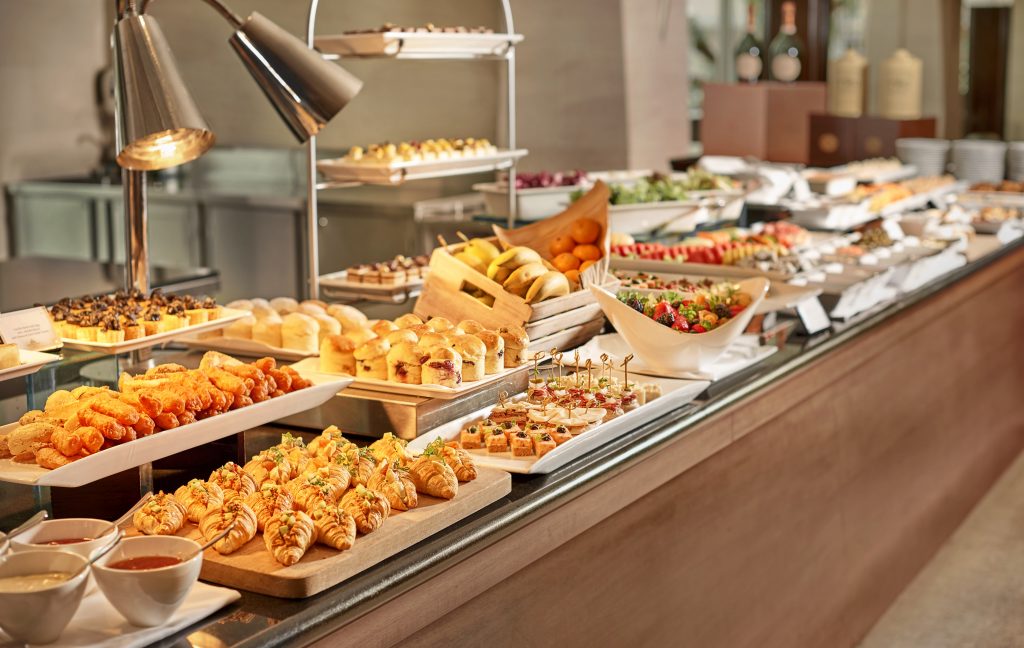 Tea-time treats
Take Mum out for tea at Goodwood Park Hotel's L'Espresso. The highlights for L'Espresso's Mother's Day English Afternoon High Tea Buffet are Egg Royale (smoked salmon and sliced egg) and Sattimbocca (parma ham, smoked pork neck & sage aioli). 
The high-tea buffet also comes with an assortment of croissants, chilled delicatessen, soups, desserts and more. A live carving station has succulent Beef Wellington with Merlot Jus as the star of the show.
It is priced at $55 per adult, and $33 per child (six to 11 years old) and is available from 11 to 12 May. For reservations, click here. Or call 6730-1743 or lespresso@goodwoodparkhotel.co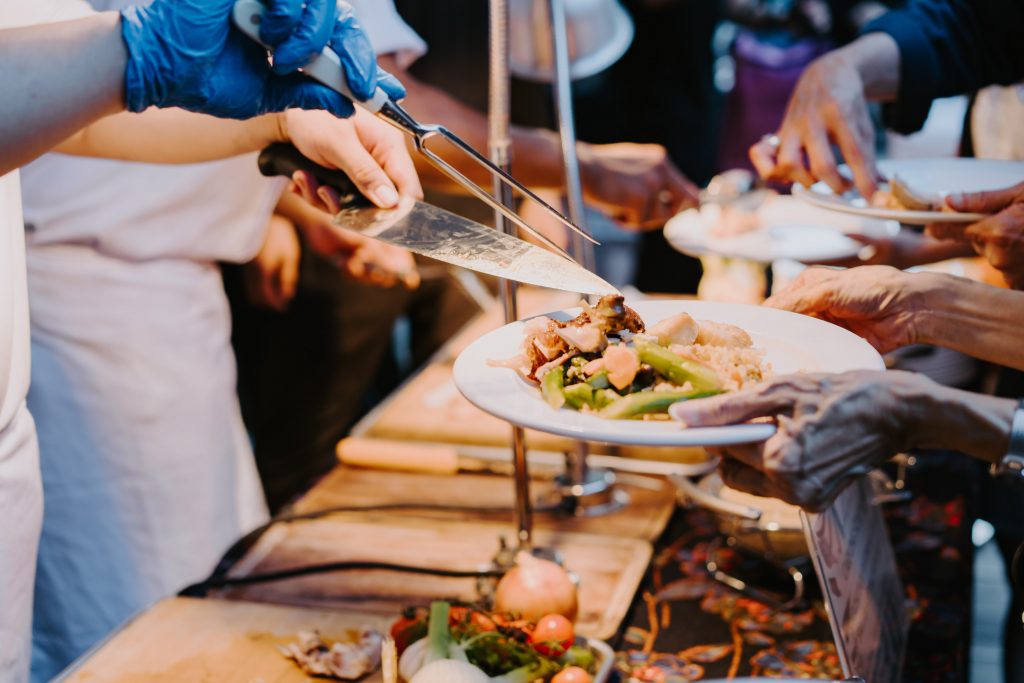 Fun activities to do with Mum
Looking for things to do, not just great eats? Check out these places. 
Dine on scrumptious modern European cuisine instilled with Asian flavours while being surrounded by verdant sanctuary at The Villa, at Singapore Botanic Gardens. Its four-hour long programme for Mummies includes a tasty lunch buffet, floral workshop, manicure session and retail gift ideas – it's never a dull moment here.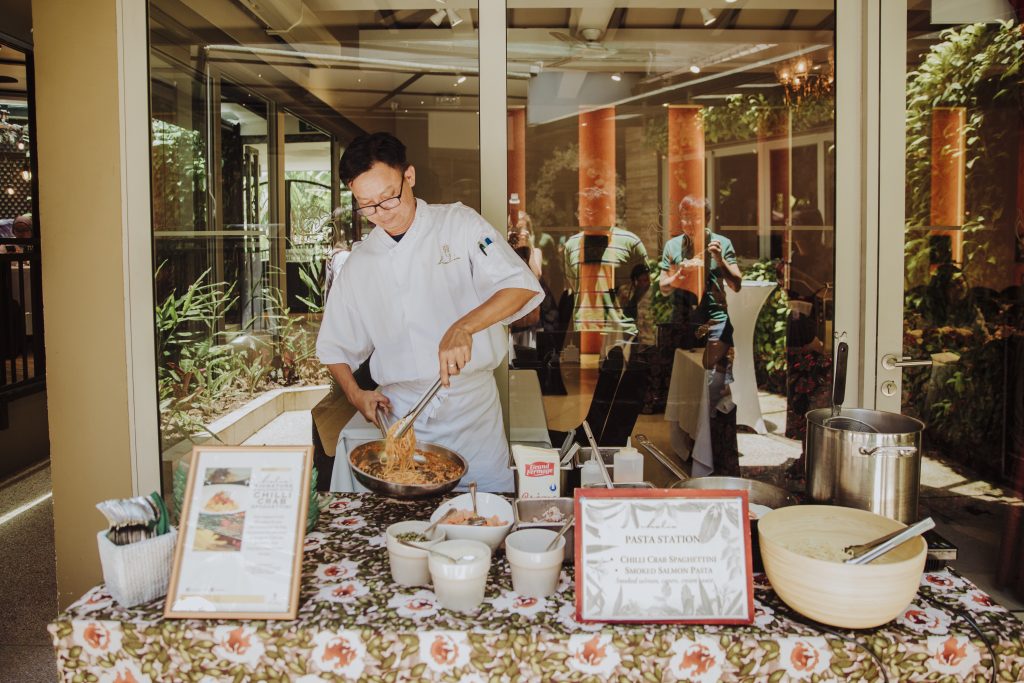 There is Chilli Crab Spaghettini cooked a la minute at the Pasta Station and the Angus Beef Striploin from the Carving Station to please. Menu highlights like the Sauteed Prawn with Sze Chuan Pepper, Kaffir Lime Marinated Chicken Leg and Pan-seared Sea Bass are not to be missed. Top it up with free-flow sparkling, red and white wines ($20++). And if you still have space for dessert, try the Lemon Botanicals Meringue Tartlet or Blueberry Chocolate Tart. 
Once tums have filled up, make a lovely floral bouquet with Mum at the exclusive floral bar set-up within the restaurant. Be sure to register early as only the first 50 mummies will be able to take home their bouquet creations. Or go for the complimentary manicure sessions for all mothers.  
The lunch buffet is only available on 12 May. It is priced at $88++ (adult) and $38++ (child, five to 10 years old). For reservations, call 8444-1148 or query@garden-events-sg.com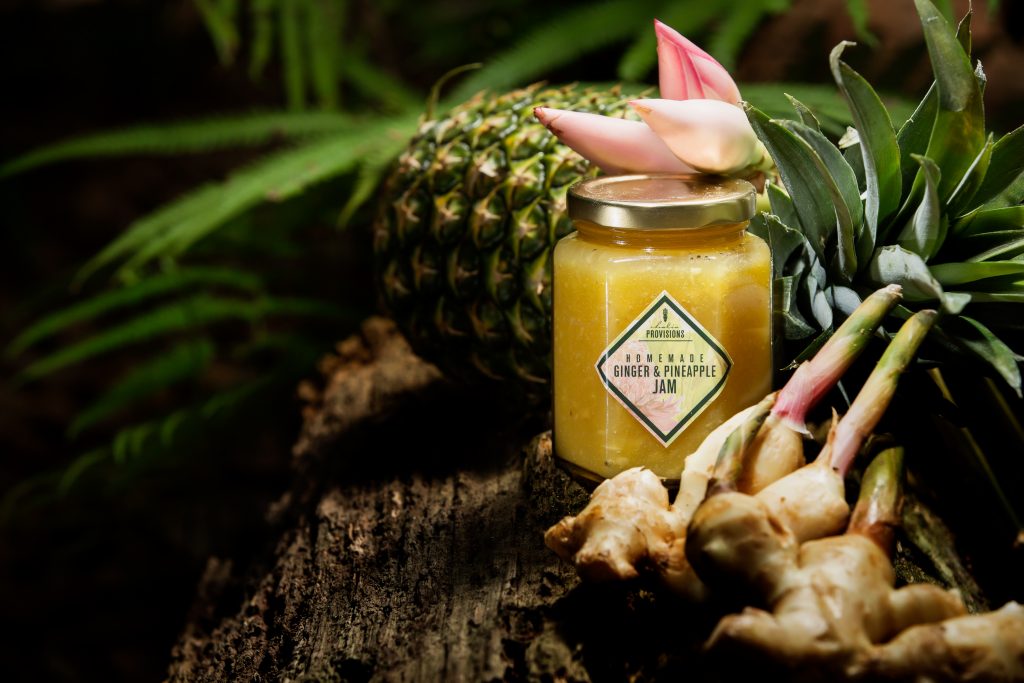 While you're there, check out The Halia Signatures, a range of gourmet delicacies gifts available at The Halia restaurant and Provisions Store. Retail goodies include the piquant Singapore-style Chili Crab Sauce, Ginger Flower Sauce, and a curated assortment of flavoured Maldon Salts. Don't overlook the new Ginger & Pineapple Jam, that is made Sarawak pineapples, young ginger root and bergamot. You can also purchase these items at the online store.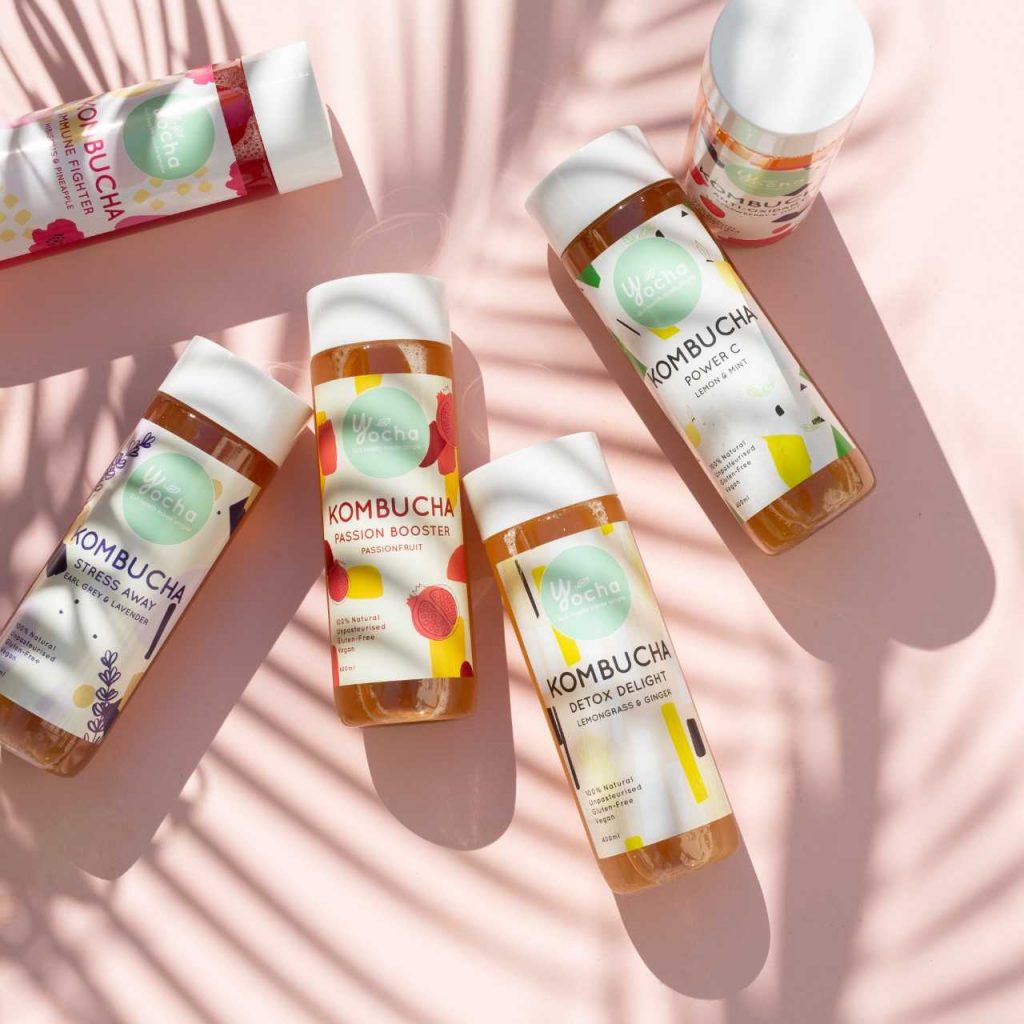 With over 80 old and new interesting enterprises congregating at Singapore's Farm-to-People Festival, Sprout proudly presents an exciting two-day event for families to visit during Mother's day. It's on at Suntec Singapore Convention and Exhibition Centre Hall 403, on 11 and 12 May, 10am to 8pm. 
Expect at the event, Singapore's sustainable agriculture community, specialty goods, artisanal brands and home-grown F&B establishments. Cultivate a new hobby with your mum through tea-making sessions and gardening workshops ($15 per pax). 
Culinary masterclasses are taught by established chefs such as Lush Epicurean's Chef Eric Low, and Chefs Emmanuel Stroobant and Han Li Guang from one Michelin-star restaurants, Saint Pierre and Labyrinth respectively. The classes are priced from $95 for a pair of tickets.
Seventy brands will showcase their abundant offerings of fresh produce, specialty goods and artisanal products. There are organic coffees, hand-sewn blooming teas, herbal infusions and refreshing kombucha (live culture tea). Locally made savoury snacks, organic honeys, vegan yoghurt and artisanal jams are also available. And for beauty queen Mums, pampering essential oil gift sets, natural balms, and organic beauty products.
Admission to the fair is free.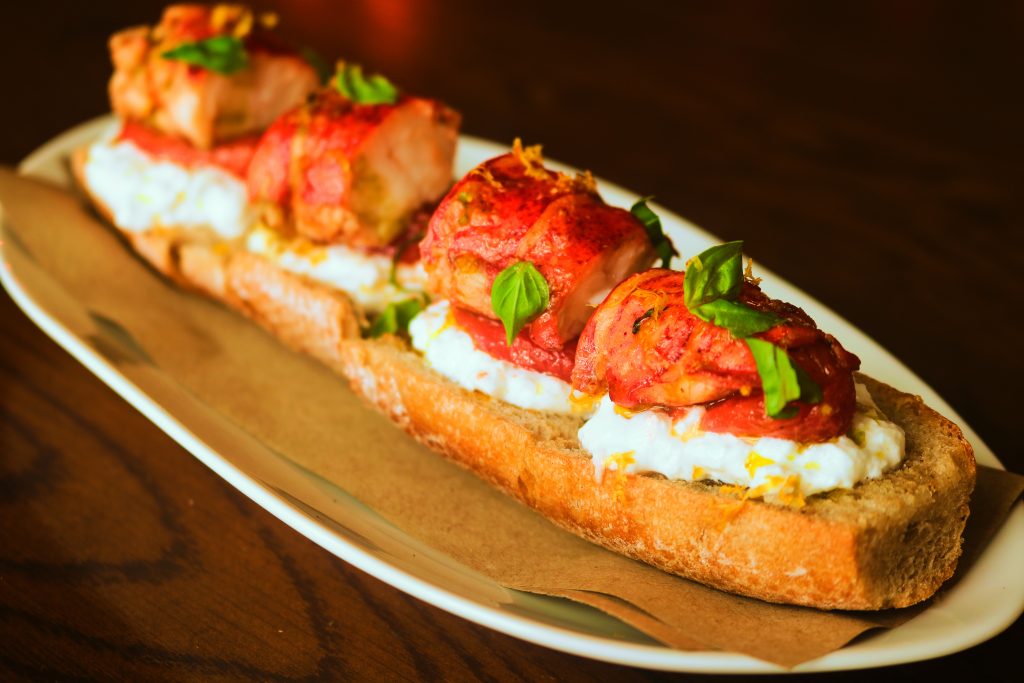 Take Mum out for a night of dancing. Contemporary Italian restaurant, Zafferano has a Ladies Night Out! party at its Terrace Lounge on 10 and 11 May – and there will be spin doctors playing pop and retro hits, and that Marina Waterfront view is also sweet. 
True to its Italian roots, the menu is chockful of antipasti (appetisers) and primi (pasta) like ravioli with house-made ricotta cheese spinach cream sauce. There are also charcoal-grilled meats, salads and desserts. 
Zafferano is at Ocean Financial Centre, 10 Collyer Quay. Ladies Night Out! tickets are priced at $78 for two people with free flow Spumante, house red and white wines. For enquiries, call 6509-1488 or info@zafferano.sg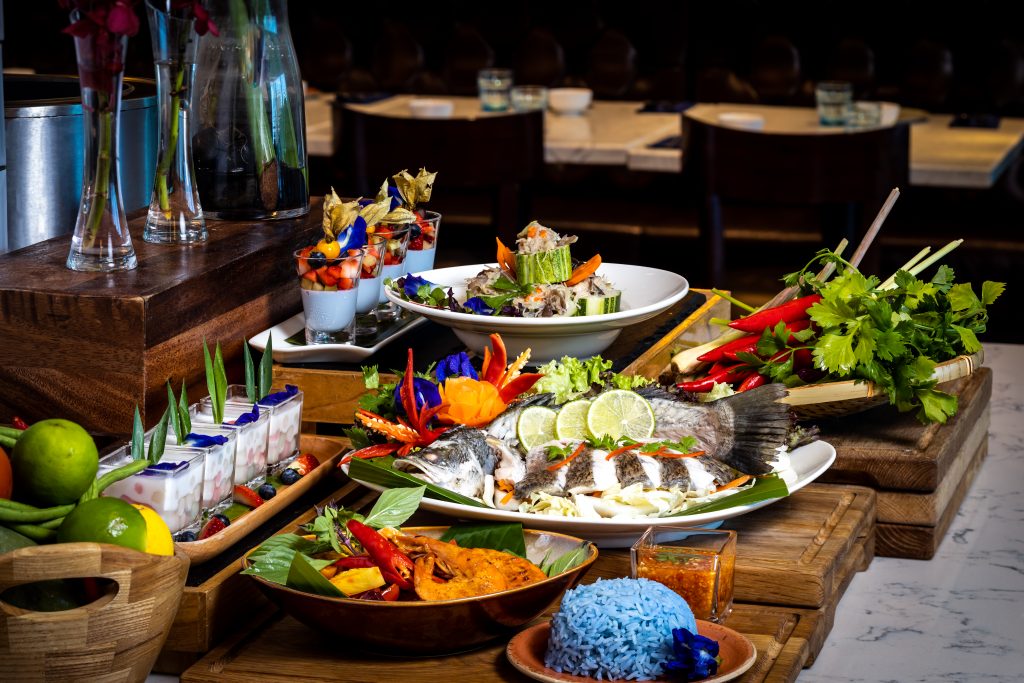 Kid-friendly places
For little ones in tow, eateries like Blue Jasmine, Diamond Kitchen and Porta have kid-friendly menus and activities. 
Kids five and under eat free at halal Thai restaurant, Blue Jasmine, on the fifth level of Park Hotel Farrer Park. Besides a child-friendly menu, the Celebrate Your Super-Mum Mother's Day buffet has live food stations that will tickle the little ones. Delicacies include Gai Tai Naam (chicken thigh sauteed in spices), choice soups, salads and curries. Live stations present a la minute handmade spring rolls and noodle dishes like the Authentic Thai Braised Chicken Noodle Soup.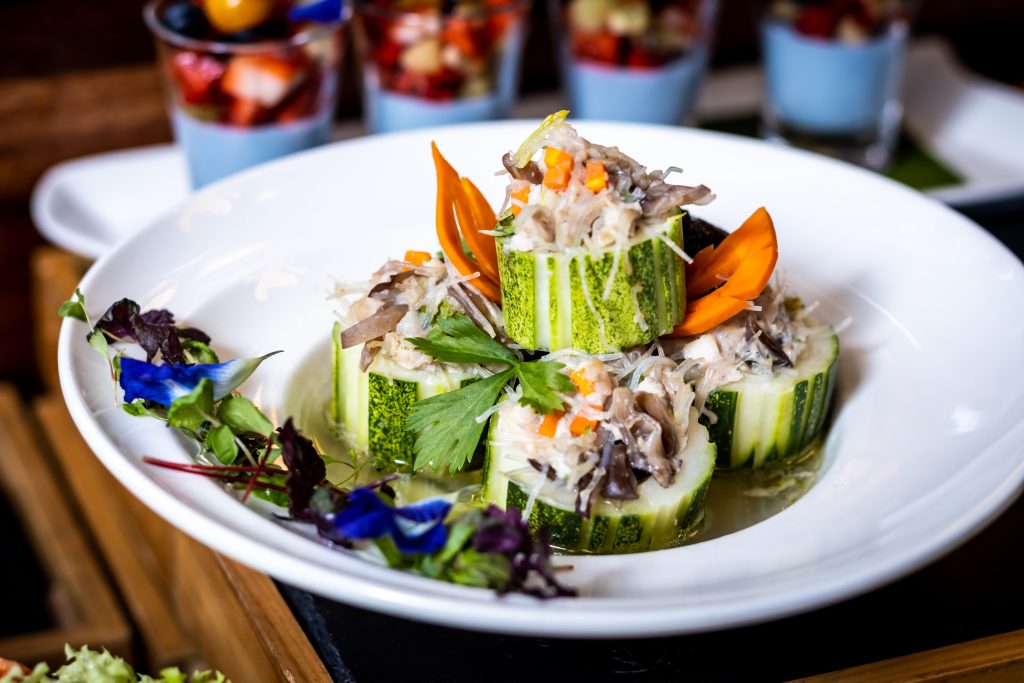 Milder selections include Minced Chicken Salad and Thai Stuffed Cucumber Soup. You get Thai Chendol, soft-serve coconut ice cream and mango sticky rice for dessert. 
Bonus: The restaurant's picturesque view of the luxuriant greenery and skyline of one of Singapore's oldest heritage neighbourhoods. 
Blue Jasmine's mother's day lunch and dinner buffet starts from $52 per adult, and from $26 per child (six to 12 years old). Promotion runs on 12 May.
For reservations, call 6824-8851 or hello@bluejasmine.sg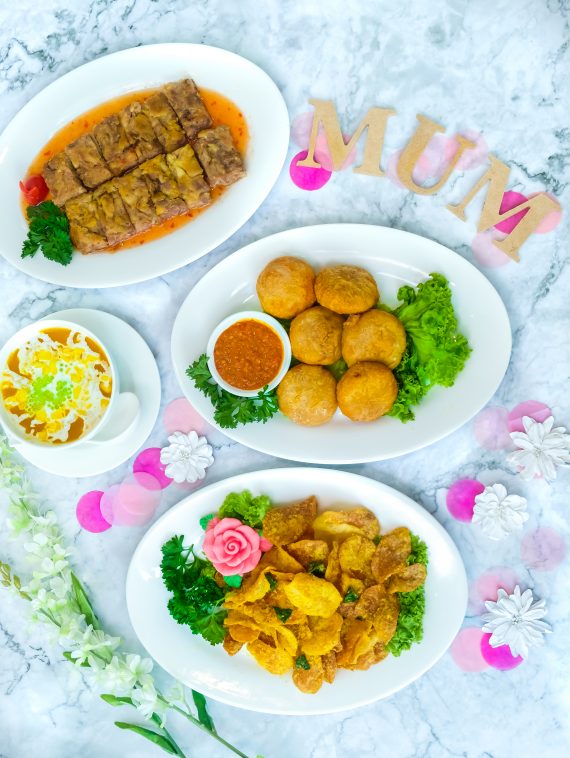 Traditional home-style dishes are served up at Diamond Kitchen, and there is an "Under the Sea" play area with special appearances by friendly mermaids and a giant clamshell during lunch time at weekends. 
There are five new set menus for Mother's Day, starting from $288++ for up to five pax and $888 (eight to 10 pax). The set menus have four new exclusive dishes such as the Delicious Homemade Yam Balls with Otah, Crispy Fried Potato Slices with Salted Egg York, 5-step Diamond Kitchen Duck Rice and Heart of Gold pumpkin dessert.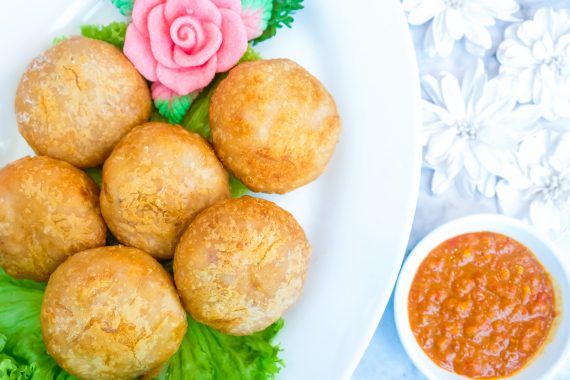 Highlights in the set menu include nourishing Braised Fish Maw Broth with Shredded Chicken, Signature Champagne Infused Pork Ribs, Double Boiled Ginseng Chicken Soup with Fish Maw.
The exquisite 5-step Diamond Kitchen 'Duck Rice' comes in two sizes – $24 (small) and $48 (large). The dish is prepared over a period of three days and involves five essential steps such as roasting, air-drying, steaming, deep frying and pan-frying. The result is a unique 'pancake' of juicy roast duck shreds and glutinous rice with sweet chili sauce. 
Diamond Kitchen is at 87 Science Park Drive and 5000F Marine Parade Road. The Mother's Day promotion is on from now till 19 May. 
For reservations, call 6464-0410 (Science Park) or 6448-0629 (Marine Parade) or email reservation@diamondkitchen.com.sg.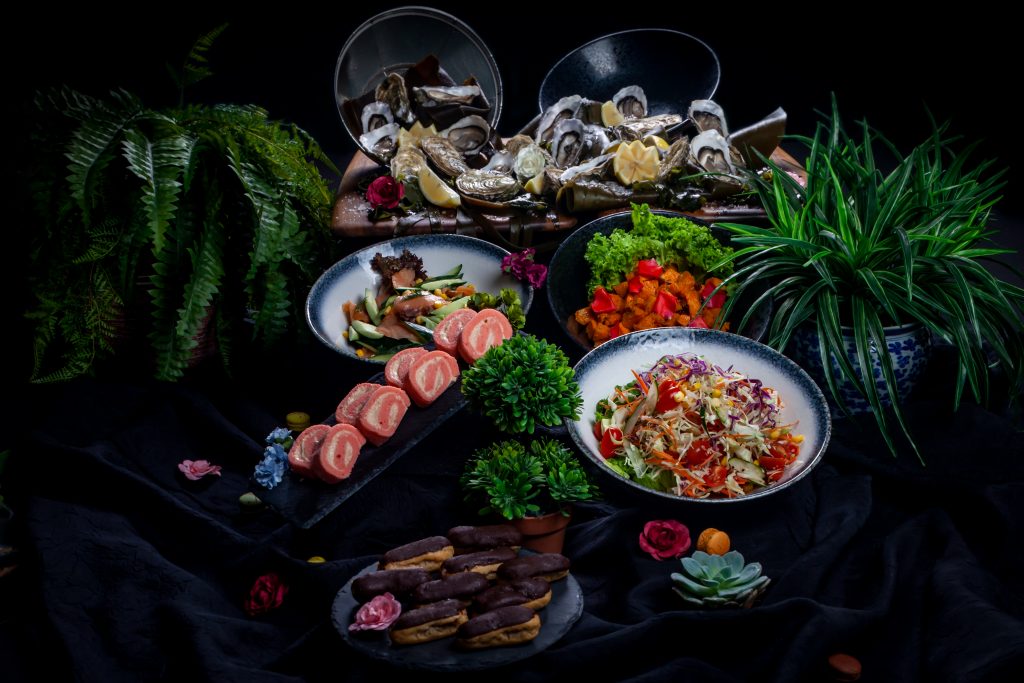 Savour the new brunch menu at Porta, while the kids go wild at the playroom and enjoy activities of the day. The restaurant at Park Hotel Clark Quay (1 Unity Street), has a Mother's Day spread of all-you-can-eat Fine de Claire oysters, refreshing salads, savoury appetiser and lovely desserts, for brunch on 12 May. 
Key items on the menu include the delicious Porta Breakfast – scrambled eggs, bacon, sausage, grilled tomato, hash browns and brioche; smoked salmon croissant and sweet offerings like Strawberry and Cream Cake, Chocolate Tartlet and macaroons. Even better: All house wines are half-priced, from your second order. 
There is a children's playroom packed with rocking horses and a caterpillar tunnel for the young ones set up, so Mummies can dine in peace. There are also fun programmes like balloon sculpting and arts and crafts activities. Children under five get to redeem a complimentary Kid's Dish of the Day. 
Brunch is priced at $39++ per adult and $19++ per child. For reservations, contact 6593-8855 or hello@porta.com.sg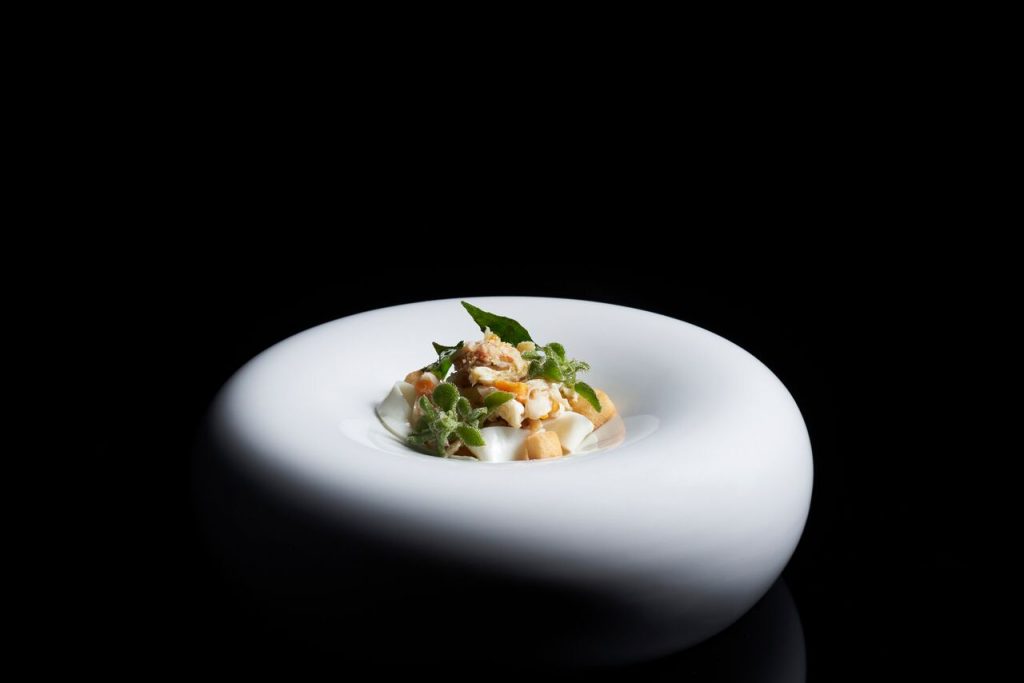 Mod Sin
One-star Michelin restaurant, Labyrinth is gifting a 25 per cent discount to all mothers. The offer is only applicable for dine-in guests on 12 May. The restaurant is well-known for serving up local delights with a modern twist. Savoury favourites in the dinner menu include Labyrinth Rojak, "Ang Moh" Chicken Rice and Local Mushroom and Grandma's Fish Maw Soup. 
Labyrinth is at #02-23 Esplanade Mall. For reservations, click here. Or call 6223-4098 or reservations@labyrinth.com.sg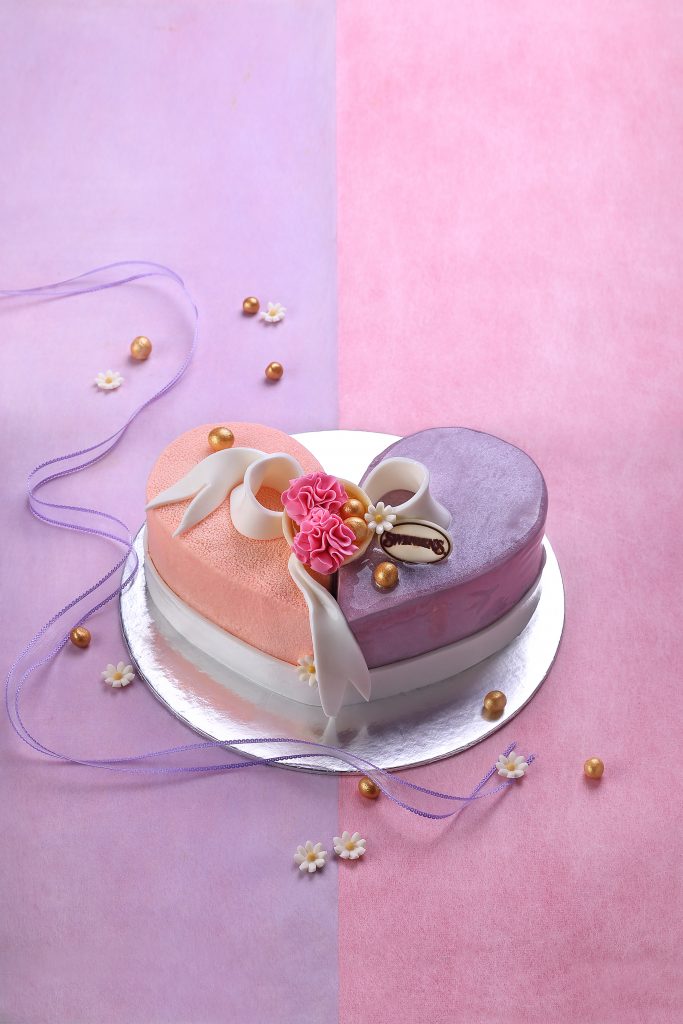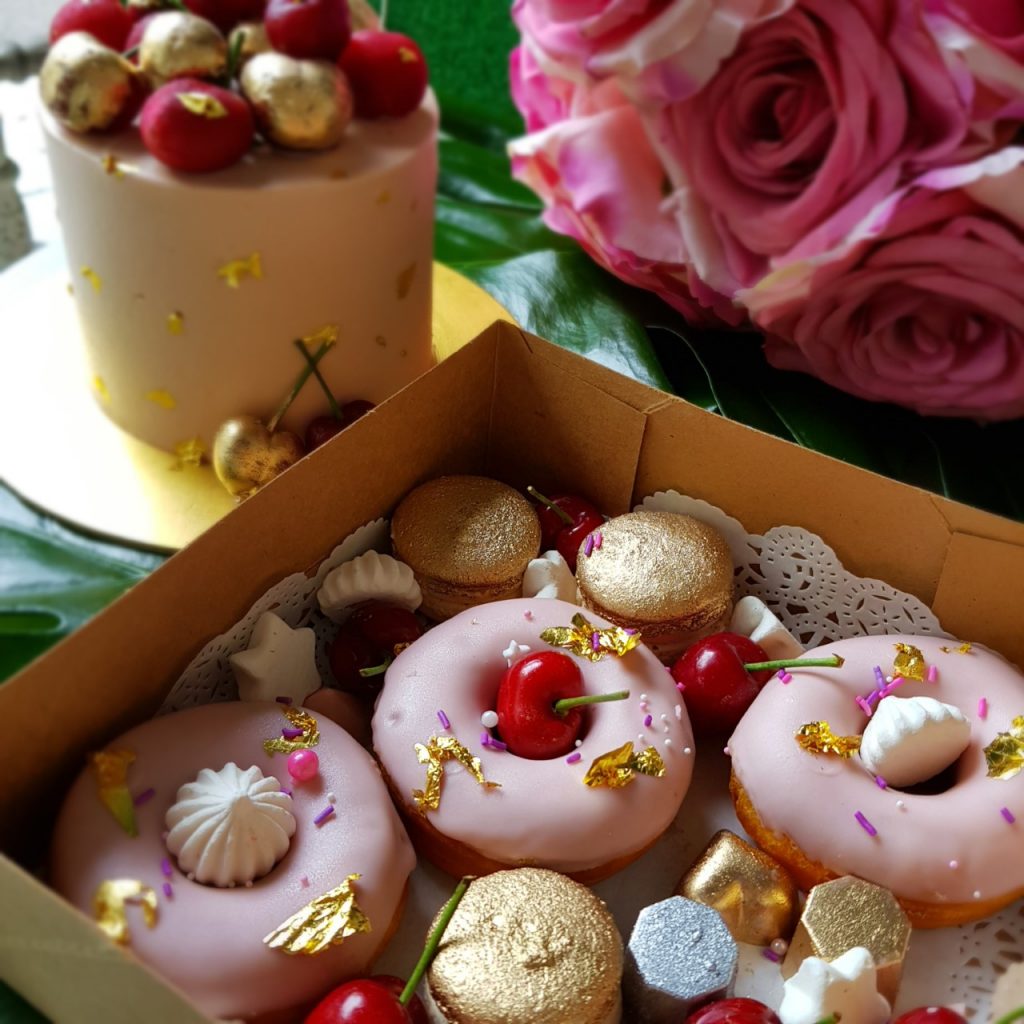 Swensens (left) and Little House of Dreams (right) each have their delightful treats to celebrate the special occasion.
Sweet notes
For Mums who can't do without their desserts and sweet fixes, there is Swensens and Little House Of Dreams.  
On this special occasion, Swensens has an Oh My Love ($59.90, 1kg) ice-cream cake for mothers. It's available at all its Swensen's and Earle Swensen's outlets. Oh My Love combines vanilla and strawberry ice cream with roasted hazelnut ice cream and crunchy KitKat bits, and the cake is adorned with cute fondant flowers. 
Bakery bistro Little House of Dreams at Dempsey too has a cake and dessert collection with a twist. Its Ruby Chocolate dessert collection is made with ruby cocoa beans and has a distinctive natural pink colour. The chocolate has a unique light, fruity aroma and sweet and tart taste that is unlike any chocolate tasted.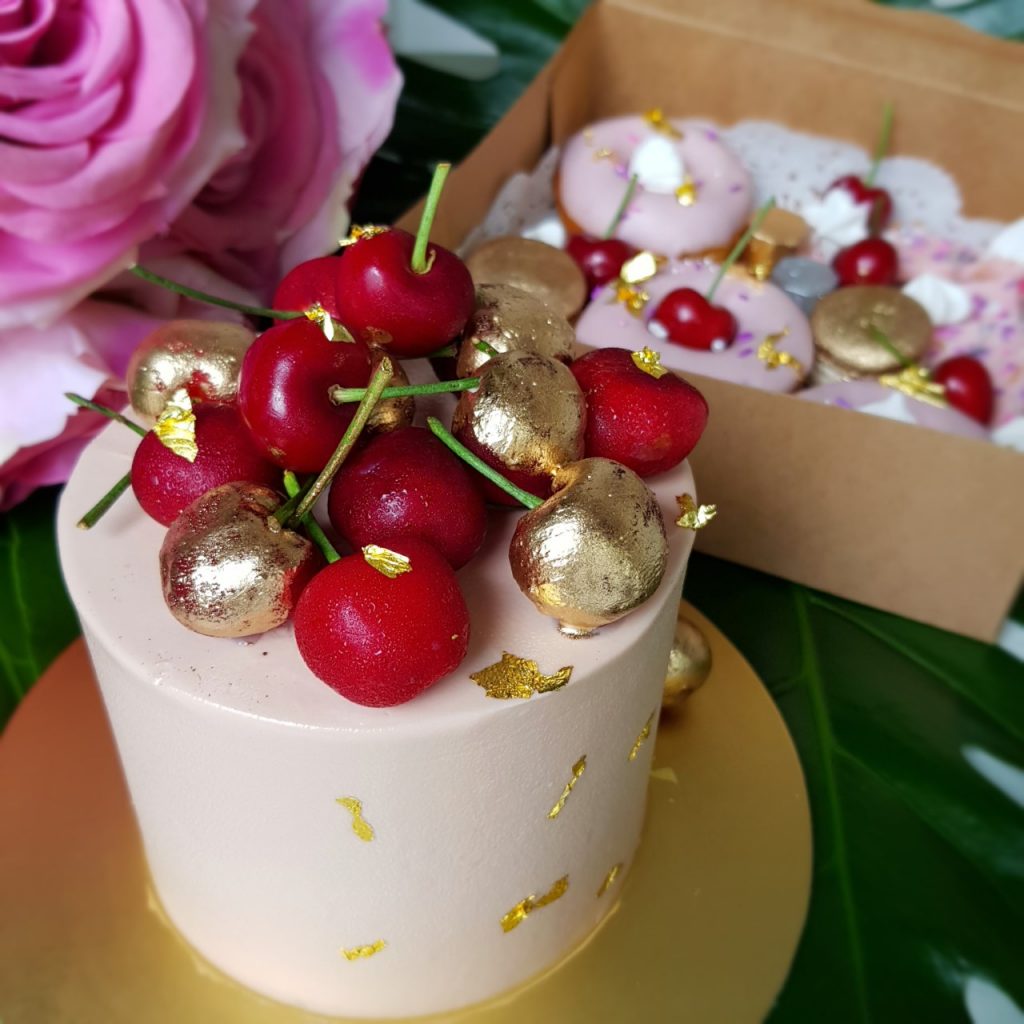 The Queen in Little House of Dreams' collection is a stunning 4.5″ lemon butter cake studded with cranberries and ruby chocolate frosting, topped off with gilded cherries ($58). We're also giving the nod to The Jewel Box that has assorted desserts such as gold macarons filled with ruby chocolate, donuts glazed with ruby chocolate, ruby chocolate shards, and ruby chocolate pralines ($38). 
To order the Ruby Chocolate dessert collection, contact hello@littlehouseofdreams.com