Our spotlight on women-led innovations, creativity and entrepreneurship. We uncover the below-the-radar female thinkers, doers and brave hearts who walk the talk, and make a difference with their spark of genius.
It was the frustration of having to pay an obscene amount for tomatoes and basil for their dinner parties, that got Nadine Linneberg, 42 and her husband Thorben Linneberg, 48, to grow their own herbs and vegetables. "I was offended by the price of tomatoes and the poor quality of produce for what you were paying, that I made it my business to grow tomatoes," she says. The journey that began in 2015, saw the couple founding Aerospring Gardens, a patent-pending vertical aeroponic gardening system. "No soil, no mess and lots of success", is the promise it offers to urban farmers and gardeners, regardless if they have a garden or a balcony.
The vertical gardening system is idiot-proof and includes everything you need to start your urban farm. Built on modular blocks, it is easy to assemble in just 15 minutes, with no tools required. There are three models (they range from $350 to $1,499) offered, to grow edible plants and vegetables. A Mini system of three tiers allows you to grow nine; the Regular nine-tier system for 27, and the 12-tier Pro system for 36 edible plants.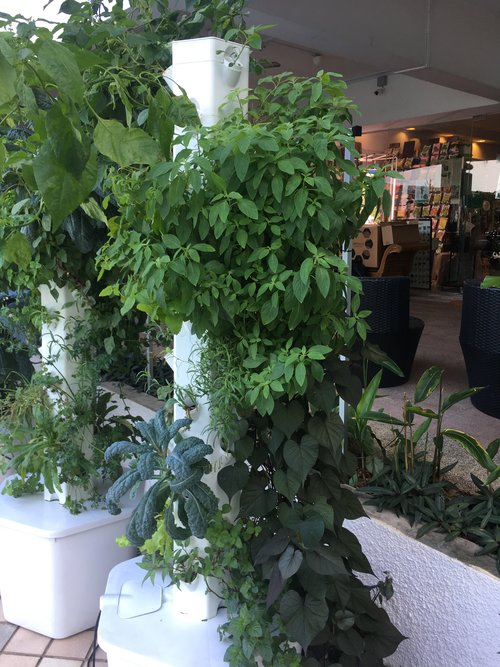 The systems are all built for outdoor use and indoor use – another versatile advantage. For those who don't get enough sunshine on their balcony, the system also works indoors. You can purchase an indoor system that comprises a frame that comes with several LED panels, to start growing your crops. This can also be purchased as an add-on if you already have the basic modular system, and want to move your garden inhouse.
Sunshine and air are what you need for optimal plant growth (unless you get the indoor system), and about one square metre of space on the balcony or an outdoors area, for the aeroponics system.
The self-watering system does the rest and requires little maintenance, save you filling the base tub with water, a power plug and some NPK fertiliser. Using less than 10 per cent of water and space required for conventional soil-based farming, you can grow herbs, vegetables like kale and lettuce, and even fruits like cucumber, melons and passionfruit, outdoors or indoors. What won't grow are shrubs, trees, root vegetables, carrots and okra – "they get too big, too quickly," she shares from experience.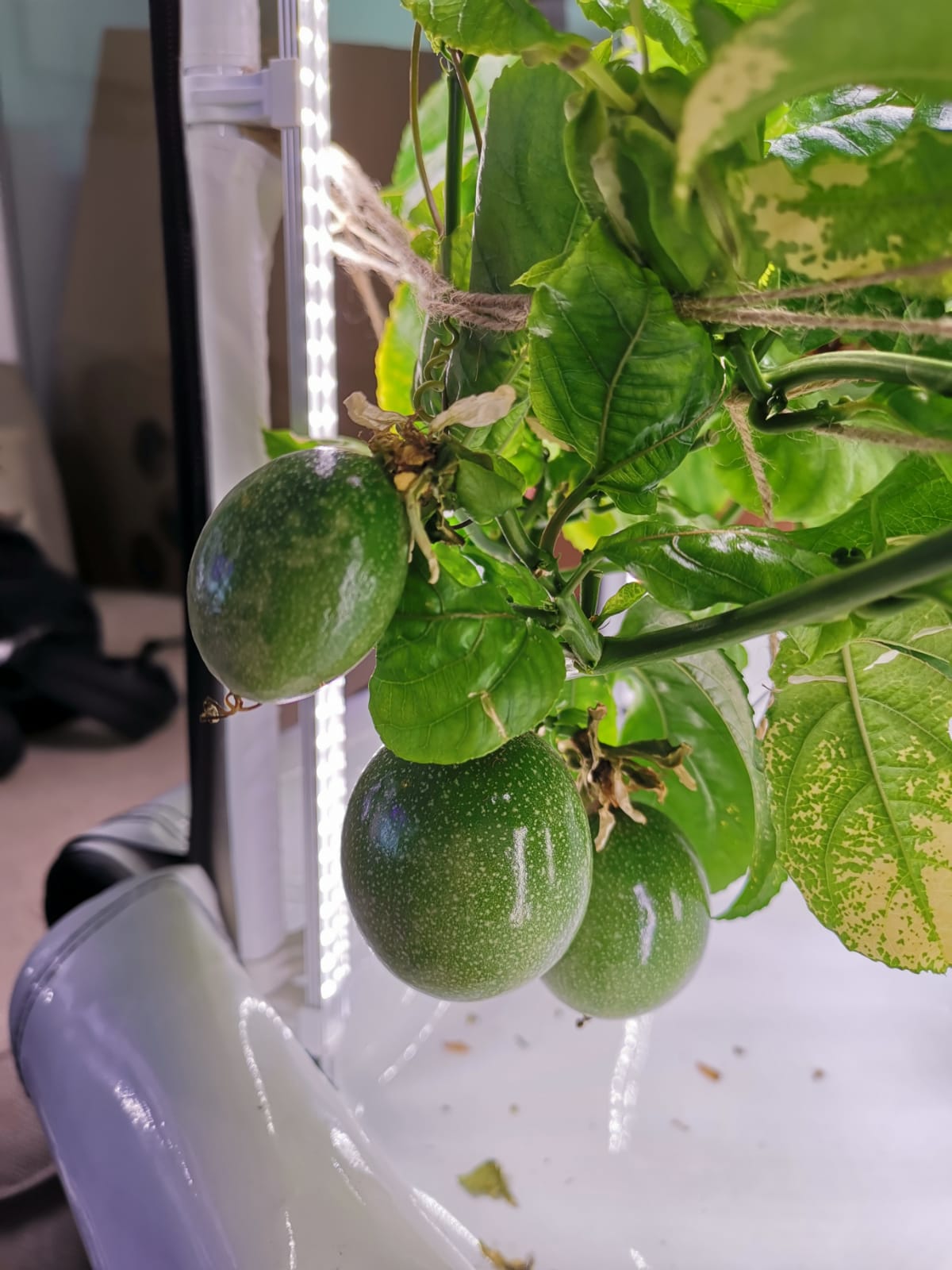 She says you're in good stead if you can just spend "15 minutes a week on your garden."
It's a rule Nadine is particular about when she sells the garden-in-a-box system to customers. It's low maintenance, but not no maintenance. While considerably less effort than conventional soil gardening, you still have to pinch your herbs when they get unruly or start flowering – the latter affects the outcome and taste of the herbs, she shares.
She routinely asks potential clients what their needs are and what they hope to achieve. This is part of the process of educating people on how the system works and what it can do for you. "It's not something you must have, but would like to have, what are your nutritional needs and health concerns. The objective is to eat from it, not let it be a showpiece,"" she tells.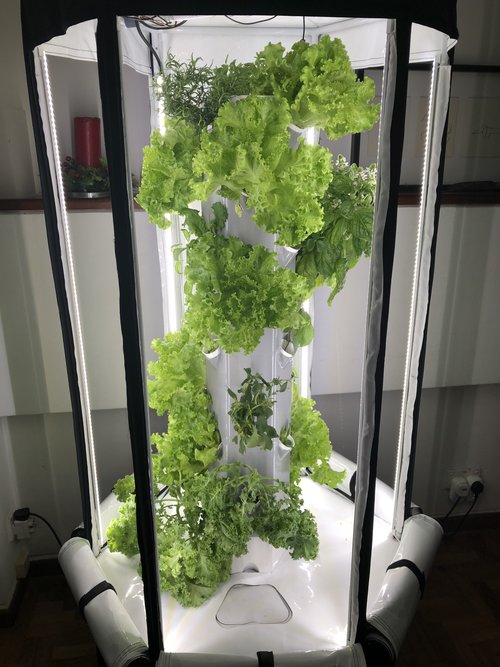 One of the great joys she has, is seeing how customers with "brown fingers", now able to grow their own herbs and vegetables. Perhaps it reminds her of her own experiences with gardening. Nadine's extensive knowledge about plants and herbs now is something that has grown like her plants, over the years, for she had no horticultural experience prior. The former general manager of a content marketing agency, says laughingly, "Before, I never met a plant that I couldn't kill."
Another reward is seeing how it reconnects the adults and kids to their environment and their food. "There are a lot of smart and educated people who don't know how their food is grown," she shares. With a system like this, she says, it gets people interested: "You become quite appreciative of where food comes from and what farmers go through."
Get kids interested in the food they eat by letting them touch, taste and smell the foods they grow.
The mother of one, a baby girl named Liva, tells that kids in particular, have their curiosity piqued when they see the system. The whole idea is to let them touch, smell and taste the produce that is growing. "I've had friends' kids come around and they are fascinated. And mothers tell me their kids are now eating veggies they don't usually eat."
We can attest to that from our experience in the company's showroom at Sunset Way. Nadine tears off leaves from the herbs and vegetables that are growing, to let us sample them. A lettuce-basil leaf – it is the length of a ballpoint pen – has an aromatic herbaceous bite. A rocket leaf has multi-dimensional flavours that implode in the mouth, nothing like what you'd get out of a bag of salad leaves.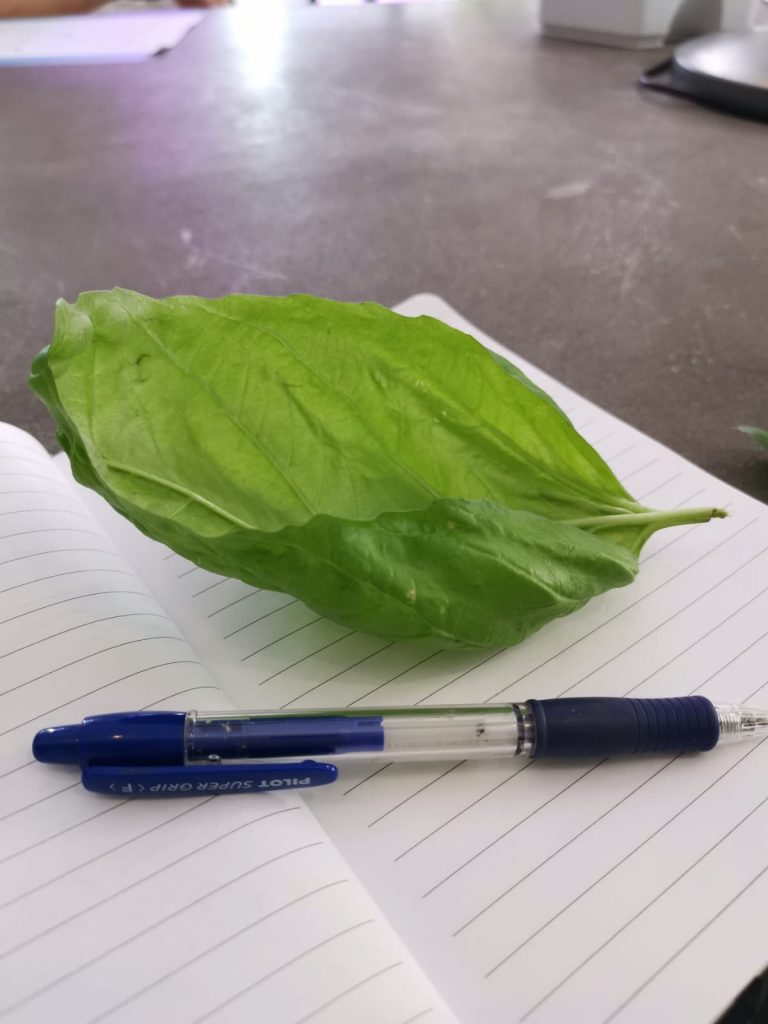 It's no wonder that the system has cottoned on year by year since its launch, and it sells not just locally, but in the United States, United Kingdom, Australia, Germany and Denmark. The United Arab Emirates is a new market that they have recently entered, and there will be a solar- powered Aerospring Gardens system geared for it. Customers can look forward to a new phone app too that will be launching by July. The app will allow you to water your plants remotely (the current system relies on a timer which you set.
Aerospring Gardens is at 120 Sunset Way, #01-01 The Clubhouse, tel: 6493-6760. Or visit them here.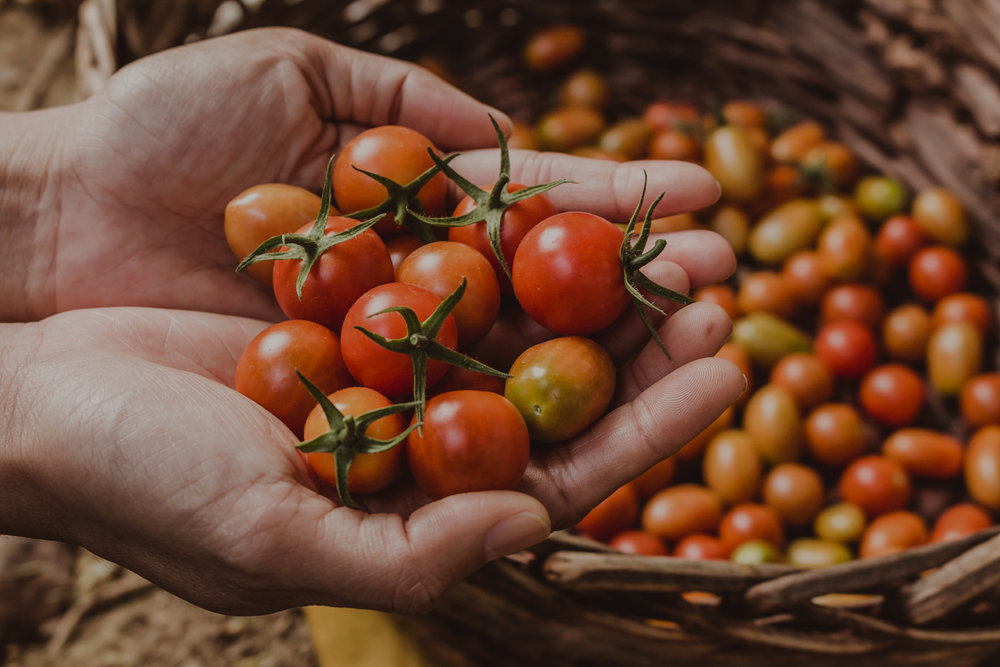 What were the frustrations that prompted you to start Aerospring Gardens?
"Paying obscene prices for tomatoes and basil to make pesto. I remember paying $3.95 for 10g of basil, and ended up spending $40 to $50 in herbs alone. That made me start gardening but with soil, my efforts very quickly failed. We couldn't find a ready system that wasn't a DIY at the time, so we made one. My husband pulled out his tool kit and fashioned out a crude system out of PVC pipes. It worked and I successfully grew tomatoes. But we learnt quickly that PVC has lead to stabilise it, which leaches it into the water, so that had to be reworked. When we started Aerospring Gardens, the system uses a high-quality UV-stabilised food-safe plastic that is meant to last many years in the sun."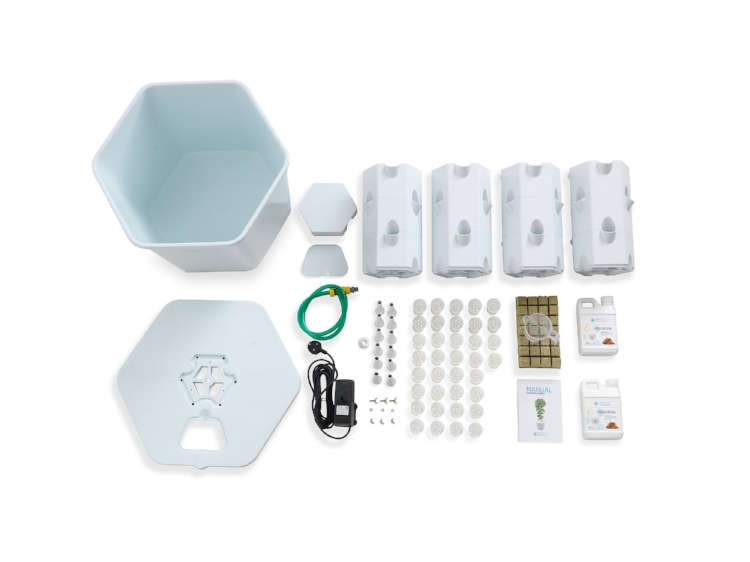 What's the advantage of the Aerospring System over other hydroponic systems?
"It's a vertical modular system that doesn't take up a lot of space, and can be used both outdoors and indoors (with the Indoor Kit). It takes 15 minutes to set up. You can do companion planting, growing both herbs, vegetables and fruit. The NPK (nitrogen and potassium) nutrients that you add to the water feeds the plants with the 21 essential minerals they need to start growth – the plants don't have to draw it from soil to get what it needs … the results are 30 to 40 per cent faster than conventional soil gardening. Unlike hydroponics where the roots are submerged in water, this is an aeroponics system, where the roots are suspended, so there is no danger of drowning the plant. The self-watering system waters the plants intermittently, and you can adjust how frequently they are watered. The cups in the module are also recyclable. You just pop in a new seedling cube when you want to change a plant."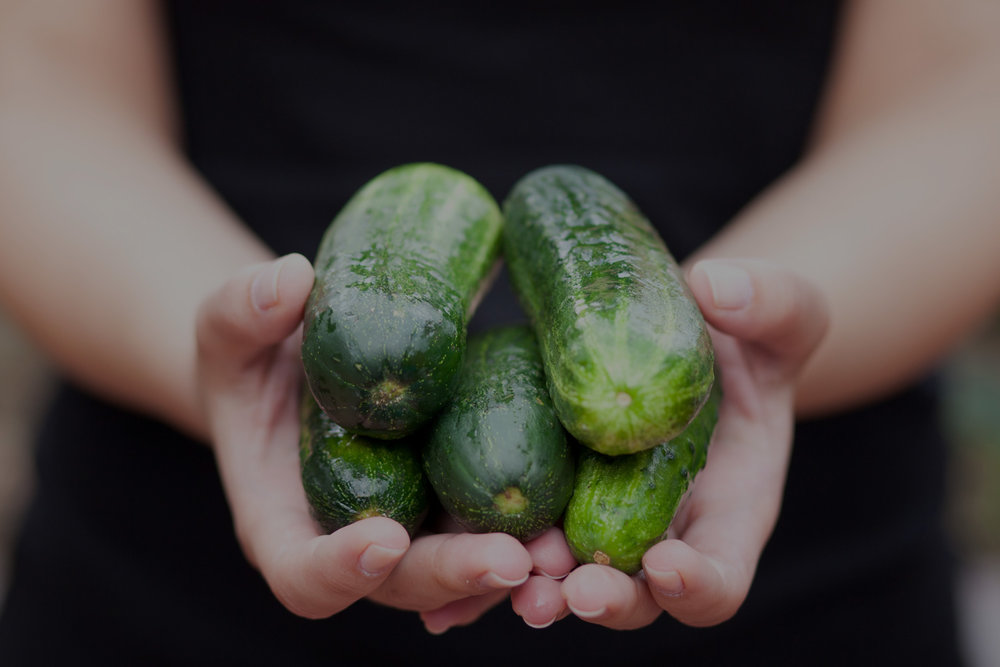 Who is Aerospring Gardens for?
"People who have a desire to grow their own food. People with 'brown fingers' who never succeeded with growing things in soil. Our customer base is mostly women in their 30s to 60s, married, mostly with families, or young couples who cook at home."
Has growing your own vegetable and herbs changed the way you eat?
Yes. The family now eats an 80-20 plant based diet. leans more to an 80-20 plant-based diet.
Nadine, with daughter Liva.
What do you see this gardening system teaching your own little girl?
"When you become a mother, you start to think about someone else. The system fosters in children, an interest in plants, how food is grown, where food comes from. She will learn a life skill from an early age, and awareness, because the world we live in is changing drastically (from climate change)."