It is primed for unharried family staycations. The newly revamped luxury hotel has Family Suites that are specifically customised for kids and adults, so each have their own retreat spaces for play and relaxation. GIDANIA WONG gives her nod of approval.
When you're a busy mum with two young children, a respite from the hustle and bustle of daily life is always welcome, even if it's a couple of days away. But then you have to get the arsenal ready before rolling out – the change mat, wet wipes and  diapers, and make sure to pack enough toys, books and snacks to prevent meltdowns. There are passports to dig up, tickets and land transfers to arrange, and did we remember to bring the pram? I am exhausted even before the trip begins. That's when I book in for a staycation – all the perks of a vacation, without the need for air or sea travel. It prevents Mummy from a breakdown. Recently over the Labour Day holiday (aka Mummy needs a break!), I took the family to Grand Park City Hall, for a holiday to nowhere.
A chic mix of heritage and contemporary
The hotel is just a five-minute walk from Raffles City. It had a major facelift late last year, and is now looking all new and pretty again. Yet the modern upgrades are far from being cold and impersonal. One of the first things you notice when you check in on the third floor (where reception, and the hotel's restaurant, Tablescape is), are the heritage influences that are tastefully worked in with the hotel's contemporary style.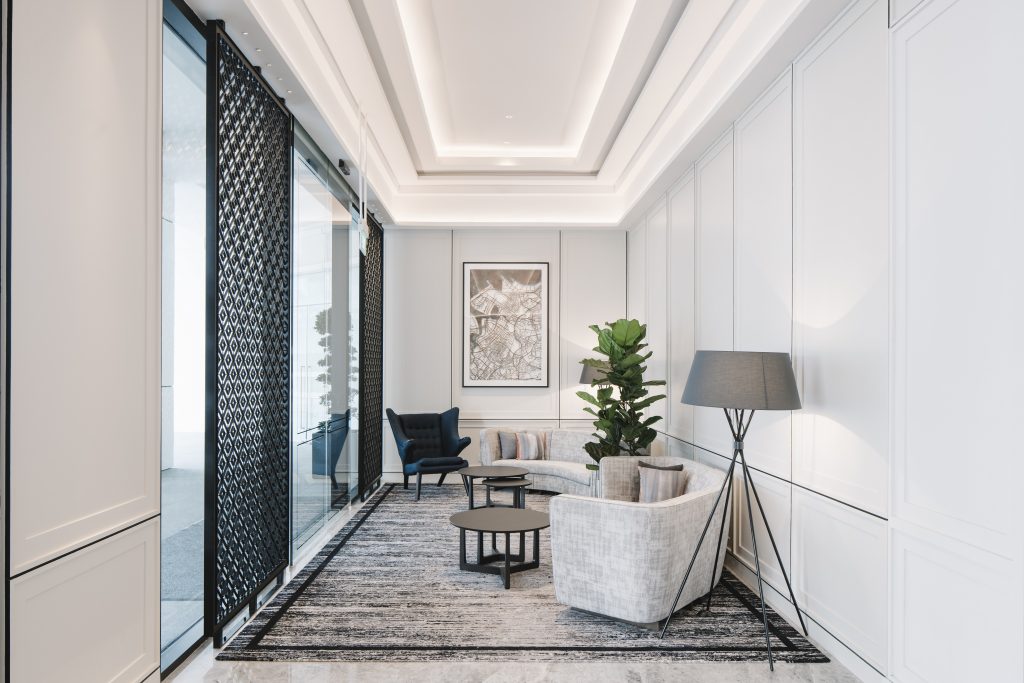 There are Peranakan-style tiles and screens, vintage statement pieces and artwork alongside black-and-white photo captures of local landmarks in the country. It's a seamless juxtaposition of modern and yesteryear Singapore that gives it a unique and beautiful charm. It's also a nod to the property's rich history. After all, it is situated in the heart of Singapore's Civic District, on Coleman Street, a stone's throw from Capitol Piazza (formerly Capitol theatre) and within short distances of other historic landmarks like Singapore Parliament House, the Civilian War Memorial, St Andrew's Cathedral and the Central Fire Station on Hill Street. 
What to expect at the newly revamped Grand Park City Hall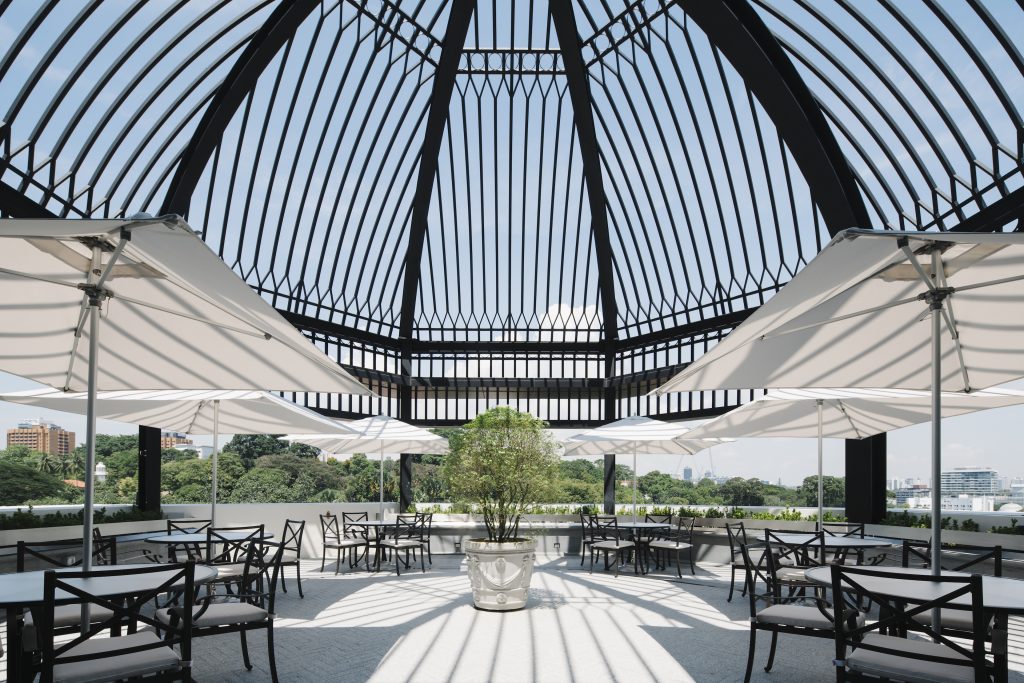 Following last year's renovations, the hotel now features 343 rooms, six of which are inter-connecting family rooms, known as the Family Suites. The swimming pool and gym too have had a fresh makeover; and there is a new executive club lounge for Crystal Club guests, and a rooftop garden.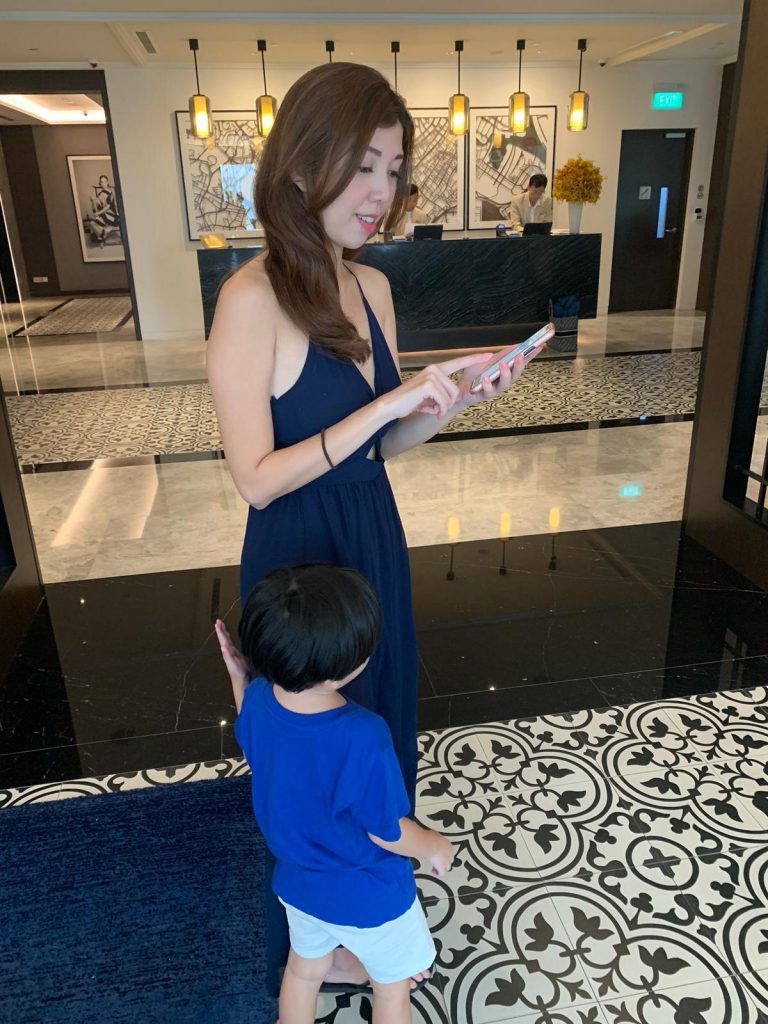 While you can do the regular check-ins at the hotel reception, you can fast-track the process by downloading the Grand Park City Hall app, prior to your arrival. I did a digital check-in via the app, and that sped up access to our rooms – very helpful when you have two kids in tow. Your phone functions as your digital key. Thus, all you need to do is upload your identification and snap a selfie – easy peasy.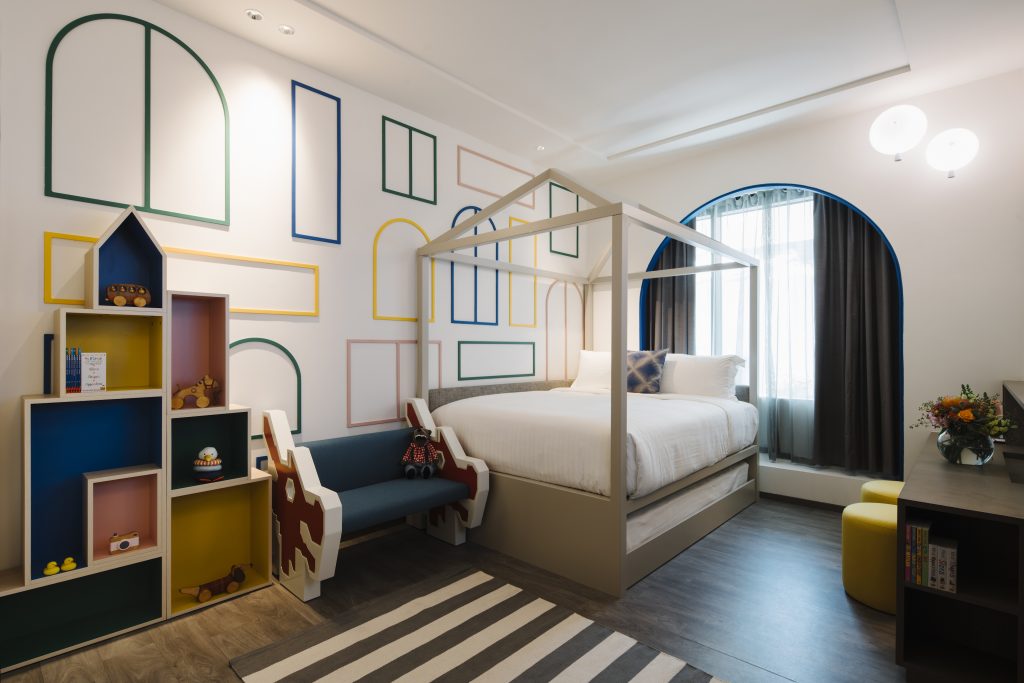 The Family Suite is a very welcome surprise. It's essentially two connecting rooms that are very spacious, and then some. One room is designed with all the luxurious trappings and comforts for adults. The other is a bedroom with bright cheery décor, designed with kids in mind.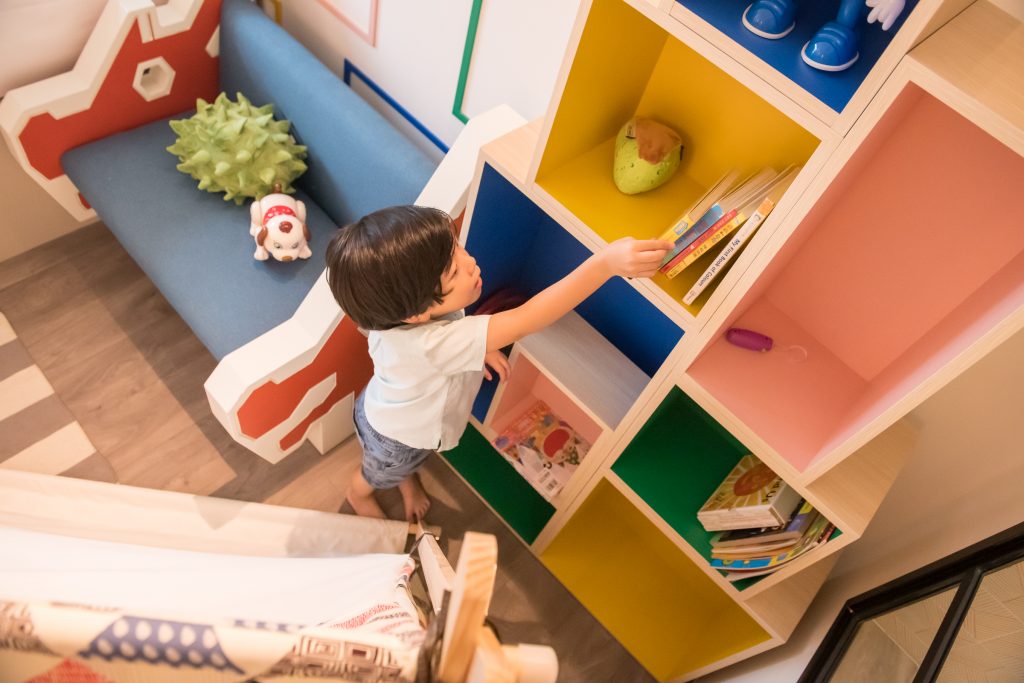 There is the canopy bed and colourful bean bags to lounge in, low-height hooks, an activity desk, and shelves with books and toys. Kids can express their creativity freely on the magnetic blackboard wall. Even the bathroom is designed for children, it's a child's toilet bowl in here.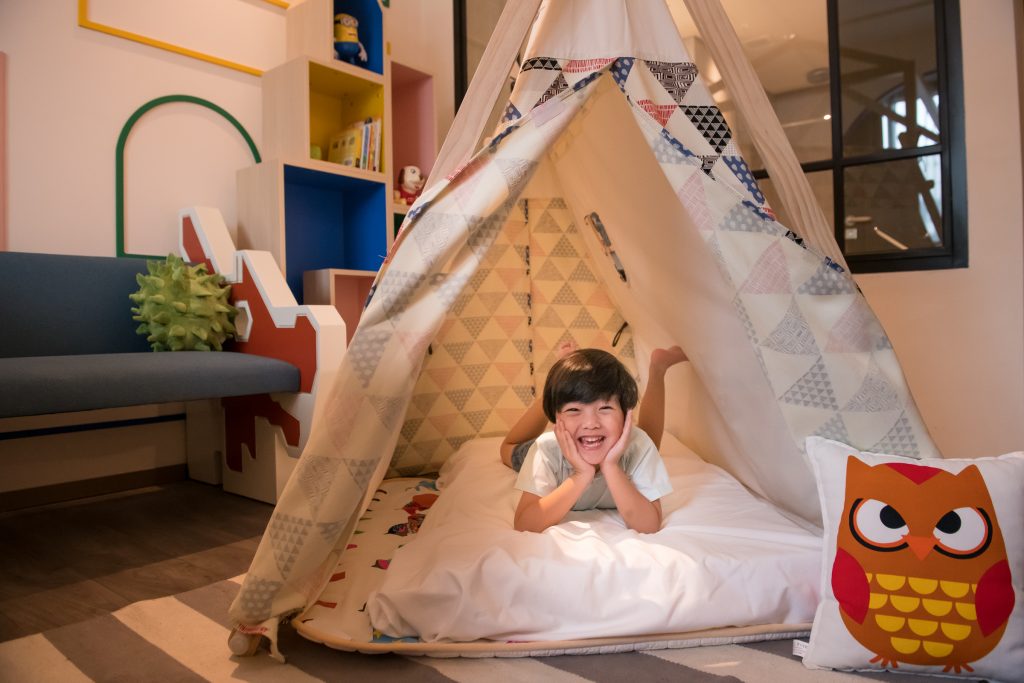 My four-year old son, Zyah, is instantly drawn to the bookshelf that has interesting books and toys. A teepee is also available upon request. It's where Zyah disappears into, where armed with his new collection of books, he sets up base for the next hour – what a cute lifesaver!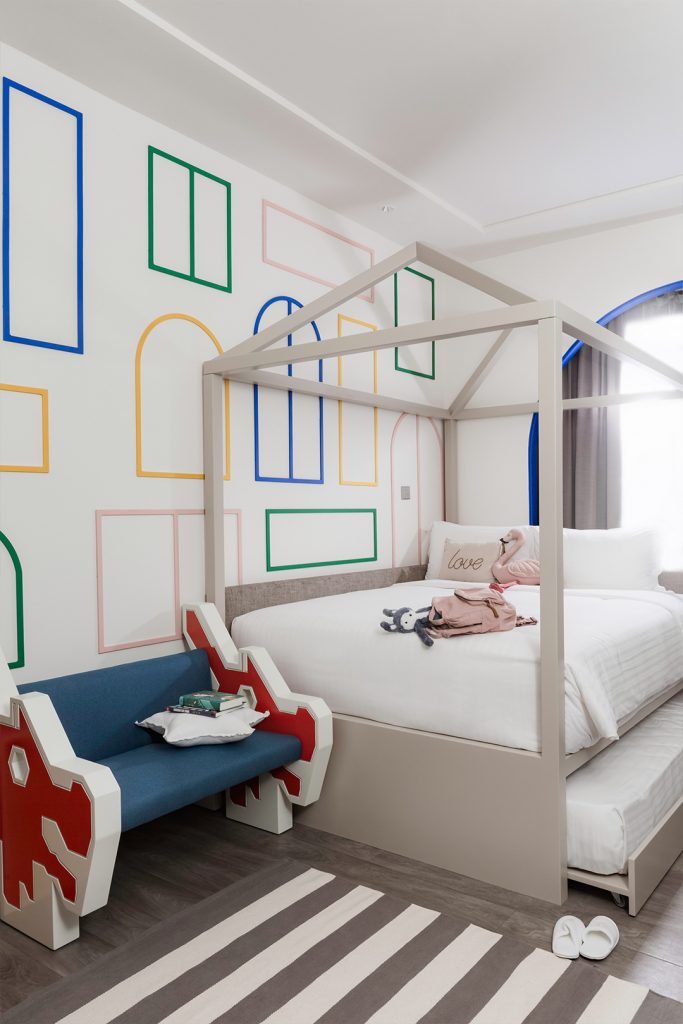 Bed isn't a standard four-poster canopy, but one that looks like a big wooden house. Additionally, it's also a comfy double-decker, as it has a roll-out bed. It doubles up as a day bed for my eight-month old daughter Aleia, who is keen to explore her new surroundings.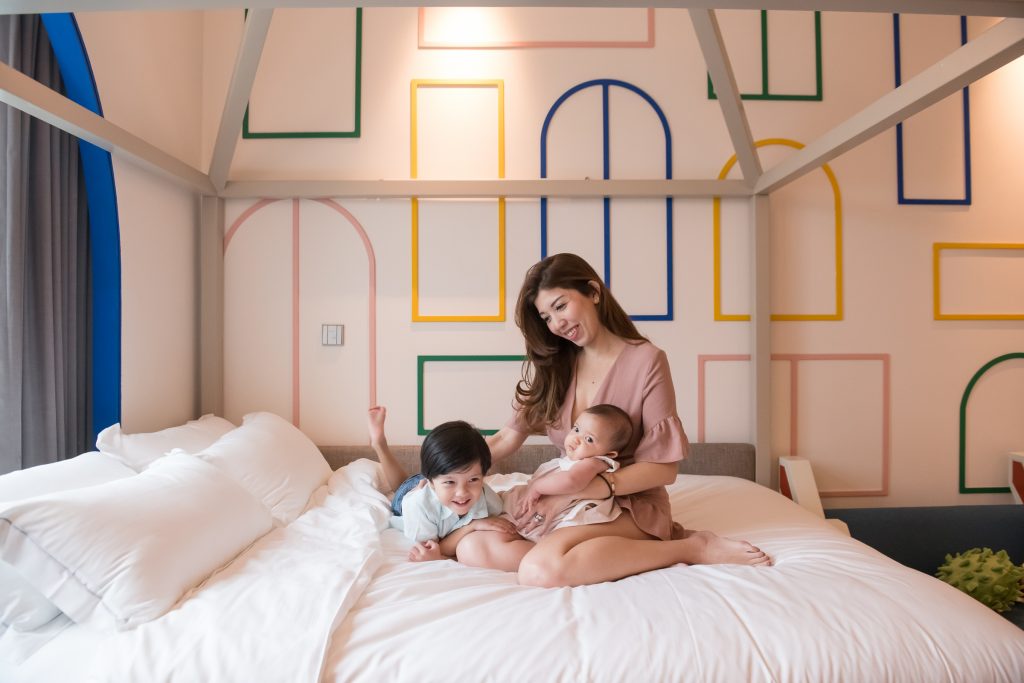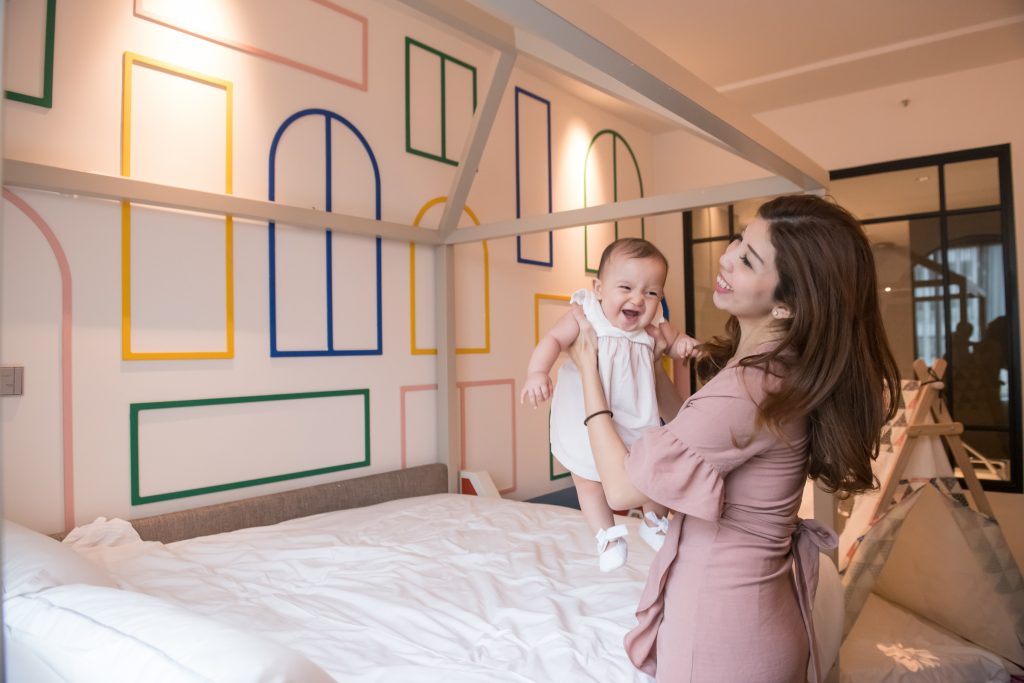 Parents and children can sleep soundly in this family suite.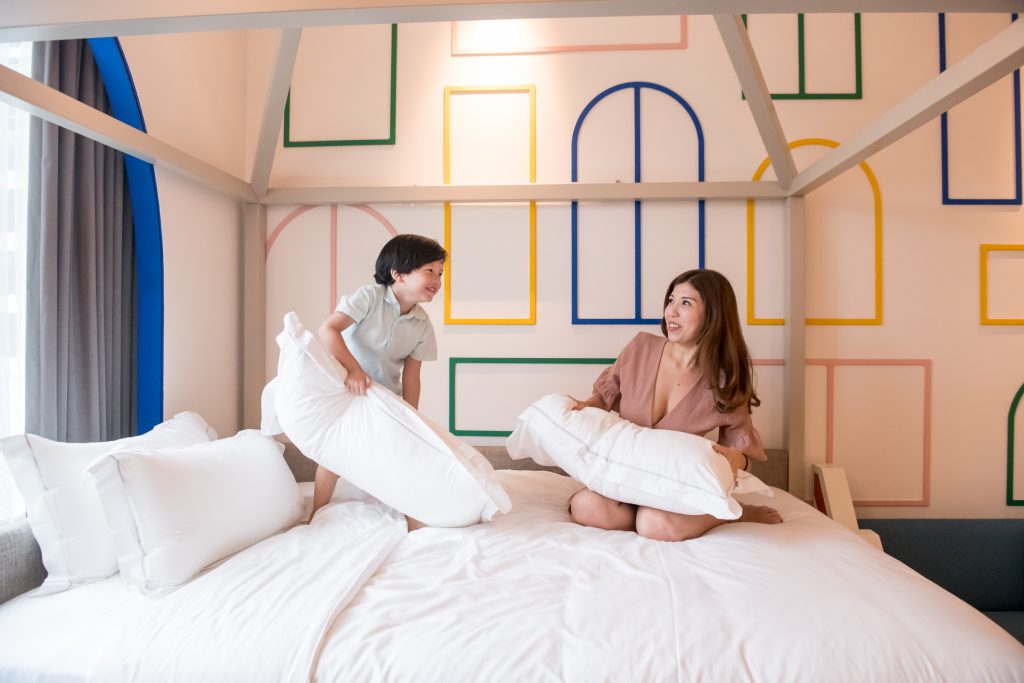 The child's annexe of the family suite, can accommodate up to three children, under the age of 12. Parents can sleep safe and soundly with the knowledge that the kids are right next door, with only a connecting door separating them. There is no need to squeeze and share the room and bed, and I'm thankful for the peaceful night's rest, without a sudden elbow jab in the face.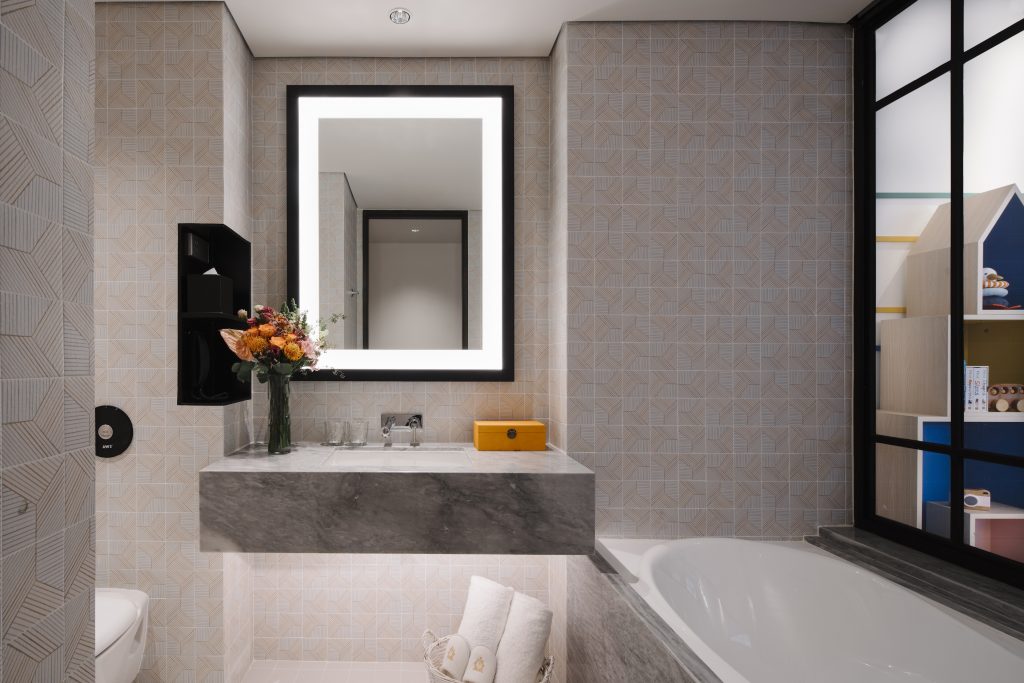 Another bonus point for us, is the accessible drop-in bathtub and smaller vanity and toilet, that cater for young kids – it makes use of the facilities and bathtime a breeze. There are also bathrobes and bedroom slippers for big and small folks. Cheeky Zyah immediately uses the cute kids-size robe as a cape, and pretends he is Superman.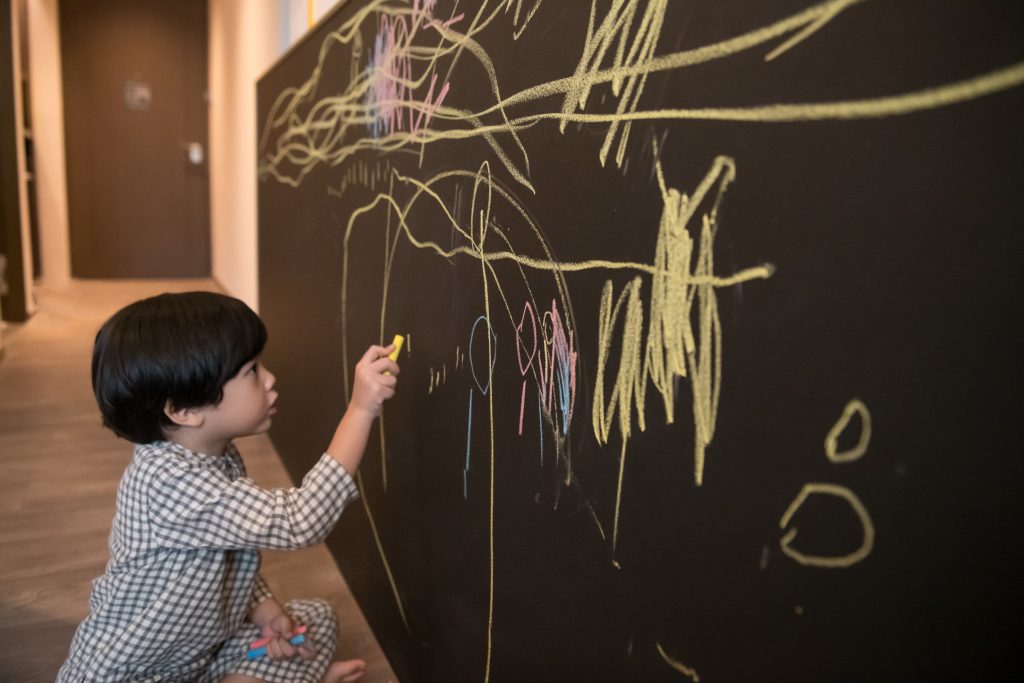 With such a "fun room" as Zyah calls it, it does take some persuasion to get him out of the room, but we want to check out the pool.  It's accessible from the fourth floor of the hotel and is right next to the gym. Once Zyah spots the pool, he dives in, splashing and swimming about and even starts making conversation with other guests.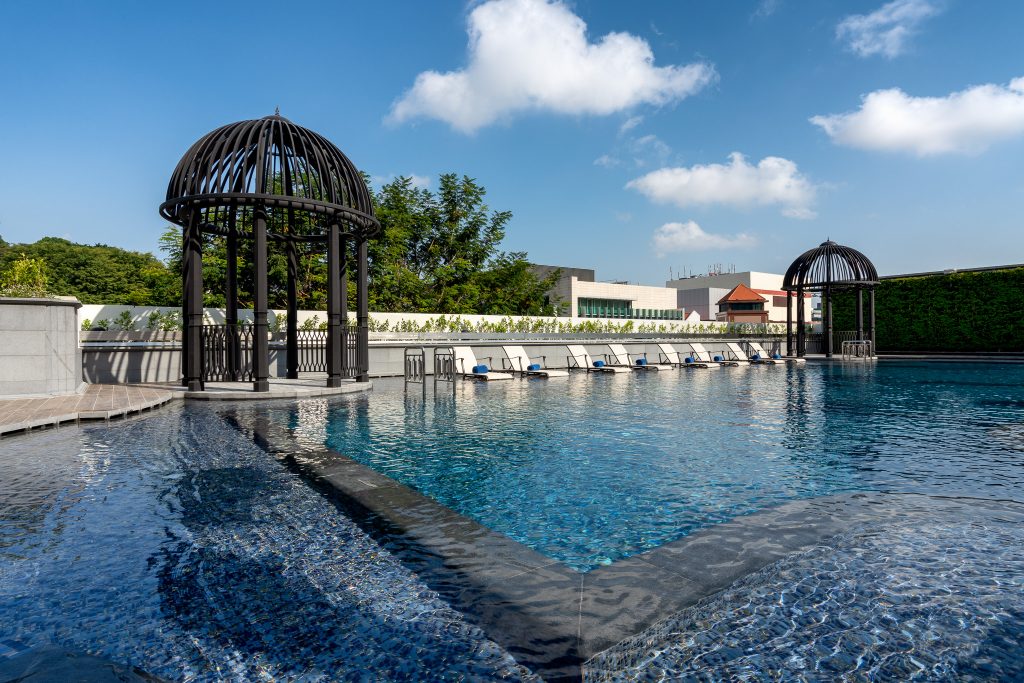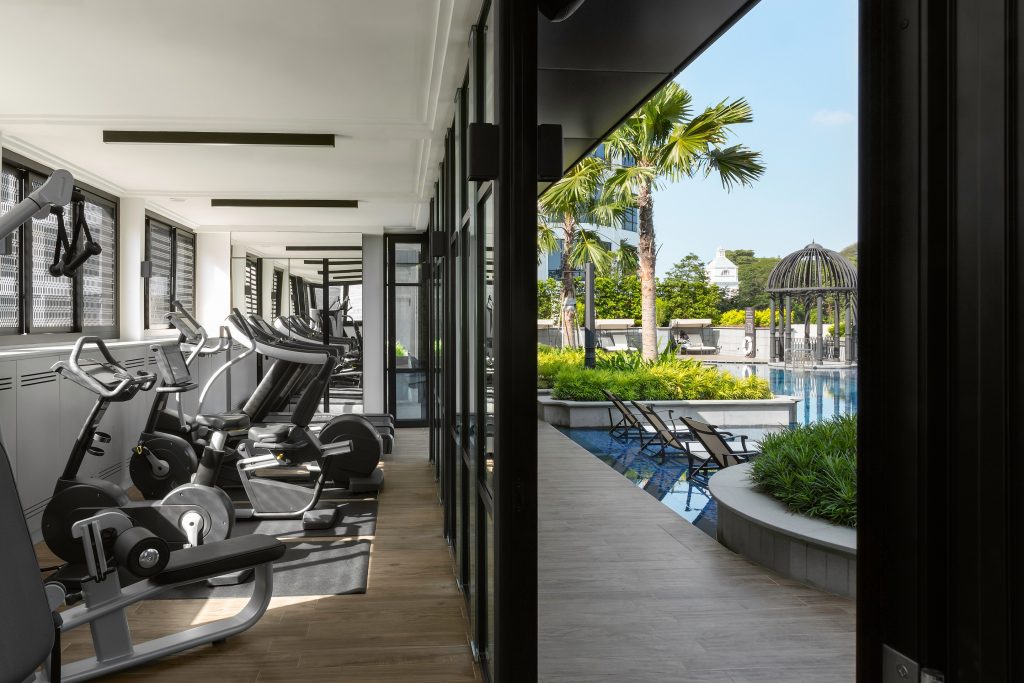 His little sister is more pensive, but once she discovers the baby pool is only ankle-deep, she too starts wading happily. Hence, the family spends a good two hours relaxing at the pool, that has a view of the city. There are many Instaworthy hotspots for selfies.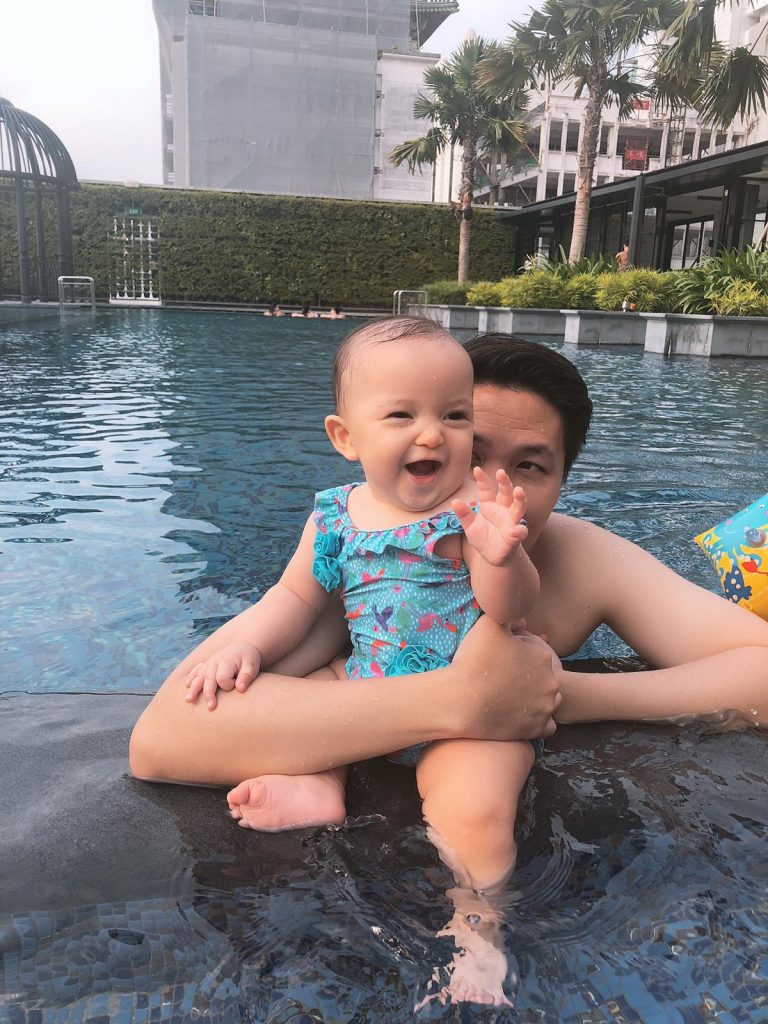 We decide to explore the vicinity for dinner – there are plenty of options around the nearby malls, another advantage of the hotel's location. Following which, we all get a restful night in the plush beds. Lazy mummy here controls every aspect of the room with a click of the button – from turning on the TV to adjusting the room temperature or turning down the lights and ordering room service at supper time – it's all conveniently executed via my phone.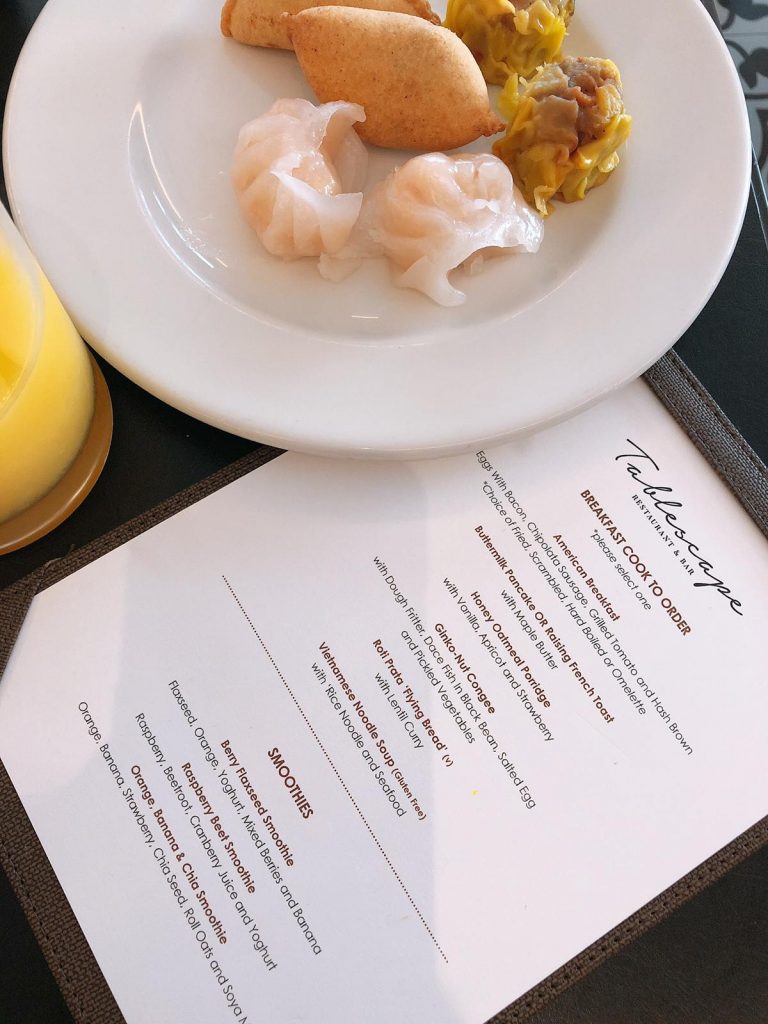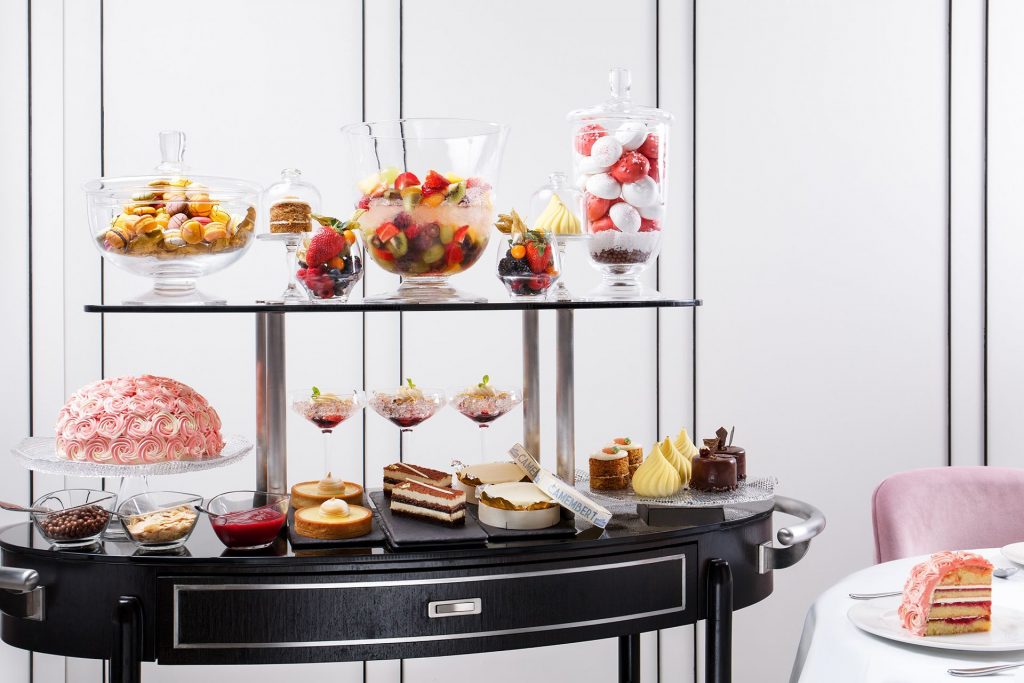 Breakfast at Tablescape is included with our stay and it is a sumptuous international buffet spread – what a great start to the day. Baby chairs and kid's cutlery are available, upon request, so packing light is not an issue. There is also an ala-carte menu with healthy smoothies and breakfast mains that complement the already generous selections available. We have another dip in the pool after the hearty breakfast, and after a quick shower, we make an easy exit to the carpark to head home. Check-out is also done via the app. No fuss, no muss – all holidays should be like that.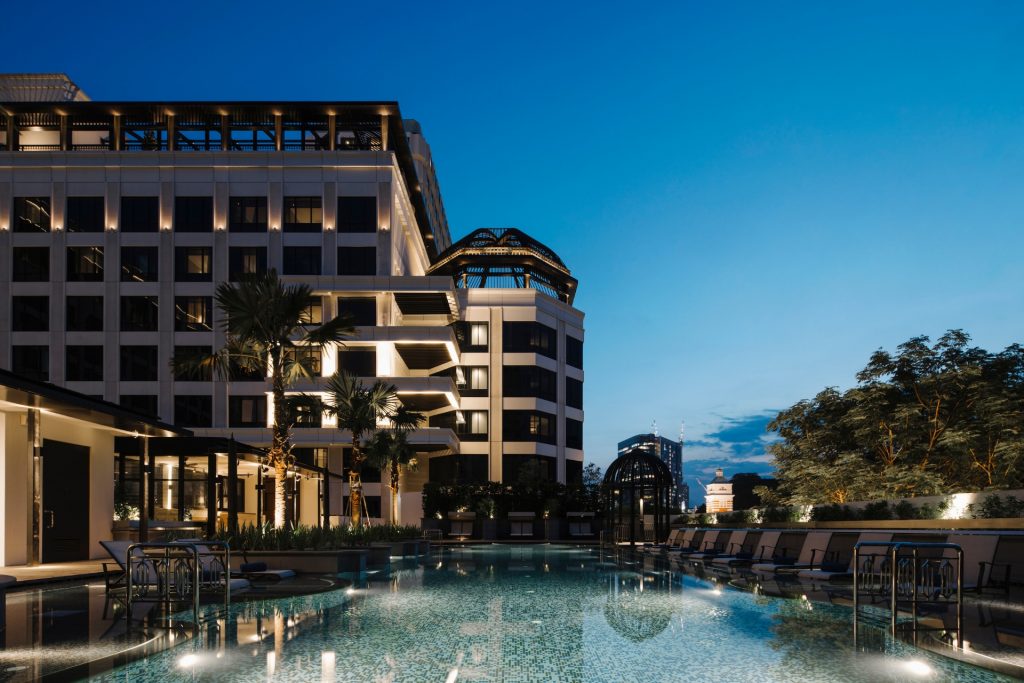 Mummyfique's Tips:
Pack light for your staycation – the hotel has very thoughtfully made provisions for playpen, bottle steriliser, warmer and liquid detergent, baby potty and toddler step stool. There are also baby bathtubs with anti-slip mats, and a menu for children's pillow, bolster and blanket. These are available upon request, but subject to availability.
Should you need babysitting services, they are billed at $30/hour, per child. Arrangements have to be made 24-hours in advance.
Staycations Made for You
Mummyfique and Grand Park City Hall have put together several staycation packages to make your next quick getaway even more memorable. Just in time for the June holidays and National Day celebrations. Click here to find out more!