Ever since she was born, Charlene Sim's younger daughter, Alexis, has suffered from dry and flaky skin. The two-year-old's condition was later diagnosed by doctors as eczema.
In this interview, the mother-of-two shares with Mummyfique how she manages having a young child with sensitive skin and how the family has dealt with it.
Mummyfique: Can you share with us how you discovered Alexis' sensitive skin condition?
Charlene Sim: A few days after birth, we noticed that Alexis had developed very dry and flaky skin and it looked like she had a bad rash. Worried that it might be something, we consulted several doctors.
Initially, everyone said that it was baby acne and it was a common condition in newborns. So we were advised to hold tight and wait for it to get better naturally, but it didn't. Her condition only got worse and there came a point where as parents, we were embarrassed to bring her out. We felt like we were getting judged by others for not doing anything to alleviate the situation, when in reality, all we were doing was just following the doctor's orders.
It was only when she turned two-months-old that a paediatrician diagnosed her condition as eczema. She was also found to be allergic to sweat.
We were asked to use steroid cream to improve her condition. I was initially hesitant as I was afraid of its potential side effects. Thus, I only use it when the flare ups are very bad,
It can be challenging at times, but we do as much as we can to reduce the possibility of her skin flaring up and causing her to feel uncomfortable.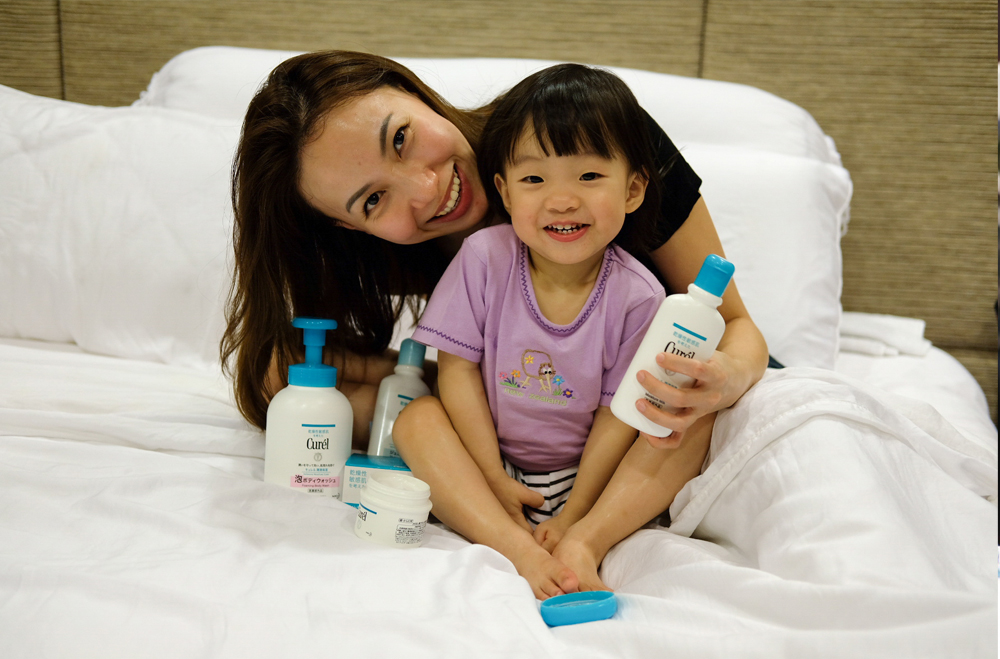 Wow, it can't have been easy to learn that your little one has eczema. The doctor must have given advice on the types of products that would be best suited for her skin.
Yes. We were told to use a very rich moisturiser. Her paediatrician also recommended that we use products with ceramide, so I would look for that in the ingredient lists.
After trying out various products, I learnt that when they're not rich enough, Alexis' skin would get itchy and flaky. I've also discovered that she is really sensitive to fragrances, With these trial and error, we're now more aware of which products are right for Alexis.
Asking a young kid who is active to not sweat in Singapore is a tall order. How do you manage that and what are some other challenges that you face with Alexis' sensitive skin? 
When Alexis perspires too much, her eczema may start to flare up and this can last anywhere from a few days to weeks on end, so we really do our best to prevent this from happening.
Thus, I try to restrict the time that Alexis spends outdoors to evenings or early mornings when the sun is not at its strongest.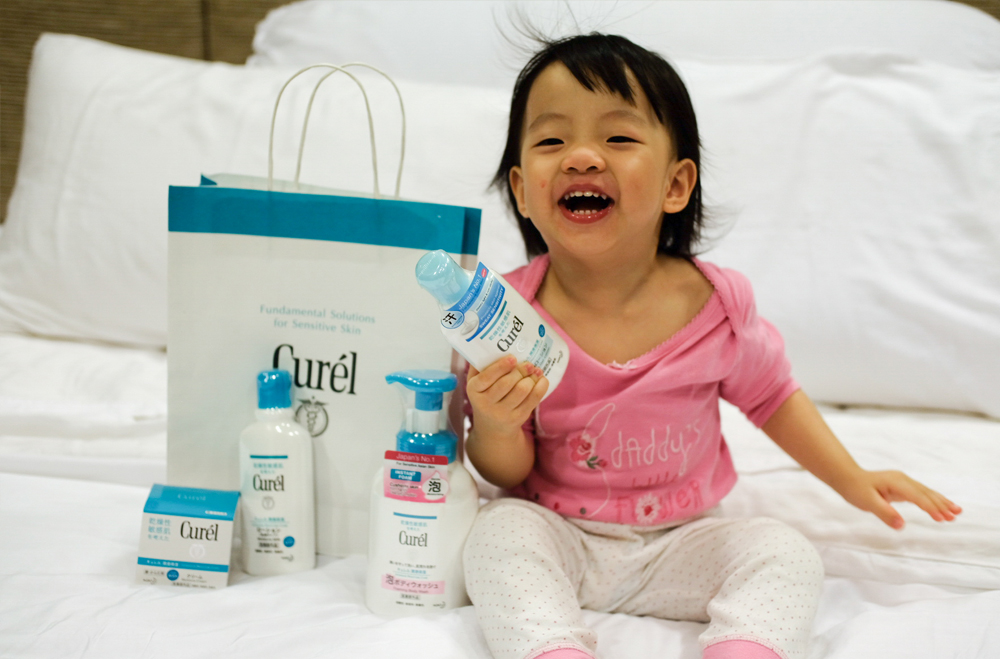 We understand that you too, have sensitive skin. Can you share a bit more about your skin condition?
When I was young, my skin condition was exactly like Alexis'. Thankfully I managed to outgrow it and I hope the same for Alexis.
I used to have seafood allergies, but it's much better now. My face still swells and develop red patches occasionally but, thankfully, they only last a few hours to at most, a couple of days. I'm glad that my skin condition is more manageable now.
Sometimes when Alexis' flare-up is really bad, I feel apologetic towards her as I feel that she might have gotten her sensitive skin from me,
What are your thoughts about the range of Curel products that has been formulated for sensitive Asian skin?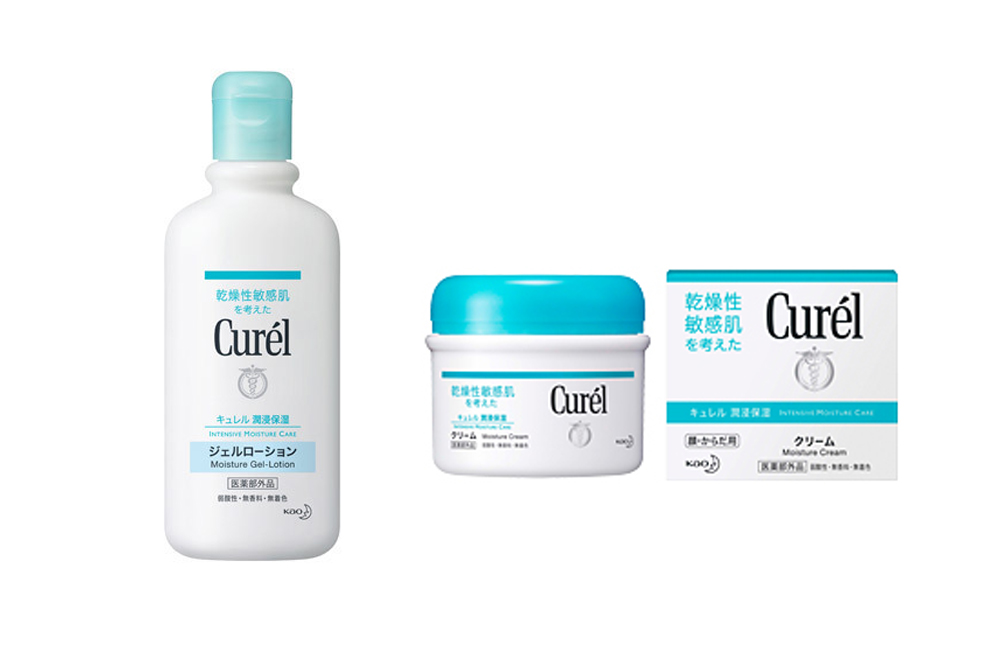 I have always thought of Curel as a brand that caters to adult skincare, so I was pleasantly surprised that their products can be used on babies from two months old too.
The Curel Moisture Gel-lotion's texture is extremely light and non-sticky , making it suitable to use in Singapore's humid climate. Both Alexis and I like to use it. It's formulated for sweat-sensitivity care – exactly what Alexis needs since sweat triggers off her allergies. I used to find her scratching herself after playing outdoors, but ever since we started during the Gel-lotion, I rarely spot her doing so.
I've also tried the Curel Moisture Cream. Cream is not always suitable for our climate, but Curel's one has a lightweight texture that I like. I usually rotate my skincare products and will definitely be including the Curel Moisture Cream into my routine.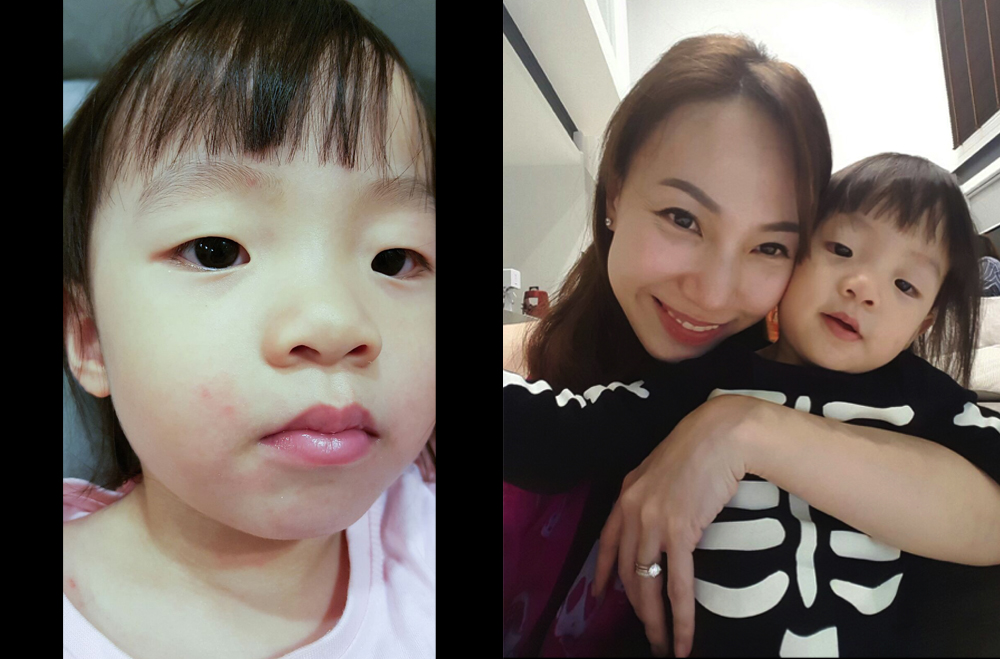 What advice do you have for parents who have recently learnt that their child has sensitive skin?
Moisturise, moisturise, and moisturise — that is the key to tackling eczema. You should keep your child's nails short and file them after you cut them as children tend to scratch and this can cause inflammation or scarring.
You should also change their bed sheet and pillowcase at least once a week and sun them often.
Eczema is not pleasant for anyone, and it's definitely not something I would wish for anyone's child but the good news, fellow mummies, is that with care and a bit of extra effort, it can be manageable. Hang in there!
Charlene Sim takes care of sales and marketing for a pharmaceutical company. In her spare time, she runs an online business and documents her life with her two daughters Lauren and Alexis on her blog  and Instagram (@msclak).
This article was brought to you by Curel.