Prenatal Pilates help to resolve muscle tension and aches that arise during pregnancy. We invited Cordelia Low to join us in a prenatal session at The Moving Body Group. By CRYSTAL CHAN
Lower back and leg aches are two of the most common symptoms that occur during pregnancy. Mummies-to-be may find themselves experiencing this throughout pregnancy, where it is accompanied further by a general feeling of fatigue or lethargy. Often, this results in us not wanting to move around or exercise.
However, this can lead to a cycle of inactivity and muscle aches. Your muscles have to work extra hard to support your body as you progress further into your term. Thus, obstetricians and gynaecologists (OBGYN) normally encourage light exercises and prenatal classes to prepare your body and relieve these problems.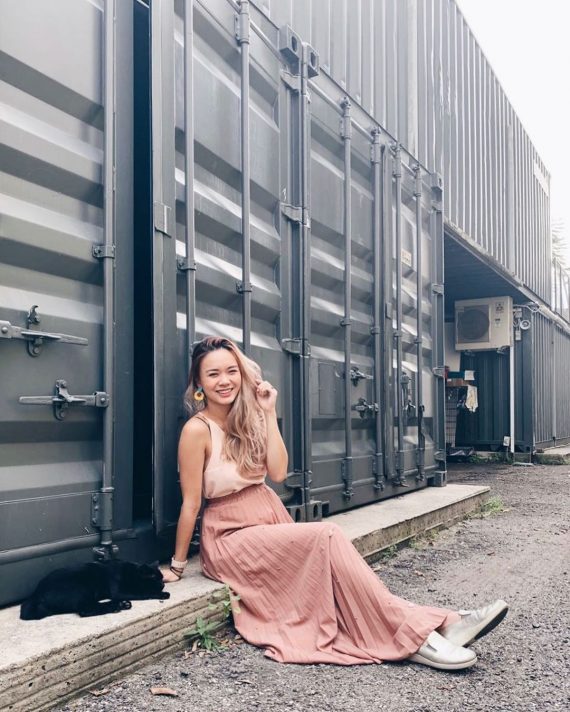 Prenatal Pilates Class with Cordelia Low
We reached out to one beautiful mummy-to-be, Cordelia Daphne Low and invited her for a prenatal Pilates class with us at The Moving Body Group. 
This lovely gal juggles many different positions. She won third place in Miss Universe Singapore in 2013. She is also a charismatic emcee and lady boss of The Acai Collective and Anticipating Diva. Recently, she has just added another accolade: a mother. 
Yet, juggling all these means her body is working extra hard to keep up with her hectic lifestyle. At 20 weeks, Cordelia joined our prenatal Pilates class to relieve all these tension and stress. 
Generally, the classes are done on the Trapeze table and Reformer. Both machines are commonly used during Pilates classes as they help to condition muscles and joints. The Reformer is a versatile device that offers training in areas such as strength, flexibility and balance. On the other hand, the Trapeze table is designed for slightly more strenuous routines and comes with equipment meant to support the user when exercising.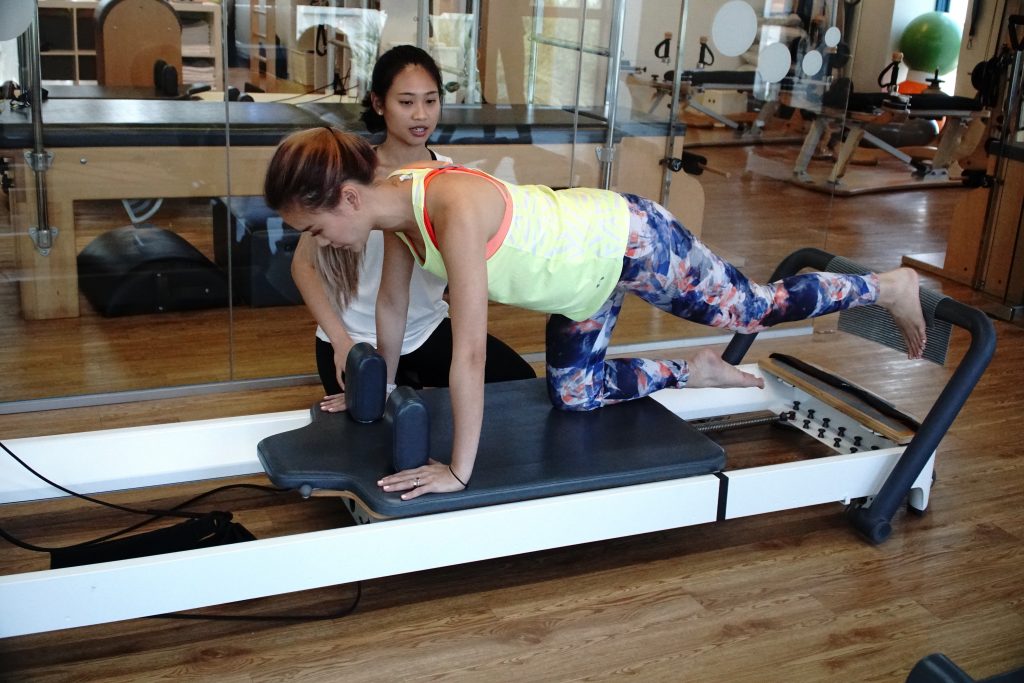 Benefits of Prenatal Pilates Class
Senior instructor, Karina Sudarmadji from The Moving Body Group was Cordelia's instructor, and shared some benefits of prenatal Pilates. She highlighted that prenatal Pilates focuses on strengthening and conditioning the body. It targets areas such as the upper and lower limbs so that it helps to reduce muscle strains. It also trains your pelvic floor muscles so that it supports you better during labour. 
Karina mentioned that it is absolutely safe to practise Pilates during pregnancy. In fact, it is an excellent form of exercise for expectant mothers as it is slow-paced and low impact. The exercises aid in reducing lower back pain through stretching and mobilising of the spine. Not to mention, training of the hips help to ensure stability as well.
Prenatal Pilates classes consists of modified routines for expectant mothers to workout in a safe manner. Therefore, be mindful of the type of workout you do during pregnancy. Normal Pilates may not be suitable for Mummies-to-be as certain positions make you lie on your back for extended periods of time. Avoid this especially in the second trimester, as it applies pressure on your baby.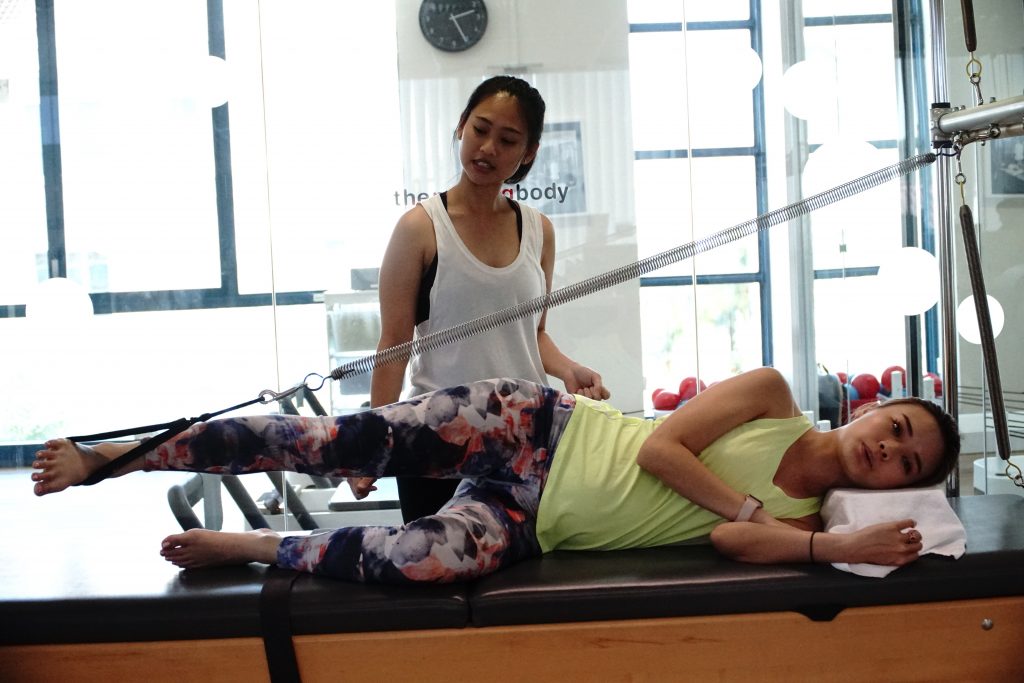 Starting Prenatal Pilates
Expectant mothers with varying fitness levels are welcome to enroll in a prenatal Pilates class. However, definitely get the green light from your OBGYN first, if you have pre-existing medical conditions. 
If you are new to prenatal Pilates, Karina recommends that you participate in at least three private one-on-one sessions first to familiarise yourself with the basic routine and equipment. After this, join in the fun in group classes. 
Prenatal Pilates can be done close to your due date as long as you are comfortable with doing the exercises.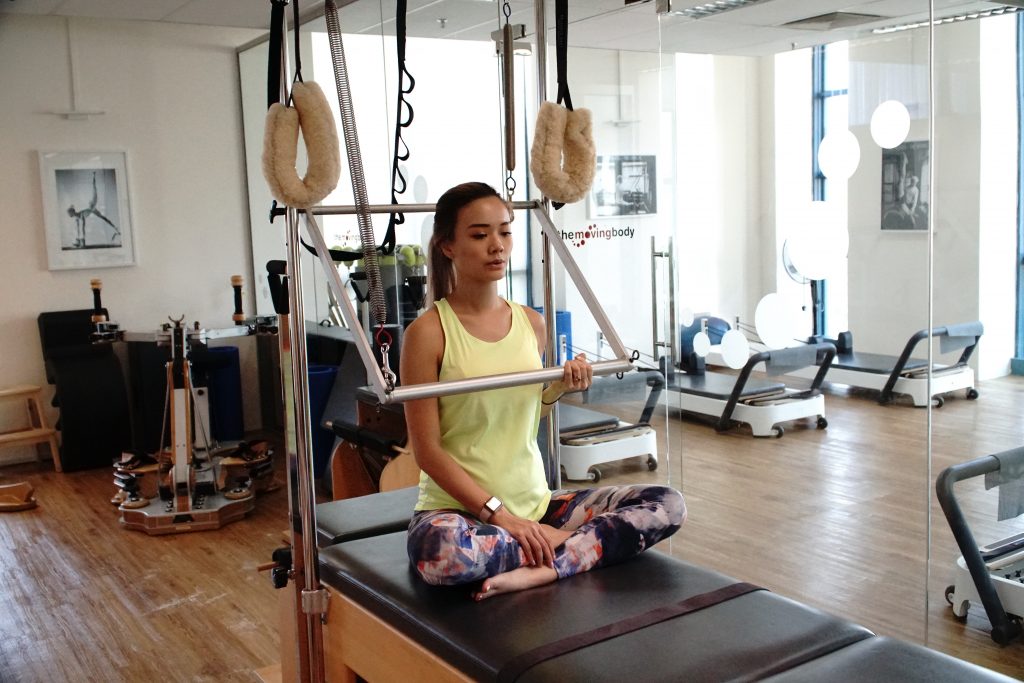 The Experience
At the beginning, Cordelia warmed up with a series of breathing and pelvic floor exercises. Then, she moved on to the Trapeze table and Reformer to work on a series of conditioning routines. In particular, scapula and spine stabilisation and strengthening of the hip extensor that helps to relieve the pressure from daily movements.
At the end of the session, we sat down and spoke to Cordelia about her experience with Karina and The Moving Body Group. Overall, she appreciated how Karina caters the workout routine to her body and took care of her posture throughout the session. She would definitely recommend the class to people who have not exercise much but would also like to start a healhy lifestyle.
Check out Cordelia's full experience in our video below.