Despite the naysayers, climate change is real, and we can reduce our carbon footprint by eating less meat. Read on to find out if it's safe for lactating mummies and children, and where to go with a meat-loving spouse or child this World Meat-Free Week from 17 to 23 June. By CRYSTAL CHAN
Environmental benefits of vegetarianism and veganism
Some quick stats about meat-eating; the Guardian estimates that we eat about 230 metric tonnes of animals in a year, and the combined climate change emissions from animal agriculture is even higher than emissions from transportation. We're also fast running out of land: according to BBC, we're using more than a third of Earth's available land surfaces to rear these animals. Per capita meat consumption is slated to quadruple by 2050 from its numbers in 1980, especially from developing countries. 
Yes, we hear you. It's difficult to give up these sources of protein that we have loved for so long. So here's what we suggest. Have meatless days a couple times in the week or reduce your consumption of beef and lamb. 
Is it safe for lactating mums and children?
Veganism and vegetarianism is fine for most adults, including women trying to conceive or pregnant mummies. Gleneagles Hospital's dietitian Apple Chan says, "Well planned vegetarian diets are safe for infants, children and adolescents, and can meet all their nutritional requirements for growth." This should include wholegrain, fruits, dark leafy vegetables, and lentils, fortified cereals, dairy products, and beans.  
Furthermore, a vegetarian or vegan diet can be balanced with supplements, especially to prevent a vitamin B12 deficiency in a strict vegan diet. Vitamin B12 deficiency can lead to growth failure and permanent damage to the nervous system. As a result, she highly recommends consulting a dietitian or physician to help create a well-rounded diet and also address any health concerns.
*Youth slang to mean all the gossip or the news.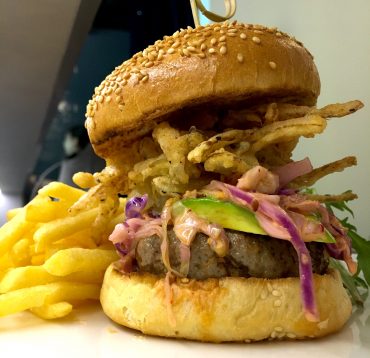 The homely SPRMRKT offers a variety of vegan, vegetarian options that are encompassed in their SPRMRKT x Green Monday menu. Of course, the star of the show is the SPRMRKT and Beyond Burger with a 100 per cent plant sourced Beyond Meat patty. The patty, which really does taste like meat, is grilled to perfection and served with avocado, onion rings and kimchi slaw.
Another highlight is the scrumptious starter plate of brussel sprouts mixed with burnt corn, siracha mayo and pomegranate seeds. The savoury, creamy texture of the vegetables and siracha mayo is balanced out by the refreshing sweetness of the pomegranate seeds.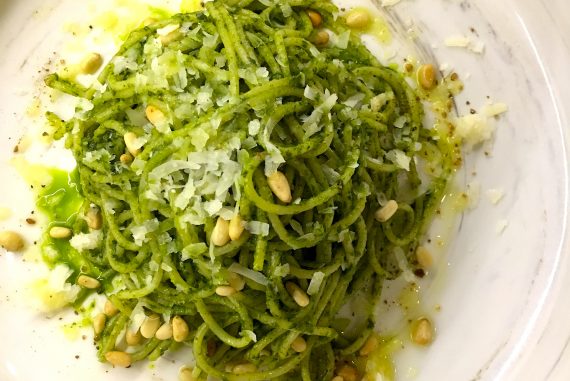 Our third pick is the Roasted Vegetable Grain Bowl, a wholesome blend of zucchini, eggplant and avocado on tri-coloured quinoa served with a sesame dressing. If vegan, the chef will remove the hard-boiled egg for you.
Finally, omnivores should try the slow roasted Kecap Manis chicken thigh delectably roasted with Indonesian sweet sauce, or the grilled snapper adorned with tomato salsa, potato salad and sesame flakes.
Book a Table

Address: 501 Bukit Timah Road, #02-13
SPRMRKT @ STPI – level one, 41 Robertson Quay
Opening Hours: 8am to 8pm, Cluny Court, 8am to 10pm, Robertson Quay
Reservations: contactus@sprmrkt.com.sg
Porta Fine Food & Import Company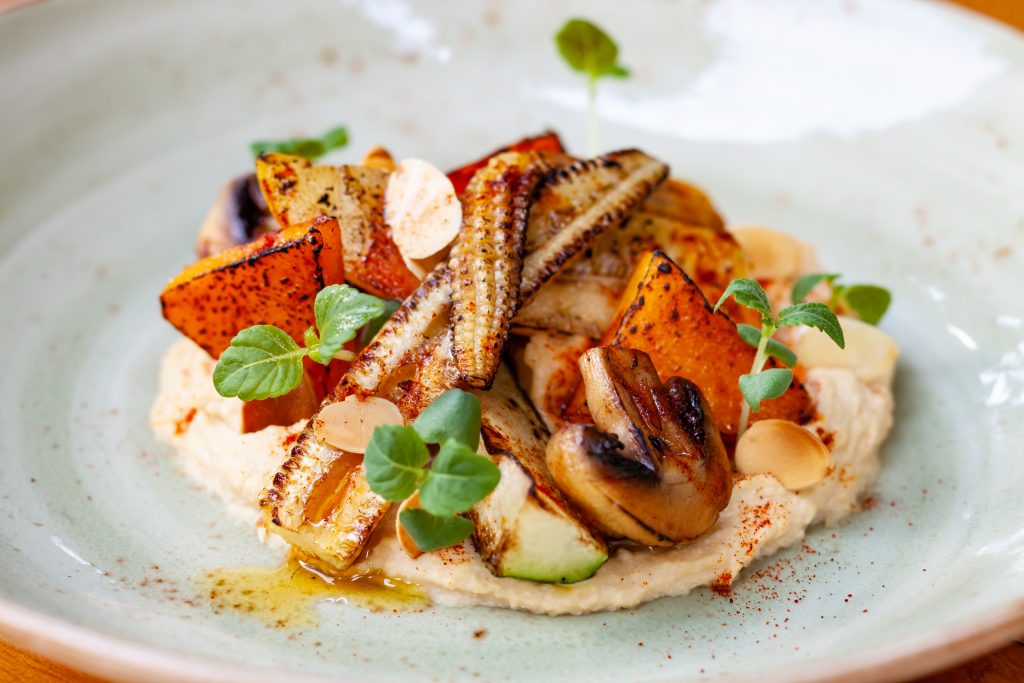 Modern European and Mediterranean restaurant, Porta Fine Food & Import Company, has revamped their menu with new tasty dishes that include vegetarian options.
Brand new items to look out for are the grilled summer vegetables with hummus, confit lamb pastilla and spicy salmon tartare. Vegetarians, try the the brunch menu's Breakfast Burg. This comprises a large roasted Portobello mushroom, sautéed baby spinach, tomato and runny sunny-side up egg between toasted brioche buns.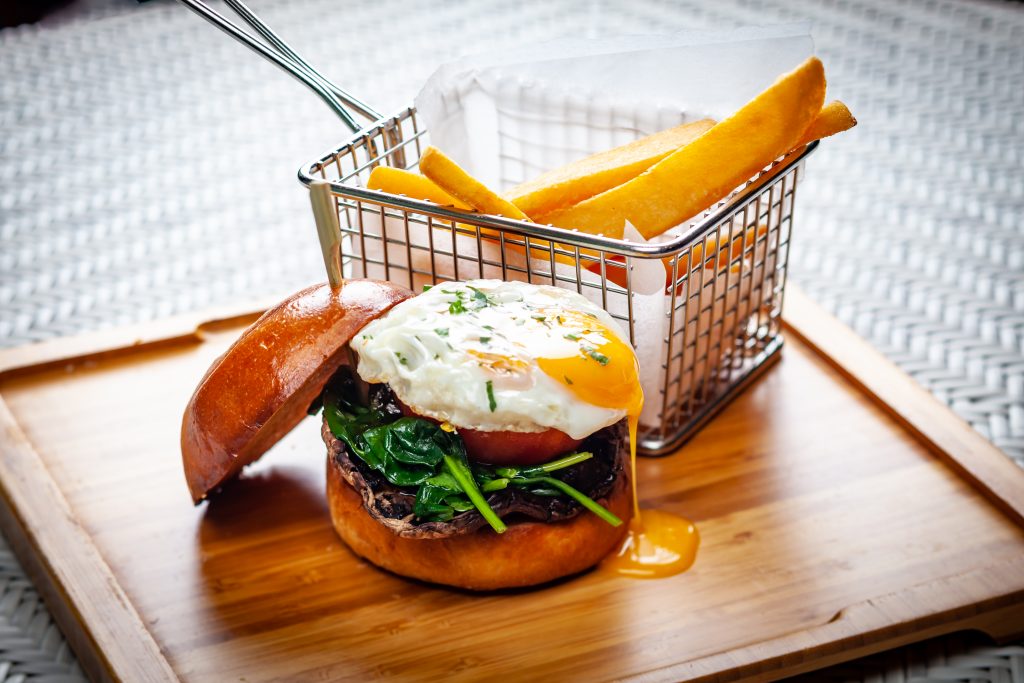 For a healthier option, try the muesli, which is oatmeal, seasonal fruits and nuts. Other fruit-based, new desserts include key lime meringue and spiced apple tarte tartin. Otherwise, indulge in PB pancakes, laded with a sinful mix of peanut butter crumble, chocolate sauce and bananas.
Not looking for vegetarian dishes? No problem. Porta serves up hearty cuisine like pork belly, duck ragout with pappardelle, Parmesan sauce and herbs and Norwegian salmon.
Book a Table
Address: 1 Unity Street, level one, Park Hotel Clarke Quay
Opening Hours: Every day from 11am to 10.30pm
Brunch: All week from 8am to 4pm
Set Lunch: 12nn to 2.30pm, appetiser and main or main and dessert for two courses, appetiser, main and dessert for three courses
Reservations: Click here, contact (65) 6593 8855 or email hello@porta.com.sg.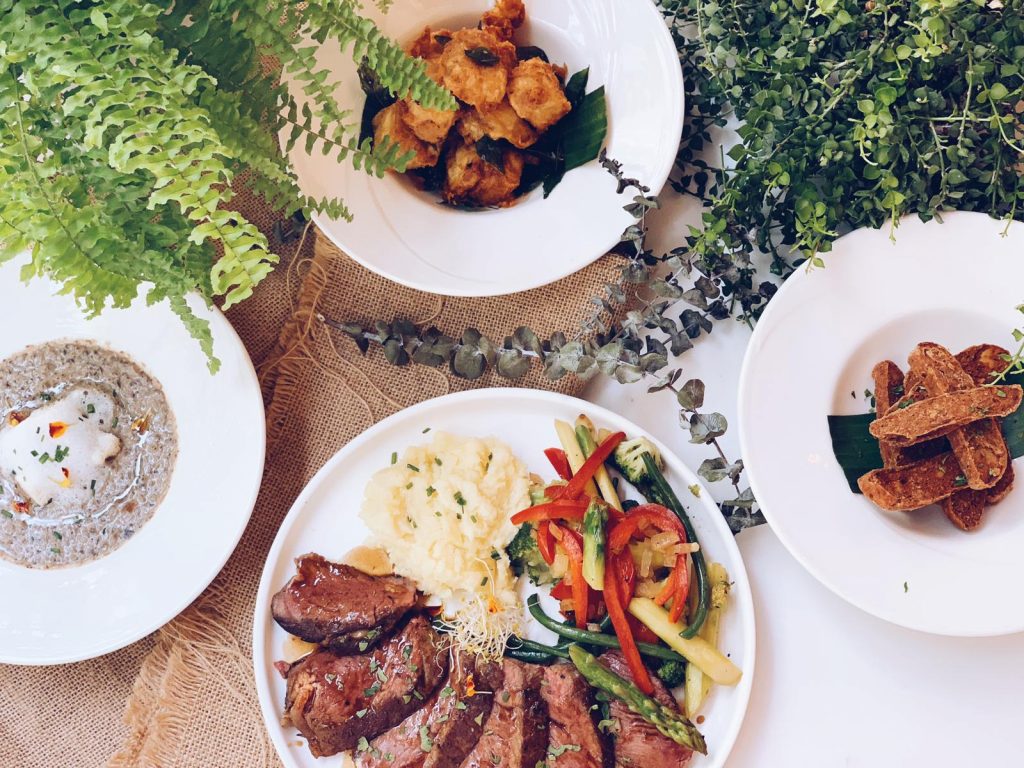 Founders Julie Tan, Cassandra Riene Tan and Serene Tan bonded over their love for good food, and created The Botany, an Australian and Asian-inspired casual restaurant-café. Its comprehensive menu is both wholesome and scrumptious, boasting all-day breakfasts, appetisers, salads, soups, mains, organic pastas, noodles and desserts.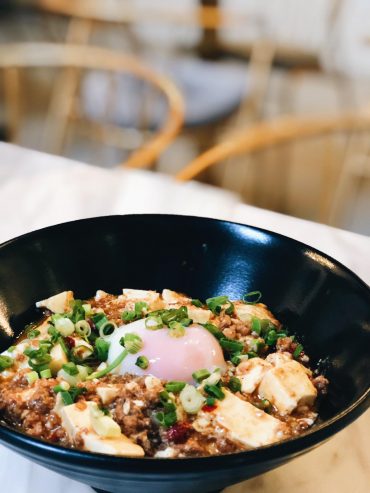 Some of the highlights are the Impossible™ Mapo Tofu Rice Bowl and the Impossible™ Patty. The entirely plant-based Impossible™ Patty combines soy and potato proteins, and heme molecules to replicate the taste of meat. If you did want meat, feast on the Uni Truffle Capellini, Laksa Spaghetti and Australian grass-fed ribeye steak.
For diners who love a good drink, The Botany features an extensive red, white, moscato and organic wines such as Pazienza, Trebbiano d'Abruzzo DOCG 2017 from Italy that starts at $80 per bottle. End the meal with delectable desserts such as Avocado Chocolate Toast and Acai Dark Berry Toast.
Book a Table
Address: #01-03, 86 Robertson Quay
Opening Hours: Sunday to Tuesday, 9am to 10pm, except Monday, where it closes after 3pm. Wednesday to Saturday, 9am to 11pm
Reservations: Call 6951-4861 or 6951-4890
Dine seasonably and sustainably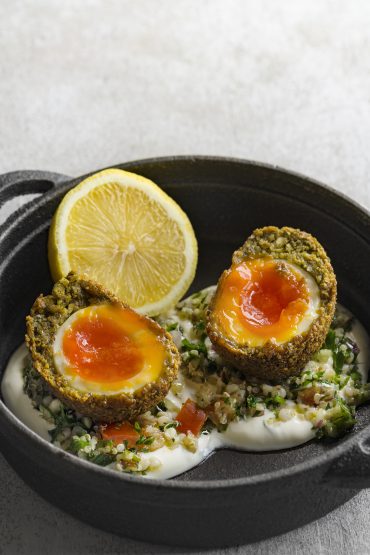 The Botanic is a new socially and environmentally-conscious dining concept at Raffles City. Its menu serves plant-based dishes which are a twist of classics, like the vegetarian Scotch Egg. Free-range eggs are whipped up using falafel, tabouli, cucumber and yoghurt for a savoury and refreshing dish. For a tasty vegan dessert, the Chendol Pavlova is made from eggless meringue.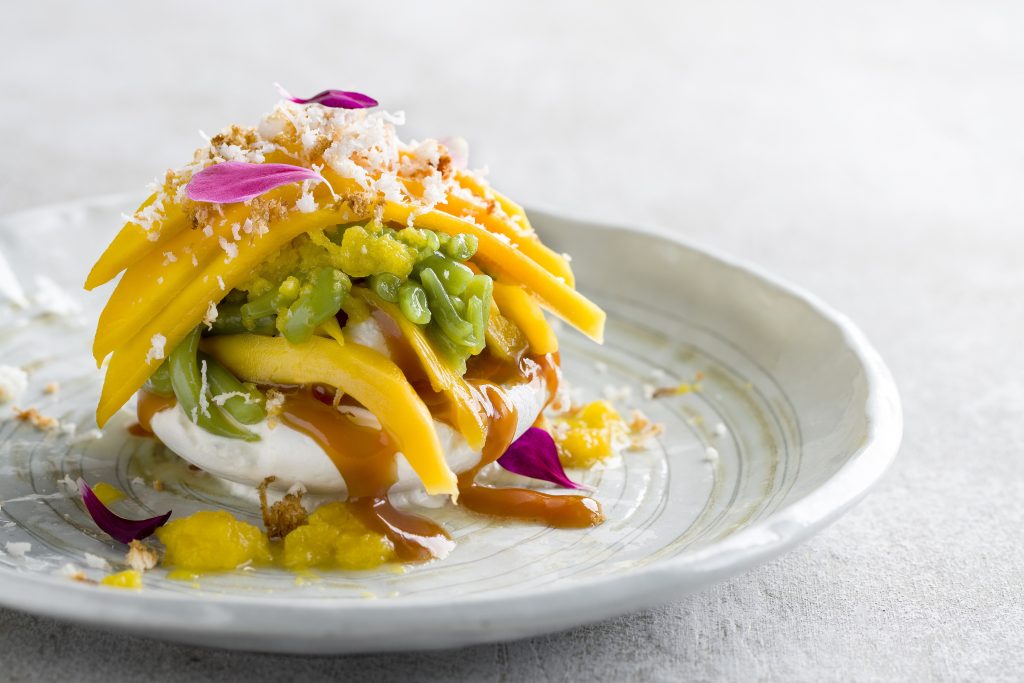 The Botanic's meat offerings are also grass-fed and environmentally conscious. Try the Smoked Sambal Short Rib accompanied by fresh horseradish, caramelised shallots and padron peppers. 
Fancy a glass of wine with your meal? The Botanic has a wide selection of sustainable, biodynamic and organic wine from around the world. One such producer is PengWine from Chile, which uses recyclable glass wine bottles, and also harvests rainwater. In addition, it funds education, medical amenities and clean drinking water in Asia and Africa. Proceeds from every bottle of PengWine sold at The Botanic goes to these causes. 
Book a Table
Address: #01-22A, Raffles City Shopping Centre, 252 North Bridge Road
Opening Hours: Every day from 12nn to 11pm
Set Lunch: 12nn to 2.30pm on weekdays, includes a main and side. Desserts at an additional $8++. 
Reservations: Call 6837-0995 or email info@thebotanic.com.sg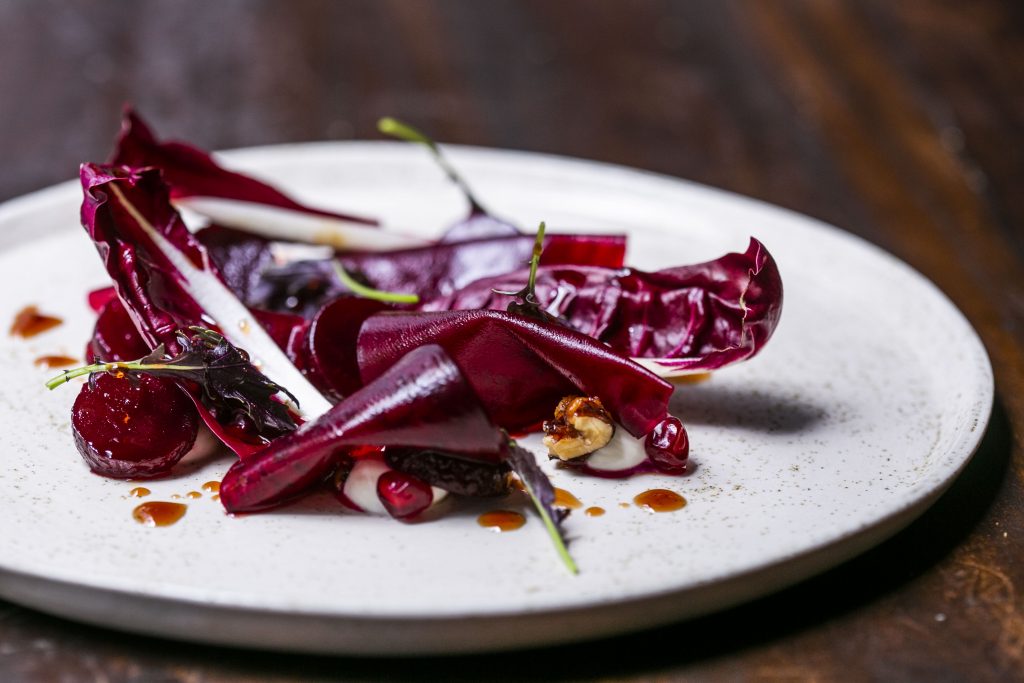 Indulge in Maggie Joan's seasonal and produce-driven tasting menu (starts at $90), suitable for both meat eaters and vegetarians. Executive chef Seumas Smith designed the menu, and depending on your appetite, can be either five or eight courses. Vegan diners, be sure to call two days in advance. 
Feast on modern European cuisine, with highlights like the beetroot with smoked crème fraiche, walnut and burnt honey; burrata with peas, olive oil and Almafi lemon as well as the ricotta tortellini with tomato, peas and lemon.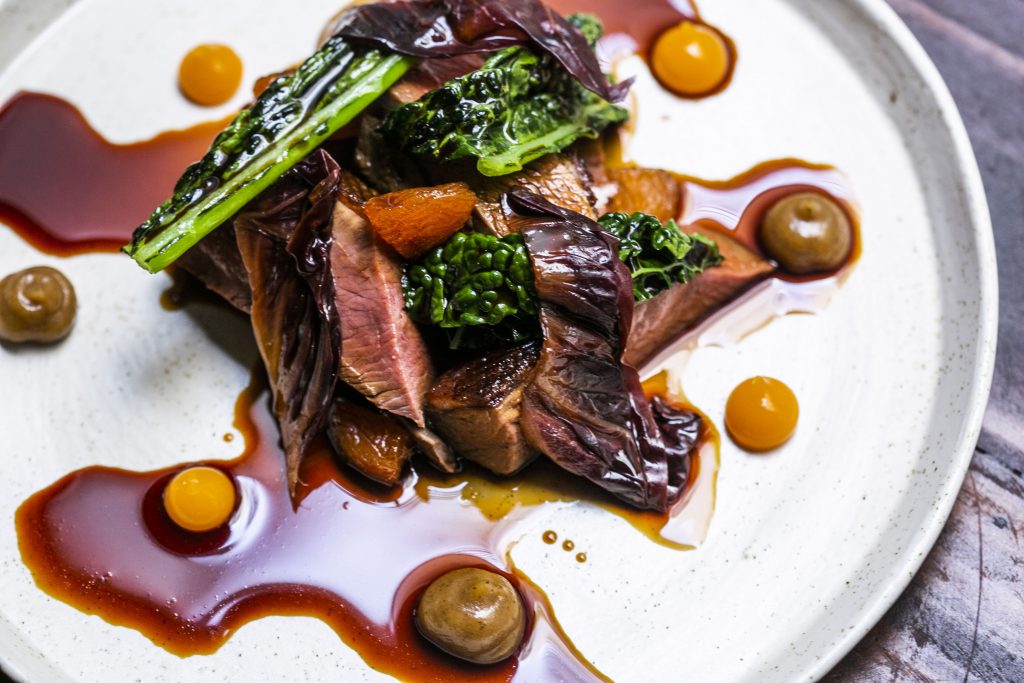 Set lunches are available too, so try the barramundi with chicken jus, parsley and smoked herring roe, or the spiced lamb loin paired with salmarejo and salsa verde. 
Book a Table
Address: 110 Amoy Street
Opening Hours: Monday to Friday, 12nn to 2.30pm for lunch and 6 to 11pm for dinner. Saturday 6 to 11pm for dinner. 
Set Lunch: 12nn to 2.30pm, a selection of either two or three courses
Reservations: Click here, call 6221-5564 or email dine@maggiejoans.com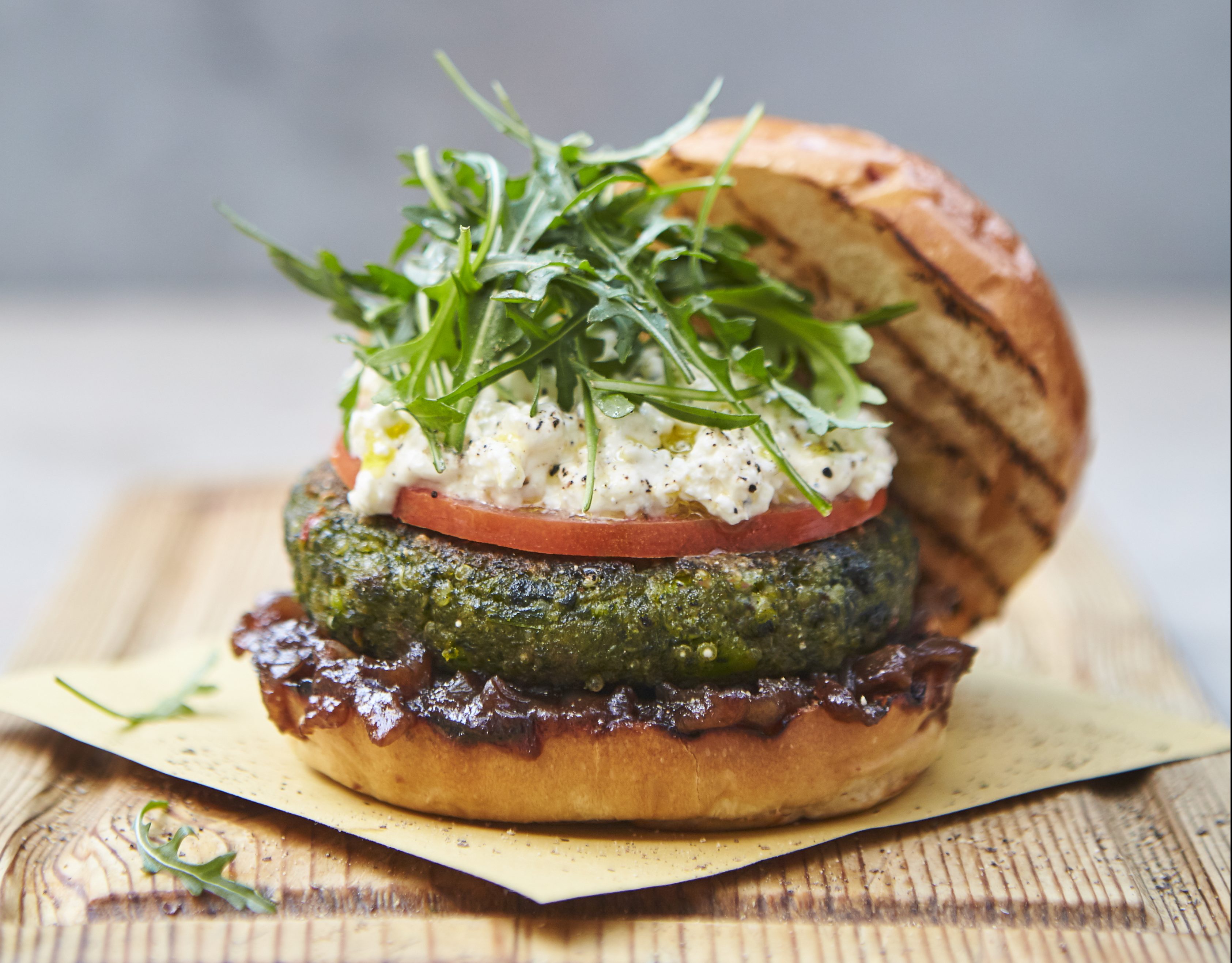 Founded by Jamie Oliver and his mentor, chef Gennaro Contaldo, Jamie's Italian uses the best ingredients to achieve good food, that is suitable for meat lovers, vegans and vegetarians. 
A definite must-try are the food planks, which are sufficient for two. The highlight is the Ultimate plank which presents a huge feast of flavourful San Daniele prosciutto, pistachio mortadella, pork scratchings with applesauce, mini buffalo mozzarella and aged pecorino & chilli jam.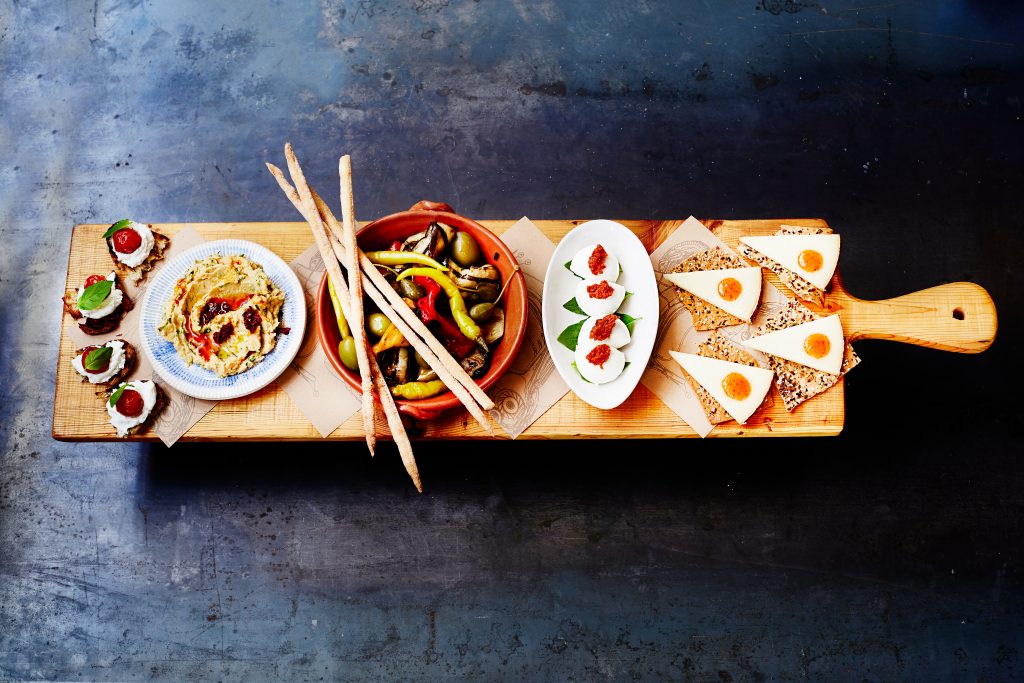 A vegetarian alternative is the Vegetarian Plank, filled with a mouth-watering pick of chargrilled vegetables, mini buffalo mozzarella, tomato & ricotta crostini, garlicky cannellini dip, grissini, pickles & olives. 
Still hungry? Other items on the menu include the free-range Chicken al mattone and Italian fish & chips of beer-battered sustainable sea bass. The Super Green Veggie Burger with its six-seed patty in a brioche bun served with sweet potato fries is bound to be a favourite with the veggie-lovers.
Another favourite is Jamie's Italian's pastas, which are served fresh daily. These can be customised to suit gluten-free, vegetarian or other special diets. The team can also create a special menu for private parties upon request.
Book a Table
Address: Forum: 583 Orchard Road, #01-04, Vivocity: 1 Harbourfront Walk, #01-165 to #01-167
Opening Hours: Forum: Monday to Thursday and Sunday – 11.30am to 10pm, Friday and Saturday – 11.30am to 11pm
Vivocity: Monday to Thursday – 12nn to 9pm, Friday – 12nn to 10pm, Saturday – 11am to 10pm, and Sunday 11am to 9pm.
Reservations: Click here or contact 6655-7676 (Forum at Orchard)/ 6733-5500 (VivoCity) or enquiries@jamiesitalian.sg