She is on a mission to give hope, strength and joy to children who are fighting a life-threatening medical condition, and she is doing this with her recipes of love. By ANGELINE NEO
She is renowned for her charity dinners, and as wife to Terry O'Connor, Group CEO of COURTS Asia, Janice O'Connor has certainly thrown her fair share of parties. But don't call her a tai-tai just yet. Nay, the Hong Kong-born Janice, 63, says matter-of-factly, "I'm a housewife." We however think she's the "mum with the biggest heart". For Janice is on yet another give-back mission to raise funds, this time for Make-A-Wish Foundation, Singapore, with her new coffee-table book, Open Kitchen. Priced at $100, full proceeds of each book go to the charity. It will grant children fighting a life-threatening illness, a wish, so they can enjoy some happiness and laughter during their arduous time.  
The tome of many recipes – there are 100 of them – showcases food that Janice has served not just at family gatherings, but at the many auction charity dinners that she and her husband have hosted over the years. These tried-tested-and-raved about recipes of love, feature Asian and Western cuisine, and include some of her mother's most memorable fare and secret kitchen hacks. There are also contributions from friends, award-winning restaurants and chefs. From starters to quick-to-make entrees, from light to elaborate meals and desserts, the book is a comprehensive guide to help you be the "hostess with the mostest".
In her forward, Janice says beyond recipes, she wanted Open Kitchen "to be meaningful and purposeful – a book that is also about love, friendship, and family. I wanted it to be a passion project that gives back to society."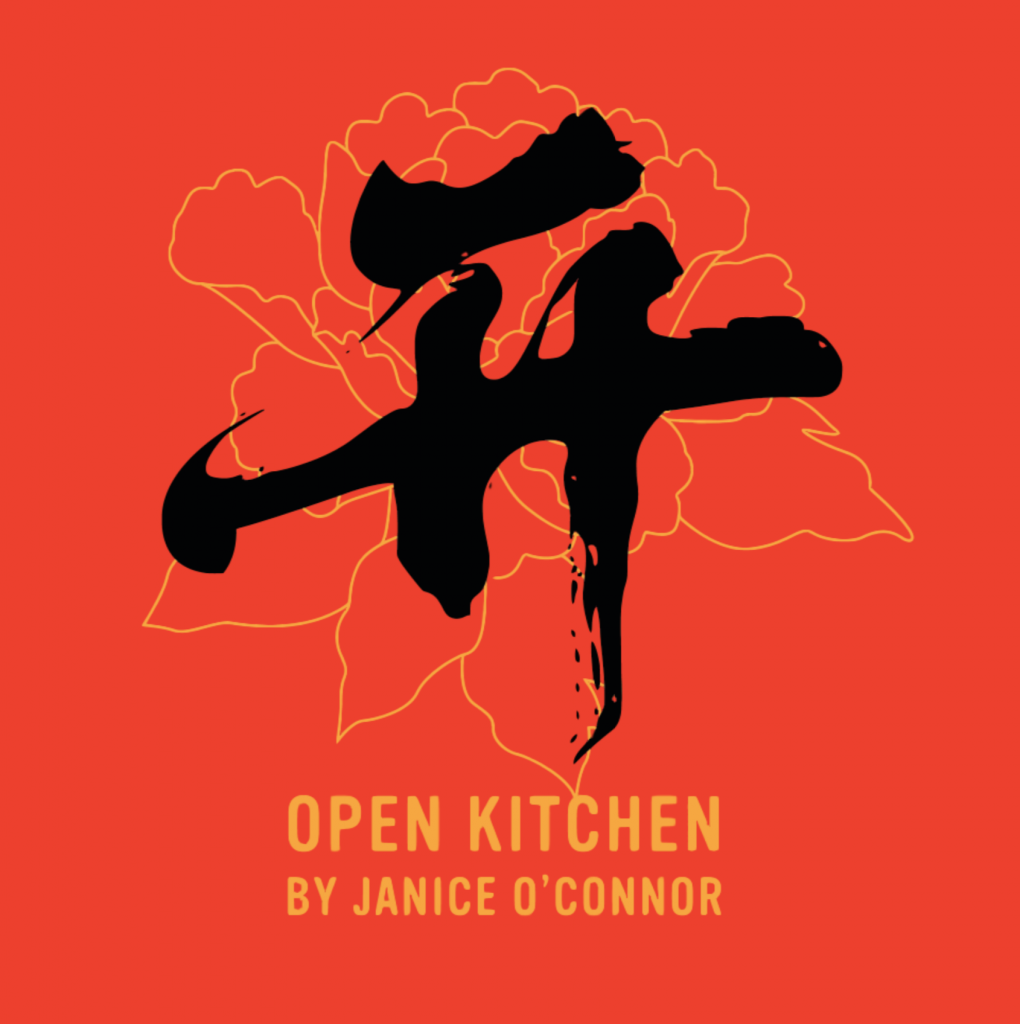 The difference between Open Kitchen and other cookbooks is that it stems from her personal culinary journey. "I'm not a professional chef. There are no professionally styled pictures and it's not indexed like how other cookbooks are, denoted by meat, or fish categories," she says.
Instead it is an album of food memories, where the stories unfold through the  recipes, a heart-warming collage that is reflective of who she is, from her time in Lung Mei, Hong Kong where she grew up, to the time she met her husband and got married in the UK, and to present times in Singapore, where the family has lived for the past 25 years.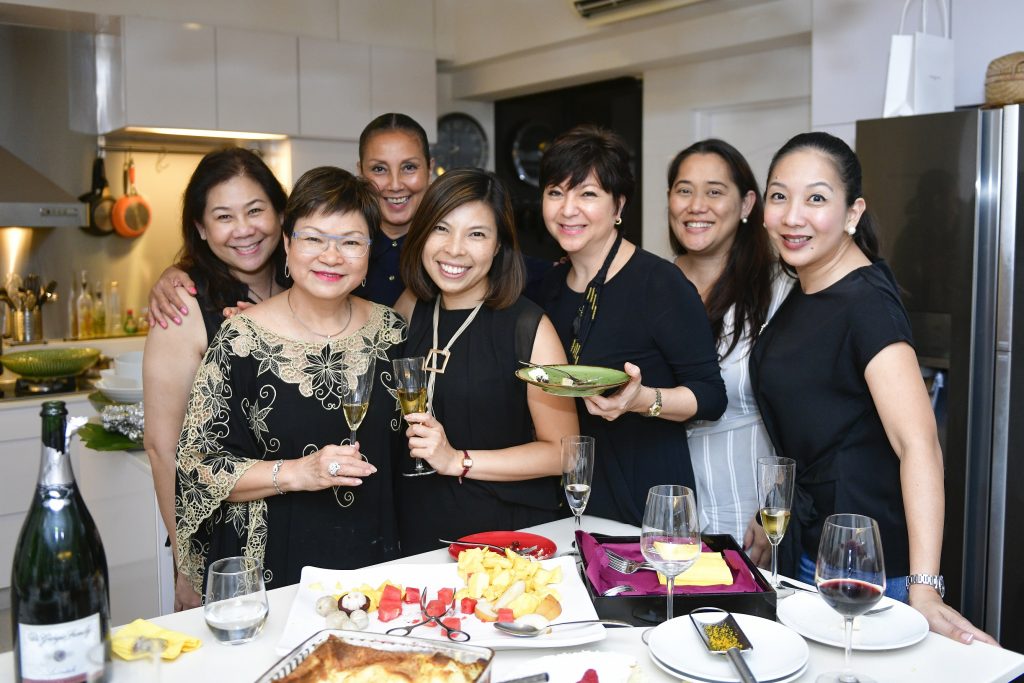 Interspersed between recipes are the photos of many happy meals she has shared with family and friends. There are recipes she's picked up on her travels, and she also shares ones shes served at the her charity dinners, where people pay $10,000 a table, to eat at her house – Janice cooks the meals, Terry serves them.
Owning it
Since 2001, the O'Connors have hosted these charity dinners at theirs. The first of which, was a Christmas party that was transformed into a fundraiser for the Breast Cancer Foundation. They had intended to raise $5,000 for the night, but ended up raising $22,000. It was the beginning of giving back to society. The humble housewife totally owns it, putting good use of her kitchen skills to host parties for a worthy cause.  
Similarly, Open Kitchen is an extension of the charity work Janice has done in the last 18 years. Her aim this round is to raise $100,000 for Make-A-Wish Foundation, Singapore. She picked it as the beneficiary because it endeavours to grant the wishes of children who are battling life-threatening diseases. Children are close to her heart, says this warm mother-of-two. She's also inspired by the work of Dr Keith Goh, one of the founders of Make-A-Wish Singapore, to put a smile on a sick child's face. 
The idea of Open Kitchen, came from her dear friend and radio personality, Florence Lian, who encouraged her to put together a book that documented her recipes and culinary journey. "Twice in fact, the first was in 2015," she reminisces with a smile. She scoffed at the idea initially, but when Lian mentioned it again two years later, she reconsidered.

"Mum had just passed away (in 2016) … sharing her recipes was one way I could honour her," she says. It was also a way to further the charity work beyond the dinners that she and her husband hosted. Thus she began collating recipes for her cookbook, a journey that started since October 2018. 

Her family helped with suggestions as to what would go in, and family favourites feature a fair bit. The ones that proved more difficult to pen were her mother's recipes. Because they had not been written down, Janice had to tap into her memory, tweaking the recipes with her sister's help.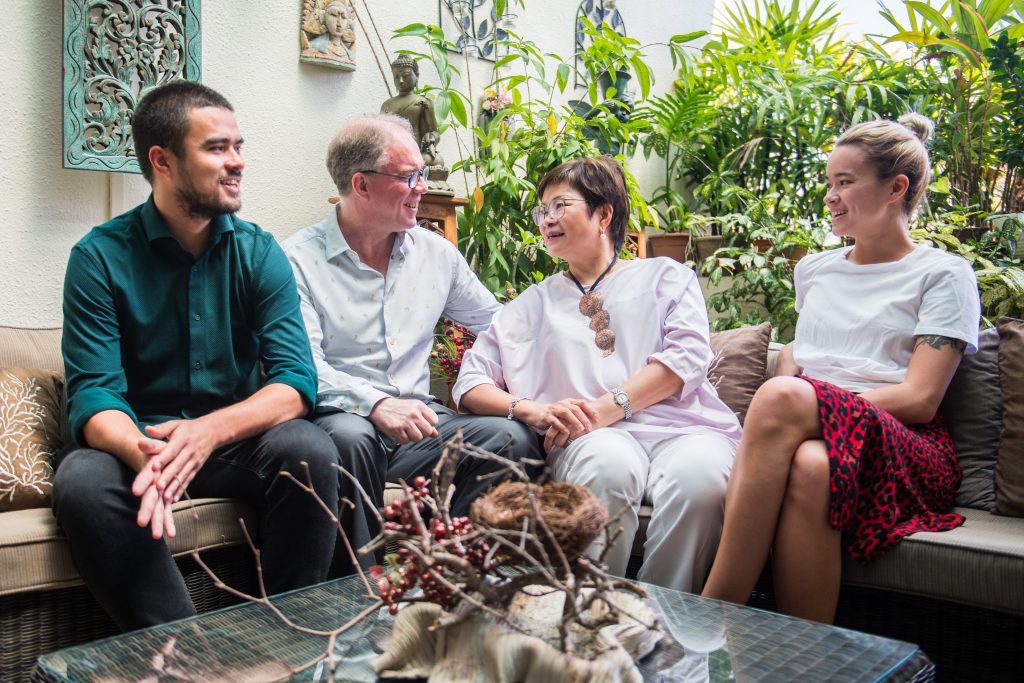 Chicken Ding
Janice wasn't always the chef extraordinaire in the kitchen. Far from it. She recounts how back when they first met, Terry used to tell his friends that "Janice's speciality is Chicken Ding."
"That's the sound of a frozen chicken meal going off in the microwave when it's done," she laughs.
It was a joke she laughed off, but it also spurred her on to better her culinary skills – "Growing up, I was never interested in cooking. Mum was always there to cook, and you take it for granted," she says candidly.
The motivation to prove her husband wrong, grew into an indelible love affair with food. One cooking class became several more, and as her culinary skills grew, so did her hunger for learning.
It is this innate curiosity that can account for why there are 100 recipes in the book. A good portion of them she's picked up along the way when she travels – she doesn't shy of asking for a recipe from restaurant staff, when a meal has tickled her palette.
The spritely sexagenarian is happy to  scour the island for nosh and supplies – Ghim Moh market is one of her favourite go-tos. When she travels abroad, food is usually on the agenda. "I love going to the local wet markets and exploring the native produce … and I always check out the supermarkets when I'm overseas," she tells excitedly. Recently she brought back a huge chunk of cheese to make raclette for friends.  
After all, a good meal is even better when it is shared amongst mates.  And that's a thing that strikes you about her: Ever so attentive, she thinks about what someone might enjoy. Like how she fusses over us when we were over for lunch, always checking to see if we've had enough, or if our glasses need a refill. It's easy to see why people speak effusively of her, and say she is such a great host.
That she is genuinely interested in people and the things around her is obvious, and it makes conversation flow easily. She's like that favourite aunt you look forward to having tea with. Yet Janice O'Connor is one of the busiest housewives in town, because she's got a "lot of little things to do". Only these little things will change the world and return a smile to the face of a suffering child.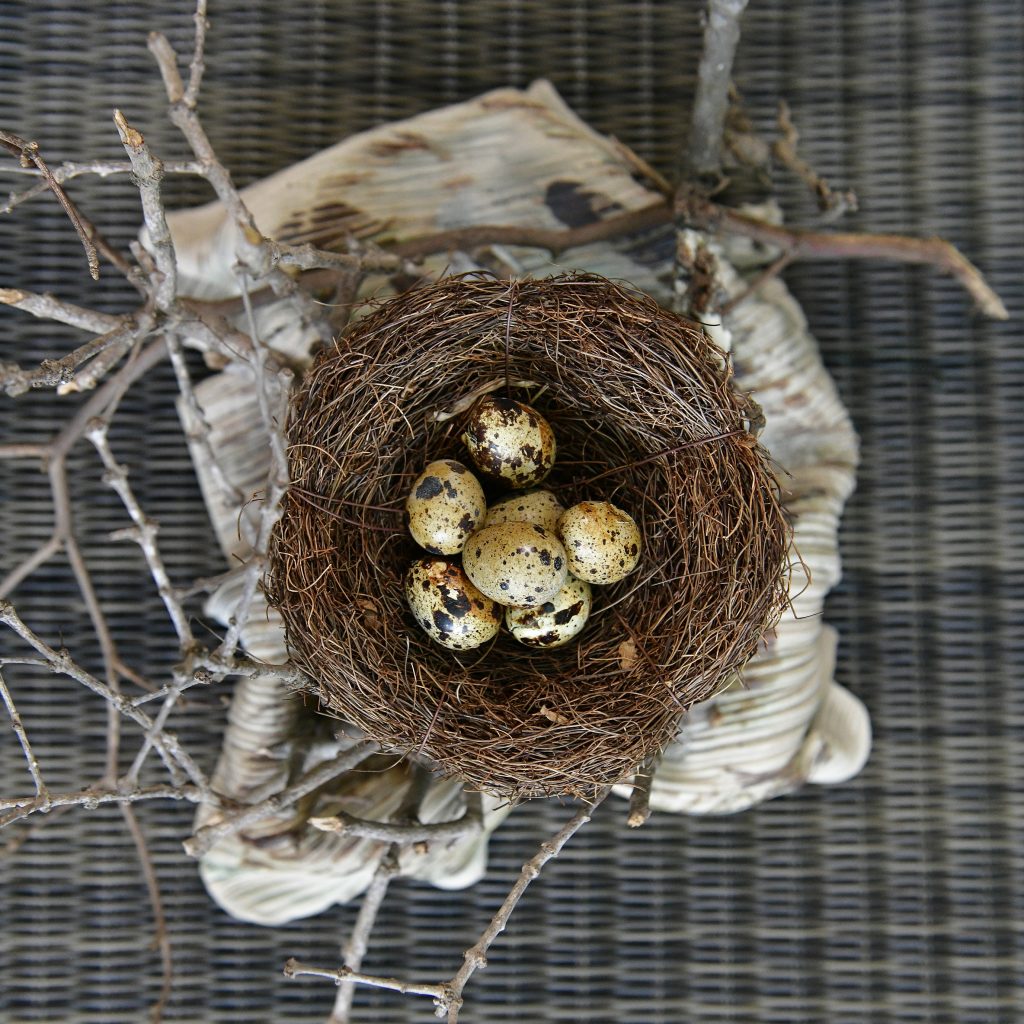 Try these recipes
Open Kitchen had an original print-run of 1,100 copies, but it sold out even before its May release date. Currently a reprint of the book is being explored, and we will update you the minute we get news. Meanwhile here are two recipes from the book – happy cooking and bon appetit.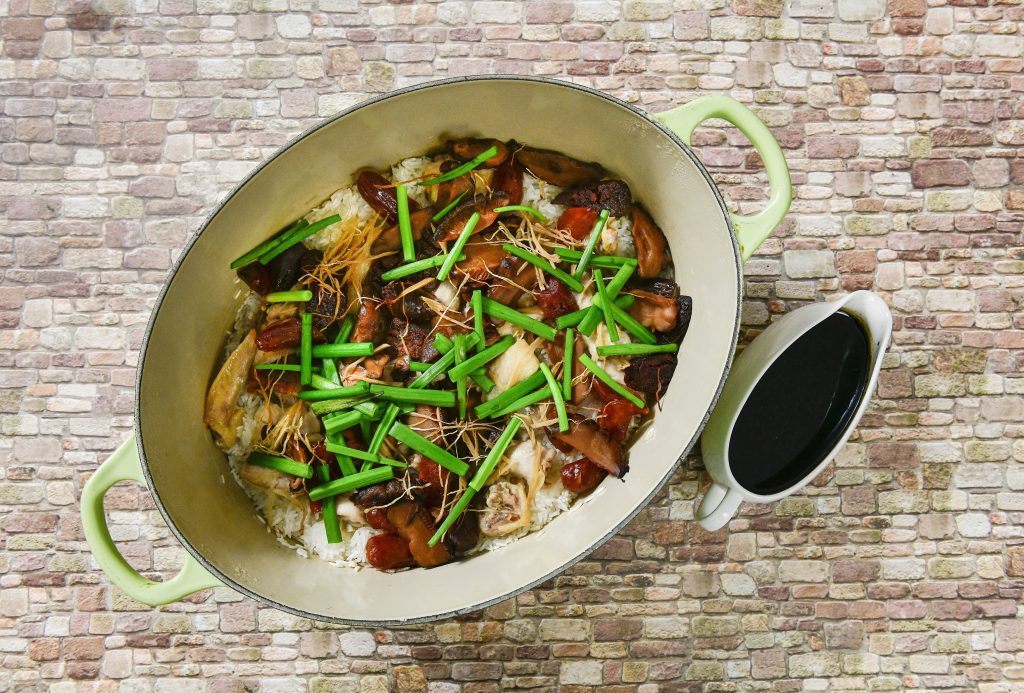 Claypot Chicken Rice
This traditional dish is usually done in an earthern claypot but because it burns easily, not many people like to attempt this dish at home. Janice's version that is done in the oven, minimises the casualty factor, and it still gives the rice a nice, crusty texture at the bottom. 
Ingredients
½ Kampung chicken
2 pieces Chinese pork sausages
2 pieces goose liver sausages
8 pc dried mushrooms
2 stalks spring onions (cut into 2.5cm)
Marinade
1 tsp sugar
½ tsp salt
½ tsp white pepper
½ tsp baking soda
1 tsp Shaoxing wine
1 tsp corn flour
1 tsp oil
Cut chicken into bite sizes. Mix marinade ingredients except for oil. Mix all well. Add oil into the mixture.
Steam sausages for 10 minutes. Then slice sausages.
Prepare Mushrooms
Soak and cut mushrooms. Marinate with 1 tsp light soya sauce, 1/3 tsp sugar and ½ tsp oil. Steam for 30 minutes.
3 cups jasmine rice
3 cups chicken stock
¼ tsp salt
½ tsp vinegar
1 tsp oil
Preheat oven at 200 deg C
Wash rice and drain water. Mix in salt, vinegar and oi
In Pot
Pour chicken stock and rice. Cover and turn on high heat to bring to a boil.
Lower the heat, open the cover and stir the rice well. Cover and cook for another 5 minutes.
Open the lid, layer chicken, sausages and mushrooms on top of the rice. Cook for 1 minute.
In Oven
Put the pot into preheated oven. Bake for 20 minutes. Sprinkle spring onion on top and cover for 1 minute.
Claypot Rice Sauce
2 tbsp dark soy sauce
2 tbsp light soy sauce
2 tbsp sugar
1/3 cup water
½ tbsp sesame oil
Bring all ingredients to a boil. Pour over the chicken and rice to mix.
Serve hot.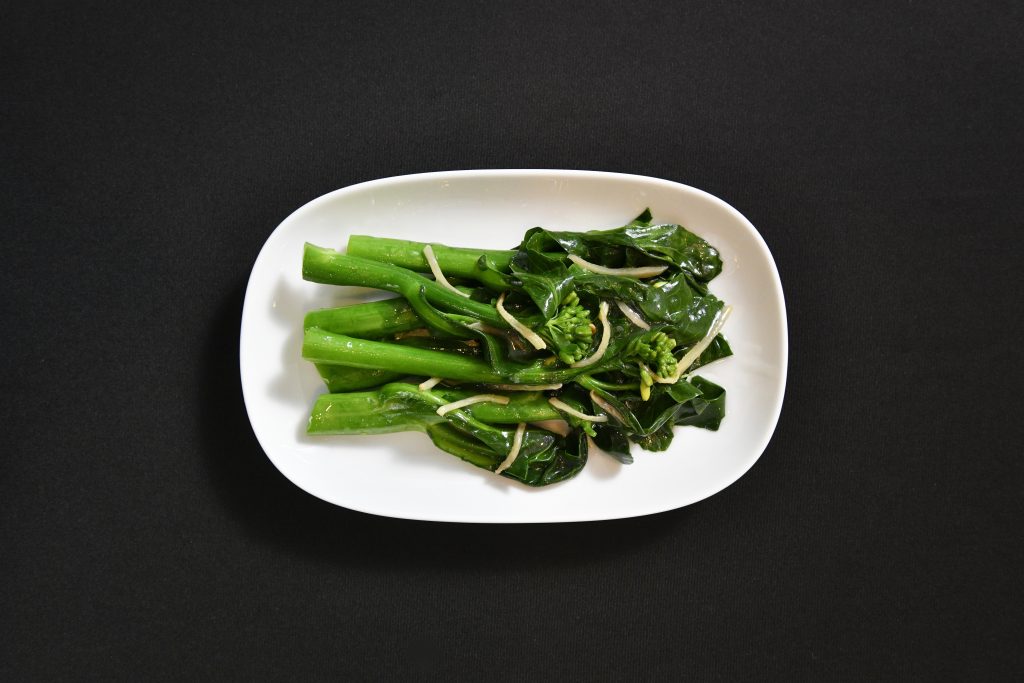 Fried Kai Lan in Ginger Juice
This easy side can be rustled up in a couple of minutes. 
Ingredients
600g kai lan, trimmed
1 tbsp ginger juice
1 tsp corn flour mix with 3 tbsp water
1 tbsp oil
½ tsp salt
½ tsp sugar
Use a big pot of boiling water to blanch kai lan till it is tender.
In Wok
Heat oil in a wok. Put kai lan, add ginger juice and quick stir. Mix corn flour and water. Add the corn flour mixture into the wok of kai lan. Quick stir again.
Ready to serve.