This year, we celebrate International Women's day with a series of eight interviews that feature inspiring women who represent the modern empowered woman. In Part One of the series, we speak to Jaelle Ang, Trina Liang-Lin, Judith Knight and Claire Jedrek. Look out for Part Two, on Monday 11 March. 
Judith Knight, 44, founder of WINGS Therapy and Learning Centre
A mother's love knows no bounds, and Judith Knight, is proven testimony that love can and will guide you even the most challenging of life's moments. At the tender age of six months, her middle child, Jake, was diagnosed with quadriplegic cerebral palsy, congenital cataracts and epilepsy. Knight, the founder of Wings Therapy and Learning Centre – Singapore's first and only intensive therapy centre for kids and adults specialising in a broad range of neuromuscular and physical disorders – recalls: "My world came crashing down. Nobody can prepare you for the roller coaster of emotions that come with parenting a special needs child. It is full of questions, self-doubt and eventual acceptance of your situation."
But Knight wasn't a woman to wallow. She knew she had to make solution-oriented plans. She shares: "I had a very special child who needed me so I plunged head first into research to better understand his condition. This was my first exposure to the special needs community. I knew that I had to look for unique solutions if I wanted to give my son a chance in this world."
The first few years were tough. Knight had to leave her job at a multi-national branding agency to join a boutique firm that afforded flexible working hours to look after her child. To find therapies for Jake, she went on a worldwide search for treatments that could potentially help him. Through her travels around the world over the last 10 years for Jake's intensive therapies, she found several models of effective physical therapies. Subsequently, she became formally educated in holistic nutrition and also certified in Suit and Cuevas Medek Exercise therapies, two of the three treatments practiced at WINGS now.
Wanting to share the knowledge with parents and professionals here, Knight started organising bi-annual forums and intensive therapy sessions with specialist therapy teams from the USA and Canada, hosted in her home. She tells:" I wanted parents to know that there is hope and their child is capable of achieving independence."
In March 2018, Knight set up WINGS Therapy and Learning Center (WINGS).  It is the first in Singapore to introduce innovative modes of therapy such as the Suit Intensive Therapy, Spider Cage Intensive Therapy and Cuevas Medek Exercises® (CME), to help treat infants, toddlers, children and young adults who have any neurological and movement disorders. She shares: "We aim to help them develop higher levels of independence through intensive therapy."
Knight is a woman on a mission and hopes that WINGS can engineer a more socially-inclusive community that extends equal opportunities to kids with special needs. She says: "I am especially passionate about enabling these kids both physically and cognitively. Hopefully, Singapore will soon transition to accepting kids with moderate to severe physical disabilities, into mainstream education. This is accessible in the USA, Europe and Australia and hopefully, as a world-class city, we will make this transition."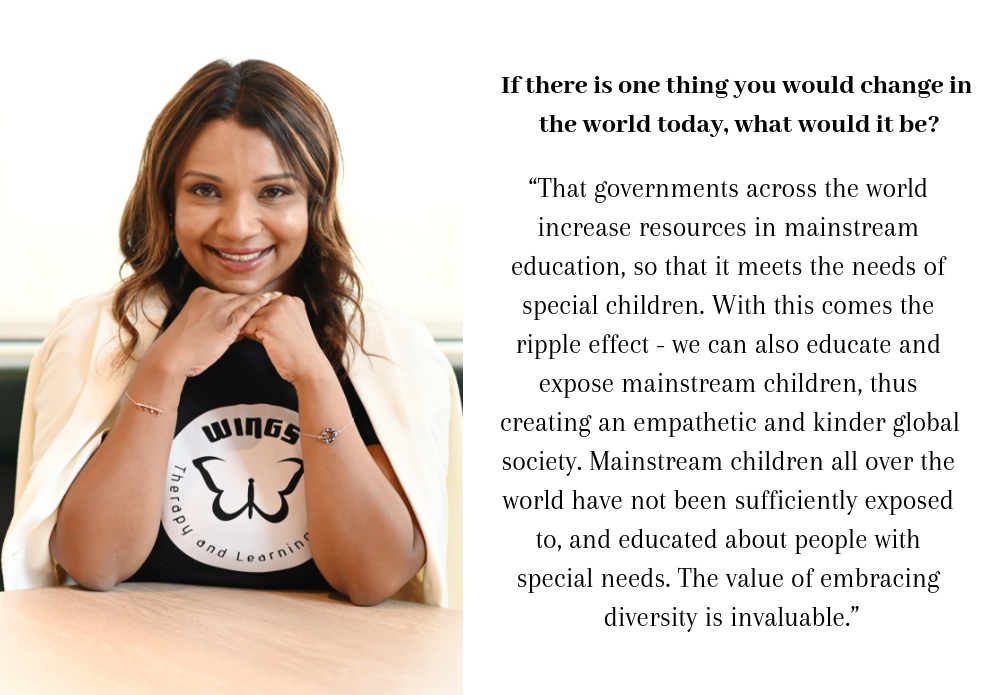 What are the adjustments you and your family have had to make?
I am a single mother-of-three: A girl who is 21 and two boys, who are 13 and 11. Parenting a child with special needs is challenging. It requires extra effort in time, awareness, and education.
The first few years were exceptionally hard. I was left with no choice but to leave my job in a multi-national branding agency to join a boutique agency, which afforded flexible working hours. It was the best decision that I ever made.
Having a nurturing work environment and boss (Shout out to Mr. John Bailey), and supportive parents, went a long way in enabling me to juggle parenting three kids.
I stayed with this agency for over 12 years and developed it into a multi-national agency, before leaving in 2018 to start my own therapy centre. In this respect, I have been incredibly lucky to have a strong support network at home and work.
How did you juggle looking after Jake and still give your other children adequate attention?  
I have had to work full-time as well as juggle caring for my three kids. As a parent, you want to give equal attention to all of your children. But when parenting a child with special needs, that can be hard. Your special child needs you, and so do his or her siblings. In the beginning. It felt that there was never enough of my attention to go around.
The first step was to help my kids understand Jake's diagnosis and condition. I learnt to create a routine whereby Jake's siblings would be involved in his therapy and play time. We also often scheduled Jake's intensive therapy travels during the school holidays so that they could be part of the experience.
My parents have played a pivotal role in supporting our journey throughout the years. Their support gave me the bandwidth to set aside time for my typically-developing children. I would organize a 'date' on a weekly basis. The date could be anything from a meal outside, movie, a run in the park or as simple as "just sitting and watching T.V. together.
What is one unforgettable lesson that you've learnt?
Laughter and positivity. No matter what your struggles are. Don't forget to take to take care of yourself physically and emotionally. Have fun. Doll yourself up, splurge on that special pair of shoes, take a holiday with your friends, laugh, be silly, dance, and be spontaneous.
An empowered woman is …
Someone who knows her strengths and weaknesses. She isn't afraid to embrace them. Empowered women are not perfect; in fact, they mess up, a lot. But they learn from their mistakes, and have the confidence to get up back after a disappointment or even laugh at herself.
An empowered woman that I admire …
My mother. Her quiet and calm wisdom, kindness, gentle confidence, strength and patience are what has made me the woman I am today; gently encouraging and motivating my journey to explore my passion in life with the special needs community.
Have you faced any barriers because of your gender?
If anything at all, I feel better equipped due to my gender and my role as a mother. Multi-tasking comes naturally since I have been juggling my household and career for the past 21 years. I have been told that I, and often women, in general, are too talkative but at work, this is a soft-skill that is absolutely necessary. Communication and listening play key roles in nurturing and maintaining strong relationships, be it in a company or personally.
Photography TONY TING PHOTOGRAPHY  
Styling XINDI SIAU
Hair and Makeup FIONA B MAKEUP
W's UV cut Jersey Jacket UNIQLO
Location THE GREAT ROOM (NGEE ANN CITY)