This year, we celebrate International Women's day with a series of eight interviews that feature inspiring women who represent the modern empowered woman. In Part One of the series, we speak to Jaelle Ang, Trina Liang-Lin, Judith Knight and Claire Jedrek. Look out for Part Two, on Monday, 11 March.
Jaelle Ang, 38, CEO and co-founder of The Great Room
This multi-hyphenate wears many hats. Jaelle Ang is the director of country group development, CEO and co-founder of one of the fastest growing co-working concepts in Asia, The Great Room, and also sits on the board of Playeum, a not-for-profit organisation that champions play and creativity to improve the lives of children in Singapore. And she manages to juggle all of it while being a mum to four children – two-year old twin boys and two girls, aged four and six.  
The high achiever and embodiment of brains, beauty and a bodacious personality, likens herself to Peter Pan – curious, restless, stubborn and always believing that she can do more. She says: "I just want to stay playing the game till I die."
That gung-ho attitude has seen her through an illustrious career in banking and finance, and estate development. Now CEO and co-founder of The Great Room, a collective of co-working spaces that don't look stuffy or officious. On the contrary, you'd be forgiven for thinking that you were in the lobby of a posh hotel or a speakeasy (sans cigar and booze), when you step into any one of them.
Since launching the first of The Great Room (at the heart of the financial district at One George Street) locally in 2016, Ang has gone on to open two more in Singapore (with yet another in construction), one in Bangkok and one in Hong Kong. All share the same hospitality-led design driven sensibilities: Plush leather sofas, warm mahogany wood, brass panels and earthy materials that come together in a beautiful, contemporary space, with the aim of making work feel less like work.  She says: "The Great Room is borne from wanting it all – a stubborn belief that work can and must be joyful and productive because we spend so much time at work."
Outside changing mindsets and perceptions of the professional work space (through beautiful, purposeful design), Ang, an alumni of Bartlett School of Architecture (London) who also holds an MBA from Imperial College, is passionate about fostering art and creativity in children. Before Playeum, Art Bug was her first business, which she launched at 21 and successfully sold off a year later.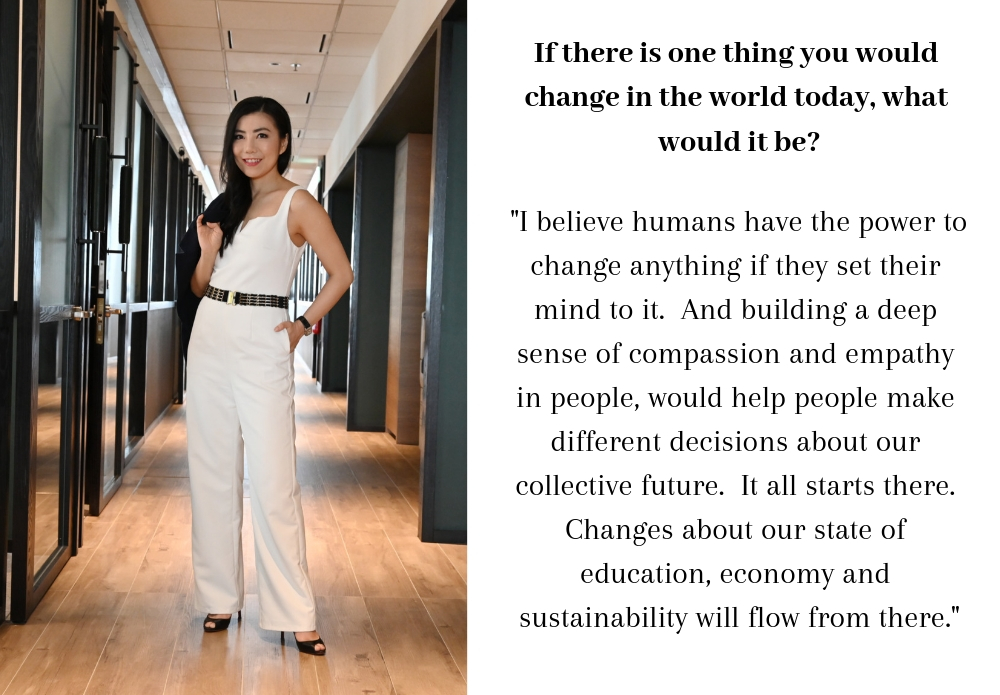 What's a typical day like? How do you stay focused on what's important?
I believe that people generally have a limited amount of good decision-making ability each day. Every morning, I write down seven things that I want to get done each day – and no more.  Then I rank them.  A single most important thing; three must-dos; three nice-to-get-done-today.
There is always one most important thing.  If you don't know which one, it's usually the one that causes you the most stress, maybe because it is outside your comfort zone and causes rejection or conflict.  The key is to keep the most important thing the most important thing, and move on only when that is done. 
Many days, I only end up accomplishing the first four things but I am at peace with it. I just want to make sure every day I am doing the four highest value things, and I don't beat myself up anymore for the things I don't get to. A great productivity tool I use is the Productivity Planner. 
What advice would you give to mums looking to be an entrepreneur?
Nothing prepares you for motherhood and it is quite the same for an entrepreneur. Do not wait for the time you figure out all the parts of the business to start, I truly believe that the best time to start something is yesterday and the next best time is today. The reality is that once you dive in, you have to be prepared to do 10 times of whatever you think it takes … if you're not prepared to do that, you're not prepared to succeed.
Who was the most influential female figure to you while growing up?

My mother – a quintessential Shanghainese who musters both strength and grace in equal measure. She is at once stubborn about her values, beliefs and traditional rituals but is constantly open to the new ideas I blindside her with.
Is there a divide between home and work for you?
I deeply relate to living Indra Nooyi's motto of 'leaving your crown in the garage.'  It is irrelevant to the kids whether you just had a career high (like signing a term sheet with a blue-chip investor) or you are at rock bottom and stressed out. The most inconvenient time, will be the most likely time for the kids to need their mummies, even if it's to do a silly nursery rhyme or to nurse a sick child.  
Minimum technology exposure for the kids – share more about your parenting beliefs and style.
This generation of children will have no lack of opportunities to be immersed in technology once they are in school.  I am a firm believer that we have a small and important window before that to impart life skills – creating and crafting with hands, play pretend and let the imagination run wild, develop deep connections with small and big people, ask ridiculous questions, and develop their physical bodies.
In reality, you must engage as many caretakers and stakeholders to take interest in your children.  In my case, with four children, it takes a village. We are indebted to grandparents, extended families and friends. It also means that we work hard to help the kids learn crucial skills of independent play, reading, and exploring.
 What qualities of yours do you wish to impart to your children?

There are three qualities that are important to me and I wish my children will have:
•    Bilingualism and bi-culturalism – the access and opportunities a good command of Mandarin can bring, goes without saying but above it, I wish the best of Chinese culture and Confucius values will guide their life.
•    Bravery – The bravery to ask questions, take risks, try new endeavours, resolve conflicts, face difficulties and be vulnerable.  Bravery is about taking action despite being afraid.  My six-year-old monkeys my tone when I repeat this mantra repeatedly, now if only she internalises and starts practising it!
•    Autodidacticism – We would not be able to imagine the world tomorrow.  A sense of curiosity and autodidacticism – the ability to learn independently and continually – will be invaluable.
Photography TONY TING PHOTOGRAPHY
Styling XINDI SIAU
Makeup TINOQ RUSSELL GOH using SHISEIDO MAKEUP
Hair DYLAN CHAN using @IGKHAIR
Location THE GREAT ROOM (NGEE ANN CITY)