Wine o'clock yoga, anyone?
"Exercise? I barely have the time anymore, not since giving birth…and it's so hard to find a place that can meet my needs as a new parent!"
Sound familiar, mums? Well, with the lovely, (and newly opened) B Studios in the picture – trust us when we say that it's going to get a lot tougher to make this excuse!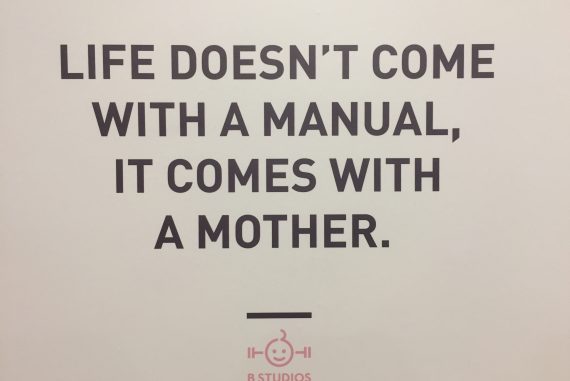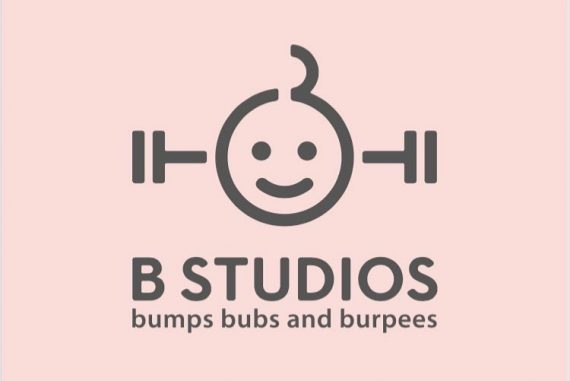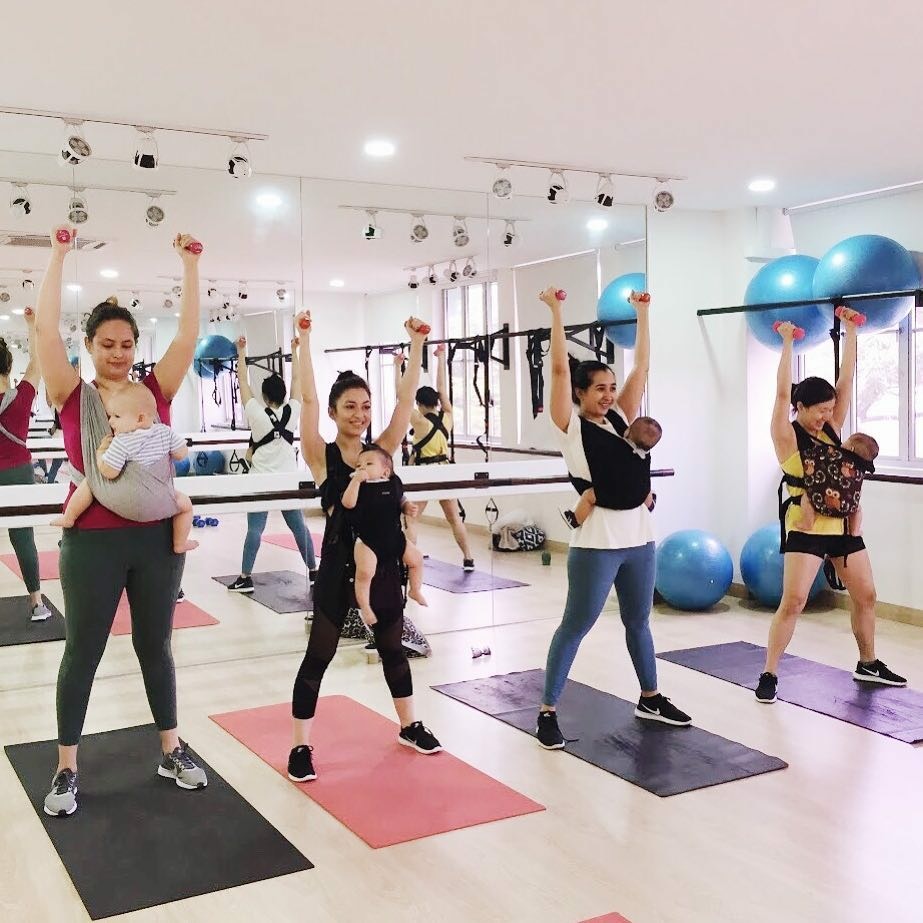 Last month, Mummyfique was invited to the soft launch of B Studios in Bangsar's Telawi area (the eponymous "B" in their name representative of their alliterative triple threat focus on "Bumps, Bubs and Burpees"!).
Walking up the two flights of stairs to the studio (located just above BRIQS Cafe on Jalan Telawi), was, as their cheery messages reminded us, where the workout first begins, and a motivational warm-up to their fitness sessions!
B Studio's proud female focus is evident as soon as you step into the room, with its chic, comforting aura, soft pastel pink tones, and groups of young mums chatting happily amongst themselves, or emerging from the studio with a post-workout glow, and little ones in tow.
Described as a "fitness concept run by mothers, for mothers", B Studios was founded by Nadia Azahari, Shin Loh and Yunny Gan, three fit and fab mummies who had bemoaned the lack of local fitness facilities available to busy mothers with active young ones.
Initially conceptualised as a way for mums to get fit post-pregnancy, B Studios has quickly grown into a female-empowered team of 17 full-time and part-time trainers, with a variety of classes to suit all stages of life, and is, in fact, one of the first fitness studios of its kind in Malaysia.
"More than just a "gym", we envisioned building a community where mums needn't feel compelled to leave their kids behind, but could instead bring their families along on their fitness journey", said Shin when asked about the inspiration behind B Studios.
"Too many mums struggle with "mum guilt" at the thought of leaving their kids at home whilst they head out for a workout. As mums ourselves, we understand how that feels- and we wanted to do away with that guilt by creating a safe space for mums to not only get fit, but also bond with their kids through our unique classes," adds Nadia.
B Studio's philosophy is, as such, unapologetically mum-focused… and what a relief it is too, to find a haven equipped with thoughtful additions sorely missing in other commercial gyms, such as an engaging play area for the little ones, a handy baby changing area in the ladies room, and comfy pillowed nooks for mums who are still breastfeeding (although B Studios' relaxed atmosphere is, in any event, entirely babywearing and breastfeeding accommodative).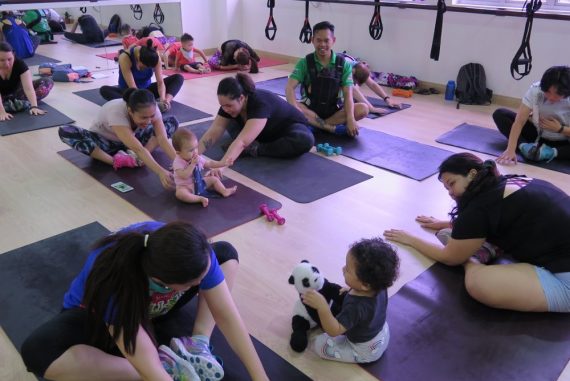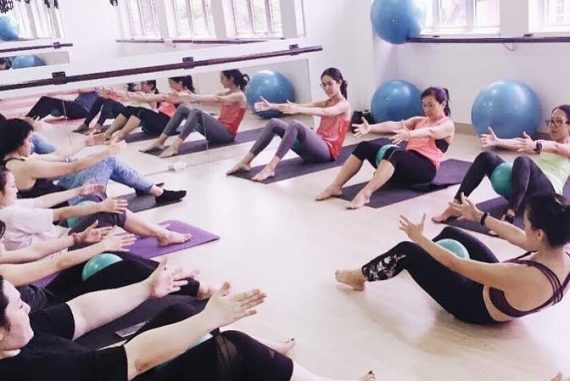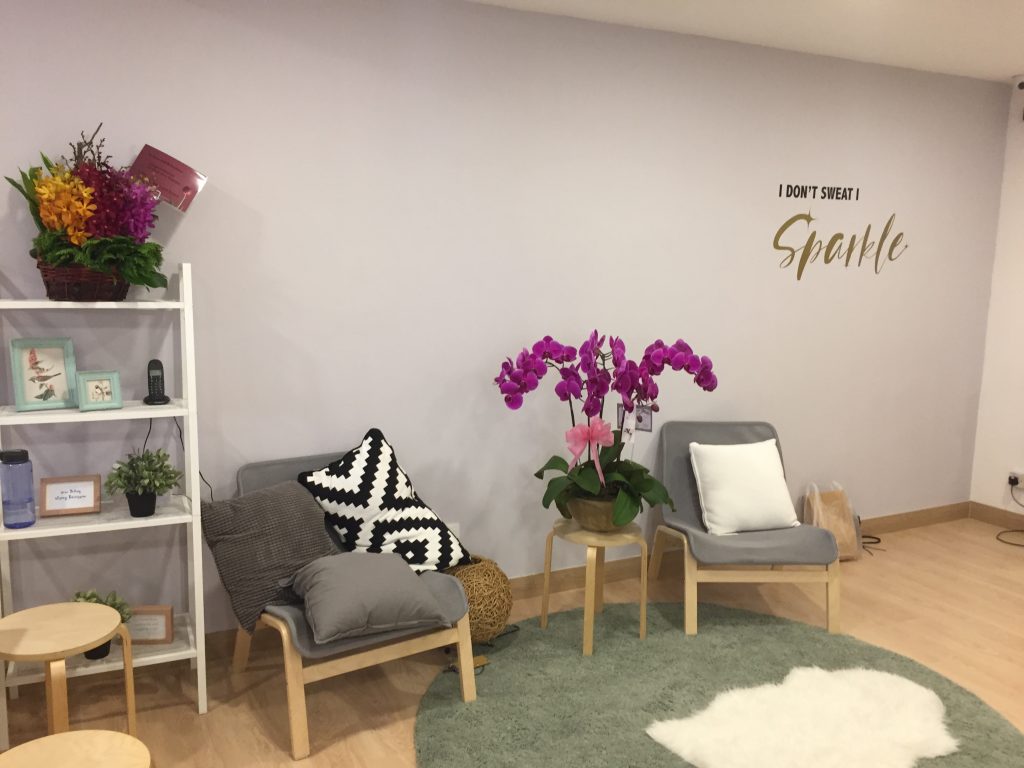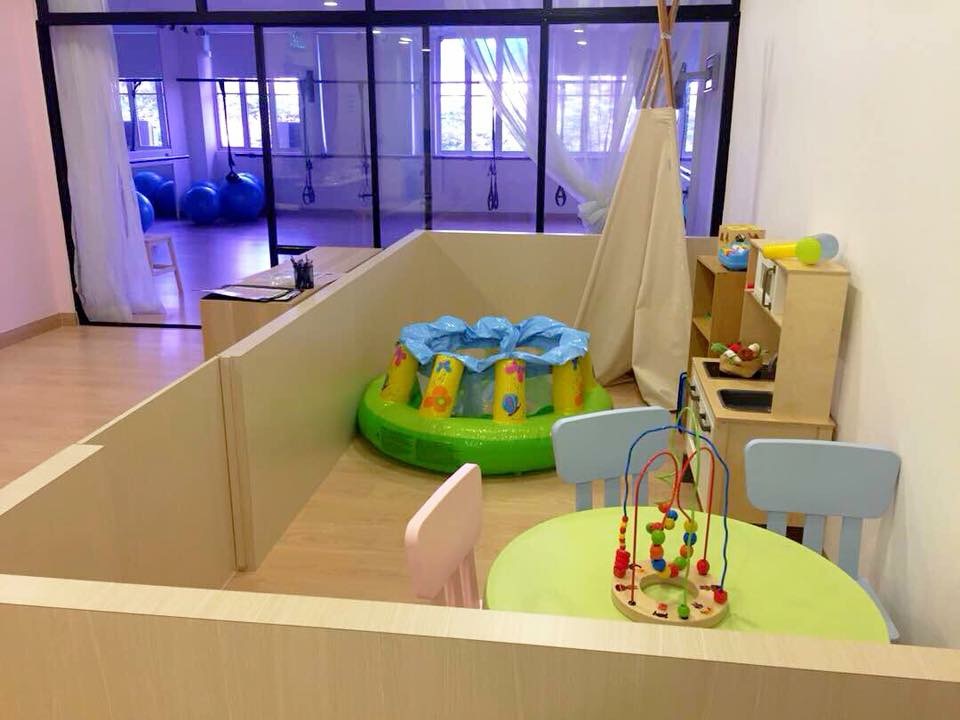 Open throughout the week, B Studios runs a total of 13 different classes, the majority of which are pregnancy and postpartum friendly. Classes include;
Baby With You Yoga – where mums can bond with their little ones (and other mums too) with low-impact yoga routines worked around babycaring.
B Signature – prenatal cardio and strength class specifically designed for pregnant mums with a view towards easing the arduous process of labour.
B Rehab and Restore – aimed at getting mums to re-engage and activate their core and pelvic floor muscles, post-delivery.
B Plus & B Groove – Dually fit and fun babywearing classes which incorporates strength based circuit training (B Plus), and helps mums get their groove back, with their bubs as their little dance partners (B Groove).
But what about the fellas, you ask? Well, husbands and boyfriends can certainly do more than simply pass the time at B Studios' comfortable lounge area!
There are inclusive classes that cater for the guys, as well as other fitness enthusiasts who aren't necessarily parents themselves, such as B Intense (incorporating high intensity, circuit-style strength training), the Vinyasa and yin yoga based B Flow, Tone and Stretch, and the popular Core Barre (comprising a mix of Pilates, ballet and athletic conditioning techniques to steady the postural and deep core muscles).
B Studios is certainly a welcome addition to the local gym scene – and a game-changer for mums (and mums to be!) looking to get fit in a conducive environment that's designed for their specific needs.
Get in touch with B Studios for more information on their class schedule and packages.
+6012-206 9974
info@bstudios.my