During Fitspo July, Mummyfique approached different gyms and studios to participate in their fitness classes. Through this, we hope you'll be inspired to make exercise a regular habit!
The team
Firstly, we're certainly not a group of toned ladies who chug protein shakes, hit the gym in cute atheleisure outfits every two days and hold lifetime gym memberships. No, we are a bunch of normal, fairly sedentary white-collar workers. In fact, we already had a salted egg bun, half a bottle of milk and two sandwiches a few minutes into this article. While the most inactive member hasn't exercised in six years, the most active tries to workout once a week with a 30 minute walk. 
Read on to find out more about our experiences. Hopefully, we can motivate you to embark on a fitspo journey like us too.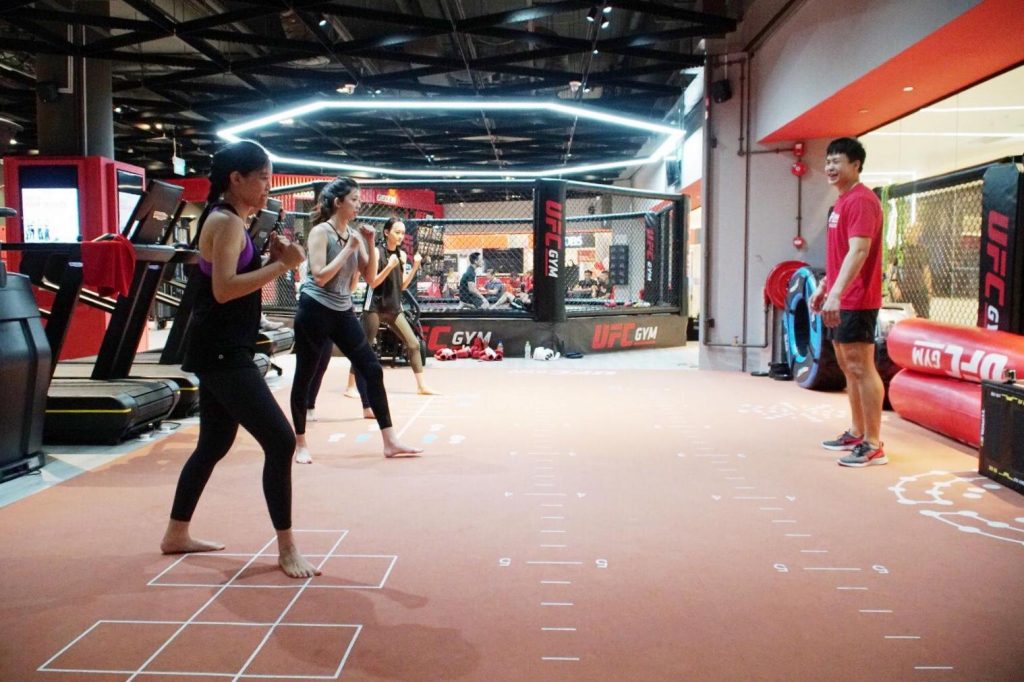 Our first stop was UFC Gym Singapore, where we joined a Muay Thai class. Combining fitness classes with strength training, UFC Gym's space is separated into different areas for weight training, treadmills, and boxing. 
A great environment for training
The UFC Gym is located at CityLink mall, where its open glass wall design allows curious people to peek in to view the classes inside. The moment we stepped into the gym, we noticed how conducive the environment was. Its upbeat music and immaculate facilities offered an ideal place for training. Another thing we noticed was that the floor was so clean, there was no dust on our soles after being barefoot throughout the class. 
We were warmly greeted by friendly staff at UFC Gym's large reception area. It sells drinks alongside activewear, great if you forget your gym essentials. Numerous RFID lockers are available and its location (inside or outside the restrooms) is assigned according to your preference.
Furthermore, UFC Gym's towels are complimentary but the toiletries are shared. Before we started class, we were given hand wraps and boxing gloves. Thankfully, the gloves didn't reek of sweat. 
A gentle giant
Three-time Muay Thai champion, Terrence Teo was our instructor that day. We affectionately named him the gentle giant because, firstly, he's 1.85m tall, and secondly, for his encouraging teaching style. Terrence customised the workout for beginners like us and urged us to work harder with every punch and kick.  
However, don't think that he cut us any slack. Terrence requires you to give your all, and in return, he gives you his 100 per cent as well. One thing we appreciated was that he never treated us with kid gloves.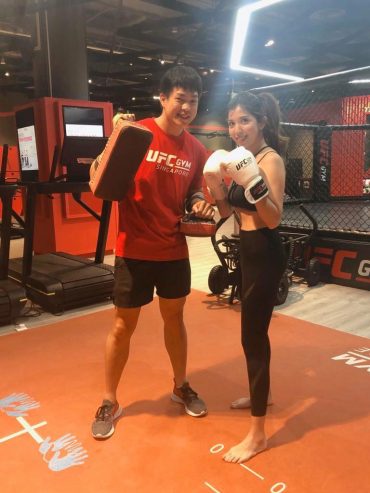 He also proved to be a patient coach by making sure we were executing the moves correctly. One of our members is a southpaw and she had to learn the moves in reverse. Hence, Terrence checked on her from time to time to ensure she could follow the sequences.
The art of discipline: Terrence's personal journey and his thoughts on Muay Thai
In the beginning, Terrence started Muay Thai to lose weight. Gradually, he fell in love with the sport and wanted to be a fighter in the ring. At his heaviest, he weighed 95kg but his determination to compete prompted him to lose a whopping 16kg in six weeks for the Johor Chief Minister Championship Belt in 2015. Talk about discipline!
A common misconception of Muay Thai is that it's a violent and aggressive sport. While this might be the case in the professional world, if you're doing it for general fitness, it'd never be violent. Instead, Muay Thai is a sport that teaches you qualities like self-discipline and self-confidence. It is especially empowering for ladies who can learn how to fend off a larger opponent. 
Badge of honour
We walked out of UFC Gym that day feeling transformed and hyped up. Some of us became more confident in our own skin and others felt a growing interest in the sport. Even though our legs were bruised the next day from kicking the punching bags, we proudly regarded them as our personal badges of honour. They were 'battle scars' that marked our journey towards a healthier lifestyle.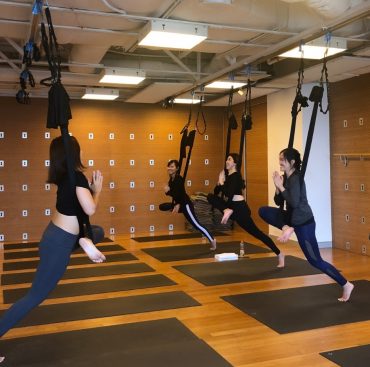 A pleasant and relaxing studio
By far, Pure Yoga at Ngee Ann City is the largest of all three fitness class venues. Other than its ample shower and locker facilities, the restrooms are equipped with hairdryers and hair straighteners on every dressing table. Towels are also complimentary.
We love how each shower stall comes with its own set of shampoo, conditioner and body wash. This way, you can definitely quickly freshen up before you head back home.
Besides that, Pure Yoga provides healthy snacks, juices and hot jasmine tea at the reception area for their guests. Stay hydrated with unlimited refills of water. Its large reception hall also includes a retail store where you can purchase stylish activewear and yoga mats.
Trusting yourself
We started the class with a couple warm-up exercises. They were manageable but we certainly heard a few old bones getting a very good stretch and cracking pretty loudly. Don't judge.
Honestly, the aerial yoga class is the most intimidating class out of the three fitness classes. We had to trust the hammock to hold our weight while overcoming our fear of falling at the same time. Our instructor, Roxanne Lim, encouraged us to trust the hammock but we initially reflexively grabbed onto something to avoid falling and getting hurt.
After the warm-up, we tried out a few inversions. All of us were initially very unwilling to let go of the hammock or the floor, and we let out a few terrified squeals when we first flipped over. Nonetheless, we managed to do the moves after successive tries, while letting go of the floor, and this really boosted our confidence.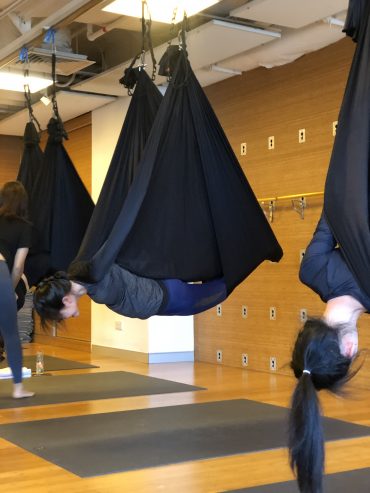 One of the challenging poses we learnt was the Vampire pose. We had to lift our hips over our heads when we were lying on our backs so that we could flip ourselves to our tummies. We are proud that all of our team members could do it, except for one of us who had to rest because of motion sickness.  
Roxanne kept the class engaging and safe. She was very encouraging and attentive, helping us adjust postures and offering tips to help us perform the poses correctly. 
Pushing limits: Aerial yoga's benefits
We sat down with Roxanne after the session – safely on the ground, thank goodness – and had a quick chat. The first thing we asked was about the benefits of aerial yoga and how it differs from normal gym workouts. 
Roxanne pointed out that most gym training focuses on major muscle groups for power and strength. Conversely, aerial yoga strengthens your minor stabiliser muscle groups and pulling muscles. These stabilisers protect your joints and keep you balanced as you move. 
Also, regular yoga is suitable for pregnant women after modification. Mummies-to-be should definitely avoid hot classes, core workouts and inversion poses. Having said that, you should inform your instructor in advance if you are pregnant so that they can change the routines to suit your needs. Of course, you should always consult your physician first before engaging in any exercise or workouts.
At the end, Roxanne mentioned that the class is suitable for any age group. In fact, ah mas (grandmas) in their 50s to 60s actively participate in the class all the time alongside younger women. This was truly inspiring as they embody the spirit of "living without limits". 
A mindful life
Yoga releases pent-up negativity accumulated from a hectic lifestyle while providing you opportunity to tone and strengthen your body. Our minds and bodies were totally refreshed towards the end of the session when we relaxed in the swaying hammock under dimmed lights and calming background music. If you are considering to take a fitness class to soothe your weary mind, give yoga a try. Once you are familiar with the basics, challenge yourself with the aerial version.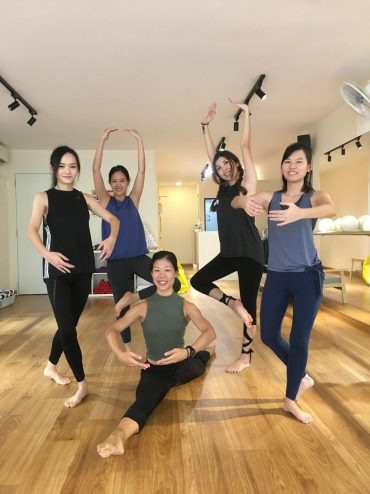 A cosy studio
The WeBarre studio at Clarke Quay was the last and comparatively, smallest out of all our class venues. The stairs up to the studio filled with motivational quotes warmed our hearts as we also physically warmed up.
WeBarre's facilities were basic but clean, feeling like a cosy home studio. Its shower stall is stocked with Japan's haircare brand, Moist Diane. Also, we were quite excited to see FRESH skincare available for guests to use. Additionally, use the provided hair straightener at the dressing area to style your hair after your shower.
Besides that, the studio is equipped with a large variety of exercise equipment such as exercise mat, barre, fitness balls and light dumbbells too. This way, all you have to do is show up in your gym wear to start exercising. Lockers are available for you to keep your belongings. If you need a drink, coconut water and mineral water is available. 
Our favourite cheerleader
When we first met our instructor, Gretel Lee, we merely thought she was friendly. However, she turned out to be our favourite cheerleader. Throughout the entire session, Gretel was super encouraging. She corrected our postures whenever needed and doled out massive amounts of praises and positivity to keep us motivated. We felt that she definitely went easy on us – especially after seeing a previous class before our session started.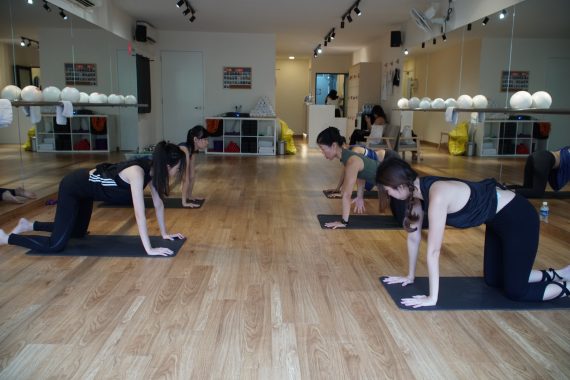 One thing we should point out is that barre is great for everyone. It is similar to yoga where it tones up your minor stabiliser muscle groups. However, if you like ballet and dance routines, barre is definitely for you.
Additionally, expectant mothers are welcome to join in barre prenatal classes. These classes firm up your pelvic muscles and prevent prolapses after giving birth. Nonetheless, as we always say, do seek your physician's opinion before starting on any exercises during pregnancy. 
A healthier lifestyle
Gretel is truly one of the sweetest persons we have ever met and we could see her passion for barre in her eyes. During the session, she was very attentive, encouraging and motivating. And honestly, these are the qualities we feel a fitness instructor should absolutely possess. Gretel delivered the lesson with such warmth and positivity that we could see ourselves coming back for future lessons. 
Although the barre class was the shortest out of all classes, it is certainly equally, if not more, intense. Our bodies were so sore right after but we felt so accomplished. We went from inactive office ladies to a group who pulled through challenging aerial yoga poses, intense barre workouts and Muay Thai training. 
Whether you stopped exercising because you had to juggle between work and family or didn't find a reason to start, we hope you're motivated to  take a step forward towards a healthier lifestyle.