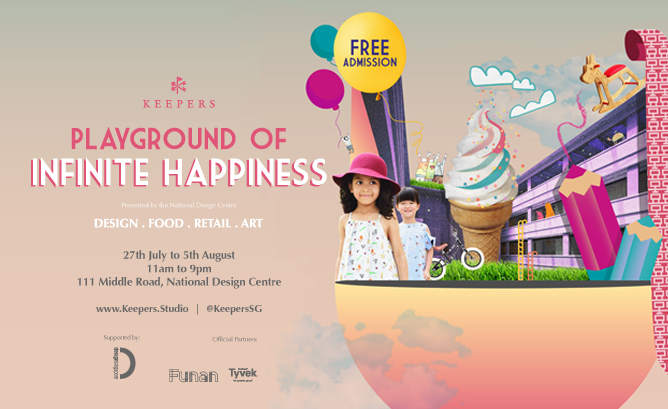 Curious Design, Maison Q, Da Vinci.
Get to know the vendors who will be showcasing their wares at this installation of Keepers Playground of Infinite Happiness: Child's Play over the weekends of 27 to 29 July and 3 to 5 August.
This year is extra special because a whole level has been lovingly curated for all the wonderful mums and kids out there.
Support the local businesses and talented individuals who've come so far with socially-conscious ethos and brilliantly creative designs to captivate and inspire all – always with you and your family held very close to heart.
Journeying through life with a lack of self-confidence led Elda Webb of Curious Designs to create a social enterprise aimed at developing one's self-confidence through innovation and creativity.
Tell us about your business.
A social enterprise that helps everyone develop a growth mindset and increase their creative confidence by sparking curiosity and having fun while making something fun and quirky.
What is the story behind your business?
Everybody is looking to be innovative, but how can you be innovative if you have no confidence in your creativity or your imagination.
I became the person that I needed the most and it turns out, there were a lot of people that felt like I did.
I started The Curious Design Network to offer a space for people to find inspiration, to have a network of people to turn to when they were stuck and to give them the time and the tools to see what happens when their curious minds start to wander and wonder, "What If"?
Along the way, I noticed that underprivileged kids and families were the ones that needed this support the most, since making anything related to STEM and Innovation products and projects tend to be pricey. We focused our efforts on creating content and providing workshops for these families with the support of Beyond Social Services and other partners such as My Art Buddies and M.A.D.L.A.B.
What keeps you passionate?
Seeing the faces of people finding something that sparks their curiosity is what gives me energy. Knowing that I helped in creating the right environment for that to happen gives me joy and makes me feel blissful.
Where do you find inspiration?
I find it everywhere!!! My brain is constantly wondering about everything and it feels great when I have an aha! moment. There is always an antenna in the background, looking for interesting intersections.
What sets you apart in your industry?
Knowing what it feels like to not believe in yourself and then discovering that little steps and having a curious mind can help you attain confidence and lead you to become the person you want to be is key.
I constantly create personalised experiences for each person I meet, especially for people with a fixed mindset and believe themselves to be uncreative. 
What can we look forward to from you at Keepers Playground of Infinite Happiness?
Lots of interesting ways of using everyday things to make things move. Lots of interesting tools to try and lots of ideas and inspiration to get your Maker Journey started.
A mum looking to get the best mileage out of her children's clothes turned to Pinterest and had a light-bulb moment. Journalist turned mumpreneur Suhana Ab of Maison Q is the genius behind this reversible clothing label.
Tell us about your business.
Maison Q is a homegrown kidswear label that specialises in reversible apparels. Born in 2015, the 'Q' in the brand name is derived from the root word 'quaintrelle'. This, according to Middle English dictionaries refers to an elegant woman who advocates a life of passion.
Because, how else should life be lived?
What is the story behind your business?
Maison Q is the story of a mum who loves to play dress up with her kids. But as much as she did, the thought of her little ones growing out of their clothes quickly nibbled at her.
Surely there is a clever way to get more mileage out of the pieces in her children's wardrobes?
Eight Pinterest boards, dozens of sketches and many a prototype later, the idea of reversible kids wear was born.
What keeps you passionate?
The goal of putting a Singapore kidswear label on the international map. It sounds like a farfetched dream but I have seen in recent years, other women-led brands do just that.
Which reminds me that it is possible with hard work, grit and self-belief. I also want to show my kids the importance of perseverance and to show them that things happen when you put a foot forward.
Where do you find inspiration?
If you mean for my collection, it is greatly influenced by my children. I derive inspiration from what makes them happy – animals, mythical creatures, the ocean or even the odd hamburger.
As a mum that emotion you feel when you see your kids thrilled/happy brings me to a happy place and perhaps that is when the creative juices start to roll.
What sets you apart in your industry?
We are one of, if not the only, label that offers full collections of reversible kidswear each season. Maison Q also offers a capsule collection of formal kidswear prior to festive seasons such as Chinese New Year and Raya.
What can we look forward to from you at Keepers Playground of Infinite Happiness?
We have new fun prints – dinosaurs for both boys and girls!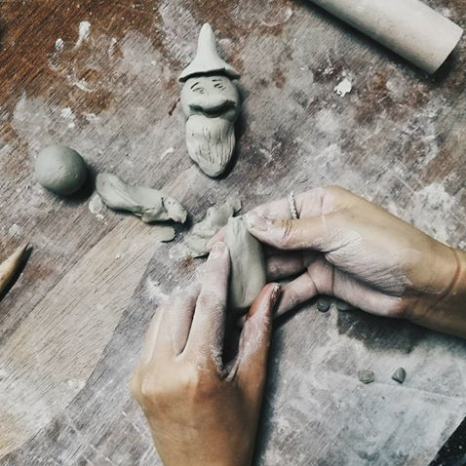 Amutha and Saravanan of the Da Vinci Group researched and designed Neuroeducation-based learning in a box to cultivate and nurture creativity.
Tell us about your business.
Da Vinci Group (DVG) is a homegrown enterprise, committed to social transformation through methodologies based on the latest research in Neuroeducation.
By combining Arts and Neuroscience, Da Vinci Group creates curricula and workshops that engage all the senses, stimulates creativity, and boosts and focus and productivity. Da Vinci Group sets up environments for participants through our novel NeuroCeramics® and NeuroTheatre® programmes, using clay and process drama as mediums to enhance learning in corporate companies and schools.
The KlayKit® is Da Vinci Group's clay-based product designed as a mobile, versatile experience of our programmes. Currently retailing in more than five stores around Singapore, the KlayKit offers more than five themed playboxes.
What is the story behind your business?
Amutha (DVG's COO and Co-Founder, and also my partner) and I believe that each individual has a right to actualise his/her potential.
Our mission is to cultivate and nurture creativity in our competitive and globalised world. Amutha has a background in Clinical Neuropsychology, and she picked up pottery as a hobby while working in a corporate job.
My background in Neurobiology led to our research roots and we discovered Neuroeducation, a field of study under Neuroscience that looks at how the brain optimally learns.
That's when we started Da Vinci Group in 2012 and created NeuroCeramics® and NeuroTheatre®. We created the KlayKit® soon after to provide parents with access to Neuroeducation in their homes. We are a stand that children everywhere live fulfilling, happy lives.
What keeps you passionate?
The purpose of impacting the lives of children in Singapore and around the world. I believe education allows our children to shape their lives powerfully, and that is the value that drives our engagements with various schools throughout Singapore.
Da Vinci Group's goal is to encourage children to make a stand for themselves and create possibilities at a young age.
Where do you find inspiration?
From my continuous spiritual journey, and my purpose to impact the lives of children in Singapore and around the world.
What sets you apart in your industry?
Da Vinci Group is the first in the world to incorporate Neuroeducation-based learning into a box.
Over 25 years of research into Neuroeducation has proven that pairing the creative arts with learning can directly enhance memory formation and retrieval, and increase focus and attention levels.
Clay, having the highest tactile cognition factor through its touch-to-brain activity, is the most powerful medium to create tangible, functional masterpieces among all creative art forms.
We heard from thousands of parents to ensure that the design of the KlayKit revolutionises the education toy/resource space.
What can we look forward to from you at Keepers Playground of Infinite Happiness?
A whole lot of creative engagement and fun through clay! We're introducing two special KlayKit Mini's at Keepers – The KlayKit Mini – Dinosaur and Mermaid Editions. Little ones (and their parents of course!) will be introduced to the sensorial world of clay and Neuroeducation.
It also makes for a meaningful and fun bonding activity to do together!
27 July to 5 August 2018 (27 to 29 July & 3 to 5 August) | 11am to 9pm
111 Middle Road, National Design Centre
Bring cash 
Free admission