Keepers Playground of Infinite Happiness is back for another edition and it's bigger and better than ever. Spread over ten days from 27 July to 5 August at the National Design Centre, this year's magnificent curation based on The Singapore Story, sees over 120 local and locally-based artisans, entrepreneurs, designers, chefs, and craftsmen under one roof showcasing collaborative works, art installations, food creation and local labels.
Food and retail pop-ups will be available over the weekends of 27 to 29 July and 3 to 5 August, with a different theme for each weekend so you have a good excuse to make both weekends. Come on, you know you want to!
Co-curated by Carolyn Kan of Keepers and SKL0, this edition spans all five floors of the National Design Centre and encourages you to thoroughly immerse yourself in Singapore Art that you can walk-through or play on.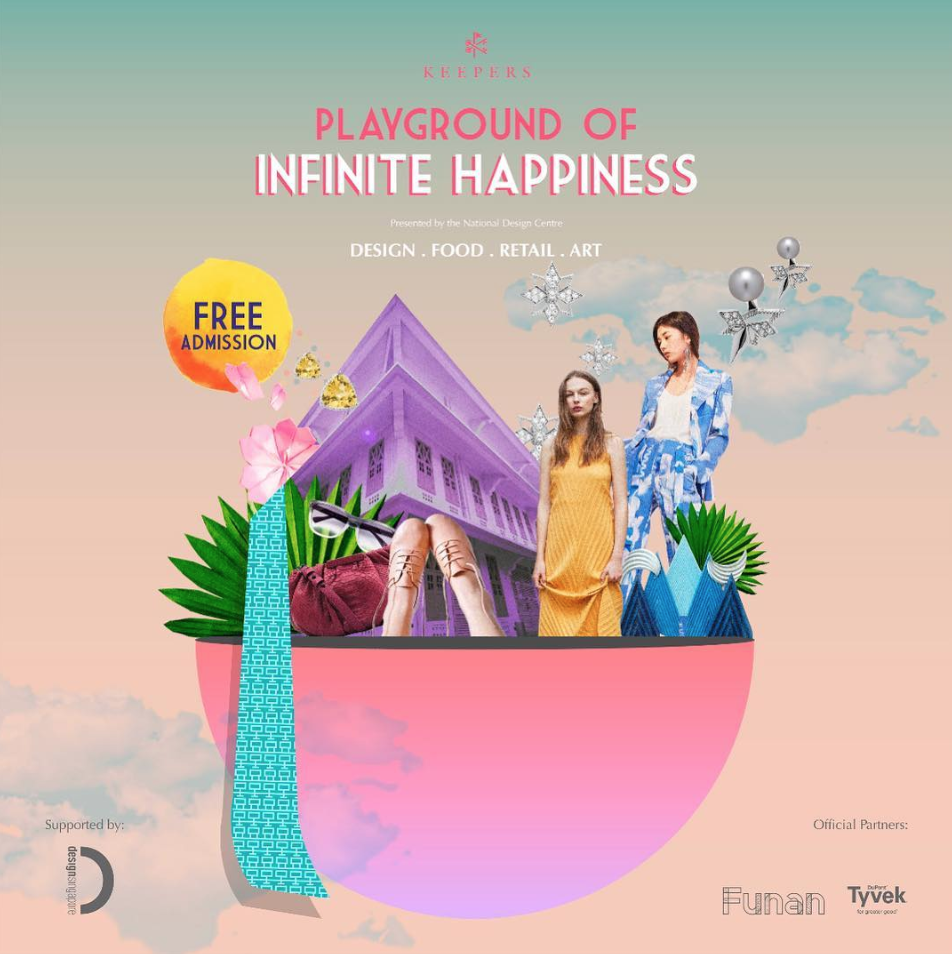 If you haven't already got on the #supportlocal bandwagon, now's your chance! Keepers Playground of Infinite Happiness has an awesome line-up of some of the very best, designed in Singapore labels – time to clear out the closets and get local! Show our very talented designers some love, won't ya?
APPAREL Gin Lee Studio, The Form, I Want The Missing Piece, Matter Prints, Kevin Seah Black, David's Daughter, Stolen, Weekend Sundries, Queen Mark Couture , Lark and Peony, Ying The Label, Even Odd Studio, Rye, Jo Kilda, Societya SHOES YSneakers, Anothersole, Emblem Shoes EYE WEAR Mystic Vintage BAGS Ling Wu Bags, Desti Saint Handbags, Gnome & Bow JEWELLERY Stones That Rock, This Is State Property , Baelf Design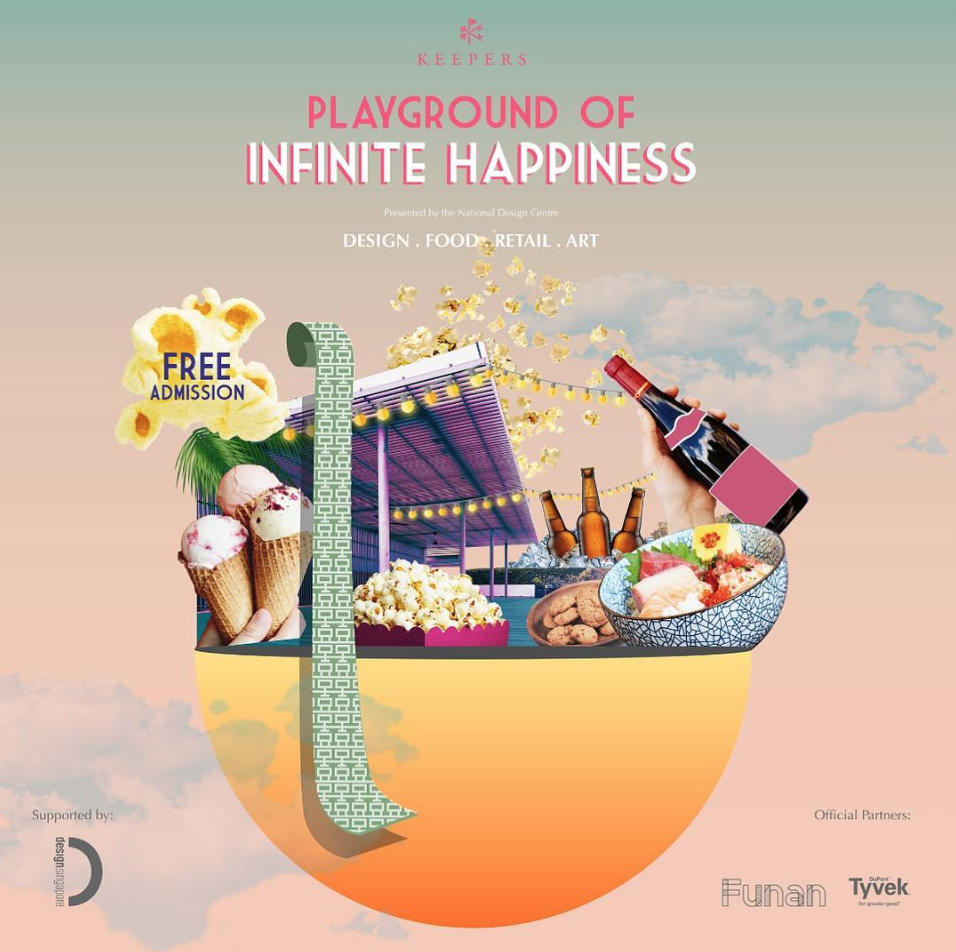 Keep your energy levels up and tantalise your tastebuds with a lip-smacking array of the most inspiring grub available from creative food-preneurs: Tanuki Raw, Monument Lifestyle, Spatula and Whisk, Butter Knife Folk, Patisserie G, Straits Wine Company, Fossa Chocolate, Demo Choco, Pin Tea, Nest Bloom, Batu Lesung Spice Company, and Old Seng Choong.
Get creative with the workshops available (different ones each weekend, so keep both weekends free!) Build a robot with the kiddos with Curious Design Network, get your hands marbled with Psyckaholics or decorate chocolate ganache with the chocolate master from Fossa Chocolate – truly an infinite playground.
Carrie. K Atelier will be launching their Star Collection so be sure to drop by for a game of snap and stand a chance to win some fantastic prizes!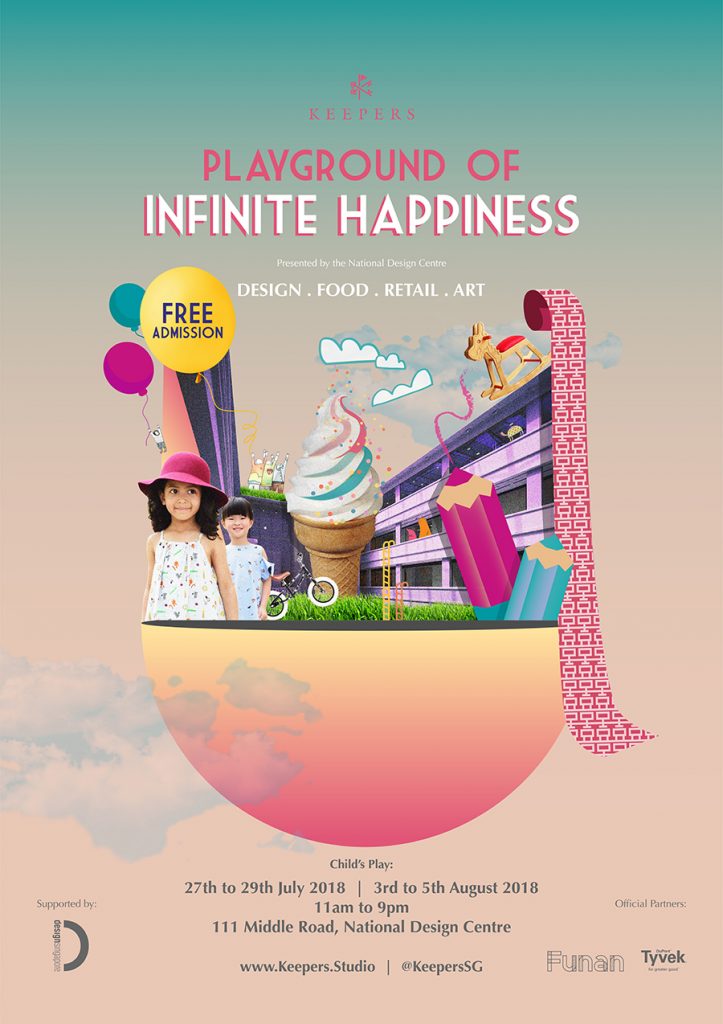 A Whole Floor Just For Mums and Kids!
For the very first time, Keepers Playground of Infinite Happiness introduces Child's Play – an entire floor dedicated to parents and their adorable kiddos. Right here, you will find finely crafted toys to delight your kiddo as well as some of the best local kids' labels and retailers – Maison Q, Hunter + Boo, Baby Style Icon, Sea Apple, Bae Bee Boo, Motherswork, Urban Lil', NPE Print, Hinika Design, The Curious Design and Klay Kit.
So definitely do NOT leave your child at home, mums! With play areas, workshops, a photo booth and ice cream by the Butter Knife Folk, your child is going to love Keepers Playground of Infinite Happiness as much as you. Guaranteed.
Mark your calendars, put your walking shoes on and get some cash ready – this Playground is going to be huge and you won't want to miss a single minute of its fabulosity.
27 July to 5 August 2018 (27 to 29 July & 3 to 5 August) | 11am to 9pm
111 Middle Road, National Design Centre
Bring cash 
Free admission