Catan Tan, Group Executive Chef at Parkway Hospitals, shares two delicious recipes you can prepare at home.
Traditional dishes like beef rendang, chicken dum biryani, lontong and laksa are all dishes commonly served during joyous occasions, such as Hari Raya Puasa. These dishes are often very flavourful, but may sometimes be laden with saturated fats that are neither kind to your heart nor your waistline.
Excessive fat intake leads to unnecessary weight gain, and excessive saturated fat intake can increase your blood cholesterol levels. Replacing saturated fats with unsaturated fats may lower your blood cholesterol levels and help you have a more guilt-free, yet still tasty, Hari Raya celebration.
Here are two recipes to try cooking at home!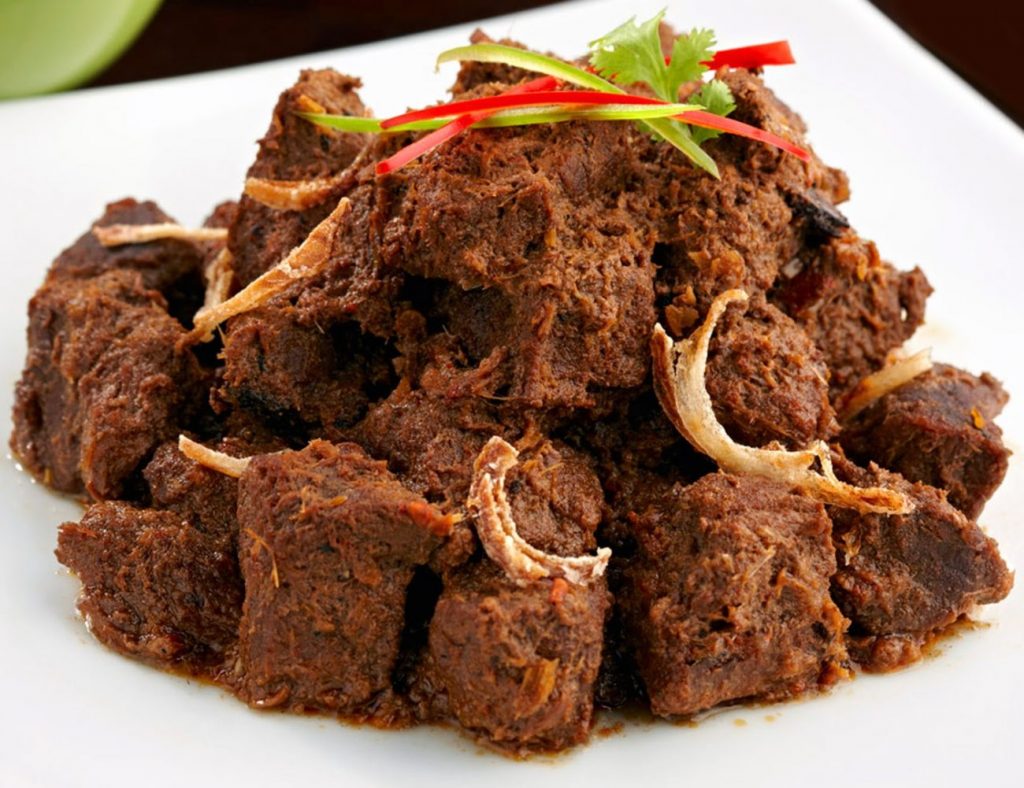 Rendang is made with meat stewed in coconut milk and spices, and has a long history with different versions unique to particular regions in Malaysia, Singapore and Indonesia.
It is a must-have as a celebratory meal during special occasions such as Hari Raya and Malay weddings, and is typically served with rice, lemang (glutinous rice cooked in a hollowed bamboo stick) or ketupat.
Serves Six
INGREDIENTS
Part A (gravy mix)
50g Onion
15g Garlic
15g Ginger
15g Blue ginger
15g Lemongrass
20g Dried chilli
5g Candlenuts
50ml Water
 
Part B
50g Dried coconut
5g Turmeric leaf
6 Lime leaves
1 stick Lemongrass, smashed
100ml Light coconut milk (healthier substitute)
20ml Tamarind water
Unsaturated oil for cooking, such as olive oil or canola oil (healthier substitute)
Sugar and salt, to taste 
 
Part C
800g Beef cheek
100g Rendang spice paste


METHOD
Blend all the ingredients in Part A.
Remove the silver skin from the beef, then cut the beef into 8 equal pieces.
Cook the beef in the rendang spice paste until fully tender and soft.
Heat a soup pot and add the unsaturated oil and blended ingredients.
Cook until the heat brings out the aroma.
Add all the ingredients in Part B and Part C, reduce the heat, and cook for about 1 hour until tender.
Regular coconut milk has a high fat content, and most of the fat is saturated fat, which, in excessive amounts, can increase your blood cholesterol levels. Regular cooking oil or vegetable oil also contains saturated fat.

You can reduce the saturated fat content of rendang by as much as 60% by choosing a light coconut milk, and using unsaturated oil, eg. soya bean, corn, sunflower, peanut or olive oil.
The original recipe contains about 18.3g of saturated fat per serving, while the healthier recipe provides about 6.8g of saturated fat per serving.
Rendang is believed to originate from West Sumatra, Indonesia.
Water buffalo was used as the meat and, as this was tough, it was braised in coconut milk and spices at a low temperature over a long period of time to make it tender and tastier.
The dish symbolised the wealth of a person or community that could afford to sacrifice an entire water buffalo for consumption, and was cooked in large quantities using an entire buffalo, often in a large wok.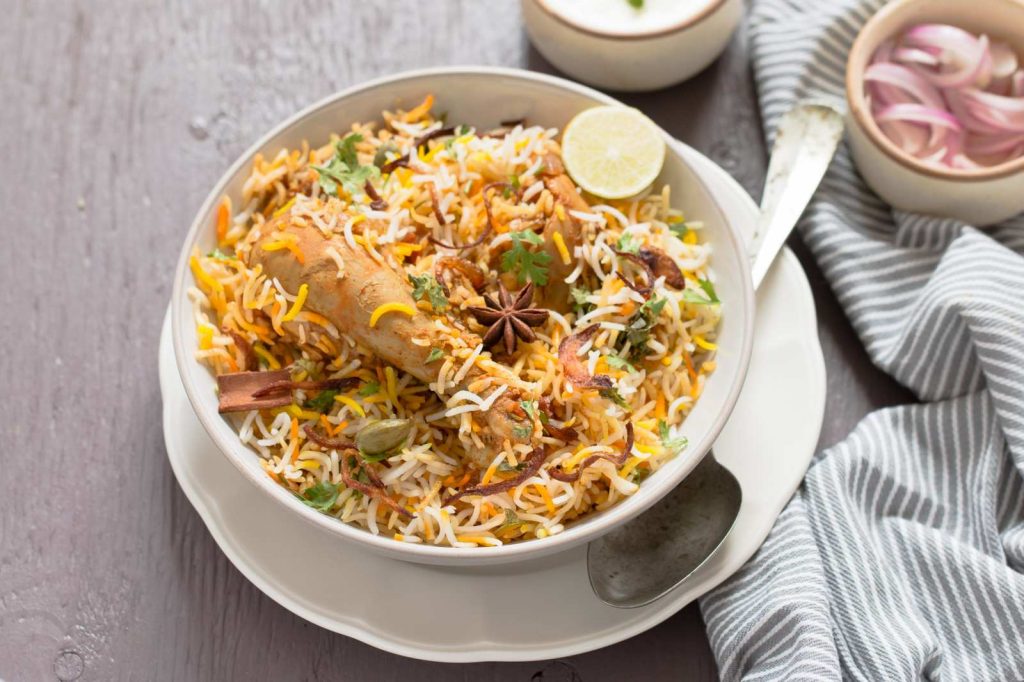 Serves Six
INGREDIENTS
1.5kg Chicken with bones, cut to 8 portions (healthier substitute – skin removed)
2 cups Basmati rice
8 cups Water
100g Low-fat yoghurt (healthier substitute)
1 Large potato, cubed – optional
6 tbsp Canola oil (healthier substitute)
2 tsp Garlic, minced
2 tsp Ginger, minced
Green chilli, to taste
2 inches Cinnamon stick
2 Bay leaves
5 Cardamom seeds
4 Cloves, whole
1g Peppercorns, whole
10g Golden raisins
20g Cashews
1 tsp Black cumin
1 tsp Cumin powder
1 tsp Coriander powder
1/4  tsp Turmeric powder
1g Saffron
100g Mint leaves, chopped
50g Cilantro, chopped
30g Onions, fried
Red chilli powder, to taste
Salt, to taste
METHOD
Wash and soak the rice for a minimum of 30 minutes.
In a pan, bring the water to a boil.
Add the salt, oil, cardamom seeds, bay leaves and washed rice to the boiling water.
Bring the water back to a boil for 5 minutes.
Drain the water from the rice and keep the rice aside.
In a separate bowl, mix the saffron with water (1 tbsp) and leave to soak.
Heat a pan on medium heat and add the oil.
Once the pan is hot, add the cashews and golden raisins and fry for a few minutes until the cashews turn a light golden colour.
Remove from the pan and drain.
Add the remaining spices and fry for under a minute.
Add the cumin powder and allow to sizzle.
Add the ginger and garlic, and fry for another minute, stirring continuously.
Add the washed, cleaned pieces of chicken. Mix well and fry.
Add the yoghurt, fried onions (1/2 cup), cilantro (save some for garnish), mint, green chili, potatoes, as well as the dry spices and salt, while stirring constantly. Mix very well.
Cover and cook for about 10 – 15 minutes (the chicken should be 3/4 of the way done).
Pre-heat the oven to 120°C.
Coat an oven-proof dish with a bit of oil.
Layer the chicken along the bottom of the dish with a few potato pieces (save the gravy for the top layer).
Fluff the rice with a fork, and add half of it on top of the chicken.
Add the rest of the potatoes and all the gravy.
Add the rest of the rice.
Add the cashews, raisins, fried onions, cilantro and saffron.
Drizzle a bit of oil.
Cover with an air-tight lid or foil, and bake for 1 hour, or until the potatoes are cooked.
Remove the dish from the oven, and gently mix the contents with a ladle.
Allow it to sit for five minutes. Serve.


You can reduce the total fat and saturated fat content of the dish by removing the chicken skin and using low-fat yoghurt, and by using unsaturated cooking oil like canola, corn, soya bean, sunflower, and olive oil.
The original dish contains about 25g of total fat per serving, of which 14.5g is saturated fat. The revised recipe will provide 19g of total fat per serving, of which only about 2.5g is saturated fat.
Recipes provided by Catan Tan, Group Executive Chef at Parkway Hospitals