Together with Gleneagles Hospital, Mummyfique hosted its second Bump Club of the year on 26 October. Expectant mums learnt about labour, sleep training and healthy diets, enjoyed a delectable brunch, and a host of other exciting activities.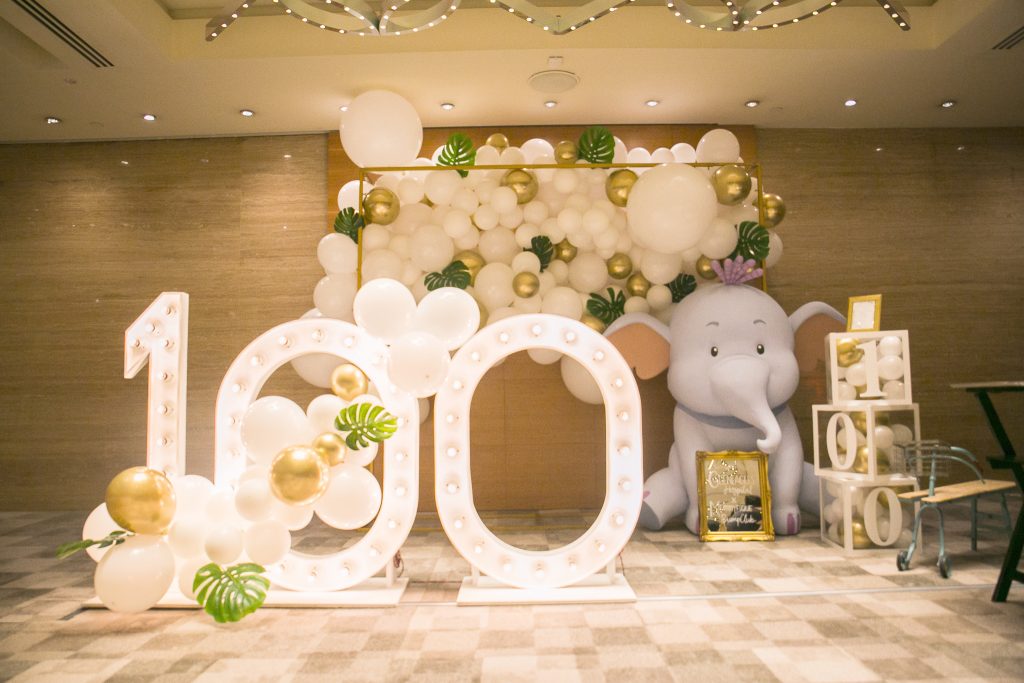 The Bump Club, hosted by the fabulous Sarah Ann K. was held at Grand Hyatt Singapore's Grand Salon. It featured several informative talks by Gleneagles Hospital's obstetrician and nutritionist. Also, SG Supernanny Zoe Chu offered sleep training tips and Love, Bonito showcased their maternity collection.
Apart from taking pictures at the backdrops, the guests also met Mummyfique's curated vendors at their various booths. These include local brands like kidswear label Maison Q, personalised jewellery line EuniqYou and shapewear experts Envy Her.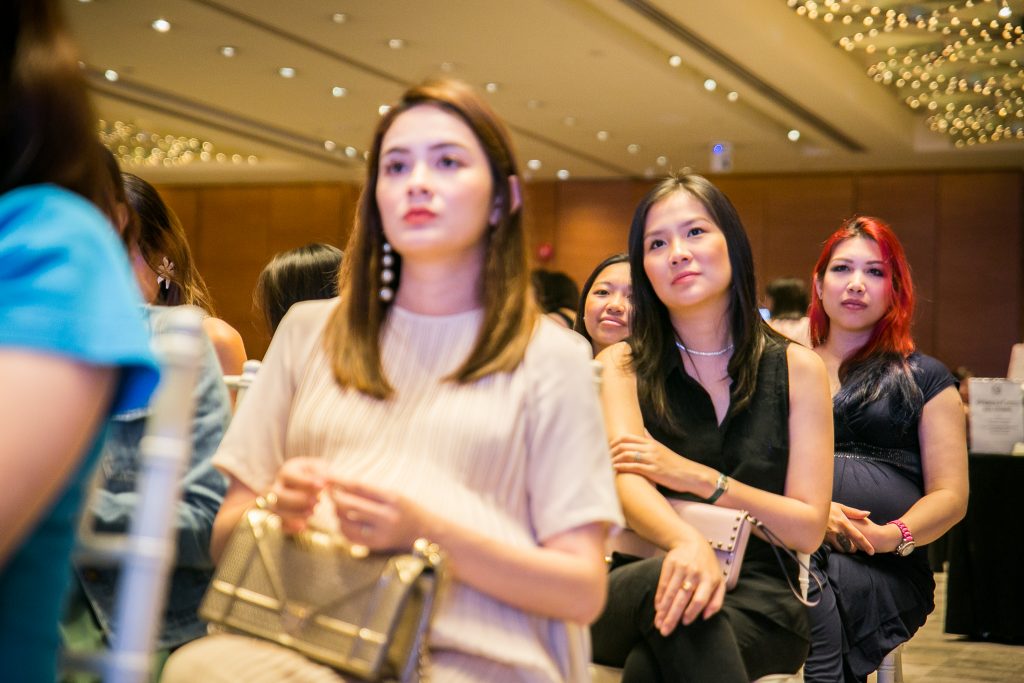 Giving Birth: What Mums Need to Know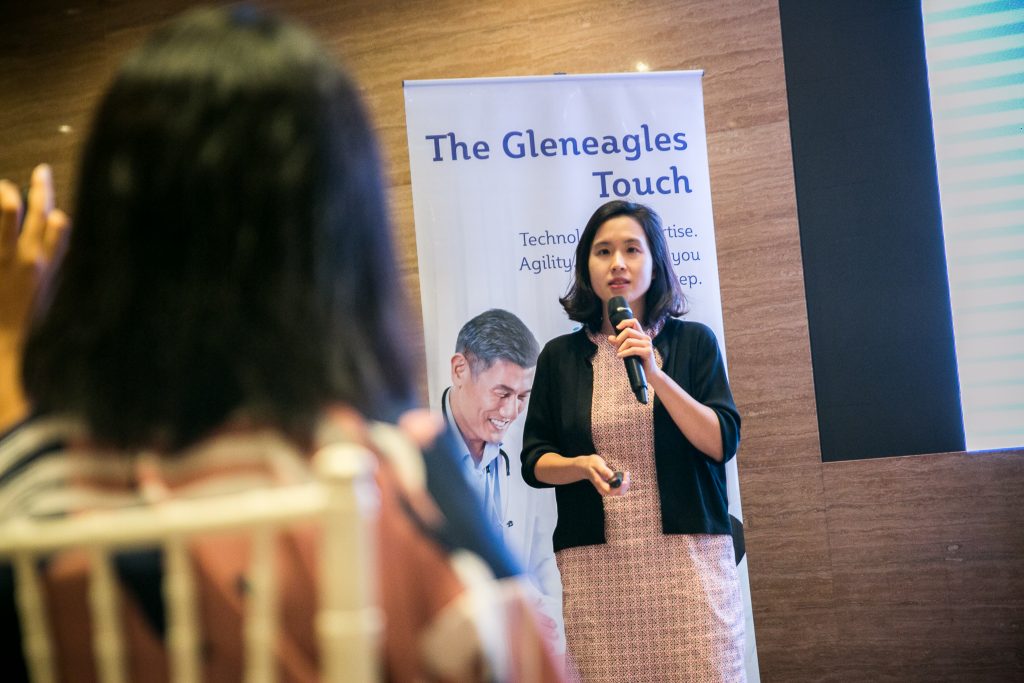 Dr Clara Ong first educated mums on the various stages of labour, which begins with the latent phase, and may include symptoms like passing the mucus plug and abdominal cramps. Once your contractions intensify or the water bag bursts, get yourself admitted.
For pain relief during the contractions that can last up to 12 hours, Dr Ong suggested a few non-medicated and medicated options. The former includes aromatherapy and water immersion, while the latter comprises laughing gas or nitrous oxide, pethidine injections or epidural. 
Finally, your baby and the placenta are delivered. The vernix, a waxy, cheese-like substance your newborn is covered in, is left on for up to eight hours to nourish your baby's skin.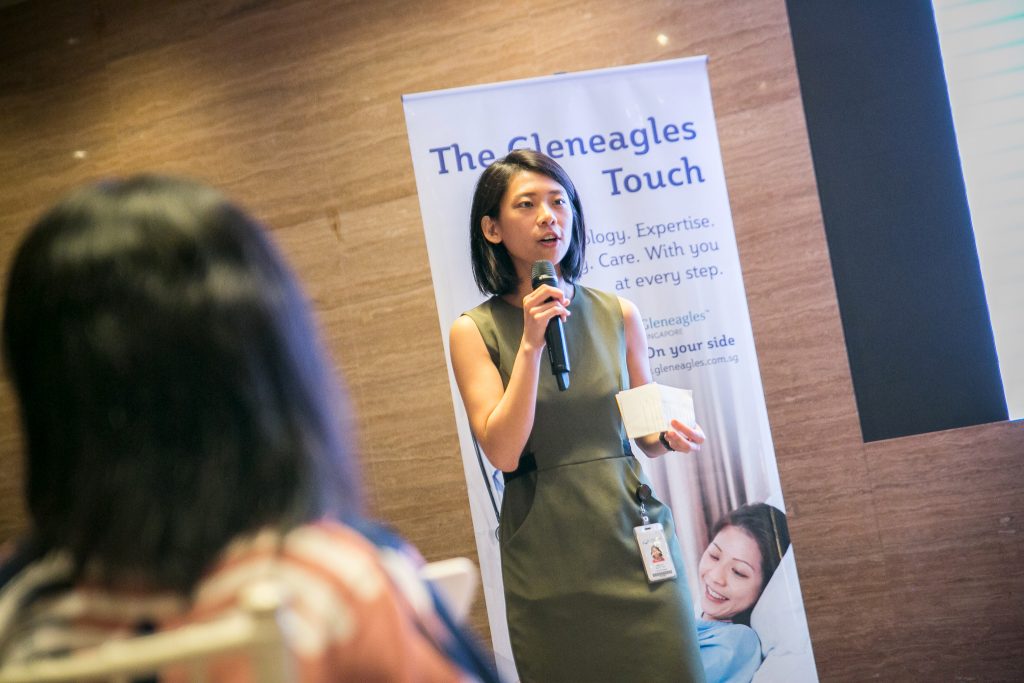 Secondly, Daphne Loh debunked the "eating for two" myth, and recommended increasing daily intake by just 370 and 480 calories in the second and third trimesters respectively. Of course, it's vital that mums get sufficient protein, iron and calcium. 
She advocates getting three and a half servings a day of protein, which builds muscles and tissues. For example, one serving might be a palm-sized portion of meat or fish, or two blocks of tofu. 
Next, mums should target to intake 45mg of iron and 1,000mg of calcium from dairy or calcium fortified non-dairy sources. Ensure you take calcium and iron supplements two hours apart. Lactose intolerant mums should drink half a cup of milk at a time. 
Love, Bonito Fashion Showcase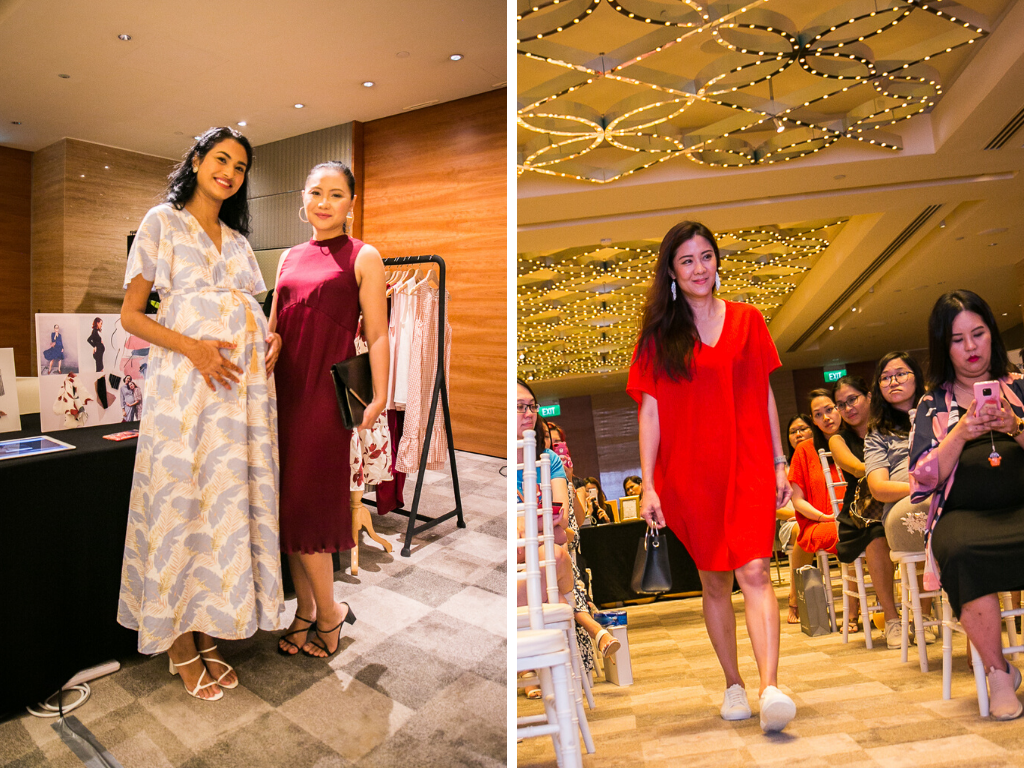 Local fashion brand, Love, Bonito, showcased three stylish looks from their Embrace, Maternity collection with a mini fashion show. Specially designed to accommodate the growing bump, the collection helps mums look and feel their best throughout their pregnancy. 
Especially for Mummyfique readers, shop Love, Bonito's EMBRACE Maternity collection in store or online, and get 10 per cent off! Simply use the code LBXMUMMYFIQUE. Do note that terms and conditions* do apply. 
How Your Baby Can Sleep Through the Night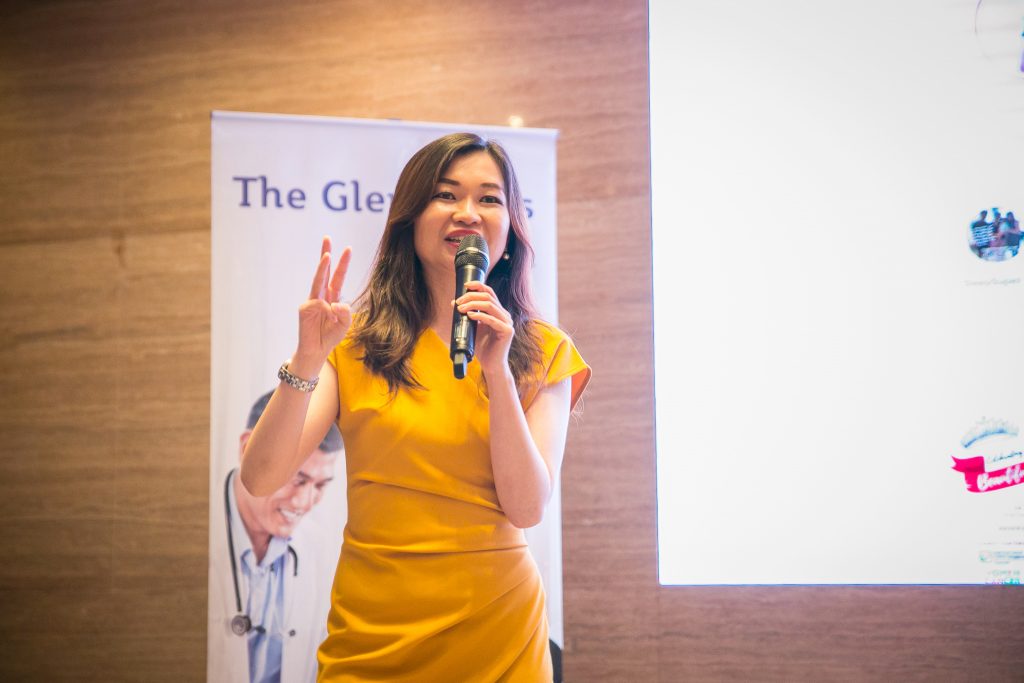 Next, Zoe shared some useful tips on how to get more sleep after pregnancy. For example, avoid cuddling, rocking or feeding your newborn to sleep. Instead, let them self soothe to fall back to sleep on their own. Newborns should get about 16 to 18 hours of sleep, and should only be awake for 30 – 45 minute intervals. Another way to establish good sleeping habits is to use the bassinet or cot only for sleeping, and not playing or changing.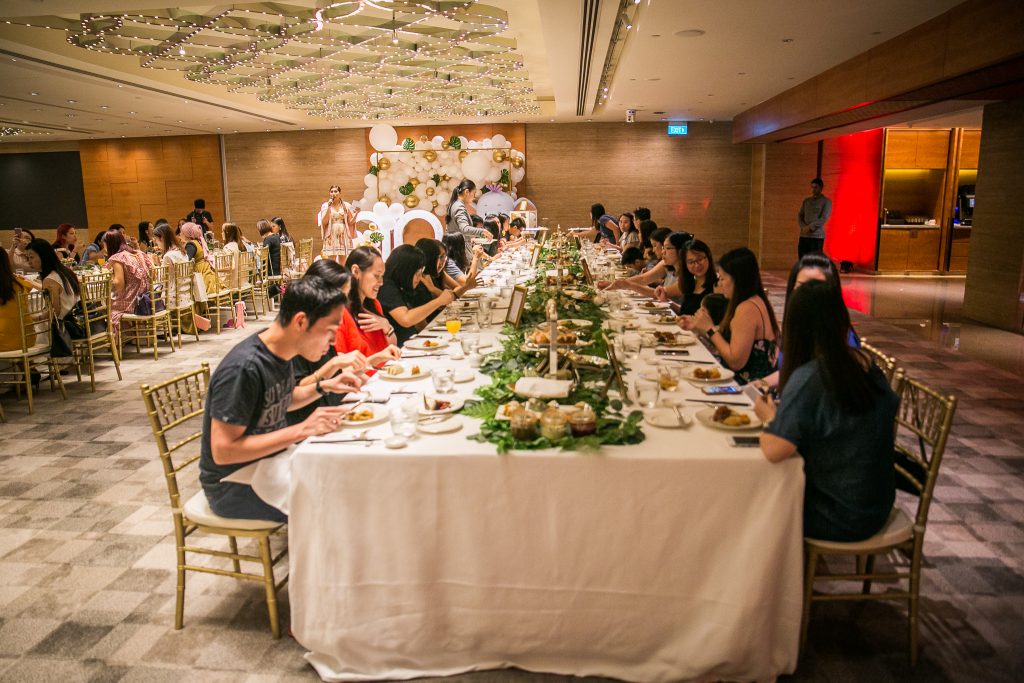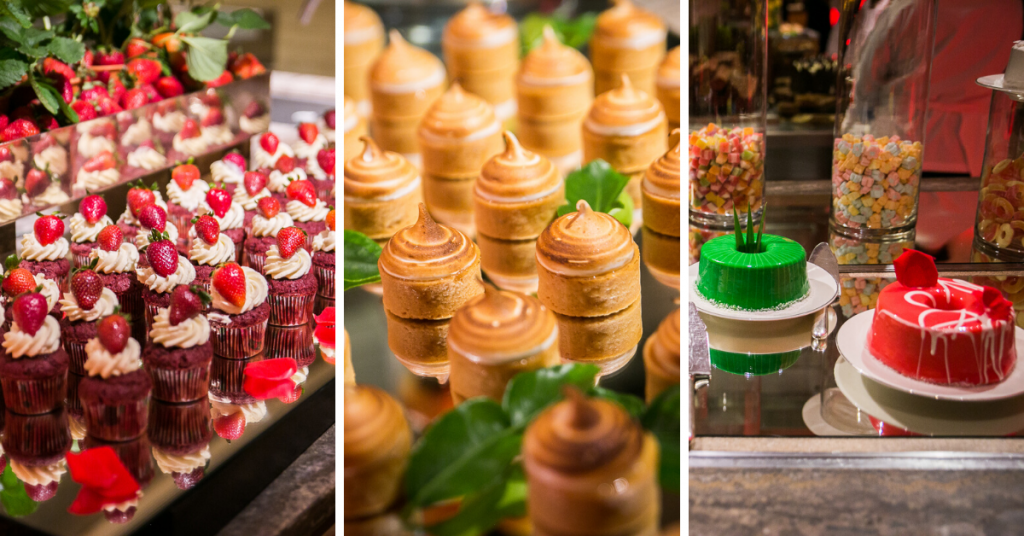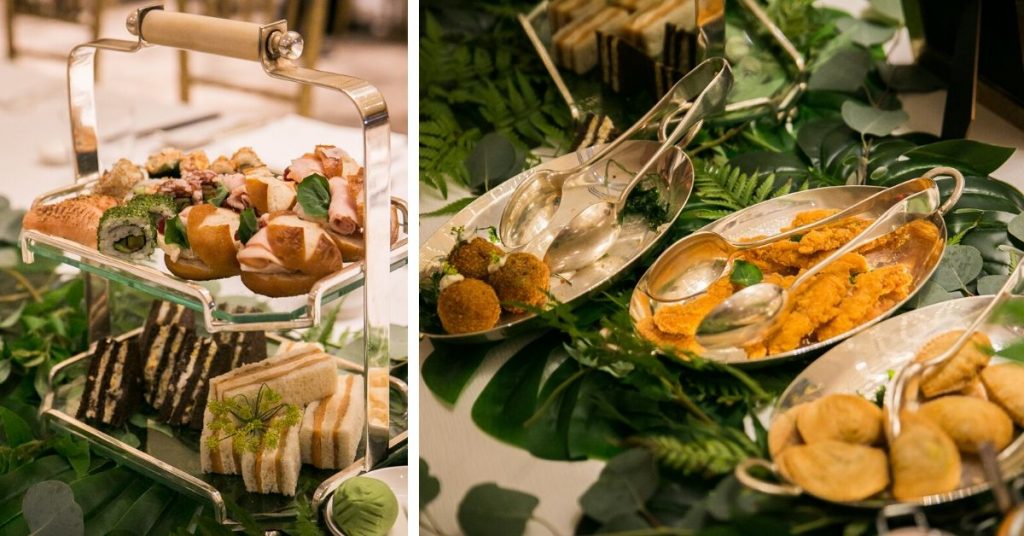 Time to eat! The spread was not only visually stunning but also delectable, comprising noteworthy dishes like the penne pasta and delightfully crispy popcorn chicken. 
Equally yummy were the desserts, comprising the perennial favourite, red velvet cupcakes with cream cheese frosting as well as the refreshingly tart lemon meringue pie.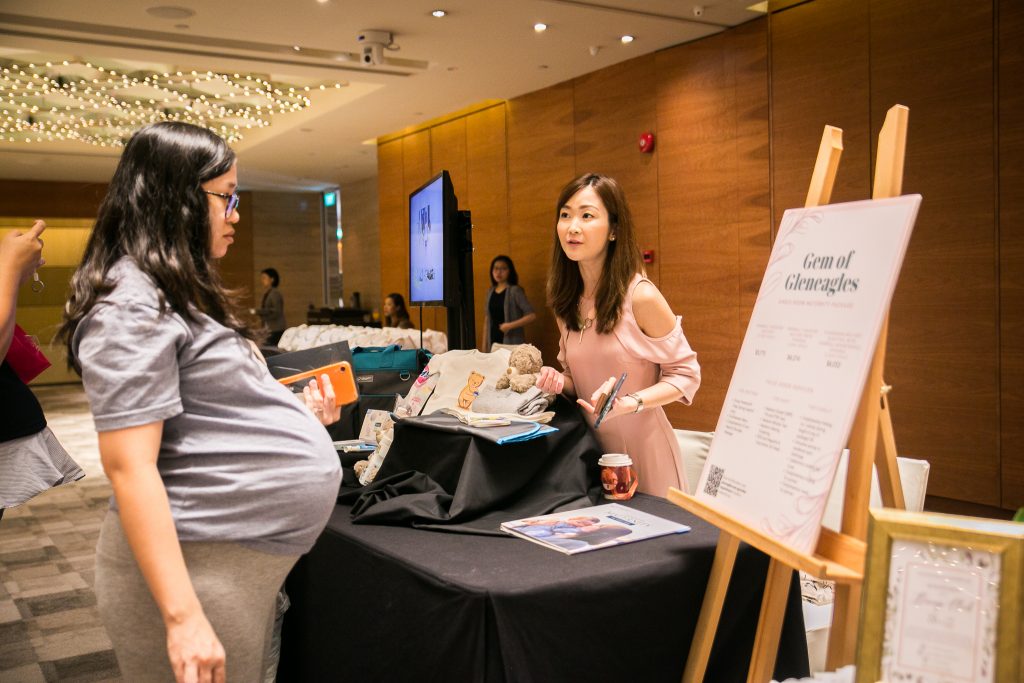 At the booth, mums watched a video on the maternity journey from their bump to baby so they would be better prepared and educated about the process. Gleneagles also showcased their Single Room Maternity Package, that includes additional services for families. Examples of these include parking or limousine service, accommodation and meals for the partner for the duration of the stay at the hospital. 
Additionally, your newborns can undergo a blood screen, hearing screening, vaccination and bilirubin test for early detection of any conditions. Mums also got a super special peek into the delivery bag items they'd get when they deliver at the hospital. 
Find out more about the maternity packages and book a maternity tour here.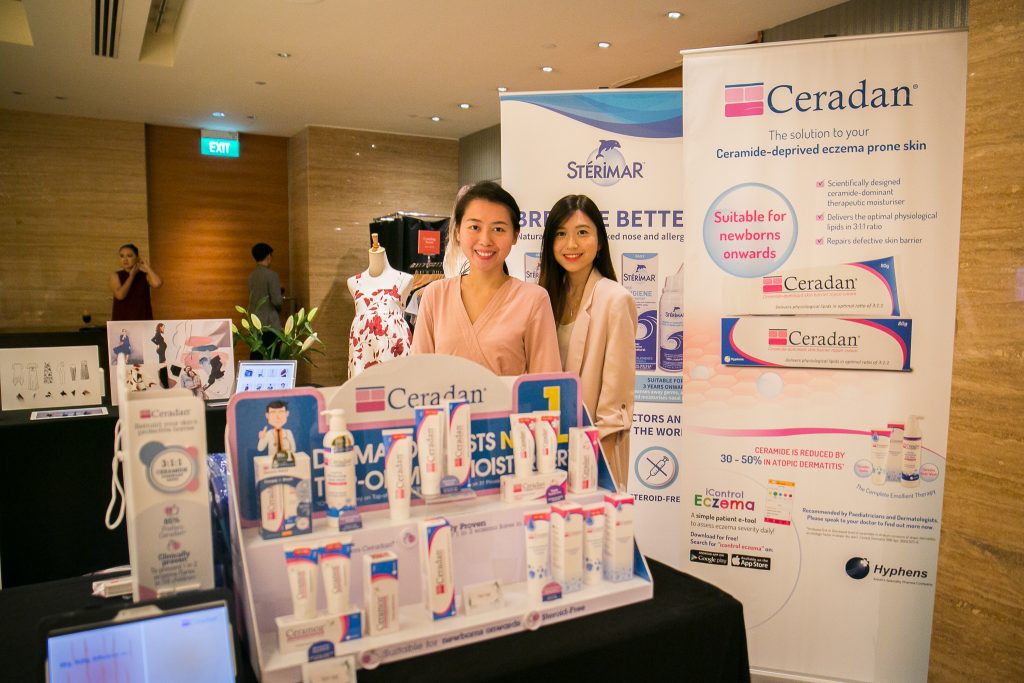 Take care of baby's delicate skin with Ceradan Skin Barrier Repair Moisturiser. This replenishes the skin's ceramide and natural pH levels,  effectively reducing eczema symptoms for all ages, including newborns.
Additionally, easily clear your infant's nasal congestion and preventing colds with Stérimar's Breathe Easy Baby nasal spray. To achieve this, the award-winning, and completely natural formula disperses fine, purified sea water droplets into the nasal passages. 
Tired mummies enjoyed a pampering shoulder massage by the expert team at Bodywork Medicare, which specialises in prenatal and postnatal massages. These massages can help tighten and tone loose tummy muscles, reduce postnatal depression and stimulate milk production to aid in breastfeeding.
These yummy, low-sugar treats from Yummies4Mummies are made of quality ingredients such as oats, brewers yeast, coconut oil, chia and flax seeds, which work together to improve the quality and supply of breast milk. Additionally, all these yummy cookies and granola are packed in convenient resealable pouches. 
Another interesting activity was creating fabric charms at Maison Q's booth. Here, guests chose the fabric, shape and combination and transformed leftover fabric into their own unique fabric charms. 
What we love about Maison Q's kids' clothes is their versatility, where each outfit is reversible, thereby maximising its utility and wear. Futhermore, each of these 100 per cent cotton garments are lovingly crafted, and are suitable for children from one to eight years old. 
Distressed by postpartum hair loss? Regain your luscious locks with Leonica K's treatment cream and tonic, which nourish the roots, balance the scalp and minimise excessive hair fall. Complementing these are the steamer and infrared light for better absorption. For best results, pamper yourself with weekly treatments. Of course, use their products like the Peppermint Shampoo, Intense Conditioner and the Scalp Serum at home – they smell amazing.
At the Bump Club, mums were fitted for lingerie and shapewear designed by local brand Envy Her. While the exclusive Wink® shapewear helps with postpartum recovery, and figure shaping, the supportive maternity bralettes are supportive and the one clip design makes it easy for you to nurse your newborn. 
Want an unforgettable keepsake? EuniqYou transforms your scribbles, handwriting and unique hashtags into super personalised jewellery you'll love. Turn your child's handwriting into a bespoke bracelet!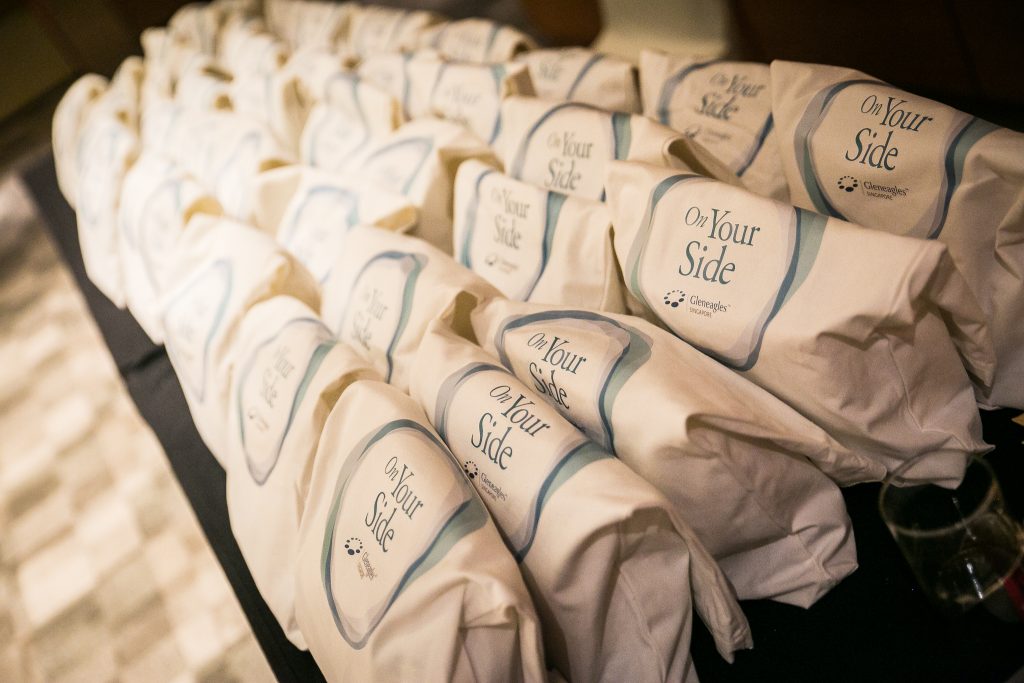 At the end of the brunch, guests also brought home a swag bag from Gleneagles. Inside, they received a massager, umbrella, travel adaptor and cup sleeve from Gleneagles Hospital, vouchers from Love Bonito, Yummies4Mummies, Dreams & Doodle and a notebook or cardholder from Bynd Artisan.
Many thanks to our sponsors for the pre-invite kit: robe from Peony Blush, flowers from Petals & Foliage, candle from The 1872 Clipper Tea Co., personalised necklace from Euniqyou, and nail wrap from Nodspark.
*The T&Cs are as follows : Offer is valid only across promotion period with no minimum spend valid until 31 January 2020 online at www.lovebonito.com/sg or at the Love, Bonito Singapore store(s). Offer applies only to EMBRACE Maternity Collection. Offer cannot be used in conjunction with other marketing promotions and offers. Offer cannot be claimed after the purchase is completed. All purchases at LB Website or the store(s) are subject to LB terms and conditions of sale. For online purchases, discount code must be entered upon checkout. Returns for eligible products can be made and only the discounted value of the item paid will be issued in the form of store credits, credited into your Love, Bonito account. For in-store purchases, products purchased under this promotion (including sale items) are not valid for returns and can only be exchanged. Only products in its original condition with the product tags still intact will be valid for exchanges in the store(s) within 30 calendar days. For exchanges, only the discounted value of the item paid will be exchanged.