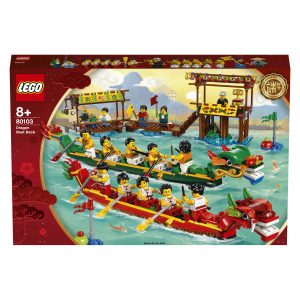 LEGO and Dragon Boat Race enthusiasts rejoice – LEGO® Singapore releases the highly-anticipated LEGO Dragon Boat Race, today. Priced at S$84.90, the Dragon Boat Race set commemorates the traditional Dragon Boat Festival. The LEGO set is part of the LEGO's Spring Festival series, that features the gold medallion on the upper right corner of its packaging.
The set features two impressive dragon boats (green and red). Each boat features a dragon head with an opening mouth and posable tail, three minifigure seats for the paddlers, space for the helmsman and drummer, along with small wheels underneath for racing. The helmsmen and paddler minifigures are brand new additions to the LEGO minifigure family.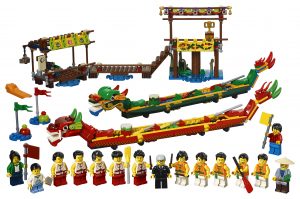 The LEGO Dragon Boat Race set is available at LEGO's online store and all LEGO certified stores in Singapore.