ACUVUE® has launched the world's first truly immersive experience zone, great for both adults and children to have a comprehensive eye check. DOLORES AU and her kids test it out.
It is no secret that Singapore has one of the world's highest cases of childhood myopia among seven-to nine-year-olds. Associate Professor Lee Shu Yen, senior consultant and deputy head of the surgical retina department at the Singapore National Eye Centre (SNEC) shared this in a Straits Times article this year. While we do generally take care of our health, we often neglect the eye health until our vision gets blur. It is often too late once children have myopia. The main contributing factor of childhood myopia is frequent near-work activities. Thus, it's always prudent to get their eye health checked regularly. Fortunately, the husband and I see eye to eye on this. 
Having our entire family's eyes checked is often a half-day, messy affair with five kids in tow. Additionally, most eye stores are ill-equipped for restless toddlers or school-going children with itchy-fingers syndrome. Hence, when I was invited to have my family's eyes checked at the Videre Eyecare store in Forum the Shopping Mall, I needed to suss out for myself if all the good things I've heard about the store was true. Fingers crossed the kids don't make a spectacle of themselves this round.
The Videre Eyecare Experience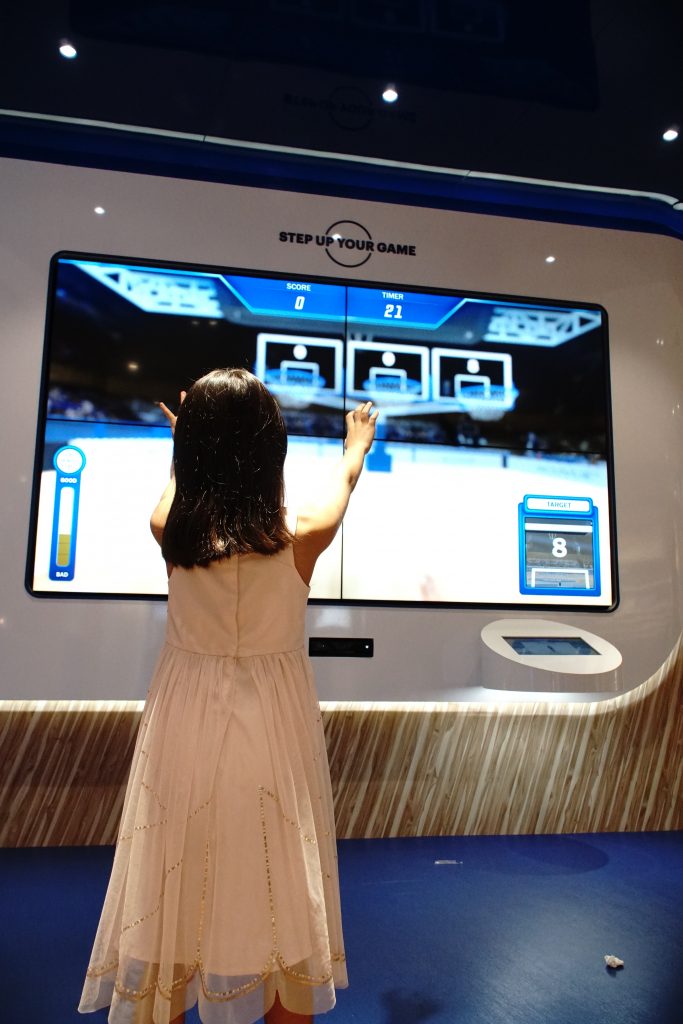 The two older ones could not come along that day so it was just Kira, Charlotte and Laura, ages seven, four and three respectively. First off, the location couldn't be better. The welcoming five-unit store, on the first level of family-friendly Forum the Shopping Mall, was hard to miss. Secondly, walking into the store was like entering into an entertainment hub for the kids.
The ACUVUE® experience zone was brilliant, informative with loads of interactive entertainment. Its multi-media installation aims to educate consumers about contact lens health and myths, while the touch-screen feature helps to personalise our contact lens search and pairing efforts. And no, you are not seeing things – at least not yet –  those personalities on screen are indeed our national athletes. The interactive sporting arena featuring basketball player Ng Han Bin, high jumper Michelle Sng and footballer Irfan Fandi aims to simulate the challenges of playing sports when one has impaired vision.
Why do I think that it's so brilliant? The kids were distracted while Videre Eyecare's in-house Senior Optometrist Chua Yee Leen thoroughly checked my eyes.
The adult eye health examination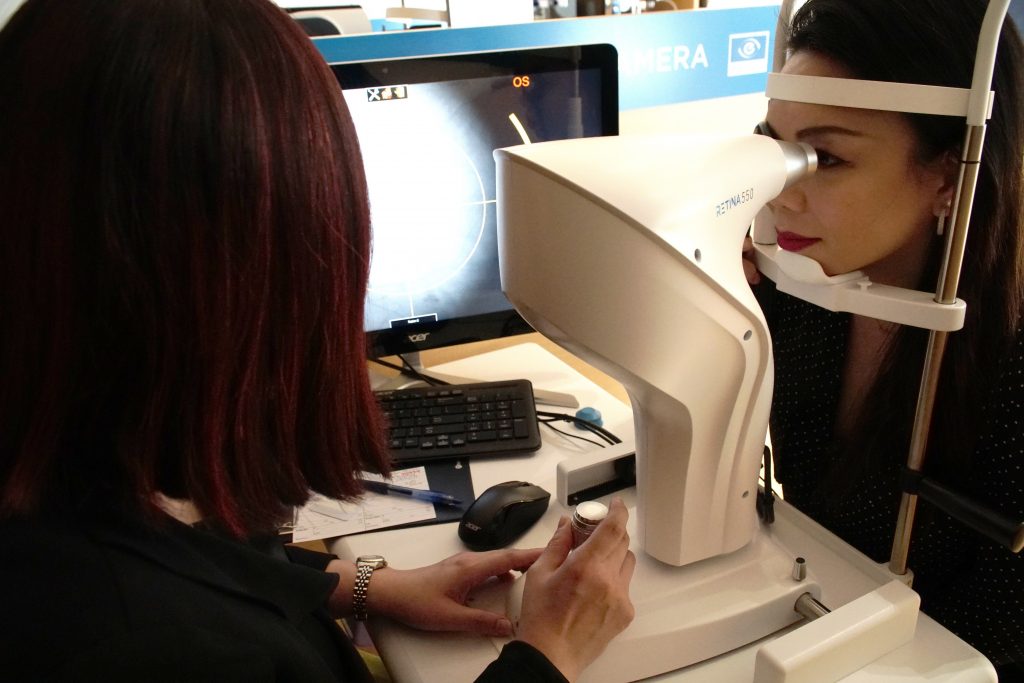 I am not new to eye health checks and have done them in Singapore and in the United States. Personally, I have always felt that American optical shops have a more holistic approach. In comparison, Singapore's general eye health examinations at the local shops lack the depth and range of checks necessary to spot eye conditions like glaucoma, cataract and even diabetic retinopathy. For the first time ever, I am happy to stand corrected. 
Videre Eyecare offers a comprehensive range of eye examinations and services tailored for all stages of life. This includes early detection of refraction errors to myopia control and eye disease screening. 
Eye checks according to age
The eye checks start from four years and up, and can be grouped as follows:
I-Gen (four to 16 years old): myopia management, colour deficiency, eye teaming and lazy eye screening
Millennials (16 to 34 years old): digital eye fatigue, colour deficiency, eye teaming and lazy eye screening
X-CLUSIVE (35 to 44 years old): digital eye fatigue, cataract detection, glaucoma and diabetic retinopathy screening
S-CLUSIVE (45 years and above): presbyopia management, cataract detection, glaucoma, diabetic retinopathy and age-related macular degeneration screening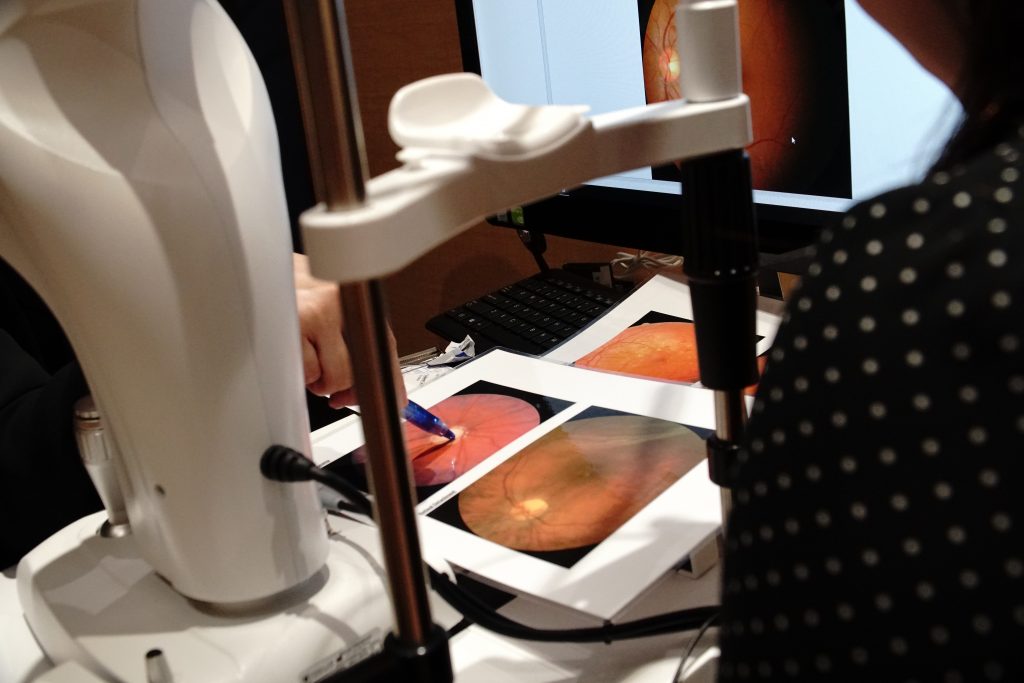 I fall on the higher band of the X-clusive benchmark so I had to go through three sections of detailed checks. These focused on detecting problems associated with digital eye fatigue, glaucoma screening and early signs of cataracts. Almost immediately, Ms. Chua could tell that I probably have more than one eye condition. Besides presbyopia (an age-related condition or lao hua in local context), I also have hyperopia – farsightedness.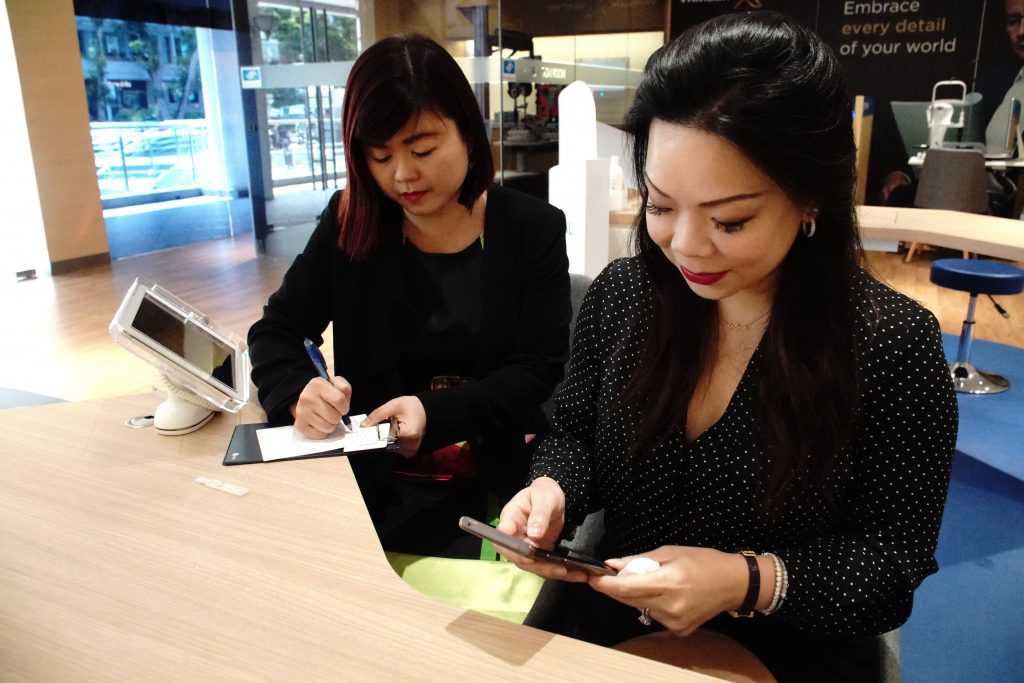 Ms. Chua patiently explained the examination processes, the readings and even prevention advice. I've never worn contact lens in my life, as I've had my reservations about sticking plastic onto my eyeballs. Well, Ms. Chua assuaged all my concerns as she took me through the product explanation and the fitting was a cinch – so easy that I felt silly for my initial reservations.  
I tried the ACUVUE® OASYS 1-DAY disposable lens for both presbyopia and hyperopia and I took to it immediately. It was pliable, moist and no discomfort at all. After a few minutes of visual adjustment, I could actually read the tiny words off the small ACUVUE® lens packaging without my usual lao hua spectacles. At the thought of not having to bring my reading glasses to candlelit dinners and formal events, I felt like grabbing every available pack they have.
The children's eye health examinations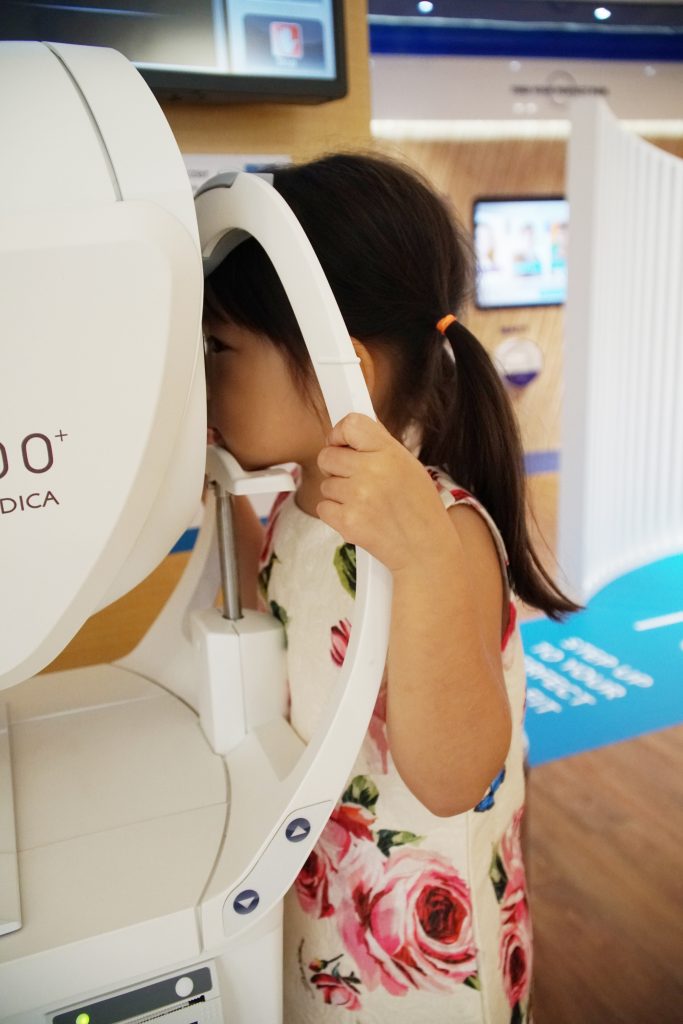 Now that I have found my vision partner for life – thank you, ACUVUE® – through Videre Eyecare, it was time to check on the kids. I did not have to worry at all. The professional staff took care of the kids and helped them with some of the eye health examinations. These friendly, amiable ladies were obviously well-prepared to manage younger kids. Unlike previous eye checks, Charlotte was very comfortable with the tests, and did not kick up a fuss. Thankfully, Ms. Chua gave her the all-clear. 
Kira, who is in primary one this year, had slightly blurred vision in her right eye. Thus, Ms. Chua referred us to an ophthalmology partner for further checks to eliminate possibilities of other visual anomalies. 
I'm not easily impressed, especially with my long-held notions about the quality and affordability of general eye care support and health examinations readily available to the public. However, in the last few years there has been a concerted push by the government to focus on addressing the issues of myopia in Singapore, together with private efforts in creating awareness and advancing best practices through the recent advancements in optometry. Videre Eyecare has taken a bold step in the right education to bring affordable, quality and life-changing eye care to the public and I will gladly recommend the Videre Eyecare experience for the entire family.
Book an appointment at Videre Eyecare for a comprehensive eye check and contact lens fitting for super clear vision here. 
Relevant Reads: How to know when your child needs an eye exam and what causes children's eyes to be itchy.