They promise to lift your bust, flatten your tummy and give you an instant hourglass figure – XINDI SIAU tries out various D'Elegance shapewear. The results, she says, are amazing.
The idea of shapewear has always been like a dirty little secret. Everyone needs them, wants them, yet not many are willing to admit to owning any. Before Hollywood glamourised them into a red carpet necessity, my idea of shapewear has always been a conflicted one. With a tarnished reputation that shapewear was made to disguise flaws, this stigmatised impression unfortunately managed to shadow its merits of enhancing the good bits as well. I have always been intrigued by these amazingly constructed pieces of undergarments. There is something rather provocative about a lady in a bone corset and balcony bra that nips in her waist, lengthens her posture and pushes her décolletage to its fullest potential.
As someone of a petite frame, I could never find something that fit, and my first shapewear piece felt like a pair of exercise shorts. Subsequently, my various failed (and expensive) attempts involved those that pinched, rolled and basically just pushed the bulges around, rather than achieving a desired streamline figure. I ended up suffocated, lumpy and extremely self conscious. Furthermore, having an active lifestyle – between fashion styling which requires a lot of leg work and teaching yoga part time, had me rather complacent.
After giving birth, although I was rather lucky in the weight department, my body shape had changed entirely. I had breasts – yay –  hips, tummy and inner thigh fat I never knew I had – not so yay. I toyed around with various form of shapewear. I velcroed, tied, wiggled, hopped into, and hooked myself into these said recommended forms. All felt like a punishment for vanity.
Google 'shapewear', and D'Elegance will be a name that pops up. As a familiar brand name, I was excited, yet still scarred from past experiences. Will I find something that fits me, is it another uncomfortable contraption, what can I wear with these? I even skipped that week's gym classes thinking that once again, I will not be an ideal candidate.
First impressions
D'Elegance operates strictly by appointment only. And I quickly realised that this is to ensure every customer gets their full customised experience and attention. The idea of this initially daunted me, as I was used to buying my shapewear on the sly, away from judging eyes (which was all in my head). However, this dread was laid to rest, with the warm and friendly disposition of the fitting consultants at D'Elegance.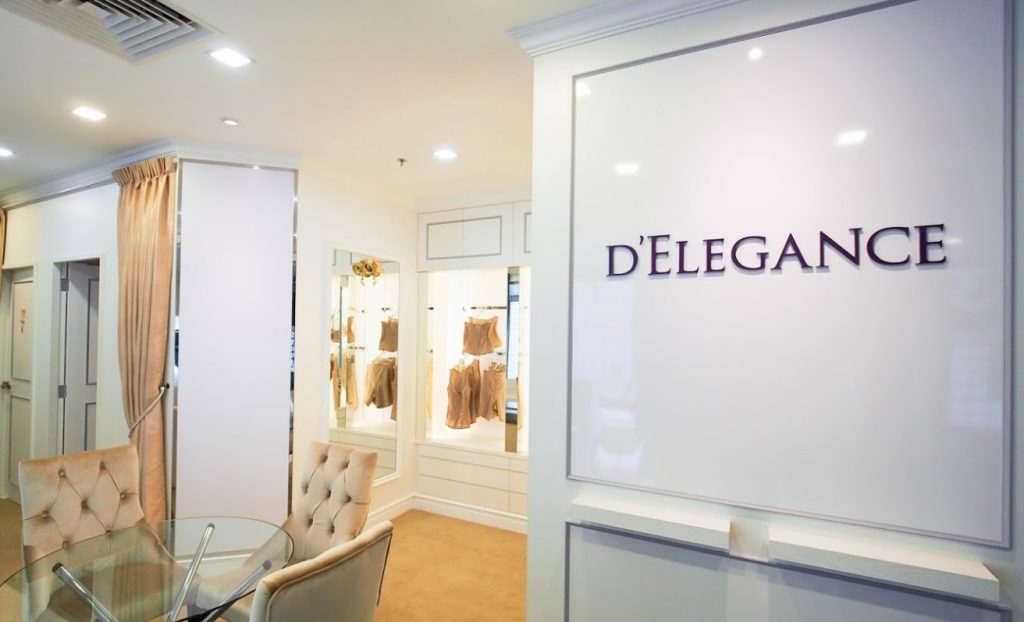 I was brought to one of their private consultation room by Angie, my consultant for my session. After a friendly self-introduction, I was given a basic questionnaire to fill up about my lifestyle and expectations. We proceeded to take my body measurements, while enjoying casual conversation, that got me relaxed.
Fit, form, comfort and fashion
Based on my body measurements, she brought me a basic set comprising a high-waisted long girdle, bodysuit and bra, to fit. The girdle was surprisingly easier to put on than I had expected. With a few adjusting tugs, Angie then proceeded to show me how it should be properly worn, and where the moulding of the panty should fall under and over.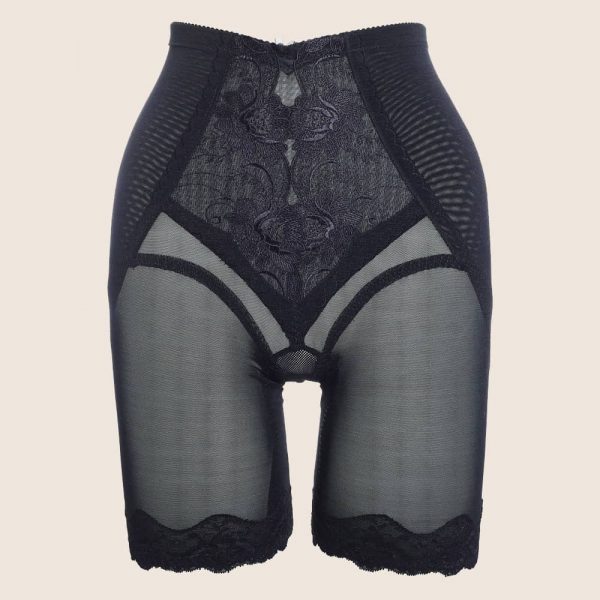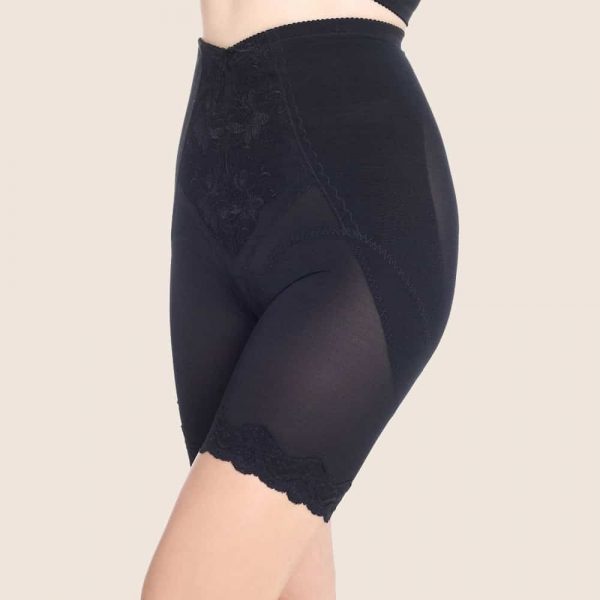 As D'Elegance founder Elida further explained, using WinCool technology (the special fabric can lower skin temperature by up to two degrees Celcius when worn), the shapewear is catered to suit not just our uniquely hot and humid climate. In addition, the 3D sculpted cut helps to enhance our curves comfortably, to lift and sculpt our individual bodies.
As such, the panty was snug, but surprisingly light, and I did not have the problem with it cutting into my flesh. Nor did it show any unsightly bulges. As a result, my hips and thighs were more streamlined than I expected, and my waistline was reduced by two inches.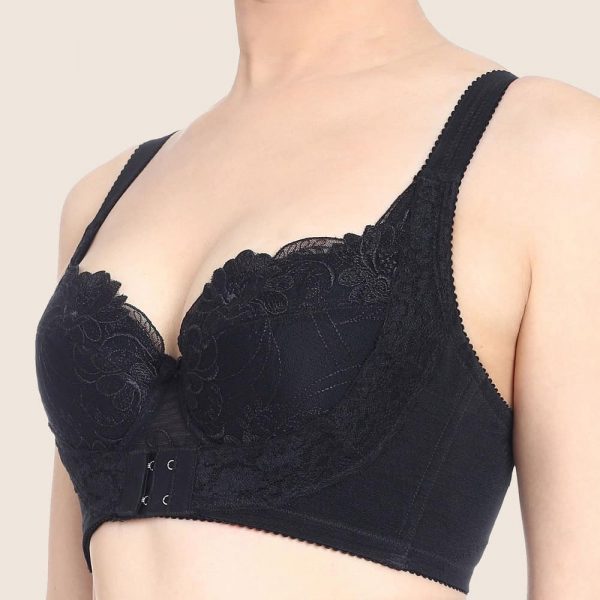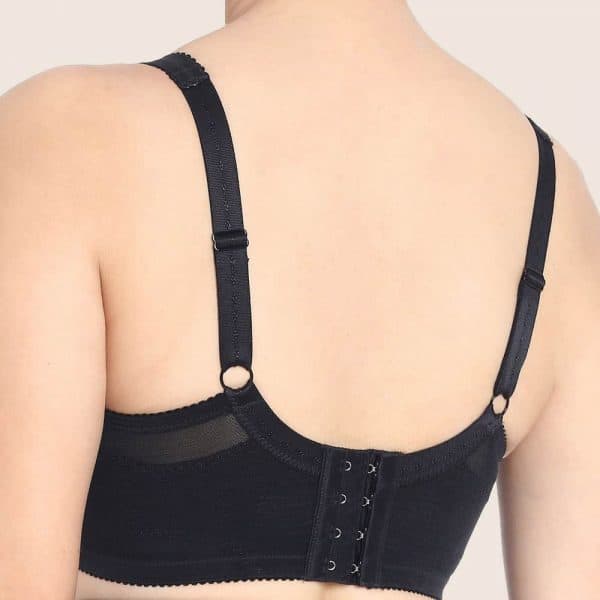 Next came my favorite part – the bra. As a natural B-cup girl, I was mostly glad that I ended up fitting into their D-cup bra. Angie explained how our natural bust volume is (literally) spread thin over time, 'escaping' in bulges to the back and sides near our armpits. With a few pulls, jiggles and tugs, we brought the girls back home to where they belong. The result: A fuller bustline, cleavage and no more back fat and underarm bulges. Furthermore, aesthetic-wise, the black balcony bra had an old Hollywood feel, which I love.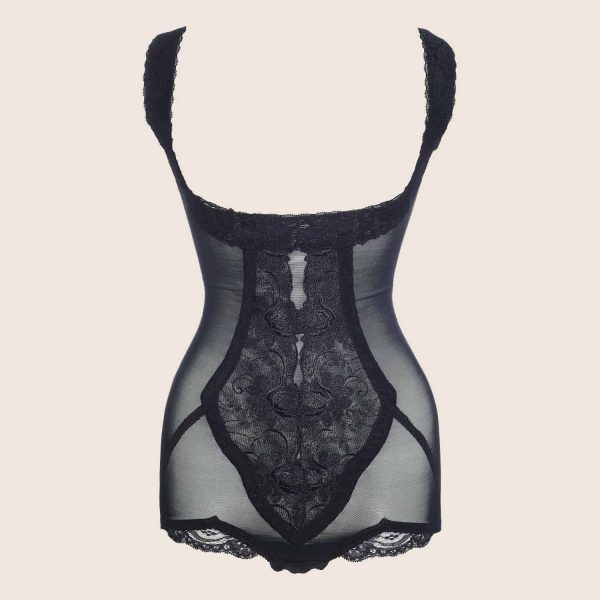 Finally, to pull it all together came the bodysuit. Initially, the idea of wearing a three-piece shapewear set, made me think I might feel like an encased sausage. I was honestly surprised to be shown otherwise. The bodysuit, made from the same Wincool material was snug but not uncomfortable.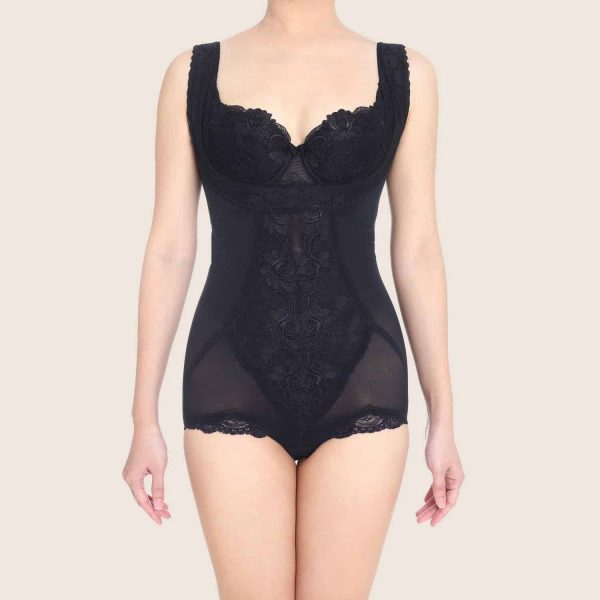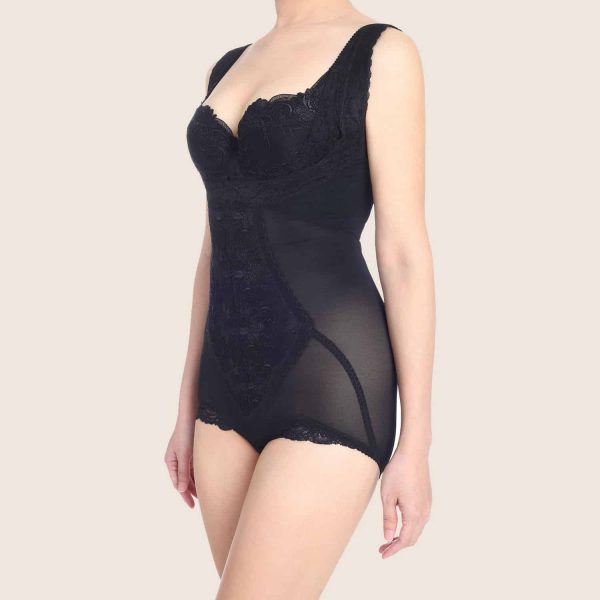 What it did was streamline my body shape, as well as gently supported my overall posture. My body shape was visibly enhanced, I stood taller and my overall demeanor somewhat exuded a subtle new found elegance. I see why they call it D'Elegance.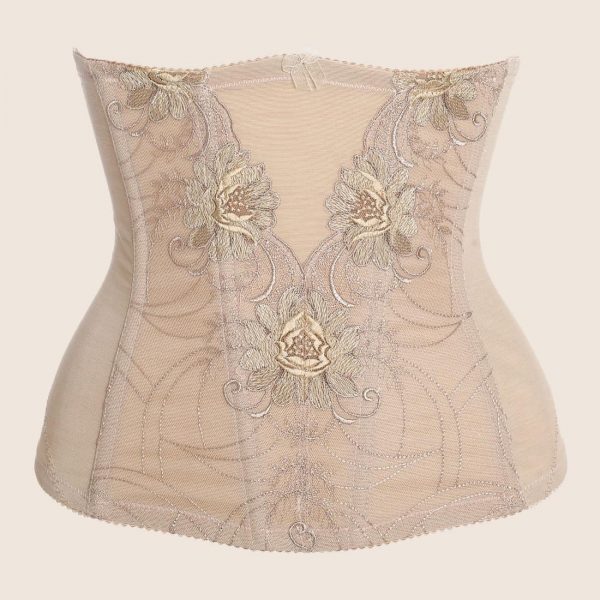 As a bonus, I added on an extra waist-slimmer corset to my set. Offering similar support as the bodysuit, the corset and bra are in nature more restrictive due to its boning and hooks. It offers back support and control to the waist and tummy – great for my postpartum tummy issues. I now wear these during the day, and it definitely helps with maintaining my posture and reminding me to keep my back straight. As a result, it prevents many common 'mummy' injuries.
Results
I wore the long girdle and bodysuit for approximately eight hours daily for the first three days (including sleep hours). As these two garments do not have boning or underwire. they are fairly comfortable to keep on during the day, as well as night.
As for the bra and Waist Slimmer, I could only manage up to four hours daily. But in its defence, I never like the restrictiveness of any wired bra, and spend most of my days in a sports bra. Hence the uneasiness was expected.
With D'Elegance shapewear on, my bodyshape did look slimmer and more evened out. And the constant wearing of the pieces did make my waist and hips look smaller after two weeks of constant effort.
My efforts took a pause in the third week. Between being on a beach staycation with my family, and falling sick after, I left my shapewear hanging for a full week.
My previous results took a slight fall, but that was kind of expected. As my consultant did mention, using shapewear is a lifetime commitment and not a quick fix. We have to be realistic with our expectations. Getting back to my shapewear schedule during my fourth week showed improvements once again.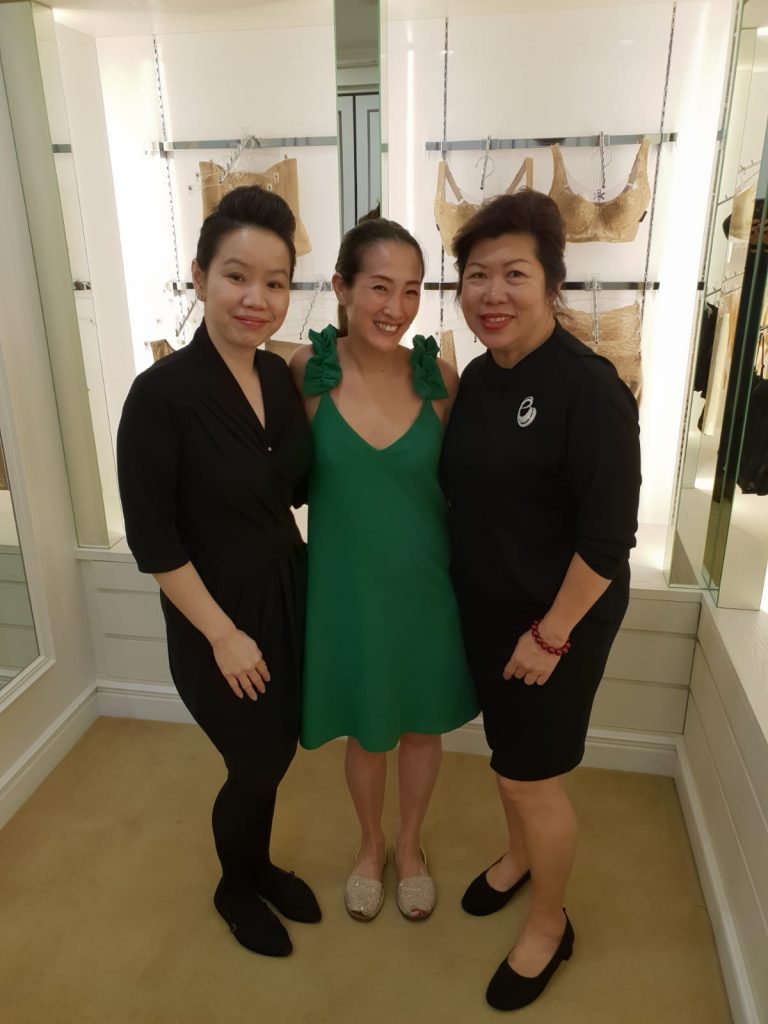 Bottomline
Overall, I like the shapewear from D'Elegance. They may not be the sexiest, or most comfortable pair of underwear I own (not that I wear sexy lacy thongs), but they absolutely work. Compared to the various pieces I have tried over the years, D'Elegance stood out in terms of comfort level and effectiveness.
Here are a few takeaways I have from the overall experience:
·        It take commitment to achieve the results you want. Wear them as often as possible.
·        Be realistic. Wearing these daily, while eating pizza in bed every night, is not going to give you favourable results.
·        Be smart. Wear those with hooks and wires on days that you do not have to be super Mum. I once wore the full set for a day of hectic errands, while strapping my five-month old wriggly son on in a carry-on carrier. I felt more robo-mom than super mom.
·        Show them the care they deserve. These pieces are not cheap, so wash them with care. You will not throw a cocktail dress into the washing machine, will you? Do not do that to your delicates either.
·       Despite the pricey tags on these shapewear (bras start at $298 and a corset will set you back $638), they are worth the investment. It is the next thing closest to your bare skin. And with all the technology and committed research taken to produce these essential undergarments, it is a small price to pay for your posture, beauty and self confidence. You can save some dollars by getting the Essentials Package for $1258, that bundles a bra, long girdle and bodysuit. You save $76 and you get a free panty and enjoy a 15 per cent lifetime discount.
·        Most of the shapewear come in black and nude options, so you don't need to worry about finding the right match for clothes. 
·        Don these in private. I have a very open relationship with my husband and even then, I hide in the bathroom when I put these on. Every lady needs her secrets. Flaunt them the results, but keep the process to yourself.