Tantaslise your tastebuds with juicy steaks, Instagrammable soft serves, super cute Doraemon merchandise and sandwiches and salads for every diet. BY KIMBERLY TAN
The Salt grill and Sky bar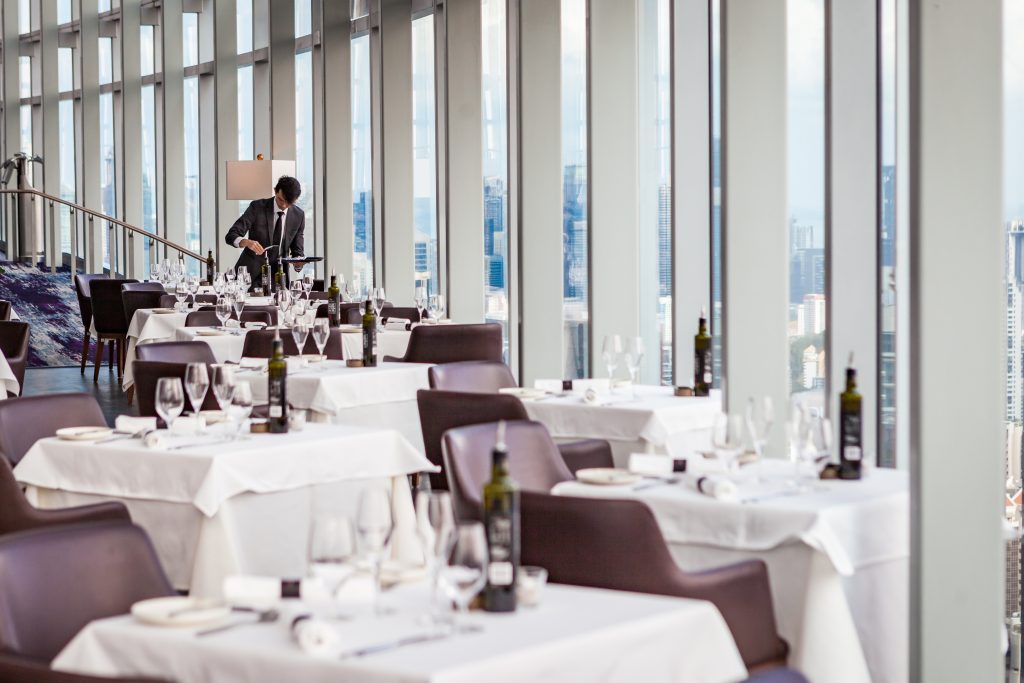 Try the latest set lunch menu at Salt grill & Sky bar, on level 55 of ION Orchard. Begin with starters like the refreshing, cold smoked New Zealand salmon, or the Wagyu tartare. Vegetarians can sample the salted baked beetroot tartare and carpaccio, made with quinoa, almond cream, beetroot gel and raspberry. For an Asian twist, dine on the caramelised pineapple with a Thai salad and pink pepper caramel. 
Onto the mains, our favourite was the delectable Westholme sirloin with Manjimup truffle. However, the Wagyu cut will change daily depending on availability. Other mains include the Margaret River Angus rib eye or the fish of the day, which was a Barramundi cooked in a mussel broth and buttermilk. Want something meat-free? Try the roasted butternut risotto, with pumpkin seed and oil, dried olives and house ricotta.
Complementing these mains are two sides, hand cut chunky chips with herb salt and the house-made ketchup. For a healthier option, try the heirloom cherry tomatoes. 
End the meal with a selection of desserts, like the refreshing lychee sorbet or the banoffee tart. A seasonal option is the Pavlova made with charcoal meringue, and fruits like kiwi and blueberry. Alternatively, if you prefer someting savory, order the chef's selection of cheeses. 
Address: 2 Orchard Turn, #55-01, ION Orchard, Singapore 238801
Opening hours: Weekday lunch 11.30am – 1.45pm; weekend brunch (public holidays too) 11am – 2.3opm; dinner 6 – 9.45pm. Sky bar drinks 11.30am – 10.45pm and bar 11.30am – 9.45pm
To note: Add on a juice or glass house wine for $59 for the lunch set. Alternatively, head over for an indulgent brunch that features some of these highlights. The meat and eggs are all free range. 
To book: 6592 5118 or info@saltgrill.com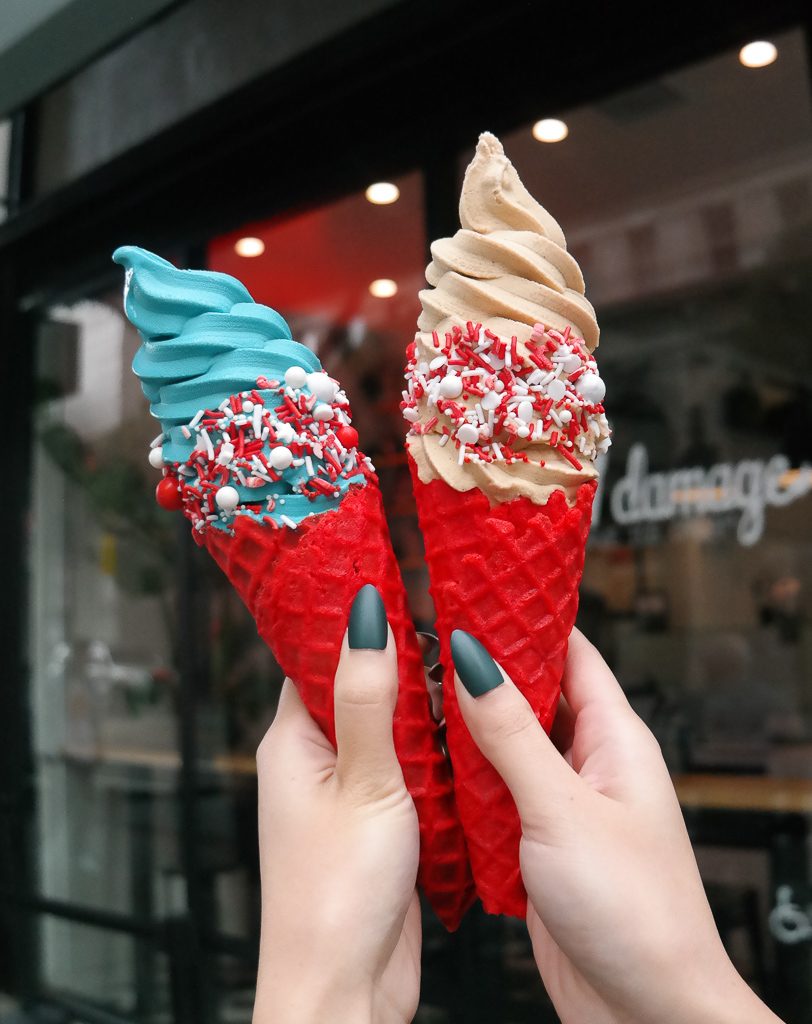 Little Damage, the Los Angeles soft-serve brand, has opened its first outlet in Singapore. Its second space is slated to open in the last quarter of the year. Kids and adults alike will love the soft-serves made from premium ingredients, handcrafted charcoal cones and delectable vegan options. No pastels or rainbow colours here – these Instagrammable creations are goth-inspired. 
This month, try the three flavours in its signature colours – Coffee Caramel in black, Unicorn Tears in blue, White Chocolate, all at $7. Vegans can try the Chocolate and Peanut Butter Banana ($7.50), with soy or nut milk substitutes. These are made in small batches daily, and cones are available at an additional $2. 
Make your soft-serve even more aesthetically pleasing with toppings (the first is free for all toppings except popcorn, which costs $1) like chocolate pearls, Fruity Pebbles, and crushed Oreos. Additional toppings will cost $1 each. Look out for more flavours in the coming months, such as Earl Grey, Churros and Strawberries & Cream. 
Address: 501 Orchard Road, #B1-05A, Wheelock Place, Singapore 238880
Opening hours: 11am to 10pm
More info: Call 6235 0269 or email sg@support.littledamage.com.
Doraemon-Themed Menu at Monster Curry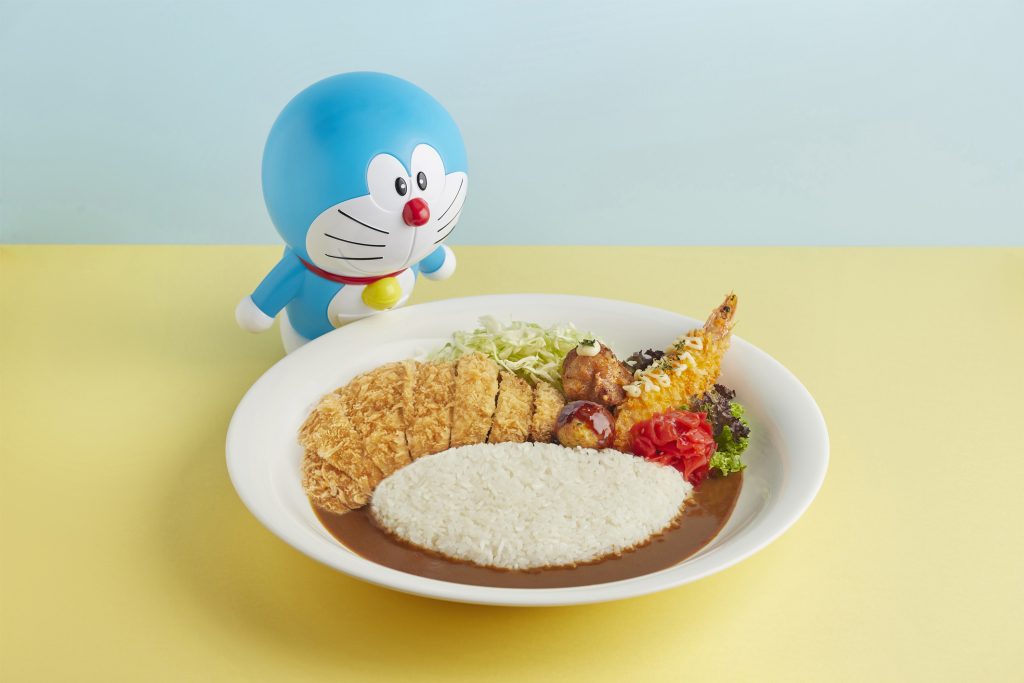 Enjoy a new Doraemon-themed menu at Monster Curry, in conjunction with Doraemon the Move: Nobita's Chronicle of the Moon Exploration. The menu, from now till 30 September, features the Special Combo Curry, Tori Karaage and Takoyaki. First, the Special Combo Curry – which you really should share with someone – is a combination of the most popular toppings. For example, this curry includes fried fish, pork katsu, jumbo fried ebi, tori karaage, and takoyaki, or pork cutlet, fried shrimp, Japanese-style fried chicken and octopus balls. Of course, accompanying the dish is Monster Curry's demi-glace curry, and traditional Japanese pickled radish. 
Otherwise, opt for the Special Single Curry ($15.80), which may be slightly more manageable. Aside from these mains, try the Hokkaido Organic Potato Wedges ($11.80), served with house-made curry mayonnaise. Accompanying each purchase of this dish is a Doraemon container. Other dishes to try are the Curry Ramen, Chashu Curry Ramen, Seafood Fantasy and Prawny Shrooms pastas. 
Children, and fans of Doraemon will love the exclusive merchandise, featuring t-shirts, soft toys, and tumblers ($25, $12.80 and $11.80 respectively). These are only available for dine-in customers though. 
Addresses: Check out the full listing of outlets here.
Opening hours: Every outlet's opening hours is 11am to 10pm.
To note: All prices for the dishes are excluding GST and service charge. For delivery, price excludes GST. All the merchandise is nett price.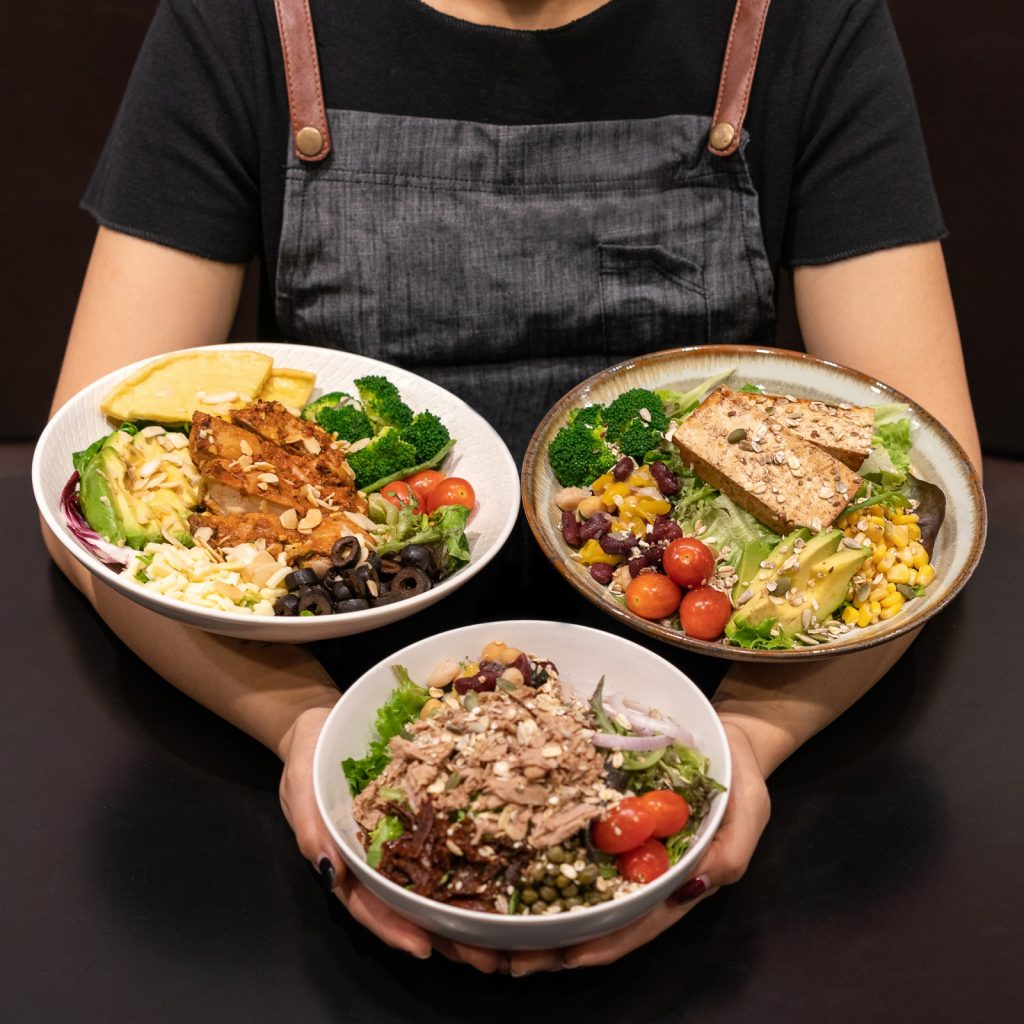 Recently started eating healthier and feeling some despair because of limited food options? Kraftwich's new menu is great for those with dietary restrictions – it caters for vegans, those on Keto, and Mediterranean diets.
To begin with, those on Keto diets can order the Sriracha Chicken Keto Salad (a mini portion at $8.90), with almond bread, broccoli, mozzarella cheese, and avocado to meet your macros. Another great option is the Roast Beef Keto Wrap ($12.90), made also with almond bread, and paired with tomatoes and flavourful mustard.
At Kraftwich, vegans can choose from either the tasty avocado and tofu vegan Kraftwich ($11.60) or salad ($13.60), with multigrain bread and toppings respectively. Both are equally delightfully filling and delicious.
Lastly, if you're trying to get pregnant, you might want to try the Mediterranean diet out, and so the Zesty Tuna Mediterranean Salad ($12.90) would be a great option. 
Addresses: Check out the full listing here.
Opening hours: For all the outlets' opening hours, see the link above.
To note: A regular at Kraftwich? Download their app COMMONS_Sg and get cash rebates, promotions and discounts. Available for use in all outlets.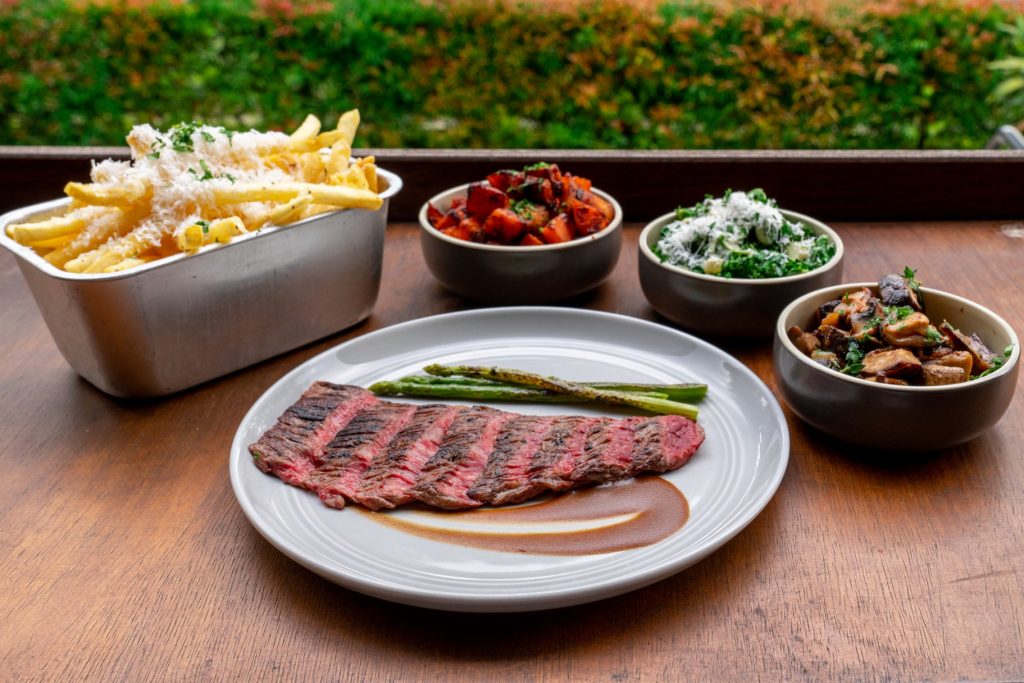 With its new space, Fat Belly has grown from a cosy 10-seater to a 52-seater space. Located in Bukit Timah, this steakhouse focuses on the lesser-known cuts of beef. 
Fat Belly's signatures include the Mayura Signature Wagyu Tri-tip ($55) with beautiful marbling, or the robust Stockyard Wagyu Onglet ($38). Two other favourites are the 100 Day Grain Fed F1 Wagyu Deckle ($45), nicely marbled and flavourful, and the Nipponham Angus 150 Day Grain Fed Flat Iron ($22). 
Pair these steaks with lovely sauces like the Bordelaise sauce ($4) or the Horseradish Crème ($3). The first is made with oxtail, bone marrow, red wine, Madeira and port, while the latter is made with creme fraiche and freshly grated horseradish. Otherwise, having it on its own with salt garnished over it is equally sublime. 
Complement your meal with appetisers like the Baked Camembert Cheese ($13) or Chopped Kale Salad ($14). Of course, a crowd favourite is the staple, Truffle Fries, but a healthier option might be the Creamed Kale (both $5). End off the meal with sweet treats like the delectable homemade Tiramisu and the Basque Burnt Cheesecake (both $12). 
Address: 10 Jalan Serene #01-04 Serene Centre, Singapore 258748
Opening hours: Closed on Wednesday. Opens at 6pm every day, and closes at 10pm from Sunday to Thursday, and 11pm on Friday and Saturday.
To note:
To book: Call +65 6314 2247 to reserve a table, or book online here.