When she first learnt that her newborn baby had a rare congenital eye disease that would make her almost blind at birth, she was in denial. But Mary Lim became determined that her daughter would "see this world". By DOLORES AU
The one thing that all Mums wish for their babies, is that they be healthy with no physical disabilities. Hence when Mary Lim found out that her daughter, Adelyn Koh, was born with a rare congenital eye disease, leaving her almost blind from birth, it was hard for her to accept. Once the realisation set in, Lim was determined that her daughter would "see the world", on her own terms. 
Today at 18, Adelyn, is one of the most famous blind people in Singapore. She is an accomplished singing sensation who has hosted and taken part in the President's Star Charity show from 2010 to 2013, and cut two music albums. She is also the lead singer in Singapore's first ever full inclusive music video, Fire in the Rain, by National Council of Social Service. It's part of a national campaign to actively promote disability inclusion.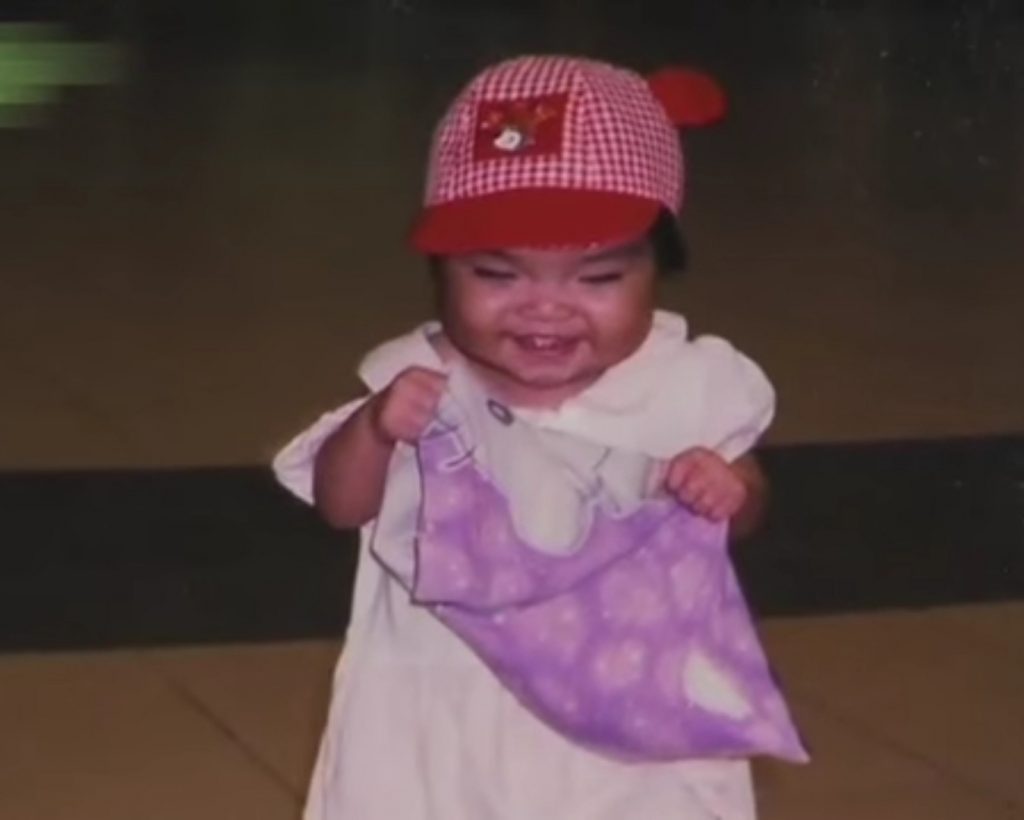 Adelyn was born with Peters Anomaly, an abnormality of the eye which develops at the embryonic stage. It causes opaque corneas, and nearly half of the individuals who have it have very low vision early in life. About a quarter are legally blind. The disease is rare, and according to an article in The Straits Times, there are only one to two such cases in Singapore a year. Back in 2001, hers was the second diagnosed case in the nation. Corneal transplants are the only way to restore vision. Her mum tells that to date, Adelyn has had 10 procedures, but they have been unsuccessful due to infection or rejection.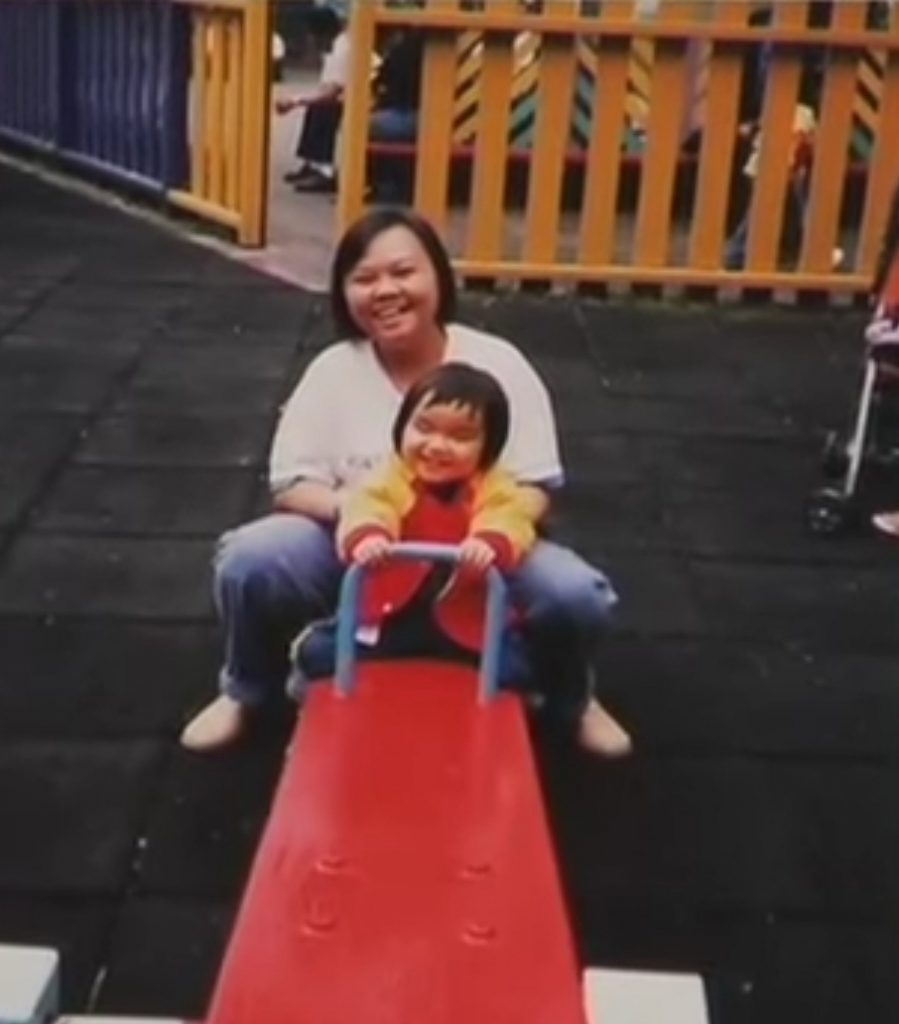 Mary, 46, who is self-employed, candidly shares: "I could not accept it initially. I kept believing that she was 'normal', like us. Over time, I learnt to accept Adelyn for who she is, and made sure that she is able to live and experience life like any of us."
It's not a journey without pain and challenges. Mary is a single mother of three – Adelyn is the oldest, her other two children are 12 and 13 – and shoulders the responsibility of being the sole caregiver, since her husband left the home nine years ago, never to return. Once again, she found herself having to rise above the situation. Until then, she had been a homemaker, but now had to find work as a tuition teacher in order to look after her three daughters. Just as importantly, Adelyn had to grow up with as many opportunities as possible, for her to lead a normal life.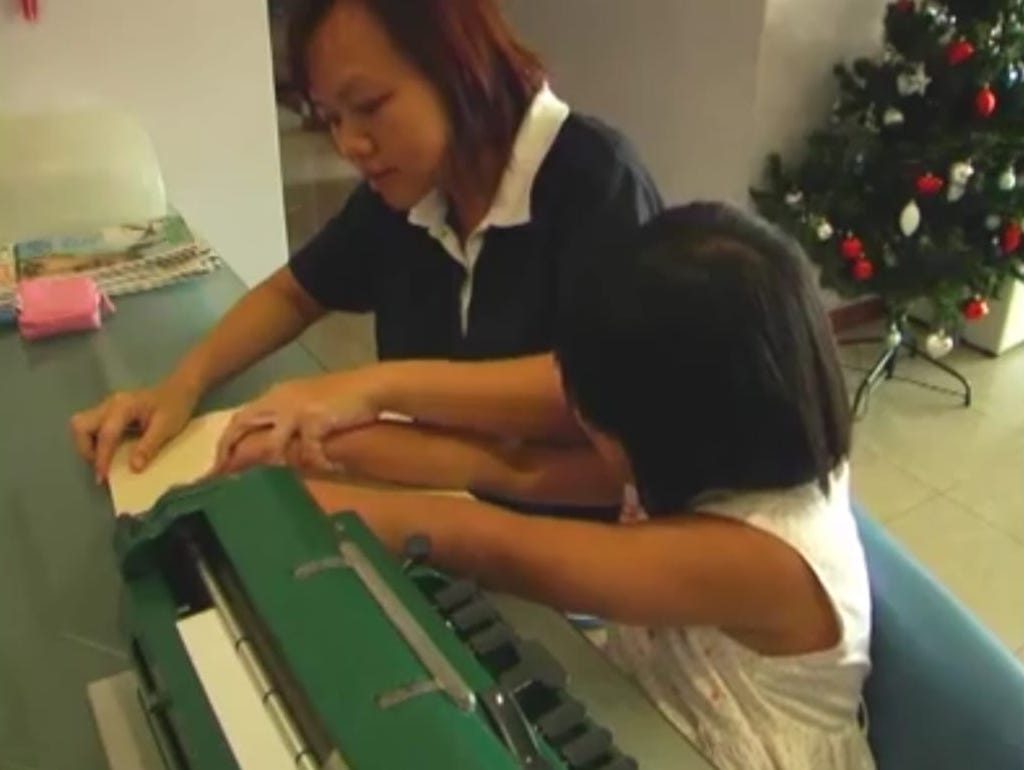 At the time, the lack of early childhood programmes available for children with visual impairment was a huge hurdle. "It was very tough for me and I had no one to ask or learn from, especially because information isn't as readily available as it is now with Internet," the stoic mother recounts.
She adds: "I feel the biggest challenge for any parent, is to accept the child's disability, and assisting the child in her or his learning journey. Singapore has very limited resources for visually impaired children below the age of six."  
But she was determined that her daughter would experience life like any child, so she exposed her to activities such as cycling, roller blading, swimming and horse riding. To her, "one of the best ways to let Adelyn 'see this world', is to let her participate in various activities."
Mary is her daughter's eyes, helping her to navigate the world. The days aren't always easy, but when times are tough and hard, what puts things in perspective, is the look on her eldest daughter's face. "Each time Adelyn smiles, it makes me feel that I still have the ability to put a smile on her face. And I want to see her smile more," she says.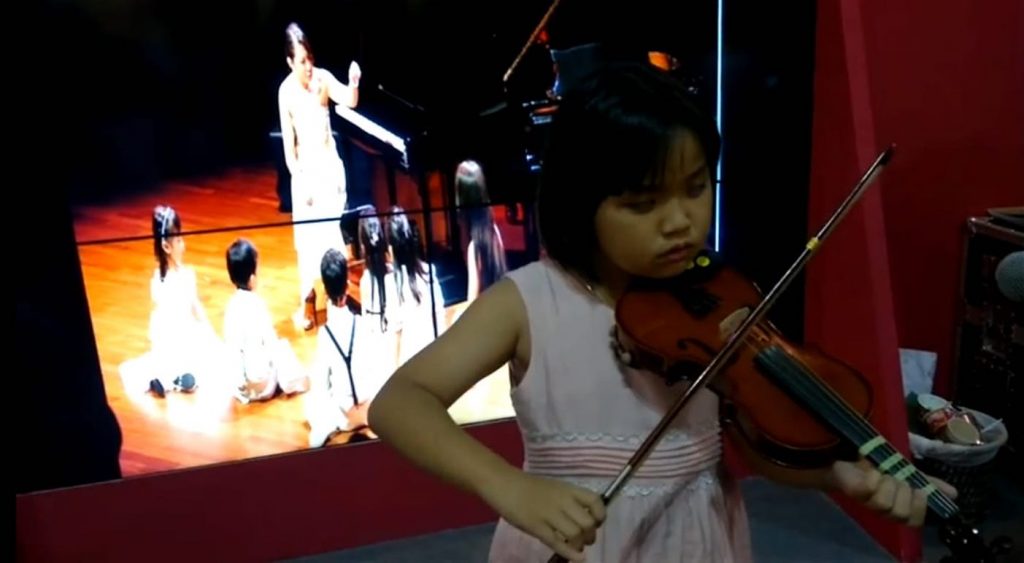 How did you discover Adelyn's love for music and singing?
She started to learn to play the piano at the age of three. She started to play the keyboard and sing when she was in primary school. Her love for singing grew in secondary school when she diverted her attention from unpleasant social experiences she had, and looked forward to practice sessions with the school choir.
What did you do to encourage Adelyn to reach for the stars?
To me, one of the best ways to let Adelyn 'see this world', is to let her participate in various activities. Through these activities and experiences, she will have a better picture of what the world is like. Instead of asking her to participate in an event, I will describe how working on an event would be like for her. I'll encourage her to savour the process of every project, and that helps her look forward to participating in these activities.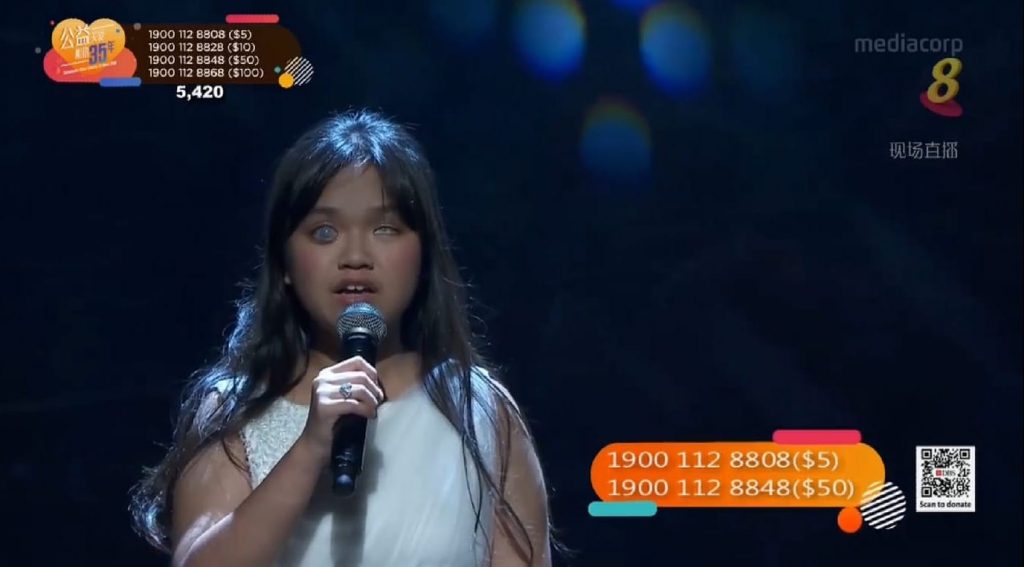 What is a typical day like for you?  
I wake the children up to get ready for school, send Adelyn to and from school, and go to work. The most difficult situation for me is when one of my children is sick, because the others still have to go to school and I still have to work. I worry for my sick child yet I am also busy working.  It would be great if there was someone who could help to look after my children.
What's your advice for mothers who are going through similar challenges in life?
My tip for other parents is to not to limit your child's ability due to their disability. Let go of their hands and let them try. You will be surprised by their capabilities. Be proud of them and always encourage them. Nothing is impossible. Move on!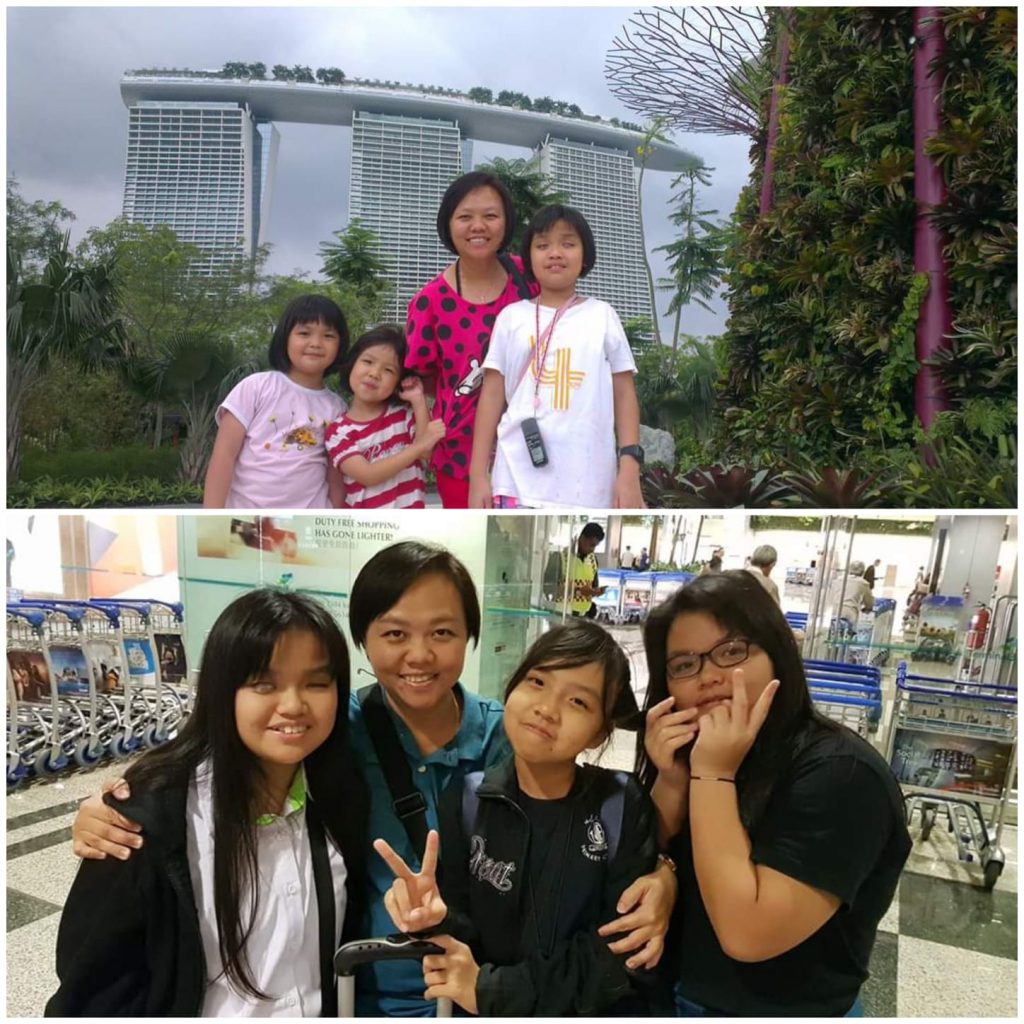 How do you spread out your time and attention among the other children as well?  
Sometimes my children feel that I do not have enough one-on-one time with them. So I try to squeeze out time to have one-on-one time for each child. On weekdays, I will get one of them to do chores with me like cooking, washing, hanging clothes, or buying groceries together. Through these chores, we get to enjoy some private time together.
On weekends, I allocate breakfast time for my two younger kids – one on Saturday and one on Sunday. I will wake one of them earlier, and have breakfast with the child individually.
As for Adelyn, I send her to school every day, so during the journey we will chat or have breakfast; so everybody enjoys private time with me.
Do you think there are enough opportunities for children or youths with disabilities to eke out a living?
I feel the opportunities for youths with disabilities to work are restricted and limited, and especially so for youths with visual impairment.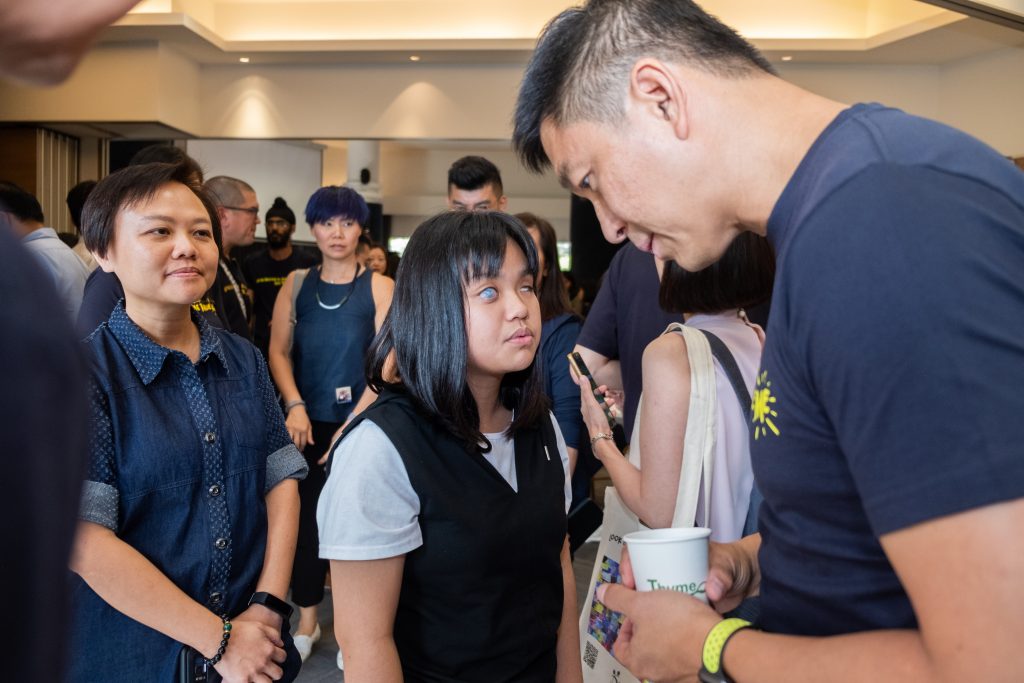 What do you think can be improved?
Employers can be more open-minded, and give youths more opportunities to show what they are capable of. I know it may sound difficult for some companies, but I really hope more companies can give them a chance, so they can earn a living and be independent.
What is the one thing you wish for your children as a mother?
To always be healthy and happy.
Catch Adelyn's performance in Fire In The Rain, the music video by National Council of Social Service. It's part of a national campaign of inclusion to empower people with disabilities.